If you are an affiliate and want to know how MaxBounty Sign Up step-by-step process is, you are in the right place. This article will show you step by step how to create a Maxbounty account and get approved.
MaxBounty is the easiest way to make money online. It is one of the best CPA (Cost Per Acquisition) marketing networks on the internet, where you can earn just by making people sign-up for the different offers. Furthermore, this fantastic platform works with well-reputed companies, and they offer a variety of other products.
Affiliate marketers can make money by using two ways with MaxBounty affiliate marketing. These two methods are cost per sale and cost per lead. The best thing about this network is that they only work with established companies and pay more than other platforms. That's the reason that they only accept high-quality affiliate marketers to promote their products. Their system only approves affiliates with specific criteria.
Watch my video below on how to get approved on MaxBounty sign up:
What You Need In MaxBounty Sign Up to get approved?
There are many MaxBounty alternatives where you can quickly get approved. Still, I recommend giving MaxBounty a shot. Before you apply for MaxBounty, make sure to follow the best and proven approach to creating your account that I will discuss.
To apply for MaxBounty, you need the following details:
A Valid Email Address
Unique Phone Number
Skype ID
Landing page or a Website
Necessary information about Affiliate Marketing
Steps To Create Maxbounty Account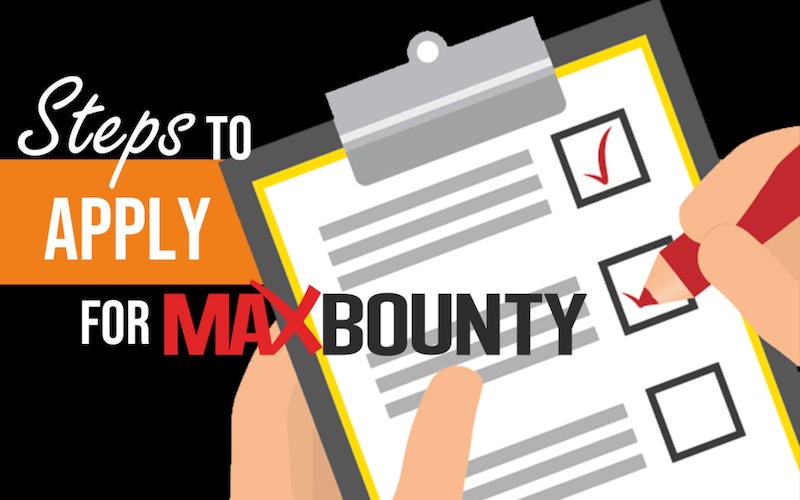 First, go to the MaxBounty home page and click on the affiliates section.
Next, click on "Become an Affiliate."
Then they will ask, "Do you already have an account with MaxBounty?" If yes, please fill out the required information. This field is optional, so don't hesitate to skip this field.
Click Next.
Now, fill in your Name: (Your Name must match with your payment name)
Next, fill in Your Company Name: (Leave it empty or use your Name)
Then comes Password: (Set a strong password)
Confirm Password: (Retype your Password)
Then comes a security question section. You have to select two security questions that you can use in the future if you forget your password. More importantly, make sure to save the answers somewhere in your notes.
Click Next
Email (Type your valid email address)
Then Retype Email (Retype your email address)
Type your Unique Phone Number.
Select your Time Zone.
Provide your active Skype id.
Tell them how you hear about Maxbounty.
Click Next.
Then add your complete address and click Next.
Last but not least comes the experience section, and it is a critical section, and your approval decision ultimately depends on this section.
● What is your experience?
Select an option from the drop menu (You must be straightforward in this section) so that you can comprehend your experience level when they call you for a short interview. Also, if you are a beginner and know a little bit about affiliate marketing, don't hesitate to choose "I have some experience."
● Describe your experience in affiliate marketing
I recommend you write something like this. "I turned into an affiliate marketer two years ago, and I began with ClickBank, JVZoo, and Amazon Associates. Also, I have gotten payments from these networks. For now, I am looking for some acceptable CPA offers that change over well. I promote products in health and fitness Niche or E-business Niche." Then, you can choose whatever niche is best for you.
● How would you as of now promote offers?
In this section, you can write something like, "I use influencers, Facebook ads, google ads, solo ads, and sometimes bing ads to promote the products. I run my campaigns professionally by using the proper landing pages to collect leads, and I also use pixels for retargeting my traffic to get maximum conversions. I have over 10k email lists in weight reduction specialty" (You can also write your niche here).
● What offers are you looking for?
You need to explain the niches which you are going to promote as there are multiple MaxBounty offers.
● Your website URL
Paste your website or landing page URL if you have any. If you don't have it yet, you can create one with Clickfunnels.
● Is this account for incentive traffic?
You have to choose "No" in the drop menu. Maxbounty doesn't allow incentive traffic and then clicks next. Then, agree on Terms and conditions and click Finish, and you are done.
Within a few minutes, you will receive an email, and you have to confirm your application. Then in a day or two, they will call you for an interview. Moreover, they will ask you simple questions to double-check your written experience on a voice call in the interview. Then they will ask you about your experience in affiliate marketing and a few other questions. You have to tell them about your experience as you have written in your application because they want to check if you have provided the right information.
How to make money with MaxBounty?
Now you have a complete idea of how to create a MaxBounty account and get approved. But if you want to make money with MaxBounty, you have to learn affiliate marketing step by step. Also, it is imperative to run targeted campaigns to promote different products online. Moreover, there are many traffic sources like using Social media, Youtube, Google ads, etc. You can also use influencers, solo ads, bing ads, and display ads to get your offers displayed in front of your potential audience.
Final Thought
Many affiliates get rejected when applying for a Maxbounty account. But I hope that you know now the process of Maxbounty sign up and get approved. Just make sure you have all the information you have in hand first before filling the application. And be prepared and have your phone pick up when they call you for verification. If you want to learn more about Maxbounty, you can also check my other blog for MaxBounty Offer here.
I assume you already know about affiliate marketing before signing the Maxbounty account. If you do not, I encourage you to learn affiliate marketing first. You can read my blog about Affiliate Marketing Step by Step. Furthermore, if you want to professionally build a successful affiliate marketing business, you can join the One Funnel Away Challenge. It will teach you step by step and answer any questions you will have, and most importantly, it will guide you to make your online business successful. 
"The best view comes after the hardest climb. Don't give up!"