ClickBank For Beginners is a blog post series that will teach you how to start affiliate marketing in 2022. In this first post, we'll cover some of the basics of what ClickBank is and why it's so popular for marketers.
You might have heard about ClickBank, no matter if you are a pro affiliate marketer or just a newbie. There are several affiliate marketers, but ClickBank sounds like the best for beginner-level affiliate marketers.
ClickBank seems like the best option as this platform is loaded with thousands of products in different categories. You can choose a wide range of product niches to promote health products, software, books, etc.
What is ClickBank affiliate marketing?
ClickBank was founded in 1998 and has since grown into one of the world's largest e-commerce platforms. It has over $3 billion worth of transactions on the platform every year. As a member of ClickBank, you can start selling your own products or promote someone else's through their program.
It is one of the best marketplaces for digital products. It's a place that lets you sell any product as long as it has clickable links or affiliate marketing links.
Affiliate marketing is a settlement between a seller or merchant (vendor, retailer, or a brand) and a publisher (sometimes we also call him an affiliate). They have to pay commission for traffic and sales.
ClickBank is an affiliate network that hosts thousands of digital items, including e-books, videos, and different software. Besides that, several other categories include health and fitness, home and decor, and more.
If you're the vendor, you can create your own product and set it up using ClickBank's platform. After that, you can list your product in the ClickBank marketplace so that tens of thousands of affiliates can see you and promote your product.
You don't have to be a popular or established brand for someone to promote and sell your product – anyone can list their products on ClickBank, no matter how big they are.
But, if you're doing ClickBank affiliate marketing, then you have to create an account first. After that, you can choose your niche and start promoting products.
This guide will discuss everything about ClickBank and how to start on ClickBank for beginners step by step. Besides that, I'll also discuss how to create a ClickBank account and what course to choose to start earning money.
To check out the complete ClickBank for beginners guide, click this video:
How Does ClickBank Work?
ClickBank has many differences when it is compared with other affiliate programs available in the marketplace. With this platform, you can promote affiliate products and offers and use them to your advantage if you are a product creator looking for a perfect place to get your products promoted.
As far as the payments go with this affiliate program, you have a choice of choosing to be paid on a weekly, biweekly, or monthly basis. And the minimum threshold that should be met for your money to be paid out is 10 dollars. However, it is something that can change whenever you want.
Also, read the Ultimate Guide of Pinterest Affiliate Marketing With ClickBank Products.
Is ClickBank Good For Beginners?
It is the question mostly asked by beginners who are going to start their affiliate network. Here we give you all the basic information about ClickBank, how it works, its pros and cons, along with your most asked queries.
ClickBank is an Affiliate network that is very famous in the affiliate marketing business. It is completely free to join, and it offers you tons of items to promote. Besides that, it has a list of different niches you may jump into and get experience.
And when you talk about affiliate commissions, different commission rates come along with the items in the ClickBank marketplace. You may get affiliate commissions from as low as, let's say, $5 to affiliate commissions that may go over $950 plus. And this is just something I experienced in the market last month.
Clickbank offers you a very wide variety of items that you can promote, such as e-books, videos, training courses, software, and many other digital products.
ClickBank Steps To Consider For Beginners
So let's start, and in the first step towards your success as a ClickBank affiliate, we will go for niche selection.
1- Choose Niche Selection
Picking your niche is important not only for your success as a ClickBank Beginner but also for your success as an affiliate marketer as a whole. You may consider that niche selection is the foundation of your affiliate business. Because getting the wrong niche may greatly retard your progress and may result in nothing.
Niche selection can be frustrating, overwhelming, and long for you, especially when you are a beginner and try to figure out things. While choosing it, you may go through many interesting, different niches, and you are most likely to hear advice from various sources that may lead you to over-analyze things.
There are generally two routes mostly affiliates go while selecting their niche. They can select a category or niche that they are good in or pick one they know will be lucrative. It's hard enough to go wrong with both routes; however, it is usually recommended that you go towards a niche you have a passion for.
a) Passion Side
When you are done with niche selection and choose to build your affiliate business in a niche that you are passionate about, it means you have made the workload ten times easier for yourself. Because you will be naturally motivated to create more high-quality content continuously as you are working in a niche you have internet and passion in. 
b) Profitable Side
On the other hand, it may not be the same thing when selecting a profitable niche over something you are passionate about. The niche can be profitable and have an audience proven to invest a large amount into what they like, but it might be hard to succeed if you do not have any interest in the niche.
Things may feel forced, and you might not be motivated enough to produce high-quality content continuously. Certainly, the purpose is to make money. That's why ultimately, it's very hard to go wrong with both options.
If you are willing to learn about an entirely new niche, you are also ready to put your efforts into creating good content. Then you must be perfectly fine in any niche you may work in, even if it does or does not interest you. It depends on how much work you are willing to put in.
All-inclusive, take time to select a niche but do not put too much stress on it. However, do not let it delay you from getting started with your work. Think about some things that you are interested in and see what route will work best for you.
Luckily, ClickBank offers a comprehensive list of niches along with tons of items in every one of them. It means you will have a chance to pick whatever niche you want and still make a good income from it.
2- Select The Right ClickBank Product To Promote For Beginners
The next thing in this list is selecting the right product to promote. Product selection is something very crucial for you as it will determine how much money you may make. And it is where you will be sending your traffic (audience) to; that's why you have to get this part of affiliate business perfect.
The items you select to promote and to present to your audience may reflect on you. You may find thousands of products available to you for promotion on ClickBank. However, all of them are not worth promoting.
In addition, ClickBank has several good products and items to promote, but it is also filled with many scam offers and contrivances. 
That's why proper product research is key, not only for making money but also for building a good reputation. All you need is to promote one bad offer or item, and your audience will begin raising eyebrows at you.
3- Understand ClickBank Marketplace As Beginners
When you are at ClickBank's website, you may see the search bar on the top of the screen to search for a particular product you want. If you want an overall look at the best-selling products on ClickBank altogether, click on the magnifying glass on the search bar without even typing something.
When you move towards the bottom left, you may find the list of niches that ClickBank provided, and the list extends down to the bottom of the page if you may have thought those were all the niches ClickBank had to offer you.
Use the search bar on ClickBank and do a blank search to look at every item doing good across the marketplace. There will be a list of items that you can go through and promote.
You may see that it has the names of different affiliate items and the promote button on the right side. After that, click the button of the item of your choice and a new and unique affiliate link to promote.
While observing the items, you may notice that there are several metrics under each of the products. You may sort these metrics by using the "Sort by" dropbox at the top of the website that comes in handy when you want to get something particular while choosing an offer.
Understand Different ClickBank Metrics As Beginners
Grav (Gravity): the gravity of an item represents how many times that offer has been sold within the last month. The greater this number, the more "proven" an item is.

Initial Dollar/ Sale: it is the average amount of money affiliates generally earn per sale.

Average Percentage/ Sale: The percentage of the sales price affiliates take as an average commission.

Average Rebill Total: this is the average money affiliates take for a commission due to rebills.

and Average Percentage/ Rebill: the percentage of rebills paid to the affiliate on average. 
These metrics are important, and you should analyze them closely when you are looking for an offer to promote. Along with it, you may also see that there is an affiliate tool page selection.
It is a page that the affiliate vendor directly creates for the affiliate to help them in promoting their products.
This page of tool selection commonly consists of several tools that may help you in marketing the offer better, like email swipes, affiliate images, affiliate banners, done for your articles, and many other helpful tools.
How To Create A ClickBank Account As Beginners?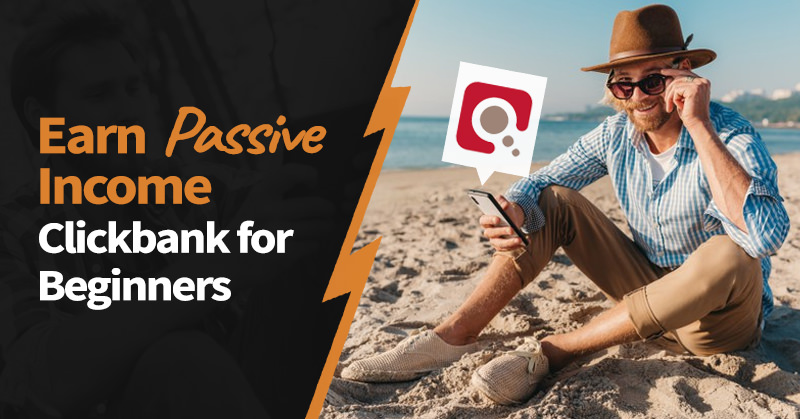 Setting up a ClickBank account is not that hard. After setting up your ClickBank account, you can certainly link to any of your desired products and earn great commissions.
Let's start with setting up your account:
Step: 1 Go to Clickbank's website
Start with logging into clickbank.com. It's not a brainer, but you have to ensure that we all are on the same platform and that ClickBank.com is where you want to sign up.
Step: 2 Click on Create an Account
Next, click on "Create Account," which is at the right top of the page.
Step: 3 Give you Detailed Information
As you click on create an account, it may take you to the page to enter all of your personal information. Generally, there are three steps to sign up that require you to provide details about your data, banking information, and account information.
After entering your data in the Banking Information box, ensure that you have thoroughly read the client contract and agreed to their terms and conditions. And once you have done with this, fill the reCAPTCHA challenge.
Step: 4 Submit your Account Registration
Next, click on the submit button. After this, a client survey will appear on the screen. You have to fill this survey and then click "Submit Survey".
Step: 5 Confirm your Email account
ClickBank will send a confirmation link to your email address. Just click on the link in your email to confirm your address, and your account is ready to go.
When you log in to the account you have created, you may see different categories right there. From them, you can choose any niche of your choice and start promoting your products.
ClickBank Marketing Strategy For Beginners in 2022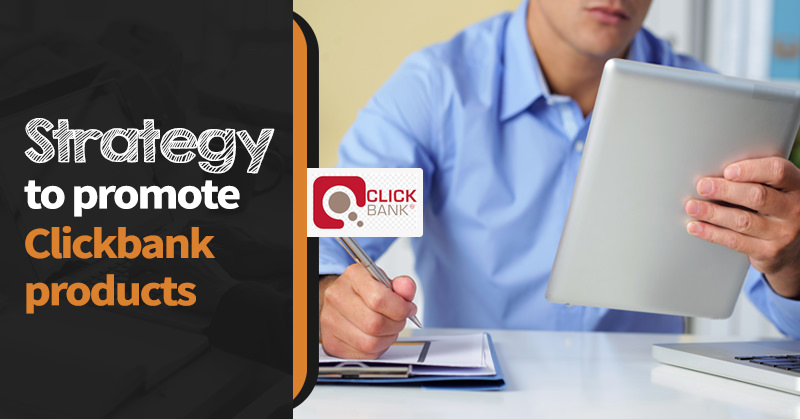 While affiliate marketing can make it easy for anyone to make money online, there's no guarantee that every person will find success using this business model.
ClickBank can be very profitable and is a great platform for any beginner affiliate looking for his items or services to promote. It can be an excellent chance to earn a few extra bucks at the end of a month.
Well, you depend on your dedication and how you can do this for a living. 
Here is the ClickBank Beginners strategy that guides you on getting started with ClickBank yourself and making money.
1) Make Sure It's Something You're Interested in Promoting
If you want people to have a good experience finding products, you need to ensure that your promotional offers are relevant and engaging.
Also, keep your interest in mind so that you can promote products easily. If it doesn't interest you, then people will have a hard time buying into your pitch.
2) Target A Specific Niche For Your Offer
When deciding what affiliate offers to promote, try to target a specific niche with your product. That will make it easier for customers to find what they're looking for on your website!
3) Build Relevant Website with Product Niche
ClickBank is a quick and easy way to make money online, but it can be difficult to find products you're interested in promoting. The key is finding something relevant to your website. If you don't pick something that pertains to your website, it cannot be easy to get potential buyers. It means they won't click at all or buy anything.
4) Be Sure To Create Relevant Content People Will Want To Read
Being relevant is a key component of affiliate marketing. It just doesn't make sense to create content that's not going to be helpful for customers. Creating great content and targeting a specific niche makes it easier for customers to find what they're looking for on your site!
It's also helpful to make sure that the content on your website relates to the affiliate offer you're promoting. When you do this, customers will be more likely to click on your link in search of what you're offering them. It is a great way to get people interested in the product you are promoting.
5) Be Sure To Have A Dedicated Landing Page For Each Product Or Service You Promote
It's also important to ensure that the content you're creating is relevant to the product or service you want to promote. If it's not, people will have a hard time clicking on the link, and it could hurt your sales.
Having a landing page dedicated to each product or service will make it easier for visitors to find what they're looking for on your site!
6) Use Email Marketing To Keep People Engaged
If people are engaged with your website and enjoy reading your content, they might sign up for your email marketing list. By doing this, they'll stay engaged with your brand and are more likely to buy into any offers that you promote in the future!
Also, read How To Make Money with ClickBank for Beginners Fast to get started.
Advantaged And Drawback Of Using ClickBank For Beginners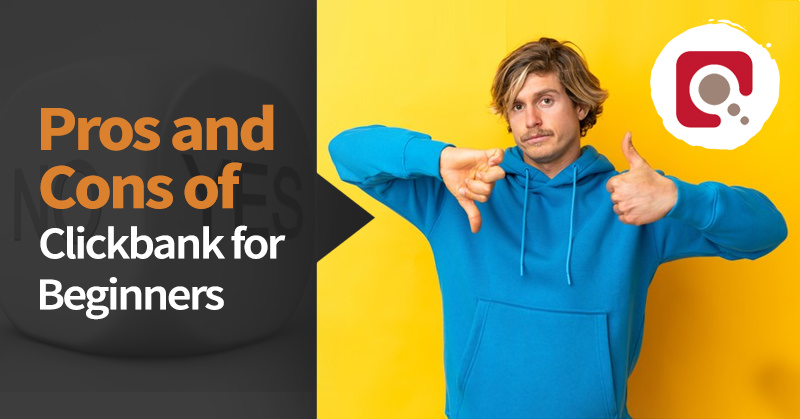 Now it turns to get into the good and bad about ClickBank. When you search different affiliate programs and come across them, you may see that each has its pros, cons, and overall differences from others.
Advantages
Highly paying offers are very common in ClickBank as up to 75 percent commission is seen throughout the marketplace. 

It is available in most countries, which means you may sell pretty much any item anywhere across the globe.

It is a great platform for beginners or anyone new to affiliate marketing and needs a good network to partner with.

offers you a huge variety of products to promote.

It is also home to thousands of recurring items. These items are generally subscription-based that provide an ongoing income.

They pay very fast once you meet their CDR requirements.
Drawbacks
You may find a lot of scammy products on the market.

The majority of people are promoting high converting offers. 

You must pass the CDR requirements to get your first payment. 
As mentioned earlier, every affiliate program has its advantages and disadvantages, and no program is perfect. Anyways, always do your research on an affiliate program before joining it.
Clickbank Affiliate Marketing Course For Beginners in 2022
If you want to start making money on ClickBank, you need proper coaching and mentor. It is important to learn ClickBank affiliate marketing from scratch. 
Many courses are available in the market on Udemy, and many professional trainers are selling their courses, even on ClickBank. 
The course that helped me through all the processes is Commission Hero, so if your budget allows that, you can opt for that. 
Let's discuss why I chose Commission Hero over other ClickBank courses?
This course was created by Robby Blanchard, who is also an owner of Crossfit Gym. He has put some serious work to the point where he is now his own boss, and he makes thousands of dollars a day with ClickBank. Also, he is teaching other people to earn handsome money every single day.
According to him, Facebook is an essential tool in the formula for success with affiliate marketing. Facebook paid traffic is his golden key to earning some serious cash.
Outline of Commission Hero Course
In this course, you can learn:
How to get set up with ClickBank
How to choose the right offer
Getting familiar with Facebook paid ads.
Tracking and scaling your products.
Snapchat training
FAQs
1. Is it Safe to Use?
Yes, ClickBank is 100 percent legal and safe to use in the affiliate marketing place as it is used by millions of affiliates around the globe. It is a powerhouse affiliate network that is free to join and offers you thousands of items to promote on your site or any other platform or social media site you have in mind.
2. How much does it cost you to join ClickBank?
It is completely free to join. To join ClickBank, go to the ClickBank website, sign up there, and create your account for free. As you have created the account, now you have access to the affiliate marketplace to pick a niche of choice and items to promote.
3. Is it possible to make money with ClickBank?
Certainly, you can make money with ClickBank. It is an open question that almost every beginner asks.
Making money with this affiliate network depends on the type of offer you are promoting, the traffic you are getting on your site, and the information and experience you gain as an affiliate marketer.
Meanwhile, much money you make with it will depend on you and your skillset; there is no limit. 
Overall, ClickBank is a great platform to get a start-up for beginners. You can start affiliate marketing now and earn a good commission from it.
4. How much can you make on ClickBank?
Commission for ClickBank is typically anywhere from 25% to 75%, depending on the product. There are no fixed or maximum limits on earnings for ClickBank affiliates.
People make it work in different ways, but the general rule is to focus more on promoting many products.
5. Who is the most successful ClickBank affiliate marketer?
The most successful ClickBank affiliate marketer is Robby Blanchard. He is the top affiliate on the ClickBank platform.
Conclusion
ClickBank is the best and simple place for beginners to replace Adsense or Amazon revenue for real sales. You can make decent money every month by using this platform in the right way.
I hope this post about ClickBank for beginners has encouraged you to apply the "easy" money-making techniques behind and shown you that it is feasible to establish a long-term property. Be regarded as a value adder, and yet generate income with ClickBank.
Why not give it a try? To be successful, always remember that hard work and patience are two of the most important things in making business decisions and promoting products.
If you are a beginner who wants to learn more about affiliate marketing, read my other blog, How to make money with Affiliate Marketing.
If you are ready to start your online business with Affiliate Marketing or are already in it and still figuring it out, you can join the One Funnel Away Challenge.
You can learn how to use the different types of affiliate marketing appropriately to get outstanding results. Most importantly, it will help you to build an online business that generates income through affiliate marketing. 
"Don't stay in bed unless you can make money in bed" – George Burns.