Affiliate marketing is the perfect way to make money online, and it means that you have to promote products of other companies or brands. Before learning the meaning of Pinterest affiliate marketing, you should have some knowledge about affiliate marketing. You can initiate with the simplest affiliate marketing techniques, especially if you are a newbie.
First of all, you need to choose a product you want to promote. People often hesitate in establishing their online business just because of not having the capacity to create a product. By promoting Clickbank products, you don't have to invest in product creation. You can still earn money by promoting other company's products on your affiliate marketing website. Through your online presence and marketing, you can attract a huge audience and get revenue by selling Clickbank products.
What is Clickbank?
Clickbank is a marketplace where various companies offer a per sale commission percentage of their enlisted products. You should promote those products at places where you can get targeted audiences to generate sales. For instance, if you are going to promote a weight loss belt, you will have to attract an audience interested in weight loss.
Can you get traffic on Pinterest?
Pinterest affiliate marketing is easy, and you can get a huge amount of traffic using this platform. It is one of the trending social media platforms where people can target their audience with zero investment. As the key factor in affiliate marketing is targeting online traffic, you can easily do so with Pinterest. There are more possibilities of Clickbank product sales with Pinterest affiliate marketing if these are targeted appropriately. In short, Pinterest is a top-notch source of affiliate product promotion.
Steps Of Pinterest Affiliate Marketing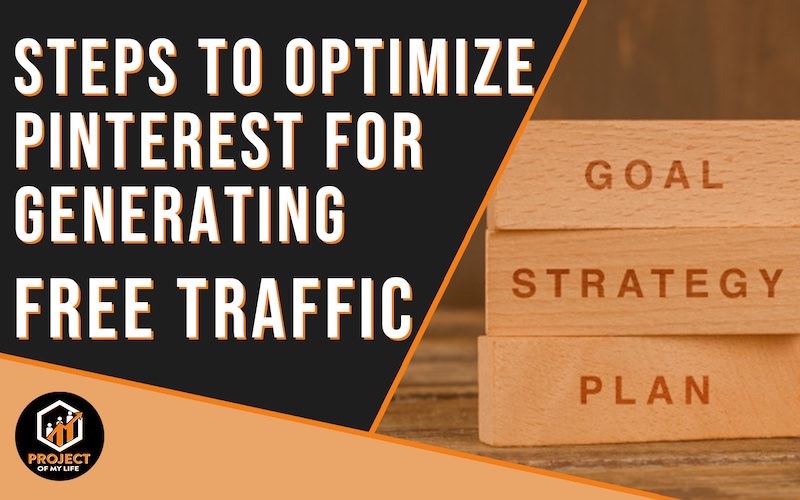 If you want to promote Clickbank product with Pinterest affiliate marketing but don't know how to start, take a deep breath and start. Here is a step-by-step guide to promoting Clickbank products through Pinterest:
1- Select a Niche
First of all, you will have to select a niche in which you want to get a huge audience. Selection of a niche is very important to promote your products. Because without any particular niche, your posts will not be able to get ranked on Pinterest by getting more impressions. More engagement rate of your posts leads to more impressions, leading to ranking your products and posts. It is the basic algorithm of all social media platforms that you will be able to get more traffic and ranking by sticking to a particular niche. You can watch my video to choose the most profitable niche.
2- Setup Pinterest Profile
After selecting a niche, you should set up your Pinterest profile account for that particular category. Firstly, create an attractive profile image and then update your bio. Finally, establish the authority of your Pinterest account by linking it with your site.
3- Create at least 15 Pins
After finishing creating your account, make at least 15 pins to get started. It's better to discuss a pain point or problem on every pin to provide a solution with your product. You are free to design these pins in your style on Photoshop or Canva.
4- Add Hashtags
Proper hashtags are also a powerful feature in affiliate marketing. By applying hashtags on your pins, you make it simpler for Pinterest to place your pins in a targeted area. Moreover, hashtags are also helpful in targeting a customer because your pin will get more impressions when it comes to the right audience.
5- Creation of Boards
Create at least three public boards along with their replicas as private boards. After creating boards of your niche, upload your pins on the relevant private boards.
6- Pin other Posts
If you want to get more visibility in less time, we suggest saving at least 50-100 pins on your board from other accounts. By doing so, you will get more eyeballs, which will convert into more leads, more clicks, and obviously, more sales.
7- Stay Consistent
Consistency is a powerful element that will give you more edge on Pinterest, even when you are just a beginner. Almost 99% of social media forums follow the same algorithm, according to which regular posting on your account boosts it on social media's search engine. Just think, when you want to get free traffic, you will have to insert some value consistently in the marketplace. We suggest you pin at least 3-5 pins daily. In short, Pinterest follows the rule "the more you give, the more you get."
Watch my video below for more detail:
How To Convert Pinterest Traffic
Do you want to promote your Clickbank products on Pinterest? If yes, you need to convert your traffic to leads or sales. No doubt, gathering traffic is quite easy, while converting it into leads and sales is tricky. It is because you are going to convert your cold audience into customers by getting dollars from them. For this, you start giving value to your regular visitors. You can grab the attention of your regular audience toward your affiliate product in two ways.
● By Writing a Blog
You can do Pinterest affiliate marketing without a blog, but the best way to promote affiliate products is by writing blogs. It will help your audience to read your blogs to get solutions to their problems. It will not only build up your confidence over your audience, but you will get more clicks and impressions by more visitors as you have inserted value in a marketplace.
For driving traffic on Clickbank products from Pinterest, you need to write blogs. For writing blogs, you have to create a website first. By getting a domain hosting, and stunning theme installed within your hosting through Bluehost or Namecheap, you will be able to set up your website. After that, you can write blogs to attract an audience to convert them into sales.
● Through Lead Generation System
You can promote ClickBank links on the Pinterest lead generation system. You can share your free e-books, guides, cheatsheet, blueprint, or problem-solving videos through email—all you need to have a landing page for generating more leads. The landing page is a one-page website used for collecting emails and generating leads. You can create the landing page using Clickfunnels or Kartra. Using this unique conversation method, you can attract your audience to click your Clickbank products at the same time you build your email list.
Conclusion
So, you can make money online without any investment by promoting others' products on Pinterest by following mentioned steps above. I hope that you have understood the concept of Pinterest affiliate marketing and how it works. Pinterest is one of the common and easiest ways to start if you are a beginner in the affiliate marketing business.
Moreover, if you want to learn more about how to make money online with affiliate marketing, you can read my other blog, "how to make money with affiliate marketing." Also, I would like to invite you to join the One Funnel Away Challenge. From here, it will help you to answer any question you have regarding Pinterest affiliate marketing and learn Affiliate Marketing more in-depth. Also, it will help you step by step to build an Affiliate Marketing business professionally.
"Patience, persistence, and perspiration make an unbeatable combination for success."