Most of us may think about how to start an Amazon business at one time or another. Among all other marketplaces and business models for eCommerce, the best one for you is starting an Amazon FBA business.
It is one of the perfect ways you can go and earn a good amount. Because this business has great profit potential, and along with it, you may easily scale and grow it as you become established. 
The idea of starting an Amazon business, selling products, and scaling up your own business may sound exciting. But for many beginners, the entire process may seem fearsome.
However, when they break it down, it is not as difficult as it seems. When you follow the right guidance and steps, along with proper time, you will certainly start up a successful business on Amazon FBA.
Moreover, you can also quit your 9 to 5 job and work from home, even full-time, which may give you a lot of flexibility. 
Are you wondering about how to start an Amazon business? If yes, you have come to the right place as I have created a complete guide to give you the best guidance and instructions to help you start and scale up your business.
How to Start an Amazon Business in 2022?
Here is a step-by-step guide to starting your Amazon business today:
1- Start-up Plans
Before even starting your Amazon business is that you should have some start-up plans in mind. These may be some initial steps you must take to provide yourself with the best chance for your success.
You have to do your good research and then lay the groundwork early on. You can make it a lot easier for yourself as you reach some later steps. 
2- Start Set a Budget for your Amazon Business
The second step to start an Amazon business, you must need some capital for getting a start-up. If you do not have much money to spend, you can even become an Amazon seller, but it will certainly impact the growth of your business. For this, you have to build up some specific strategies that you will use to build up your business.
Keep in mind your current finances and then decide how much money you can easily invest in your business. When setting up your budget, make sure that you are figuring all the expenses you have to pay.
All these expenses may include the cost of buying inventory, shipping costs of your items, the monthly fees of your Amazon Professional seller account, and the expense of any ads you may run to promote your selling products.
3- Dictate your Capabilities
It is very important to think about how much time you can assign to your new Amazon business and what kind of resources you may have at your disposal before starting up. Are you able to work on your business every day? Do you have any specific resources, infrastructure (such as the Amazon warehouse? For example, for shipping your products to customers, any supplies, do you require any assistance with all this?
Note all these questions when you are reviewing the different Amazon business models. It will be easy for you to select the perfect approach that will be best for you.
4- Start an LLC or a Company for your Amazon Business
You could be wondering about starting an Amazon business, any necessary paper for selling on Amazon, or maybe you need a business license. To make it clear that you don't require anything like that.
However, it is a good idea to start your own firm or LLC. It will make bookkeeping considerably simpler when tax time comes around. Also, it gives you some protection against your personal liability.
5- Select an Item to Sell
It is where the real fun begins when starting an Amazon business. Now it's time to make it clear and decide what kind of products you will sell on Amazon.
As there are so many options available to you, it may seem overwhelming at first. You may know that Amazon sells everything, including books, ebooks, beauty products, jewelry, and many other things. 
So the question is, how do you know what type of products you have to pick for your business? In this blog, we discuss a few tips and some helpful tools that will make this procedure a lot easier for you.
Select the Items having Priced between $15 to $100
Every time you sell an item on the website of Amazon they will make a commission from you. So, you have to make sure the price of your item should not be so low that it will not even cover that cost.
Meanwhile, the idea of selling high-priced products may seem appealing. When you are practicing high-priced products, it does not usually work as these items do not sell as much as lower-priced products. It is because low-priced items are recommended to sell that are priced between 15 to 100 dollars.
Also read: The Average Amazon Seller Income will Blow Your Mind.
Select the Items that are Small and Light
One thing to remember while buying your inventory is that you have to get it shipped to you. It can be particularly pricey when you have a plan to import products from India or China. It is good to select small and lightweight items, as they are very cheap to ship. 
6- Register the Brand of your product
There are many ways that you can register your brand. You can choose to register your company name, the products you made, or the logo's trademark.
It is important to keep in mind that this registration is important so you can protect your brand and create a more loyal following of customers.
If you are a small business owner, you probably want to make sure that you can register your company and product name.
The most common way for doing this is by registering your name with the local government or uspto.gov for the United States. But not all individuals are aware of this process since it involves many requirements and paperwork.
7- Sourcing your Items
Once you have decided on what you will sell, the next step when starting an Amazon business is that you will have to figure out a scheme or strategy for sourcing your items. You may find many different ways to do this, and each has its own pros and cons.
This process may involve buying items from local retail stores for the motive of reselling them on Amazon. There are some kinds of apps that you can use to find underpriced items and can be easily resold on platforms like Amazon for a good profit.
It is a good strategy for those with little money to spare, but it is very time-consuming and troublesome to find potential resale items consistently. 
You can buy products directly from the manufacturers. One of the great places to find manufacturers to source items from is Alibaba.
You will certainly get the lowest price from this platform when you are dealing directly with the manufacturer. But remember that you have to purchase items in bulk just like you buy from wholesalers, which can be costly. 
Read about Amazon Suppliers | How To Find And Choose The Best One to get the best products. 
Wholesale companies and vendors purchase items in bulk from manufacturers for selling them to businesses. You can also purchase items from them at much cheaper rates than retail stores. But note that wholesalers generally have high medium order quantities, so you have to pay a lot of money upfront.
8- Find Easy Ways to Advertise
Advertising is an important thing that you have to do to increase the sales of your product. So it is better to look forward to advertising with some low-cost option.
One of the best ways with a great low-cost option is the PPC (Pay Per Click) program, which may also help you gain a very broad audience.
Pay Per Click is usually a "Sponsored Content" that may pop up when you search an item on Google or any other major search engine.
Being an Amazon FBA businessman, you have to pay a small portion of your budget to the company or the search engine marketing your item for each product's click. 
Amazon has an excellent PPC option that will boost your product, so it appears on the first page of their search results as a "Sponsored Product". Such targeted ads help the customers in finding your product within the vast ocean of Amazon FBA products.
Aside from it, where else may you find more customers for your product. Of course! Facebook. When you select to advertise on Facebook, you may have many options to create PPC ads or customize various advertising campaigns.
These campaigns may depend on your budget, and you can even target some particular audience for the advertisement. 
9- Fulfilling your Orders
Order fulfillment on time is a very important part of when you start an Amazon business. Once you sell an item, you must have some delivery strategy to get that item to your customer on time. Here we give you some options from which you can choose:
Fulfilled by Amazon by the Merchant program is exactly the same as it sounds. If you go for this option, you have to create your own packages and courier all your products to your customers. However, it is one of the cheapest options, but at the same time, it is also the most time-consuming and may be difficult for a one-person operation.
Another exciting option is to partner with some dropshipping companies. These companies have suppliers or wholesalers that will drop ship your products to your customers for you.
Regardless of buying inventory in bulk, the company holds your inventory (products) for you and then ships them to your customers when they are sold. However, keep in mind that typical and traditional dropshipping is not allowed on Amazon. So ensure that you thoroughly understand the rules before exploring this method.
Please read about How To Buy From Alibaba And Sell On Amazon FBA.
By using the FBA program of Amazon, you can ship all of your inventory to Amazon, and they will fulfill your orders for you. It is a perfect option for the sellers who do not have many resources to ship many products themselves.
To keep in mind, Amazon charges you a fee for providing you with this service. So make sure to include this amount in your budget while making it. 
Amazon's FBA program is likely to be the best choice for most Amazon sellers working by themselves. It is one of the easiest possible ways to deliver your items to the customers.
Little tight on a budget? Well, read also about How To Start An Amazon FBA Business With Little Money to get started. 
10- Collect a lot of Products' Reviews
One of the best ways to market an item is by letting it market itself via great product reviews. However, there are many ways to remove negative reviews from your item that may be impacting its sales.
You may also check out the product review groups on Facebook to find some talented people who will be willing to write some quality reviews without using any cliche phrase. 
In case you are pretty sure that your item matches the vibe of some famous bloggers or product reviewers, you may consider sending it to them. If you get an endorsement or advertisement from someone who has thousands or even millions of followers on Facebook or Instagram, you will be all set for your business and sales.
11- Growing or Scaling up your Business
Once you start your Amazon business and it is perfectly running, you will probably be looking for ways to grow and scale it up, so you may start increasing your income. Here are a few strategies you may use:
The best sellers on Amazon do not just sell one item. They may sell many different products. So, when you have one winning item, start looking for some more. Adding new items to your inventory is one of the best ways to grow your income and get those dollars rolling in.
You may create items that have your own brand name on them. By this, you can create your version of existing items or develop your products in the market.
Moreover, you can even trademark these items if you want to, so no one can copy your products. Building up your brand and items means less competition in the market. 
And in case you come up with something new and attractive that everyone wants, you will certainly be able to generate a lot of sales.
If you want to sell clothing and t-shirts, you can consider using Merch by Amazon to generate your unique designs and sell them on Amazon's platform. 
Amazon Business Pro and Cons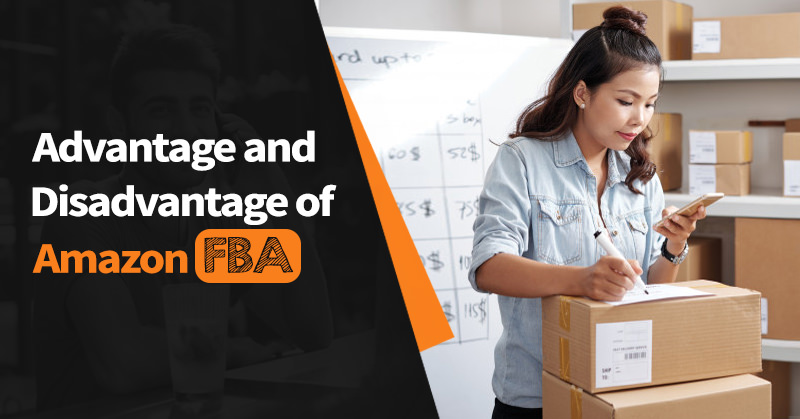 Do you think that an Amazon business is worth it to start? In the end, it's all up to you to decide whether this type of business is right for you or not.
Here are some of the pros and cons you have to consider before:
Pros
High-Profit Potential: Of all the online business opportunities available on the internet, Amazon is the greatest one when it comes to potential profits and earnings. On this platform, the sky's the limit, and you can grow it as much as you want to.

Access to many Customers: Amazon is one of the largest e-commerce platforms across the globe. Most people have Prime accounts nowadays, and their customer base is growing consistently.

They offer you everything now, which may include groceries, rentals, and others. It means that a lot of customers now exclusively shop on Amazon.

Therefore, by selling on the marketplace of Amazon, you will have access to way more customers than you will if you sell on your site.
 
Limited Marketing is required: no doubt you can create ads to promote your items. But when you target the right keywords and sell the right items, you must have no trouble driving organic traffic to your product listings.

Moreover, hiring freelance content writers with some experience writing Amazon pages will get better results.

Can be Automated: as you have the right systems in place, it will automate most of your work for you. 
Cons
Need money to get started: You may need to make an initial investment when you start an Amazon business because you have to buy inventory.

Time and Work are required to get started: You will have to search for different items. Also, it would be best to talk with the suppliers or manufacturers to get your business scaled up and running.

You may know that any business requires some work and time, so this is something you have to be prepared for. 
You might see that there are a lot of advantages to starting up such a business. While selling different products on Amazon is not a game for everyone. If your goal and determination are to start an online business, it would certainly be one of the best ways to earn some.
You are Successfully Running an Amazon FBA business. Now what?
As everything is all set up and your products are doing very well on Amazon's Fulfillment Center, most probably you are thinking about hiring a virtual assistant. This virtual assistant helps you grow your business even more by researching your products so that your business can reach a greater audience.
As your business grows, you may even think of selling it. Being such a famous and profitable business model, most investors are interested in buying successful FBA businesses. So, you can also sell it to such an investor who is willing to pay you a good amount as you consider for your business.
Conclusion
Starting an Amazon Business may seem complicated to you, but it is not that difficult when you know the right steps to take. You have to thoroughly read this blog as I have provided you with complete guidance and then select the best products to sell. By doing so, you will be well on your way to building up an Amazon business you may be proud of.
Moreover, my blog about Best Business Structure For Amazon FBA And Tax Guide will help you get started.
If you want to learn more about Amazon business, specifically in Amazon FBA private label, you can read my other blog on How To Start Amazon FBA Private Label Business.
If you are ready to start the Amazon FBA business, you can check the Amazon FBA course to learn deeper step-by-step A to Z starts from scratch. They will help you If you have questions or you need help during your learning. Most importantly, it will help you to build your Amazon FBA online business successfully.
So, what are you waiting for? Get started today!
"When the world changes around you and when it changes against you – what used to be a tailwind is now a headwind – you have to lean into that and figure out what to do because complaining isn't a strategy." – Jeff Bezos.