Do you ever think about how much Amazon FBA sellers make? Well, it is quite hard to tell an exact digit. But, according to small biz trends, it can be between $26,000 to $810,000. The average Amazon seller's income depends on their product, business size, product nature and trend, and more. 
The same study shows that around 60% of sellers increased their profits in 2019. In 2020, around 90% of sellers were planning to sell with Amazon. In case you are wondering about 3rd-party sellers, they make around 50% of sales on Amazon. Many sellers still try to sell on Amazon, as they are looking for financial freedom and want handsome money every month.
Are you wondering about the average Amazon FBA income of the sellers? Well, I am going to discuss how much money Amazon or FBA Sellers make? Why do most people discuss Amazon FBA these days, and why do people want to become an Amazon Seller? So, let's dive in to know the average Amazon seller income. 
How much do Amazon sellers make?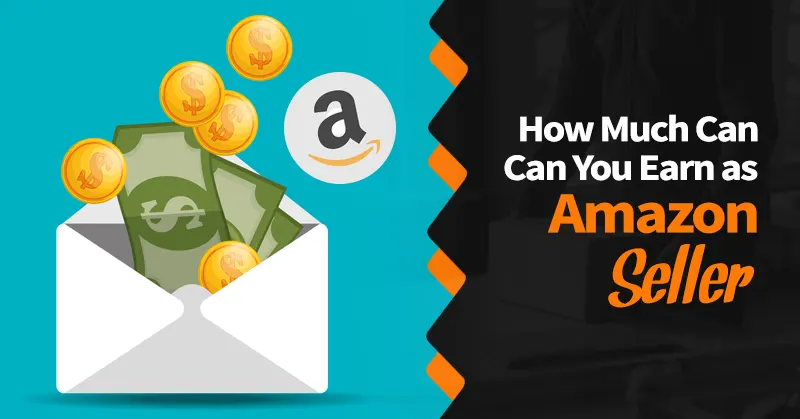 As mentioned earlier, it is very difficult to say something exact about it. Still, according to a survey of 4,864 Amazon sellers, the new Amazon sellers may make an average of 42,000 dollars annually in just profit.
However, there are many different ways to earn from Amazon, but the most famous is the Fulfillment by Amazon (FBA) program. Somehow, like many other businesses, selling on Amazon may also include some fees and other expenses on the seller's part. But one thing that makes Amazon FBA more reliable for the sellers is that it simplifies everything for its sellers. 
And how is it? We will tell you. All you have to do is choose a product you want to sell on Amazon's marketplace, ship it to the warehouse of Amazon and list it. It will then automatically go live on the marketplace and handle all other aspects on your behalf. All you have to do is begin to see your sales and profits. Amazon will transfer your amount to the given account number after it takes out its fees and other expenses.
Estimate of average Amazon seller income
Most of the Amazon sellers are making a minimum of 1000 dollars per month. Meanwhile, some super-sellers and businessmen make up to 250,000 dollars a month, about 3 million dollars in annual sales.
About half of the Amazon sellers (45%) may earn 1000 to 25,000 dollars a month implicit in yearly sales of 12,000 to 300,000 dollars.
While 20% or one-fifth of the sellers earn 25,000 to 250,000 dollars per month, annual sales would be 300,000 to 3,000,000 dollars.
Only 26% of the Amazon Sellers make below 1000 dollars per month in sales and profits.
And the remaining 6% earn more than 250,000 dollars a month.
Monthly Sales and percentage of all the sellers
Now we will discuss how much average Amazon seller income in sales is made by how many percent of all sellers. 
The monthly sales of less than 500 dollars are made by 17% of Amazon sellers.
Monthly sales of more than 501 to 1000 dollars are carried out by 9% of the sellers.
Sales of 1001 to 5000 dollars per month are made by 20% of the Amazon sellers.
More than that, 5001 to 10,000 monthly sales are due to 13% sellers.
12% of the Amazon sellers may carry out monthly sales of from 10,000 to 25,000 dollars.
10% of the sellers from the remaining can make the monthly sales from 25,001 to 50,000 dollars.
Moreover, monthly sales of more than 50,001 to 100,000 dollars are made by 5% of the Amazon sellers.
Above from 100,101 to 250,000 dollars of monthly sales are carried out by 5% of the Amazon sellers.
More than 250,000 are done by the remaining 6% of the sellers.
Selling on Amazon has recently become one of the most feasible ways to build an eCommerce business. So many sellers on Amazon do not have much experience, but it has no effect or impact on their sales and profit. Because after the delivery of their products at Amazon's warehouse, all of the rest is the responsibility of Amazon itself. 
Although sales are a frequent and strong indicator of good Amazon business, sales do not give you an accurate image of how much money Amazon sellers can earn. However, you make a rough estimate of profits, so let's talk about profits. 
Learn about: Amazon FBA – Everything You Need To Know About It
How much can Amazon Sellers earn profit from their sales?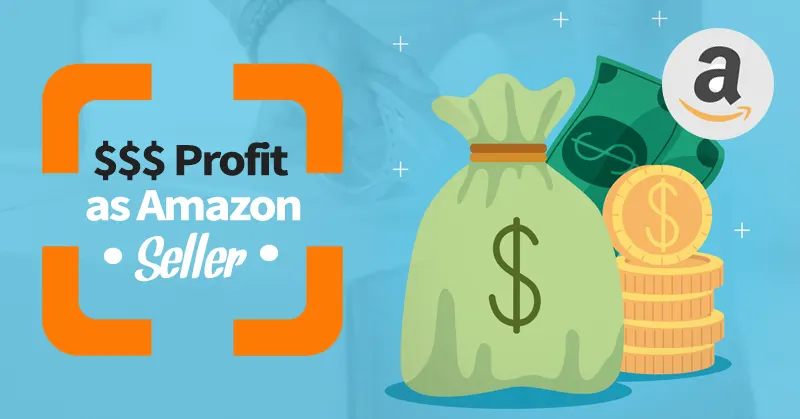 The average income of amazon sellers will be determined by the profit they make. If the profit margin of Amazon Sellers is high, the better, but small businesses frequently struggle to break in the first few years. On the other hand, other sellers may see relatively high-profit margins from the sales. 
More than 68% of the sellers that are two-thirds of the total have profit margins of more than 10%. 36% expect the profit margins to exceed above 20%, and the remaining 8% have businesses that are not profitable yet.
So here is an estimate of profit margin with the percentage of Amazon sellers.
1 to 5% of the profit margin is being earned by the 6% of Amazon sellers.
10% of sellers may earn 6 to 10% profit from the Amazon marketplace.
11 to 15% of the profit from Amazon is earned by 13% of the sellers.
16 to 25% of profit is earned by the 19% of the merchants on Amazon.
14% of sellers can get 21 to 25% profit from doing business with Amazon.
Profit margins from 26 to 50% are earned by 3% of the sellers.
The remaining 3% sellers of Amazon may earn a profit from 51 to 100%.
However, 8% of sellers of the Amazon marketplace are not currently profitable.
Money that Amazon Sellers made from overtime
Approximately half of the Amazon sellers may earn a lifetime profit greater than 250,000 dollars. It is not such a bad number. Firstly, most of the sellers started selling on Amazon to have an extra income. About 6 percent of them are now millionaires because of their successful Amazon businesses. 
More details regarding this are given below:
Lifetime profits under 25,000 dollars: 42%
25,000 to 50,000 dollars: 10%
50,001 to 100,000dollars: 8%
50,001 to 100,000 dollars: 8%
100,001 to 500,000 dollars: 10%
500,001 to 1,000,000 dollars : 4%
1,000,001 to 5,000,000 dollars: 3%
5,000,000 to 10,000,000 dollars: 1%
Above than 10,000,000 dollars: 2%
How long does it take an Amazon Seller to become profitable?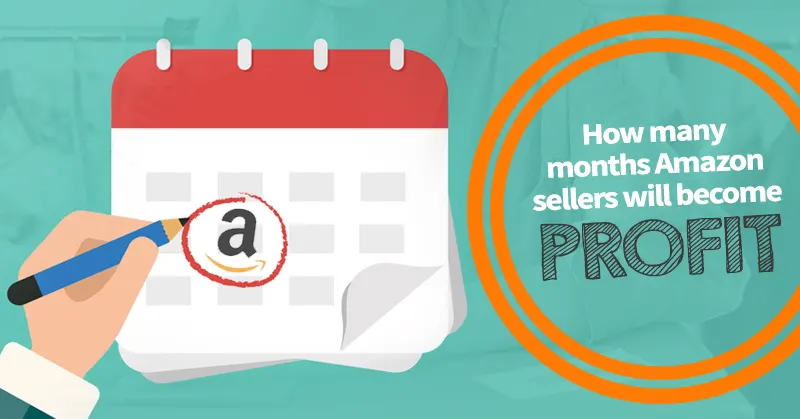 According to a global survey, most Amazon sellers say it takes them almost one year to grow their business and become profitable. Here are some of the states given:
Profits that sellers earned in the first three months are: 22%
From 3 to 6 months it remains constant: 22%
Within six months to 1 year, it goes up to 23%
And profit gains within 1 to 2 years is: 13%
While the profit they earned above two years is: 3%
Most of the sellers on Amazon may need more time to get the profit, and they can easily manage to do it within a year or hardly in two.
Start Selling and Profiting on Amazon
One of the main and interesting things about selling on Amazon is that it takes very little money. For 17% of the sellers, it is less than 500 dollars, and 21% of them may spend more than 10,000 dollars. Therefore, about 80% of the sellers may invest anywhere between 500 to 10,000 dollars.
After the store has been set up, experts say that you have to spend some time running your Amazon Business. This time's range will depend on the store's size and capacity and whether it is a full or part-time business. More than half of the Amazon sellers spend less than 20 hours a week, and some spend more than 40 hours on their stores. 
Once a store is set up, 67% of retailers said they turn a profit within the first year, 13% make a profit within 1 or 2 years, and only 3% take more than two years to see any profitability.
FAQs
1. How much does an average Amazon seller make?
According to many surveys, the average Amazon seller income is around $1000 to $25000 per month. So, the average income of the seller can be around $12,000 to 30,000 a year, depending on the products and strategies they are applying for selling on Amazon.
2. Is being an Amazon seller profitable?
Absolutely, yes! If you apply the right business plan and strategies, amazon can be profitable and a win-win situation. However, don't dig in right away. Take your time on research, and then invest your money. 
3. Do you need a license to sell on Amazon?
No, you don't need any license to sell on Amazon because most products that are sold online are not federally regulated. So, they don't require government approval. Learn about how to register a brand on Amazon and its benefits here. 
4. Do I need to use GST to sell on Amazon?
Yes, if you are selling taxable products, then you must use GST to sell online. You need to provide it to Amazon during registration. So, I would recommend opting for it before registration for a smooth process.
Want to launch your Amazon Product? Here is how you can do it
Are you looking forward to launching your Amazon product? Well, I recommend spending time on product research, its trend, and demand in the market.
Learn more about Amazon's product launch strategy and its services in 2021 to learn about the initial process to get started with Amazon. 
To start a successful Amazon business, join the Amazon FBA course, as it shows the exact path to financial freedom. You don't need years of experience to start with Amazon FBA; you need to follow the right path and strategies to take your business to the next level. Amazon mastery courses make it easy and simple to get started. 
I hope you know how much the average Amazon seller's income is and how long it takes to reach that level. Selling on Amazon FBA is a win-win situation if you know how to get started with the help of professionals. So what are you waiting for? Get started today. 
"Good business leaders create a vision, articulate the vision, passionately own the vision, and relentlessly drive it to completion." – Jack Welch.