Amazon FBA, also called Fulfillment by Amazon, is a process by which Amazon vendors and sellers use warehouses and logistics centers. Sellers get Amazon FBA services to sell their products around the globe and to take care of their products. When the customers opt for your products, Amazon is responsible for sending products. It also includes shipping, product packaging, and delivery. Also, if the customers are using Amazon prime, they can enjoy free shipping.
In this blog, we will discuss:
Shopping before Internet
How to get started with Amazon FBA?
Fees of Amazon FBA
Pros and cons of Amazon FBA
Who uses Amazon FBA?
Why are all sellers not using FBA?
The Buy Box Advantage
Resolving the Discrepancies
Lack of control with Amazon FBA
Common Amazon FBA Reimbursement Scenarios
Inventory destroyed without seeking permission/solicitation
Wrapping Up
Shopping before Internet
Before the span of online shopping, we had very few options for the traditional market search. This process was time-consuming and tiring. Besides that, with the hassle of wandering from shop to shop searching for the desired product, people had to come back bare-handed in many situations. Sometimes their product was not available in demanded specifications, or when smaller cities or towns did not provide the required variety. Along with that, shopkeepers also required a lot of space to set up their stores and tide over the initial phase. 
The internet came into our lives as a savior. Online shopping provides you with a huge variety of products at relatively low prices to the customers. Also, the fixed prices of online shopping centers are very low. However, the initial stage of online retailing was difficult for new retailers because they had to set up a shop. They also need to take care of shipping their items across different regions. 
This evolution has taken a long time, from selling just books to selling all kinds of commodities. We are somewhere in the middle of this progressive phase and because of several advantages. However, it will be a huge interest of customers soon. Amazon FBA helps the sellers resolve this problem by giving them an extensive and huge logistic network. It provides a warehouse facility for their products. Thus, it is now possible for everyone to start selling online without even a need for huge space. The seller still has a booming business from the starting day, along with the help of Amazon FBA. 
Amazon FBA: How To Get Started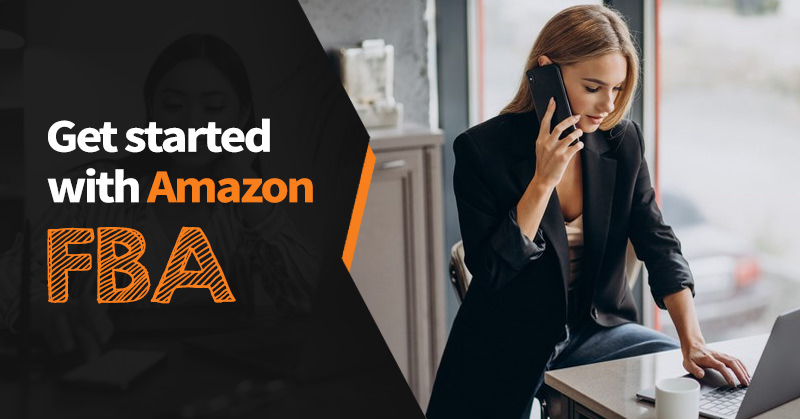 Sellers can choose FBA while registering their products or upgrade to Amazon FBA at a later stage as well. It is advisable and better for the seller if he handles the fulfillment of small products independently, but for larger products, there is no better place other than Amazon FBA. Big dealers can send the items or their products directly to the logistics centers, but it is recommended for you to send your products well labeled and clear cut to the Amazon warehouse.
It's all up to retailers how to send their products to the Amazon warehouse. But must keep in mind that damages may also occur during the transportation of your items. That is because Amazon gathers the goods, stores them, and determines the size or volume. Because it is an important factor for costs, Amazon FBA also provides you Multi-channel fulfillment benefits; retailers can use Amazon warehouse to store their products even when they sell them to websites other than Amazon. 
Fees of Amazon FBA
Amazon may charge different types of fees to the FBA sellers, such as:
Standard Seller Fees: Amazon may charge about 15 to 18% of the product's actual price as a retailer's fee when the product is purchased. This percentage depends on the item being sold. However, Amazon claims that they only charge 15%, but there are some hidden charges like refunds that are not fully charged back, and this enhances the overcharge to the retailer.
Fulfillment Fees: These fees are taken as per unit of a product, and they may differ because they depend on the product size, whether in standard size or oversized. It also includes picking and packing service, shipping and handling, customer services, and returns of products.
Inventory Storage Fees: This fee is based on the calendar month and daily average volume; retailers are charged a monthly storage fee per cubic foot of their inventory. This fee is also altered by the category of the size of the product. Along with monthly fees, long-term storage fees also apply to the units of products that have been stored in an Amazon fulfillment center for more than a year and did not sell out yet.
International Shipping: Amazon is now offering Global Export, allowing retailers to send their products across the globe.
Pros and cons of Amazon FBA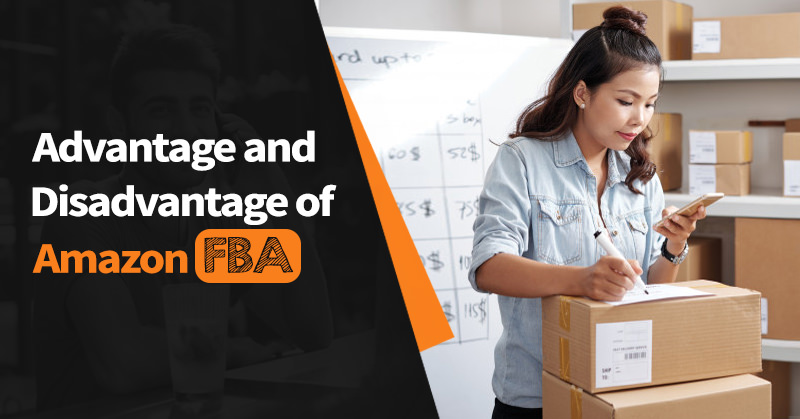 Are you looking forward to getting started with Amazon FBA? Or are you just looking for a new fulfillment solution for your eCommerce store? No matter what the case is if you are trying to sell products online,? So, it is worthwhile knowing the pros and cons of Amazon FBA. Here we go:
Pros of Amazon FBA
Following are some of the advantages of using Amazon FBA for sellers:
Power of Amazon Brand: It guarantees quality that most buyers and customers will appreciate and leads to more buyers. But preferring the sellers for connected with the Amazon brand. Customers who are expecting perfection in the delivery of items also trust the retailers more.
Subsidized Shipping Fees: Retailers can take advantage of cheaper shipping rates as Amazon has many contacts in shipping. Since Amazon prime offers to ship free of cost, sellers can also benefit from subsidized shipping over certain charges.
Multi-Channel Fulfillment: Amazon allows its customers to ship and handle the product sold on multi-channels. However, not just by the marketplace of Amazon.
Shipping Standardization: All of the FBA orders are being processed as Amazon deals with its inventories. It means that when a customer buys an item, Amazon's staff pick that product from the warehouse, pack it, and then ship it to the buyer. But, of course, a retailer can also feature a product on his website, and by the FBA services of Amazon. Futhermore,Amazon will still take care of all of the heavy lifts.
Access to the Prime Audience: Products that are qualified from Amazon FBA are eligible for Prime. It makes them more preferable for the customers looking for fast one or two-day deliveries. And also allows the retailers to access more audiences looking for the benefits of Prime. It also helpful to filtering the products using this Prime category.
Cons of Amazon FBA
Following are some of the disadvantages of Amazon FBA for sellers:
High Fees: Fulfillment and storage fees, with the addition of long-term storage fees, can assemble more quickly, especially with slow and oversized items. Moreover, retailers also have to pay the removal fees for damaged, defective, and unsellable items and disposal fees to eliminate those products that they cannot sell yet.
Product Handling Issues by Amazon: Some of the products may get lost or damaged sometimes in the process of fulfillment. Mostly, this error is on the side of Amazon and not on the end of the retailer. In such a situation, Amazon will refund its seller correctly. Although, with many fulfillments, some cases may go unnoticed, during which different inventories may get damaged, and retailers' money is lost. To avoid this, sellers must keep records of their shipments if Amazon does not receive complete inventory.
Precise Product Guidelines: Amazon has some specific requirements for the packaging of items for more secure fulfillment, such as bubble wrapping, so the product is not damaged during shipping. It may lead to further costs.
Stickerless Mixed: The default inventory setting of Amazon is to combine similar products from a manufacturer. If a retailer is selling the same products in the name of other retailers, their inventory may be mixed. Retailers should be aware of coming, as low-quality items from less reputable sellers may be combined with their products, leading to fraud and account suspensions.
More Returns: Amazon handles the returns of products with the help of Amazon FBA efficiently in a hassle-free manner for the customers. Sometimes, sellers can face more returns once customers realize how easy it is to return products on Amazon. As a result, it may lead to further losses to the sellers.
Who uses Amazon FBA?
According to a recent study, approximately 80% of the dealers appear on Amazon by partially using Amazon FBA. However, among these merchants with numerous sales of around one million dollars, only 1% use the services for articles, and 12% do not.
Why are all sellers not using FBA?
Some countries use the FBA Services of Amazon in very rare cases. It is because of two main reasons: they are disinclined to give authority, and the second is they are mostly unaware of it. One of its reasons is they have never dealt frequently with Amazon FBA to see how much this program can contribute to the rapid growth of their business. 
Retailers who have good experience in online shopping or trading have their fulfillment strategies even before Amazon FBA, and they see no need for the transition. Especially when they do not understand the benefits of letting Amazon handle their business terms and shipment of their items, the other deterrent of Amazon FBA is the cost. "Shipping through Amazon" is such a tension-free deal and ass quality has its cost, you may guess that the cost of this is restricted for many people.
Amazon FBA lists up all the costs and categories of several FBA sellers. And you may get a clear rate card for processing, packing, and shipping of the items.
The Buy Box Advantage
Most sellers are not aware that if they are on FBA, they get special preference in Amazon Buy Box. Because FBA products get the highest preference in the Buy Box of Amazon, this Buy Box is a shopping cart, that is, the box next to the product pages at Amazon, which contains the "Add to Cart" button. 
Amazon has listed many providers for an article of this given type, but the ones available at the Amazon Buy Box are listed at the top. As customers do not care about this provider list, it may become the biggest goal for retailers and providers.
To get the advantages of Buy Box, you must be a registered seller for at least three months. Along with it, you must have good sales and have good reviews. However, Amazon does not let you know about getting the benefits of this Buy Box advantage, but you will start seeing the advantages in your sales and reviews.
Many retailers compete for the buy box status of many inventories. Even though you do not have any competitors for your product, you must stand out among these sellers. Amazon never reveals the algorithm on which it is decided which retailers get the Buy Box advantage and which do not. So a seller has to stay at the top of his game to qualify.
Another important scenario when you are a seller is certainly the price. Although it is not enough to undercut your competitor by a few dollars, allocates like customer satisfaction, cancellation, or current stock are necessary factors. If you win the buy box, it has a great impact on the volume of your sales. 
Resolving the Discrepancies
Retailers may face many inconsistencies in the suffering cost of FBA as well as their dues in returns. That's where the Amazon FBA calculator comes in. It helps them clear confusion by providing critical data to the sellers, that is, on entering the dimensions and cost-related details of the product. They may also get a financial report for the respective products and frequently better your profit margins. 
Without a regular authority system and management, the situation might become difficult to handle for the sellers. If they need data of the last 30 days, they should keep in mind that the cutoff for compensation from Amazon is 18 months.
If you are an FBA seller, your main focus should be on retail arbitrage and not spending your time finding disparities. And here's where external software comes into play. They enhance the chances of getting the money that's due by saving time on finding the errors. The Discovery of errors has become easy and fast with this type of Amazon seller support software. And you get the maximum chances of returns.
Lack of Control with Amazon FBA
As we know, Amazon is handling most of the legwork for sales, inventory, payments, and returns. The retailer generally does not know the minute and in-depth details of their associated account's fulfillment and customer relations. 
Amazon FBA charges that are erroneous could lead you to high losses. Along with the maximum annual sales, the likelihood of expropriating charges is also very high. Although Amazon has efficient systems for taking care of these errors and returning costs to the retailers, a huge volume of sales and catching all such mistakes is not that easy. But when you are in control and have your authority, you are not relying on Amazon to calculate your returns.
Common Amazon FBA Reimbursement Scenarios
Some of the most common causes for Amazon FBA reimbursement are as follows:
Money credited to wrong seller's account
Overcharging weight/size fees
Damaged or lost shipments
Money refunded to the customer without a return
Inventory Destroyed Without Permission
The policy in which most causes errors is issuing the refund to the customers on initiation of the Reuters, despite refunding them at the time of definite shipment of the item back to the retailer. But if the product is not returned within 45 days, then the customer is being charged for it, and the retailer is credited, but commonly it does not happen often, and the retailer has to bear the loss.
However, this policy works efficiently, but in some cases, large volumes may lead to larger sustain loss because of accumulating smaller errors. Along with large volumes, tracking of these errors may also cause hurdles. But the FBA is overall a good Amazon strategy for especially those retailers who do not know how to sell their product on Amazon. 
Wrapping up
Amazon FBA offers a lot of perks to the sellers if they start after researching properly. It also offers ease of selling, especially for the new sellers on Amazon, as they don't have to worry about warehouse or shipping products. Along with that, it also takes care of inventory, returns, payments, and customer support. With time, your products will also become eligible for Amazon Prime.
So, if you are a beginner and want to get started with Amazon FBA online business, join for the best Amazon FBA Course here. It will help you build your online business on Amazon and get step-by-step knowledge from A to Z to start. It will also help you with any questions you may have. Don't settle for less; this course is the best Amazon FBA course. Do your research about this course, and you will find this course the one.
"What we need to do is always lean into the future; when the world changes around you and when it changes against you – what used to be a tailwind is now a headwind – you have to lean into that and figure out what to do because complaining isn't a strategy." – Jeff Bezos.