Amazon is one of the most valuable companies in the world. It has made Jeff Bezos rich, and it has served hundreds of millions of customers to date. The best part is that Amazon also helped many entrepreneurs establish a business on their platform, gaining access to a huge customer base. Amazon Wholesaling is one of the business models you can do selling on Amazon. This article will cover many things about how to sell and start a wholesale business on Amazon. Stay tuned!!
What is Amazon Wholesaling?
Amazon wholesaling needs to be broken down into two parts to explain it, and when you put those things together, you will get a good picture of what it is.
Wholesaling is not something new. In our day and age, when you want to get into wholesaling, you purchase a large quantity of a product directly from a supplier or manufacturer and then sell it to end customers. The expectancy is to turn a profit in the process and reinvest into more inventory or expand the number of products in your inventory. On paper, it sounds simple, but wholesaling requires a considerably larger investment than drop shipping or retail arbitrage.
Once you have an inventory, that is when Amazon comes into play. Amazon provides access to a large audience, tools to track your sales and performance, manage customer feedback and complaints, and even offer storage for your products. Not only does Amazon provide amazing tools, but it also reduces your overhead, has the potential to boost your sales, and it can help increase your profit margins depending on your business model.
How to Sell and Start Your Wholesale Business on Amazon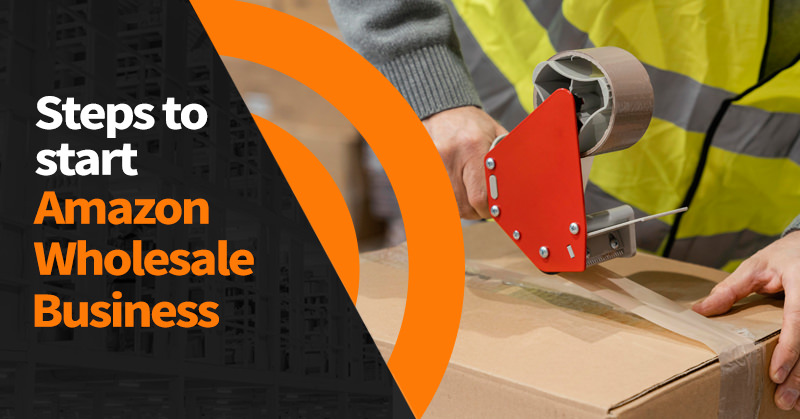 If what you read so far stirred your attention, keep reading as we will go through the steps required to start selling your own Amazon wholesale product. Just keep in mind that it may get complicated a bit but do not feel discouraged. You do not have to go through all the steps at the same time. Having a structure and following each step one at a time will get you where you need to sell your wholesale products on Amazon.
Step 1: Create your Amazon Seller Account
This step is a no-brainer. However, it is the first thing that you should do about how to sell wholesale on Amazon. It does not cost you much, and it immediately offers you access to all the tools that Amazon offers to its sellers. You want to get a Professional account which can be more lucrative than an Individual account. The reason for saying this is that Individual accounts are charged $0.99 per sale while Professional accounts are not. You pay a flat $39.99 fee per month and can sell as much as you want or can without paying any additional fee to Amazon. If you believe that you will have more than 40 sales per month, get a Professional account.
You should also know about Professional accounts because they offer you access to more tools to manage your inventory and generate reports. Individual accounts lack these features, and you will quickly discover just how useful they are.
On the other hand, Individual accounts make sense but only if you want to try different things on Amazon. A small business that makes less than 40 sales per month may get by with such an account, but you should think about upgrading once you exceed that threshold. We will not go through the signup process as that is straightforward. What is not straightforward is the next part.
Step 2: Product Research for Amazon Wholesaling
Just because you find something cool or interesting does not mean it can be profitable. It also does not mean it will sell well. Yes, you can start selling wholesale on Amazon with anything you can think of, but not everything is a good investment. It would be best to find a niche, get the right product from the right supplier, and base your decisions on research and real facts instead of opinions and personal preferences.
To find your niche product, you need to find your niche product. Finding the right supplier is the next step, as you may find multiple suppliers for the same product.
Once you set your mind on a few products that you would like to sell, you need to identify which of their products can have the potential to offer the biggest profit margins. So that, products need to tick a few boxes:
– There isn't much competition.
If you plan on selling something, high competition will kill your sales. Imagine starting to sell diapers on Amazon when there are hundreds of sellers for this product already. You need to find products that are scarce on Amazon.
– High-profit margin.
Where there is not much competition, you have a bit of leverage in terms of pricing. It means that you can set the price for your products with a higher profit margin. Profit margin is important, especially when starting your sales volumes may not be that high. You also want to earn enough profit to cover your costs and be left with some cash in the bank.
– Small products are better.
The reason for saying this is related to shipping costs. Not only that parcel carriers charge less for smaller packages, but you will also spend less on the packaging. It makes sense to start with small products with high demand, and as your business grows, you can look at larger, heavier products.
You'll need to conduct your own research for this sort of study since Amazon does not provide any tools for product research. There are third-party tools such as Jungle Scout or Helium 10 that you can use to ease your work while providing factual, unbiased numbers. The numbers that you want to look at are:
Net margin
Competition
Profitability
Demand
Number of Reviews
Average review score
Step 3: Supplier Research of Amazon Wholesale
If you reach the stage where you firmly know what you want to sell, it is time to move to the next step. It would be best if you found a supplier to move forward with your Amazon wholesaling business. Without previous connections, finding a supplier that can provide you with that particular product can be intimidating, but in reality, it is not that difficult. Google can help with this matter more than you think.
Using Google to find suppliers is relatively simple. You need to search for the product name/brand you want, followed by "authorized supplier" or "authorized distributor." You want to make sure that you work with a legitimate supplier. For example, if you want to find suppliers for wireless car chargers, you will need to search for a "wireless car charger authorized supplier."
Marketplace Choice
Another good way of finding suppliers is Alibaba. Alibaba is a large marketplace that connects wholesale businesses with manufacturers. You can find pretty much anything you can think of. The only part that should demand caution is the quality of the products you are getting and counterfeited items. There are many sellers on Alibaba that make knock-offs. That is a really bad way of starting a business on Amazon because your customers will find out that you are selling products of questionable quality and origin. That will kill your business, and it may even lead to Amazon permanently banning your seller account as selling counterfeit items is prohibited. What you can do is ask for samples from different suppliers on Alibaba and check their reviews. Once you identify the right supplier with the right product, you are ready to move to the next step.
Before moving to the next step, there is one more way of finding suppliers. There are wholesale directory sites that you can use, such as TopDirectory, Greatrep, or 4WholesaleUSA. While these can be great to find authorized suppliers, their prices are higher than on Alibaba. They offer a certain degree of convenience and security when working with them, but you will be taxed for this in the form of thinner profit margins. You need to put everything on a scale and decide which option is better for you and your Amazon wholesaling business.
Step 4: Establishing a Business Relationship With Suppliers
When you work with suppliers from China that you find on Alibaba, you approach them that does not matter that much, but things are slightly different if you work with big brands. Big brands do not like to see their name associated with shady wholesalers that could affect their image. To land a deal with a big brand supplier, you need to build a certain degree of credibility and professionalism. You can do this in several ways, but a few key points make a big difference in your business relationship with a supplier.
– Generic emails are a no-no.
Using something like a free email account from Yahoo or Gmail for your business communications does not land well with suppliers or big companies. If you are serious about what you are doing, you need your domain name. Something like [email protected] makes a bigger impact and seems more trustworthy. Building a business website on that domain will score more points for your suppliers, but it is not mandatory. A professional email address adds credibility and legitimacy to your name.
– Show them your business plan.
It would help if you had a business plan. From the first email you send to a potential supplier, be clear on how you plan to do business, your target audience, and how you want to promote their products. Be clear that you work as an Amazon wholesaling business since some suppliers may or may not agree with this based on their internal policies and how they want to manage their brands.
– Familiarize yourself with their brands.
If you are to talk over email or phone with a supplier, make sure that you are very familiar with what they are selling, their products, quality, and business model. You want to appear knowledgeable and well determined to do business with them. This aspect is very important, and it makes the suppliers more likely to trust you with their brand if you show them that you care about their products and know a lot about them.
– Put a face to your name.
You may find this one odd, but what it means is to propose a video call. Try to see your suppliers face to face. Business dynamics are different when people see each other, and this is no different. A video call will again establish trust and increase your odds of landing a business deal.
– Be prepared for hesitation.
Some suppliers may tell you no outright when you tell them that you work as an Amazon wholesaler. Usually, there is a reason for it, but it does not mean that you cannot overturn it. It would be best if you found out why they are hesitant about this and addressed their concerns.
– Emphasize what value you will bring to their brand.
If you have a solid business plan, you will have to explain how you will positively contribute to their business and brands. Try to open a discussion about PPC, product promotion, enhanced brand content, reaching a broader audience, and so on.
Do not rush to get a quote if you manage to secure a commitment for a deal with a supplier using the above pointers. When working with large quantities of a product, most likely, you can negotiate prices. After all, you plan on buying the stock outright, which means cash for them that is not locked in inventory in one of their deposits. Try to negotiate the price and get that in a written format. Also, be very clear that you want to start with a small test order before moving to larger orders. The more you buy from them over time and prove your reliability as a wholesaler, the more likely you will get a better price for subsequent orders.
Step 5: List your items on Amazon
Assuming that you already have your small test order delivered, waiting in your physical inventory, you should start listing your products on Amazon but make sure you have the ASIN number at hand.
To list a product on Amazon, you need to go to "Seller Central" and click on the "Inventory" tab. From there, hit the "Add a Product" button. You will have the option to search for the item by name or ASIN in the Amazon database, and if it exists, it will autofill most of the details. However, if the product isn't already listed on Amazon, you will have to list it manually yourself. You will need to upload high-quality images of the product, which you can do yourself, or the supplier can source you with some.
You will also need to add keywords to your product. The keywords are what people search for in the Amazon search bar to find products. Use a research tool that can help you determine which keywords to use related to your product to make your items appear in as many searches as possible. These keywords need to be included in the product description. Do not overuse them, as they will skew the search results.
Step 6: Inventory Management and Order Processing
Inventory management is just as important as order processing. Selling Amazon's wholesale business means tight control over inventory, and what you put in Amazon as existing stock must always exist physically. If you fail to do this, you may find that customers place orders that you cannot fulfill.
Managing your inventory is entirely up to you, but the Fulfilment by Amazon program provides a fair degree of advantages. In just a few words, Fulfilment by Amazon or more popularly known as FBA, means that Amazon stores your inventory. They store your products in their warehouses, and they handle all the processing of your orders. It also enables your products to be eligible for Amazon Prime shipping. For a business that is exclusively built as an Amazon wholesaling company, FBA makes a lot of sense. Even if they charge between $0.48 to $3.63 per cubic foot of storage per month, it can be well worth your investment. You will also pay between $1.79 to $13.23 per item, depending on its size. That includes everything from packaging to shipping.
The only scenario where FBA is not recommended is if you plan to sell your products somewhere else. If you plan to build a website and sell your products there in parallel, you should manage your inventory and shipping and have an independent storage facility. Costs may be higher with this method if you are handling low volumes of sales.
Even if you decide to go with the FBA program, you are not off the hook completely. Cause you still need to manage your business. That means that you have to manage customer complaints, and you need to keep a close eye on your inventory. Selling wholesale on Amazon through FBA does not exempt you from the responsibility of replenishing your stock.
Pros and Cons of Amazon Wholesaling Business
Advantages of Amazon Wholesaling
Selling on Amazon offers several advantages. It has some negative aspects as well, but we will get through those a bit later.
– Variable competition. Selling products that wear big brand logos is not very common. There is less competition, especially if you land a deal with a supplier that can provide you with high quality and in-demand products from reputable brands. The reason for this is that landing such a deal is a laborious process. It can be complicated, require a lot of paperwork, and take time until you seal the deal, but it will be well worth your time if you manage to get through till the end.
– Boosted sales for small operations. If you are a small business, selling products using your web store depends on many factors beyond your control. You need to invest heavily into SEO, Google may be acting up and may not even show your website in search results, you will have to work harder to build credibility, and you will need much more traffic to make a single sale. With Amazon, you instantly gain access to a large customer base, have lower competition, and you will not be required to invest as much into marketing campaigns.
– Bigger profit margins. Usually, if you decide to go with the Amazon FBA program, you can reduce your overhead, and as a consequence, you have a higher profit margin.
– Less to manage. An Amazon wholesaling business is easier to manage. If Amazon handles your inventory, order fulfillment, and shipping, you only have to take care of customer relationships and buy more stock.
Disadvantages of Amazon Wholesaling
Not everything is fine and easy about having a wholesale business. It would be best to think about several aspects, but things are not as bad as they seem.
– You need bigger pockets. In the beginning, you will need a larger budget to have your first order shipped from a supplier. Once you have your first batch of inventory, sales start coming in, and you start building capital towards your next order.
– Can be difficult to get suppliers. If you value your business and want to work with authorized suppliers of big brand names, you will have to work a bit to get them convinced that you are trustworthy and a good business opportunity.
– Risks associated with inventory. When you do an Amazon wholesaling business, you deal with large batches of inventory. It can take time until you manage to sell it all. You may also be exposed to situations where you will not sell all of it and may need to offer it at a discount.
– More rules to follow. Amazon already has its own strict set of rules for sellers. If you work with known brand names, you may have to deal with their rules on top of it all.
Useful Tips to Increasing Your Profit Margins
The above information should be enough to understand how to sell wholesale on Amazon. As time goes by, you will get to tweak your business model to increase your net profit. There are a few tips you should follow to help curve the learning process.
– Research is king! It would help if you did proper research before starting an Amazon wholesaling business. Too many wholesaling businesses failed because they did not perform rigorous enough due diligence.
– Not using marketing strategies is a costly mistake. Nobody starts getting orders for their products overnight without moving a muscle. Amazon ads are a good way to gain visibility for your products, especially in the early days. The sooner you learn how to use Amazon ads, the sooner you will be able to provide a well-needed boost for your business.
– Enrich your knowledge. Nothing worth having is easy. You will need to put in a fair share of work before your business kicks off. However, you will not get far without being armed with proper knowledge. Taking a course on Amazon wholesaling can spare you from trial and error experiments. It can save you money on failed experiments, and it can save you a lot of time that you would have wasted learning about this type of business yourself.
FAQs
1. Does Amazon offer wholesale pricing?
Amazon does not have a policy strictly targeting wholesale businesses. They offer facilities, services, and tools that allow you to operate your wholesale business on their marketplace. Depending on how your business is organized, sales volumes, and what type of products you are selling, you may want to choose one Amazon FBA product over another.
2. How much do Amazon wholesalers make?
Nearly half of all Amazon sellers make around $1,000 in sales per month. Big players make $250,000 each month in sales. Around 25% of all Amazon sellers make $25,000 or more in sales per month.
3. How do I sign up for Amazon wholesale?
You can find above in this article how you can sign up for an Amazon seller account to start your wholesale business. I will also share a few details about different types of memberships.
4. Is Selling on Amazon considered Wholesale?
It depends on the quantity you are selling. If you order small quantities of an item, let us say 10, you are not reality wholesaling on Amazon. Wholesaling means ordering a large inventory of a few hundred pieces of a particular product.
5. Can I buy wholesale without a business?
The simple answer is no. You will have to work with legitimate authorized suppliers. These suppliers do not work with individuals and only sell to businesses.
6. How do I start a wholesaling product?
This article's step-by-step guide will answer this question. You need to understand that you can either create your product or sell products wearing a well-known brand from a legitimate source.
Conclusion
Now that we go through the most common questions, you can also read my other blog of Ultimate Guide Amazon FBA Wholesale Suppliers In The US.
It is time to get into some summary and overview of amazon wholesaling. What does it mean? How to sell and manage an Amazon wholesale business? It is pretty much like you are selling in brick and mortar store, where you need to buy the inventory from the brand in large quantities and sell higher prices. In this case, you are not selling in brick-and-mortar stores but selling them on Amazon.
You may need a big investment and a professional company, but most importantly, you need to build a relationship with the brand. That is the key to success in the Amazon Wholesaling business. The best thing about this business model is that you won't need to do so much to manage your Amazon store, unlike the Private Label model. Cause most of the work is done by the brand owner.
We have now reached the end of this brief list of steps that you need to follow to build a successful Amazon wholesaling business. Just remember that nothing worth having is ever easy. You can make it easy on yourself through knowledge and by absorbing the know-how of those who did it before you. If you've gotten this far, most likely, you are interested in building an Amazon wholesaling business.
Do you still need more guidance? Or are you ready to start Amazon FBA's wholesale business? Perhaps you already have one. Do you want to scale your business? You can join Amazon Proven Wholesale. It will teach you step-by-step how to start and sell Amazon FBA wholesaling business from A to Z and answer any questions you have regarding Amazon business in general. Most importantly, it will help you build your Amazon business from the beginning until you have successfully built your business.
"Life is growth. You grow, or you die." ― Phil Knight.