Amazon has emerged as an eCommerce giant with its roots spread wide across the globe. Besides being an online shopping platform, Amazon has joined hands with local sellers to have mutual success with its partners. If you are one of those creative businesspeople, managing your business can be a daunting task. That's because it involves several operations like building product catalogs, entering the product data, entertaining customer queries, running marketing campaigns, and so on. In such cases, hire Amazon Virtual Assistant is a perfect solution to take some load off your back. Here, I have prepared a complete guide to hire an Amazon virtual assistant.
What is an Amazon Virtual Assistant?
A virtual assistant for Amazon is someone you hire to work remotely, either full-time or part-time. You can think of a VA as just another employee working in a company. However, virtual assistants are typically hired for performing monotonous, time-taking tasks. They are working resources who are responsible for:
Managing your business store on Amazon
Performing operations like inventory control, matching the reviews, downloading barcodes and shipment slips
Managing the customer support services on Amazon
Do specific tasks such as copywriting, photo editing, marketing, and so on.
What does amazon virtual assistant do?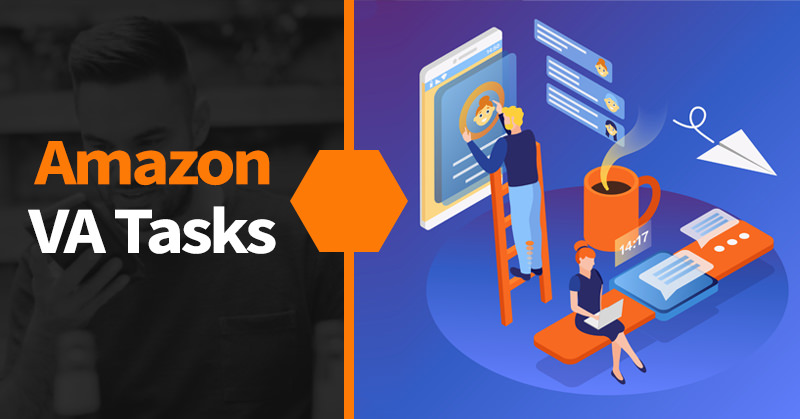 Are you wondering why you need Amazon virtual assistant? The answer is simple! The virtual assistant will carry out tasks related to your Amazon business and complete the tasks that will either waste your time or are beyond your scope. Here are some tasks that you may need an Amazon VA for.
• Administration
An Amazon Virtual Assistant is of great help in taking the product orders, processing them, keeping track of the shipments, and ensuring timely deliveries.
• Customer support
Amazon VA for dealing with your customer service is a remarkable way to grow your business on Amazon. Certainly, they help you design message templates, provide timely answers to your buyers' queries, reply to the reviews, spotting fake reviews, and manage the refunds. 
• Sourcing the products
If you have decided to outsource your products, finding the vendors and negotiating the prices can be challenging. An Amazon VA with effective negotiation skills can help you diversify the product range of your business while cutting down on costs.
• Conducting market research
Market research is important to boost your sales by playing some unique tactics. The Virtual Assistant will conduct market research for you, bringing close insights about the market to your table. Also, they will assist you with what to sell, depending upon the best-performing products on Amazon and the products sold by competitors. 
• Content Writing
An Amazon VA with copywriting knowledge will help you write product descriptions and product listings to expose your business to a wider audience of target buyers. Therefore, they will create newsletters and help you in the email marketing of your business. 
• Translation
If you plan to run a multinational business on Amazon, you may hire someone multilingual, translate the product descriptions, and communicate effectively. In that case, An Amazon Virtual Assistant is your one-stop solution for this. 
• Photography
Who is going to buy a product with no face? So an Amazon Virtual Assistant having photography skills will take photos of your products and add them to the listings. They may also edit the existing photos to improve their quality.
• Running Ad Campaigns
Your Amazon listing needs to run ads on Amazon to reach a larger audience and create a buzz about your product like any other business. In this case, your VA will take care of the ad campaigns for you. The person will design campaigns with Seller Central tools while inputting the negative keywords and using analytics to track the progress of your ad campaign. 
• Fulfillment
A Virtual Assistant for Amazon will also help you keep track of the inventory, track the shipments, get the barcodes and shipment labels for the products, and note down the missing units, if any.
How will you benefit from hiring an Amazon VA?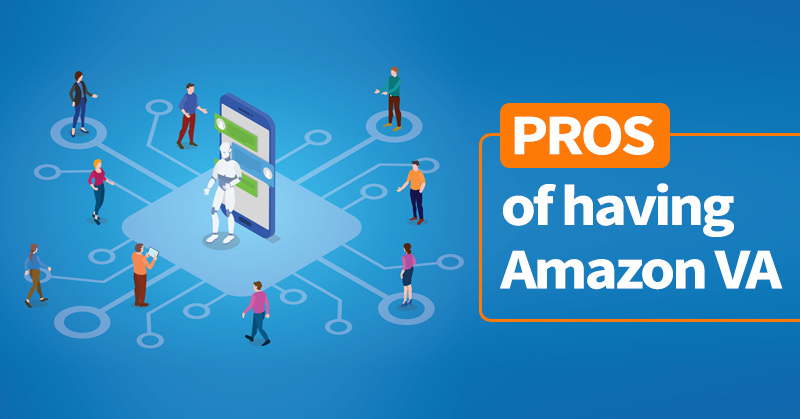 There are noticeable benefits of hiring an Amazon virtual assistant for your business. If you feel skeptical about hiring a VA, go through the points below to know how a VA can help your business.
An Amazon VA works remotely. So you don't have to spend money creating an office, installing equipment, and creating a functional workspace for the virtual assistant.
Assigning time-taking tasks to the virtual assistant will help you save a lot of time to invest this saved time in improving the product quality and developing strategies to grow your business.
Most virtual assistants are paid based on gigs. So you don't have to pay them fixed salaries, insurance benefits, and so on.
An Amazon virtual assistant conducts the market research and helps you advance the sales graph positively, helping you gain handsome profits.
Since an Amazon virtual assistant manages most of the challenging tasks involved in running a business on Amazon, your workload is drastically reduced.
Hiring a VA will reduce your worries about managing your Amazon store, seeking assistance, boosting productivity, and increasing profits.
When is the right time to hire an Amazon Virtual Assistant?
Your budding business may not require a virtual assistant at the beginning. But if you are targeting the crazy growth of your business or your business is too big to be solely managed by you, you can consider hiring an Amazon VA. If you are using FBA (Fulfillment by Amazon), then you should hire an Amazon VA.
Are you still facing the dilemma of whether or not you should hire an Amazon VA? Carry out a small test given below to know when you need to hire a virtual assistant for Amazon.
1. Note down all the minor and major tasks that you do within a week.
2. Note the time you dedicate to each of these tasks.
3. Make a list of tasks that are taking too much time, and you can outsource.
4. Add the time you spend on these tasks.
That is the free time you will get that you can dedicate towards your other activities for the growth of your business.
Which tasks should I choose to outsource?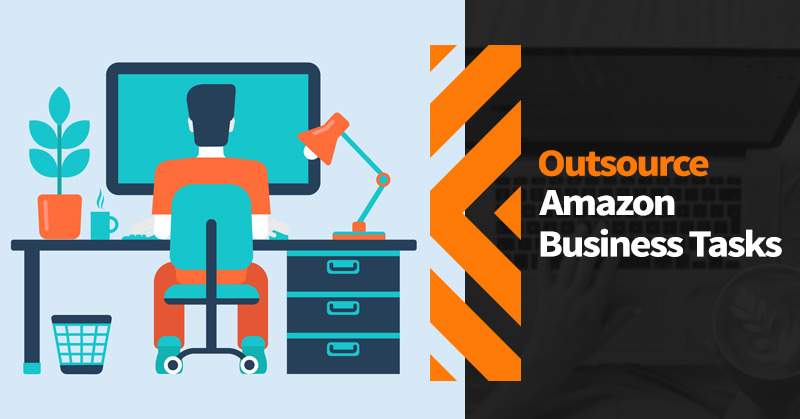 Which tasks should you choose to outsource? Good question. Look at the list you made above and pick out three types of tasks.
Tasks consume a lot of your time.
You feel too boring doing it.
The VA can do better efficiency and quality.
If your requirements include more than one skill-set, you may consider hiring multiple virtual assistants for Amazon having a unique set of skills. Here are some tasks that you should consider outsourcing to an Amazon VA.
1. Order Fulfillment
Order fulfillment is one of the most tedious processes of running a business. Because the process of receiving, processing, and shipping the confirmed orders is long and tiresome. Amazon offers sellers several ways to fulfill and order. Some of them are:
Self-fulfillment
Third-party fulfillment
Fulfillment by Amazon (FBA)
Dropshipping
Since Amazon focuses on providing the best quality of services to the consumers, your work will become more challenging if you choose to do any of them. Several costs are included in these services, like warehouse rents, FBA fees, and storage costs, that should be carefully considered. However, an Amazon VA will take care of all of it.
2. Optimization of the product listings on Amazon
SEO is a fantastic tool to manipulate your product rankings on the search results. It drives more traffic towards your business and increases lead conversion rates. So for an Amazon product listing to perform well, you will need to focus on:
keyword integration
quality and the number of photos added
attractive product title and description
page layout
An Amazon VA with SEO skills can change the direction of your sales graph to a positive curve.
3. Market Research and Analysis
Online business is all about targeting your potential buyers while keeping up with the trends and strategies of competitor businesses. An Amazon VA will conduct the market research for you and bring the analysis of the competitor's strengths, the knowledge about their product quality, their customer response, and target keywords to focus on. They will also keep up with their ad campaigns and marketing efforts to strategize a similar approach for your business. 
4. Customer Support
Amazon has built a strong reputation in providing a seamless and smooth shopping experience to the customers. The customers leave questions, reviews, and messages to the sellers now and then. So an Amazon VA is your go-to person for managing all the needs and requirements of the customers. That includes replying to their messages, answering their questions, and managing the reviews.
Where can I find Amazon Virtual Assistants?
Finding the right place to hire a virtual assistant for Amazon is the first step in the process. There are three major platforms where you can find skilled virtual assistants for your business based upon the skill-set you need.
1. Virtual Assistant based agencies
Hiring an Amazon virtual assistant through agencies is a great option if you don't want to invest time verifying their identities and skills. Another big advantage is that you can switch among VAs at any time if you need an assistant who can perform complex operations.
2. Freelance platforms
Freelance platforms are advantageous if you are willing to interview them yourself and read the reviews of the assistants. The main advantage is that you can find people who are ready to work at lesser rates. Here are some of the most popular sites:
3. Direct hiring
You can directly hire virtual assistants for Amazon by searching for candidates on job portals or social media and referrals.
How to hire an Amazon Virtual Assistant?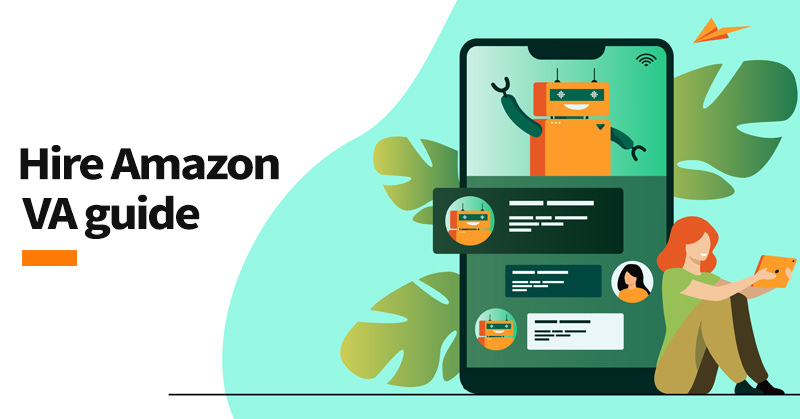 It is neither too easy nor too difficult to find the right virtual assistant for your business. So, how to find a virtual assistant for Amazon with the right skills and experience? Here's your answer:
Setting expectations from the VA is the first step towards hiring them for your business. For this, you need to identify why you are delegating a particular task to the virtual assistant. It will help you in making the list of tasks for the virtual assistant.
Setting the performance indicators
How will you evaluate the performance of the virtual assistant? It is one of the key things to take into account while hiring an Amazon Virtual Assistant. You can set the indicators like the number of hours they will work, goals they ought to achieve in a certain period, things they will be held accountable for, their prices and payment procedure, progress reports, and so on.
Defining the scope of work
Communicating the scope of work is necessary for the virtual assistant to work more efficiently. That includes defining the duties and responsibilities of the assistant and details about them.
A test run is a great practice for both parties. It will help you understand the assistant's capabilities, skills, and attitude towards the job. A test run will help the assistant understand the roles and responsibilities they are expected to fulfill.
Please note that no VA can work wonders in a matter of a few days. Big results take time. So be patient and work collectively to grow your business.
How can I interview Amazon Virtual Assistants?
The interview process is an integral step in hiring an Amazon virtual assistant, especially if you find them through freelance platforms or direct hiring. If you are hiring through an agency, you can skip this step altogether. Instead, you will need to share the information regarding tasks performed by the assistant, the experience you are looking for, or any other specific demands.
When hiring an Amazon virtual assistant through a freelance platform, you must lay out all the duties and responsibilities of the assistant as part of the job description. You can add a few questions to know about the candidate better and to confirm that they have read the description completely.
Once you receive the applications, shortlist some of them for the interview. However, you have limited freedom in terms of ways to conduct the interview. If the VA has good internet connectivity, you can use Zoom to conduct the interview.
How much should I pay for an Amazon VA?
The costs of hiring an Amazon virtual assistant may depend on many factors like the type of tasks you assign to them, the experience of the assistant, and the location where they are based. An average pay rate may vary from $5 per hour for an overseas assistant to $15 per hour for an assistant based in the US.
At this pay rate, you may expect services like administration, fulfillment, and customer service. The pay rate is bound to increase with the specificity of the skills like photography, market research, advertising, copywriting, etc.
How can I manage a remote Amazon Virtual Assistant?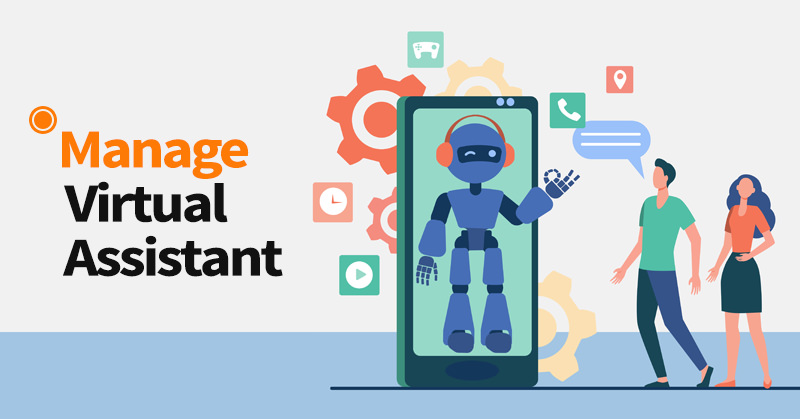 Once you have recruited the virtual assistant, the next step is to manage them remotely. Here's how you can manage a remote Amazon Virtual Assistant.
• Training
Are there any specific or pre-described ways of carrying out some tasks? If yes, then you will have to provide training modules or tutorials to your Amazon virtual assistant to go through. You will also need to let the VA know about your business and help them understand the requirements better. It will help you and your VA manage tasks more efficiently and cut down on time spent on explaining tiny things repeatedly.
• Communication
It is extremely important to discuss the mode of communication between you and your virtual assistant at the very beginning. It is good to use any business communication platform if your work involves frequent messaging. Project management software is of great help if your VA is responsible for managing multiple tasks at a time. Otherwise, mailing within the same thread with timely video calls is good to go for your business on Amazon.
• Time Tracking
There is time-tracking software commonly used in the business world to keep track of the time spent by workers on useful work. Also, you can use this software with Amazon Seller VA to ensure that you only have to pay for the time spent on good work. 
• Payment
Paying your virtual assistant is relatively simpler and worry-free when hiring them through an agency or a freelance platform. The agency or the freelance company is the mediator between you and the VA in case of funds. Your VA will only receive the payment when they have successfully delivered your work. So you don't have to worry about a VA running away with your money.
In direct hiring, you will be required to communicate the payment options with the VA. A quick bank transfer is the easiest option if both of you are located in the US. But if your VA lives in some other country, you will need to take help from other payment platforms like PayPal or Western Union to transfer funds.
Please note that these payment platforms may charge a certain amount of fees for processing the payment.
• Time off
While hiring and managing a virtual assistant, especially someone living overseas, you will need to communicate the time off to your VA. Your VA may take many days off for vacation and national holidays, which are bound to vary while hiring someone overseas. It is important when you are hiring for a full-time or part-time position. If you are hiring someone for a few hours a week, then you can skip doing this.
How can I find out if the VA is the right fit for me?
To know if the VA is the right fit for you, you will need to analyze the performance of the assistance during the time they have been working for you. For example, if the virtual assistant for Amazon is making repetitive mistakes or taking more time than you would, consider replacing them with a new one.
If you have hired a virtual assistant through an agency, you won't face any hassle changing the VA. You can ask them to give you a new one, and they will immediately assign a new virtual assistant to you based on your requirement.
If you have hired the assistant directly from a freelance platform, replacing your current virtual assistant can become stressful. It is because you will have to go through the entire process of posting a job advertisement, interviewing them, and going for a test run.
FAQ
1. How do I hire an Amazon Virtual Assistant?
You can hire an Amazon virtual assistant through freelancing platforms, VA agencies, and direct hiring.
2. How much does an Amazon Virtual Assistant make?
An Amazon Virtual Assistant can make $500 to $800 per month depending upon the number of hours they can work and the type of tasks they can handle.
3. What does an Amazon Virtual Assistant do?
An Amazon virtual assistant does various tasks such as managing the Amazon store, marketing, data entry, product photo editing, etc.
4. What is Amazon Virtual Assistant called?
Amazon Virtual Assistant is also called "VA." They are called so because they work remotely and assist your business over the internet.
5. Can I hire someone to run my Amazon store?
Yes, you can hire a VA to run and manage your Amazon Store. Because Amazon VA will help you track the inventory, shipments, managing customer service, and support. 
6. How much does an Amazon consultant cost?
An Amazon Consultant may cost around $1000 per month. The prices may increase with the complexity of the role and the number of products needed.
7. How much does an Amazon specialist make?
An Amazon Specialist can make close to $3500 per month. It depends on the experience and skill-set of the specialist you are hiring.
Conclusion
When hiring an Amazon virtual assistant, you can start by assigning only the monotonous tasks to the VA. As your business grows up the scale of success, you should consider assigning more duties to the VA. When your profits are increasing through considerable margins, it's time to invest in specialists in the fields of copywriting, market research, photography, ad campaigning, and so on. VA will not only expand your business but also create new and more exciting opportunities for your business.
If you want to get more updated information about Amazon FBA, you can read my other blog on How To Start Amazon FBA Private Label Business. If you are ready to start the Amazon FBA business, you can check the Amazon FBA course to learn deeper step-by-step A to Z starts from scratch. They will help you If you have questions or you need help during your learning. Most importantly, it will help you to build your Amazon FBA online business successfully.