Increasing website traffic is one of the most crucial aspects to drive more conversions and sales. So, no one can deny the importance of website traffic as more traffic means more clicks, and more clicks eventually bring you more sales and loyal customers. Now the question is how to increase website traffic in the easy and fastest way?
Whether you are trying to sell anything online using an e-commerce store, running an affiliate website, or a YouTube channel, you need traffic. As a beginner, driving quality web traffic is a big concern. But, with time and applying the right strategies, you can drive millions of traffic on your required platform.
Wondering about how to increase traffic to your website fast and start earning a good amount of money. In this blog, I will be putting down the most effective and best ways to get quality traffic on your website:
Method #1 – Increase Website Traffic with SEO
If you want long-term and potential customers, there is no better way than Search Engine Optimization to do it. You have a few keywords you want to rank in Google and other search engines when running a website. Well, you need a proper strategy to get the desired results. 
Here is what you need to do to perform SEO of your website:
On-page SEO
First of all, you need to do the on-page SEO of your website. It includes everything from finding proper keywords to adding meta titles and descriptions.
Follow these steps properly to increase the chances of organic traffic:
Use your primary keywords in the title of your website and at least one long-tail keyword to rank up your searches.
Use proper heading tags like H1, H2, and H3 of your keywords to tell Google about the main heading and keywords to rank.
Write the proper meta titles and descriptions along with the focus keywords. Also, make sure to add focus keywords in your URL too.
Now comes the very important content section. You can do keyword research on "how to write SEO friendly articles" and use the best techniques to practice Search engine optimized content. Include proper keywords without stuffing them to enhance the reach of your article and increase traffic to your website. Keep in mind that content is a king, so don't neglect this part if you need to rank your website faster.
In short, take care of the URL, meta title and description, quality content, headings, etc., to use within your page. Now let's have a look at Off-page SEO:
Off-Page SEO
You might learn about Off-Page SEO while searching how to increase website traffic. Off-page SEO is all about backlinks, and it is crucial to drive traffic and increase domain authority. They vote for confidence in your content. They are also the signal to search engines that your content is pretty helpful for users to rank faster that way. So, if your website has more backlinks than others, it might perform better and increase your overall revenue.
To create the backlinks of your website, you need to follow multiple strategies, and some of them are mentioned below:
1- Natural backlinks: These are the links that other blog or website owners find useful and refer to your website. For example, if someone likes your website content and uses your reference in their blog, they might also provide a link there. This strategy will expose you in front of the audience of the other bloggers, and they might come and visit your website too. Natural links are good for your website health, and they also help to boost your domain authority. In short, it is a chain of reactions you canusesYou can that leads from one to another.
2- Manual backlinks: Manual backlinks are the links that you get directly by asking your clients to leave a review or tell them to share your website link. Also, you can ask certain influencers to share your website link by asking on email or just by texting them personally. The other method is by asking them on social media platforms.
3- Guest blogging backlinks: It is another method to get your website's backlinks by finding the website of your niche and publishing content there with your 1 or 2 links inside the article or blog. It can be paid or free depending on the website traffic and DA of the website. 
4- Self-build backlinks: These are the links that are generally pasted in the middle of the comments section within a blog. You can also link Facebook if you have a great audience who will react to it. Apply this strategy only if you can manage the spam links control.
Some of the important factors necessary for the websites from which you can receive backlink supports are as follows :
The fame of the linking site or sites.
Connection of the content of the linking site to your website.
The link should be updated.
The anchor text is used on the linking site.
How believable the linking site is.
Traffic and domain authority of the linking domain and page.
What is the connection of Off-page SEO to generate quality traffic?
Off-page SEO involves different strategies like social media marketing, guest blogging, authority blogger marketing, brand mentions, and much more. One of the best and most effective ways to enhance website traffic is by reaching by guest posts. For that purpose, you can contact the good content writers trying to hold up a website and increase their readers.
Adding value to someone else's blog or website might be helpful for your blog as well. You can hire an SEO person to outreach those blog owners to exchange a link and ask about their experience. If you do guest blogging daily, you will witness a boost in your website traffic every month. Because bloggers are pretty active on social media, you can ask them to share your link to bring you a whole ton of potential audience.
Importance of keyword research
For now, we know the concept and importance of On-page and Off-page SEO. Besides that, you need to focus on keyword research because you can't rank in Google without keywords. Just using the specific keywords won't work at all. It would be best to use new keywords and old keywords to rank higher in search engines. 
For keyword ideas, you can look for different websites like SEOSurfer, Ahrefs, Semrush, Uber Suggest, etc. Also, try to look for other websites and their content for keywords research and take reference. Just keep in mind to avoid competitive keywords to avoid risk. 
If you have just started with your website, you should consider using long-tail keywords to rank easily. In addition, make sure that your chosen keywords have less competition. You can also use Keyword Planner of Google to search potential keywords or try to search manually. Using this tool, you can check the competition, clicks rate, and much more. Furthermore, It is quite easy to use and completely free.
Method #2: Content Marketing Strategy To Increase Traffic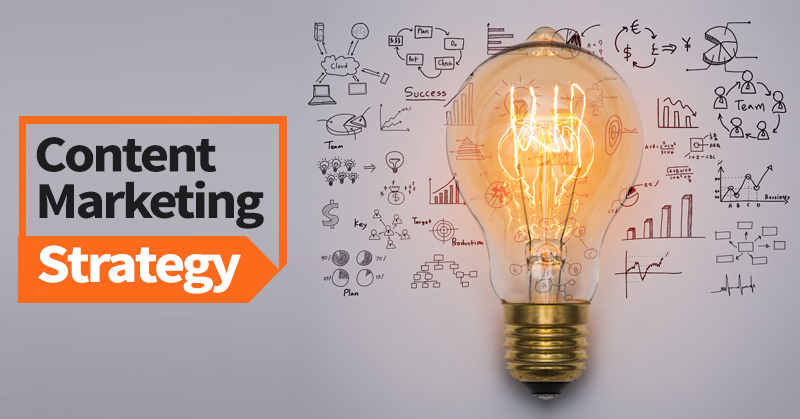 It is always useful to create content for the sake of the audience's research. If you are familiar with your audience, you have to create easy-to-understand and valuable content. Usually, content based on different kinds of knowledge and information is more appreciated than any other type. If your audience finds your content of great value and importance, they will certainly share your content's link. To earn your audience's credibility, you have to focus on content relevant to them, not just to you. 
If you have done proper research, you should know that sticking to a single content or forum does not help you anymore. You have to expand your website and express yourself in a better way. For this purpose, you have to enhance your reach. Many options will help you in this case, but why not go the extra mile to reach an audience for your content. You should create video content as well for tutorial-related things.
For instance, you may have a reviewing blog, and you review gadgets, let's suppose. Do you think it is easier? Many options will read your content and understand everything you need to know about some specific gadget? No! It's not. You must make YouTube videos for better understanding. Gaining an audience from video platforms such as YouTube is a plus point. 
Why is visual or media content important?
It has been proven that influencers or marketers who use blogging to propagate their content can earn more profits than those who do not. If an image tells 1000 words, then how many words does a video say? Think about it! In other words, visuals are more attractive than written content; people trust videos more, influencing their decision-making.
When you concentrate on visuals to attract more audience, you should include photos of 300 dpi quality (because low-quality images do not work in the HD area) related to your content. Along with it, some infographics are a poster made up of important points from your content highlighted.
With the bold pictures related to your content, creative typography style, and most importantly, highlight ways to contact you to follow you on social media websites, share your website and contents, etc.
In other words, infographics are the driving force of social media marketing. As they are catchy, attractive, and informative in a way, people tend to share them rather than testing a blank link. Social media platform sharing brings you organic traffic, and you were not. I want to miss out on that.
What should be the content length?
For the sake of search engines, length is strength. For example, if your content is short and not that informative, your website will have to suffer for it as long is also an influential factor for your website to rank up in Google searches. If you are writing blogs, they must be 2000 words or about 2000 to rank up. And the same goes for the updates.
But the best way to find out how long your blog should be is to find it from your top 10 SERP websites. You can google your keywords phrase and see how many words are the average blogs. If the average is 3000 words, so I would suggest your article should have 3500 words. Here is my strategy and recommendation to satisfy the Google algorithm in terms of content length. Although still the most important is the quality of your article itself.
How frequently should you update your blog?
Do not get inactive because when your content is a month or two late, people will automatically lose interest as they do not get updates from you daily or at least once a week and will certainly unsubscribe you. Why would they keep getting feeds for a website that does not give them updated and frequent content? So, it is very important to update your content daily or weekly and keep your website or blog up to date.
Moreover, Internal Linking of related articles with your content gives you a lot of linking on your websites. It's just like backlinks that generate traffic on your website; internal links are mandatory as well. 
For instance, you have just finished reviewing a camera, and now in the overview, you have mentioned how to care for the lens in the short term process. But what if your audience wants to know more about the cleaning of the camera's lenses. They may want to know in-depth about it, so you have to create an internal link and attach it in the middle or end of your article or table of contents. 
Just make sure that it looks manageable, and you are better to go. The audience will certainly follow these links, which may bring you an effective change in your website's ranking and views. It may also develop the structure of your website and keep your audience a bit longer while absorbing your content. 
How to contrive your blogs?
For contriving on your blogs and breaking the monotonous cycle, you may take interviews with authority bloggers who are just an email away from you. It's just like a guest posting and a fun activity that will encourage your readers and audience as they love to hear from their favorite celebrities and identities. And if they visit your website for an interview, you have already geared up your website and audiences. 
Keep in mind that such sudden changes can boost up the spirit of your website and make it different from others. As we discussed, content plays an important role in building up a website, but there are many more factors that you will be looking up to.
Try publishing content on different social media platforms
Because people are not active on all major social media sites, some use Facebook, others Instagram, and yet others YouTube, to view videos. Some are bibliophiles who enjoy reading blogs, while others are bookworms who prefer reading novels. Then how do you think creating your content on only one social media website will give you enough reach from all over the world? Think about it and develop strategies to do all the platform's possible ways to grow your website properly.
Method #3: Increase Website Traffic with Social Media Marketing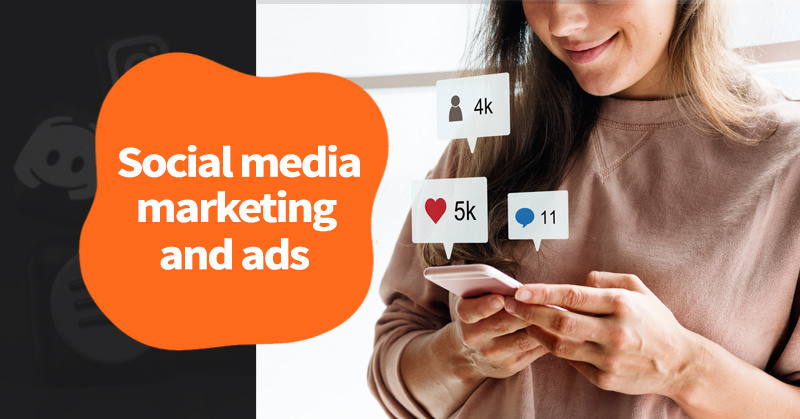 We all are well aware of social media influence, and we also know how these platforms make someone famous and a celebrity in just a few days. You can use this for your purpose for both organic and paid reach. Let's have a look at how to increase traffic to your website by using different social media platforms:  
1- Facebook
It is considered one of the most powerful and influencing social media sites. Billions of people have created Facebook accounts and are highly active on them. It should be one of the most popular ways to create awareness about your website or brand via Facebook by creating a Facebook page. You can share it with your friends, known people, and even strangers in some Facebook groups where they can invite their friends as well for you. In other words, it is a very general and simple way of reaching a massive audience by using Facebook.
You can also create public groups and invite people over there to generate your traffic. These people can share their experiences and research relevant to your content and invite their friends to do the same if they like your content. It may help you build a completely based community based on the people interested in your content and regularly look at it.
Although social media is not directly linked with search engine optimization, people share your content in their social media accounts, which generates a backlink. More backlinks mean more engagement, reach, enhancement, search engine rankings, and many more. So, it is advisable and highly recommended that you create a Facebook page or a public group to post your content there and generate organic traffic. Another way of getting reach may include:
• Going Live on Facebook
It has been seen that authority bloggers, video and content makers, writers, or any other type of content maker live on Facebook. These live videos have become very famous, and you may get instant responses in the comments section. It is a very interesting and interactive way to approach building a brand or promoting your website as several people watch you live and get interested in you at the same time.
Moreover, you can also announce something important about your website to your audience through these live videos. You are organizing some event and want people to participate in it. You can also talk about launching something new on your website, like an ebook you have prepared, and give it free on a first-come, first-get basis. Such ideas are very engaging, give a sense of positivity to people and provide you with great exposure.
Facebook also has paid advertisements because it's impossible to generate traffic to thousands of people organically. And the most important thing is that Facebook algorithms do not work in that way. If you want thousands of people within just a month, you must use Facebook advertisements to boost your post on the Facebook page. For your convenience, age groups are mentioned to select your target audience and the number of days you want your ad to run up. Using this, you can get many audiences to like your page and be active on it. 
2- YouTube Channel
Presenting your content by making videos on your YouTube channel is very beneficial and fruitful for you. According to an estimate, YouTube earns 30 million viewers every day, so it is one of the most influential social media platforms. Using YouTube, you have to be well skilled and some tips and tricks to make you visible in its search engine and gain your audience. You can get these tips and tricks from my other blog about How to make money on YouTube.
For an overview, these are some of the main points to be kept in mind for making reach through your YouTube channel.
Creating a professional Channel Layout
Add thumbnails of good quality as that makes your audience click your video
Make video trailers crisp and precise
Add catchy headlines
Professional descriptions
Tags and captions
A piece of asking for like, comment and share. It enhances the engagement of your post.
Topics or the kind of videos that do great in the YouTube forum includes:
How-to videos
Review videos
Do it yourself videos
Tutorials
Courses and software learning
Youtube is just like other social media websites that also have paid advertisements. These advertisements are being used to scale viewers and subscribers. Here are some different types of advertisements:
Bumper advertisements: These advertisements consist of short ads that range from 3 to 5 seconds. One of the main features of this type of advertisement is that it is unskippable.
True View advertisements: Such types of ads range from 30 seconds to a minute but not like bumper audiences have the option to skip it after 5 seconds.
TrueView Discovery advertisements: You have to pay for these ads when some viewer clicks to watch them. These ads are basically under the recommended sections and are specifically used by big brands for their marketing purposes.
3- Instagram
Instagram works on a different pattern as we all know that pictures speak 1000 words, and that's all about Instagram. It is such a platform that it may use images to tell you a whole story. If you are interested in marketing via Instagram, you must know a lot about search engine optimization as all of its works are based on hashtags. According to the policy of Instagram, you have to use the ten most followed hashtags that are related to your content and may attract likes and comments for you. 
Along with it, your page name must be similar to the content you are providing. For instance, if you have a digital reviewing website and want to promote it via Instagram, you must have a username like unboxing vibes or a digital guy, etc. Because it suits your niche, and people can easily find it out when they type out digital one, the Instagram search engine. Moreover, you have to use professional images, promote your blog or website through a short caption description, and attach your link with the pictures and suitable hashtags.
Like Facebook, Instagram also has a going kive platform called IGTV. An Instagram tv where you can put your live videos and chat with your audiences. And you can also give paid advertisements through Instagram. However, if you are using an advertisement for your Facebook page and this page is also linked with your Instagram account, which is a wise move as it gets automatically published on Instagram. But you still have an option just like Facebook to boost the individual posts on Instagram to reach out to a wide group of people quickly.
4- Twitter
It is a social media platform that supports an open discussion about a topic via a series of tweets. Users can be bold and expressive enough on Twitter. Influential people mostly use it to get followers and promote their respective content. Twitter works based on trending hashtags that should be niche-specific.
In comparison, advertisements on Twitter are supposed to be very determined. You may add images from your blog and attach the content as visuals tend to get more traffic as per survey reports. Twitter is no different from other social media sites. As organic reach is quite low and you may have to give advertisements for a big reach.
5- LinkedIn
It is a professional forum that helps you in making a lot of connections. If you cannot connect with some great authority blogger by mail or other means, LinkedIn will certainly help you with it. Probably every working person must have a Linkedin account as it can take you places.
Therefore, you will surely find your ideal blogger there and can also send him a connection request. It may help you share your work or content with him whenever you post something on your Linkedin wall. Moreover, you can also use several hashtags to be visible to more audiences and build a quality community. And if you want to hire new people shortly, you can also organize your brand via Linkedin. You have to post the conditions you want to hire for, including application processing and, and you are good to go.
You can also buy their premium package to make your account more professional and reachable to the Linkedin Community.
6- Reddit
Reddit is generally a community-based social networking site that may require hashtags, but most engagements with the people who belong to this site are crucial. If you want to post your content on Reddit, ensure in-depth content because short writings do not sell on Reddit.
In addition, advertisements on Reddit may help you reach millions of audiences as it is the third most famous website in the USA. To work on your advertisements with full potential, you may have to search for a subreddit with enough audiences and invest in your products or services. It is just like targeting your market value. It does not matter; stay focused on your content and engage with your Reddit community as only advertisements will not give you enough followers, and you will get downvoted.
7- Google Ads
Google advertisements give you responses based on pay per click (PPC). You may have seen different ads in the search engine of google whenever you type something out. The top results that are quoted as Sponsored in the Google searches are the ads. Google ads are very efficient and effective as they can accelerate more than 60% of your reach to increase traffic to your website.
8- Buying Advertisements Space
You could buy advertisement space on a website that is related to your content. They may have their prices, but that works as several people are following that particular website. If your ad is there, it is most likely to click and view. It is recommended for you to buy advertisement space on websites that are doing outstanding. Moreover, you can also consider an authority bloggers' website. 
9- Retargeting
A cookie-based tool may use simple Javascript code to look for your reach and redirect them by placing an advertisement for the related content, product, or services they reviewed. Several people tend to possess different characteristics, and most of the visuals will access your website or blog 10 to 12 times before they purchase a product from you. At the same time, some do not even visit you ever again. So, Retargeting ads will help you bring potential customers back to your website and convince them to convert.
Method #4: Increase Website Traffic by Optimising Your Website
User experience is essential to drive traffic and increase sales. If you have done all types of marketing but failed to optimize your website, that's just going to put you on square 1. You have to start from scratch again. Wondering how to increase traffic to your website by using proper web optimization techniques? Here are the top 5 ways.
1- Compatibility
Your website must be compatible with all devices like phones, tablets, desktops, and other possible mediums. It would be best if you gave a mobile-friendly website as people are always on their phones. If your website is not mobile-friendly, you won't be getting as much traffic as required.
2- Click through Rate (CTR)
You need to optimize your website by using proper URL, keywords in titles and meta descriptions, etc.
3- Website Speed
Your website speed should be fast, and your page should not take more than 2-3 seconds to load compared to the average speed, which is a maximum of 22 seconds if it's that slow. If it takes more than 22, then you should not even think about getting traffic through it. To make it faster, you can reduce HTTP requests for the different page segments, like scripts, images, and CSS.
4- Competitors
Keep an eagle eye on your competitors. Researching your competitors and comparing your charts with them is very important as it gives you a broad retrospect on their keywords, strategies used for marketing, and much more.
5- Google Analytics and Search Console
Use this tool for basic insights of your page that play a crucial role. For example, page visited, targeted audiences, reach per day, keywords, organic reach, advertisements, referrals, etc. The search console is the best tool to know what keywords are performing well in Google.
Method #5: Other Important Tips to increase traffic to your website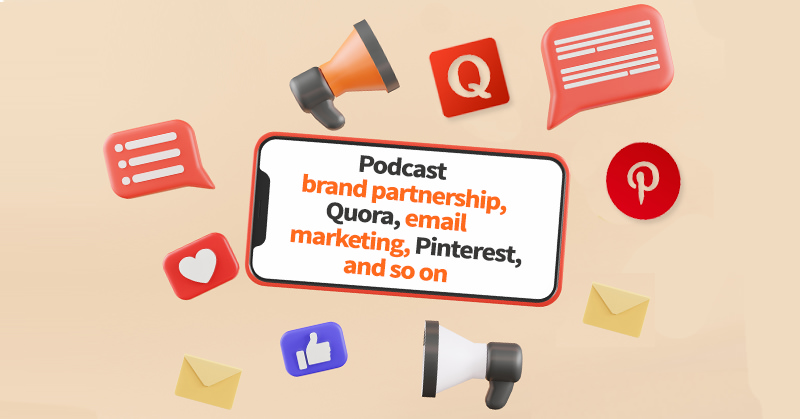 Here are some tips and other marketing strategies to increase your website traffic using simple and proven methods.
Use Podcasts to reach out to people who are good listeners. Various music applications allow you to upload podcasts and give advertisements for the same to earn subscribers.
Use advertising agencies to help you with strategies for a successful Advertising campaign.
Be super active in communities that are related to your niche and would support you.
Do Brand Partnerships and go for shares to follow trends.
Be at conferences and try to promote yourself by meeting a lot of new people.
Give free webinars and slide shares for better interaction with your users.
Arrange giveaways to motivate people to participate in your activities.
Meet Influencers and ask them about your content, take help from them, and if by any chance they could promote you, that's a win-win for everyone.
Create tools that could help your user with some research. For example, Neil Patel, who is an authority blogger, made up a tool called Ubersuggest. After signing up with your Google mail address, you can use it for keyword research. It is as accurate as Google's manual keyword research.
Use sites like Quora to participate in valuable discussions, suggestions, etc.
Use Pinterest if you have a Business to Consumer (B2C) type of business.
Email Marketing, as this brings you, potential consumers.
Sponsor events and keep encouraging your followers.
Conclusion
Driving quality and fast traffic is not as complicated as it sounds. It just needs the right strategies to get it done. But, to get organic traffic, you need to wait until you start generating results. I hope that the guide mentioned above about "how to increase your website traffic" will help you generate results. Just put your efforts, do the right research, and execute it. 
If you want to learn to get unlimited traffic to your website, read my other blog Best Free And Paid Traffic Source. If you are ready to start your online business with Affiliate Marketing or are already in it and still figuring it out, you can join the One Funnel Away Challenge. You can learn how to use the different types of affiliate marketing appropriately to get outstanding results. Most importantly, it will help you to build an online business that generates income through affiliate marketing. 
Today it's not about "Get The Traffic" – It's about "Get The Targeted And Relevant Traffic" – Adam Audette.