Blogging is now a way to promote your company, industry, or business. Therefore, it is important to post a blog regularly to have a successful blog. If your business does not have a blog presence, it should be an important part of any effective digital marketing strategy.
One thing to notice is that simply establishing a blog presence is only the first step. And you must publish new blog posts regularly. But the question is, is it important to post a blog regularly? Well! The answer is yes, it is very important to post a blog consistently; Why? We are going to discuss this in detail in this blog.
Why You Need To Post Regularly To Your Blog
It is very important to post to a blog at regular intervals because it greatly helps you rank. Your blog is generally a place where you can update your fresh content, and in this way, it helps you gain rankings. And when you timely update your blog, it allows more traffic coming to your blog that may lift your site very well. Moreover, when you see it from an SEO point of view, every blog you add to your site creates a new page.
Reasons why is it Important to Post to a Blog regularly?
Normally once a week, you must update your blog as it is enough to capture all the advantages of blogging along with your busy working schedule.
Here we will discuss some of the reasons you need to update your blog regularly.
1. Keeps your Audience engaged 
Take your blog as your favorite magazine. You purchase one issue and keep enjoying reading it, and you must keep an eye out for the next one as soon as you know when to expect it, and you will go looking for it. In case that magazine suddenly disappears from the scene or comes out occasionally, you may soon get fed up and look for a more authentic and reliable source of information.
Whenever you publish a blog, hopefully, you will get readers coming to read it. And luckily, they will like what they read on your site enough to come back again and again. But if you only write now and then leave for a while, your audience will soon give up visiting your blog and go to one of the competitor's websites, the one who is putting time and information into the blogging.
2. Improves Search Engine Ranking 
You know that search engines love fresh content. An improved search engine is one of the greatest factors Google looks at when it decides where to rank your site. And when you update it consistently at least once a week, for instance, your new blog will trigger a visit from the web crawler or search engine spiders, which may index your site, realizing that it has been updated.
That will move you a little higher up in the rankings. However, there are also some other ways by which regular blogging benefits your search engine optimization too. As mentioned above, every blog post you publish adds a page to your site, making it a bigger and more authorized entity for your viewers. And you may also target your blog posts to particular keywords that the audience will be searching for.
3. Financial Opportunities 
As you build up a great archive of blog material, you may find various ways that your blog may use to create an income. For instance, you can combine different blog posts on one title into an ebook. Your fellow proofreader kept a blog post about his transition from part-time freelancing to running a full-time business. He is recently putting those posts together in a book to help other people think of a self-employment route.
If you are a prolific blogger, you may also generate a different premium membership area on your website, where visitors pay to get exclusive content. And once you have succeeded in building up a good audience, you can make income via reviewing items and collecting affiliate fees.
4. Fresh data to share on social media sites
When you spread the word about your blog on social media sites, you will ultimately increase the traffic coming to your website. That, in the long run, may give you more potential consumers. But in case you only publish a blog now, you will have anything new to publish about. Keep in mind that blogging regularly gives you a steady stream of content to tell people about, and you may also reuse it in your emails or newsletter and increase the number of viewers you reach out to.
5. Show your talent and experience.
One of the amazing facts about blogging is that it gives a golden opportunity to demonstrate and share your information about something. By blogging regularly on a small number of different but related topics, you may become known as an expert in your work. And then people are more likely and willing to buy your services when you have already shown them your talent, and you know what you are talking about.
6. Post A Blog Regularly Will Get You Authority Tags 
When you properly do regular blog updates, your audience will see you as an authority in your niche that may provide you with a handful of loyal readership. Making it more creative, clear and updating the best reader-friendly blog posts creates loyalty and trust among the readers. As a result, you get an authority tag that is useful for business sales and other services. It effectively generates leads and traffic to your site.
7. Generate Traffic on your Site 
Millions of people search their simple queries to Google and look for some new and stunning content every time. And the amazing fact is that it's a never-ending process. Posting a blog regularly is very important as it attracts new readers to your website. When these readers click on your blog post, they are more likely to follow your site consistently.
Therefore publishing blogs regularly on your website is the main factor in enhancing traffic to your site. Every time you publish a blog, one more indexed page is added to your site. That means you have one more chance to show yourself on search engines. It also helps you in driving organic traffic to your site via organic search. For that, all you have to do is to write an incredible blog with some attractive headings.
Posting A Blog Regularly Help Promote Your Business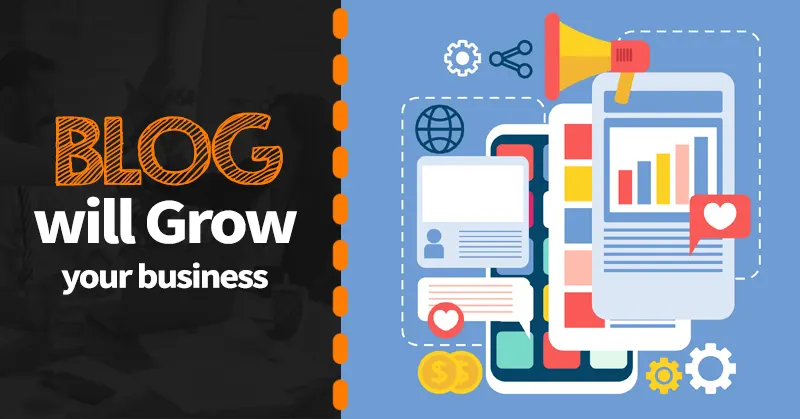 It helps you attract new visitors and viewers and gives you great aid in inbounding marketing to promote your business. And your blog may carry it out in two different ways. Firstly, as mentioned, it can attract new visitors and traffic to your site and the second one is that it helps you convert these new visitors into leads. Now the question that might arise in your mind is how does it attract new visitors?
So the answer is very simple, and that is you may know that when a stranger searches for some information or details online, he must have some queries or problems that he is looking to solve. Your blog can provide answers to those questions or issues, and when the stranger finds your post, he will want to click it and read it, which brings new visitors.
It is considered the most attractive stage of Inbound Methodology. And then, you may want to ask how these blogs help promote your business, and you convert new visitors into leads? Here's the answer: once new visitors visit your site, you have opened the door to them, and they think about it. If they get interested in your content or blog, they are more likely to be interested in your business offers and ultimately convert into leads.
In this way, your blog may promote strategic offers from your business or anything from your updated eBook to a free consultation. Moreover, if your visitors want to learn more, you may also provide them with the next step.
Conclusion
Posting a blog regularly can help to build your reputation as a brand or a blogger. As a result, you may become a figure of authority. Being a businessman or company holder, you must know that nothing can beat a good solid reputation.
So, posting a blog regularly makes an integral investment in this process as it will allow you to share your perspective with your clients and audience in a very new and unique way. Plan your content strategy ahead of every month and stick to it to get the desired results.
One of the best ways to monetize your blog is with Affiliate Marketing. If you want to learn more about affiliate marketing, read my other blog, How to make money with Affiliate Marketing.
If you are ready to start your online business with Affiliate Marketing or are already in it and still figuring it out, you can join the One Funnel Away Challenge. You can learn how to use the different types of affiliate marketing appropriately to get outstanding results. Most importantly, it will help you to build an online business that generates income through affiliate marketing.
"The first step in blogging is not writing them but reading them." ~Jeff Jarvis.