People are trying to understand the various categories of selling products on Amazon FBA. This process involves drop shipping, proprietorship, private labeling, and wholesale. Suppose you are looking to start your own business and wonder how to buy from Alibaba and sell on Amazon without manufacturing any products. In that case, you can do it by outsourcing your products from Alibaba as it produces and ships products at cheap costs. This process is known as Private Labelling.
Whenever we look for cheap manufacturing products, products from China are cost-effective due to their export at the global level. That's why the outsourced products are resold on Amazon FBA, which is the selling platform generally used for manufacturers. Similarly, Alibaba is an amazing marketplace of China, having almost more than 10 million products to choose from. This platform is valuable in connecting you with millions of suppliers, merchants, and service providers about the products you want to choose at lower prices.
Please watch my video below:
How to buy on Alibaba and Sell on Amazon – Step by Step Guide
This blog will discuss steps to buy from Alibaba and the features needed to consider while selling those products on Amazon.
1. First Step To Buy On Alibaba: Writing Request For Quotation (RFQ)
If you want to buy cheap manufacturing products from Alibaba, you should first create an account and proceed to different options. After that, submit your request for quotation by exposing different product features on the website. This process helps find out the potential manufacturers and enables you to search out the best marketers working in the marketplace for outsourcing products at a budget-friendly rate. The matter of fact is that you need to negotiate all the facilitated management tasks through the Alibaba marketplace. You can do it by keeping track of all the official matters and conversations concerned with the manufacturers. Doing so will also reduce the possibility of spamming to some extent.
As mentioned above, here are some key options that you need to fill in while signing up for the procedure.
• Keywords
Keywords are very helpful in figuring out the different categories of products available to be selected by manufacturers. For this purpose, you can get an idea by looking for those keywords having high audience-based research. You should be very careful while choosing keywords and doing product research because manufacturers are usually interested in working with those products that seem to be valuable.
• Description
The description box is also of great importance. This box comprises the basic information, including name, contact details, and features of the product. For example, you can write the dimensions, design, color, and other product modifications.
• Amount
For signing up for an Alibaba account, you should also have estimated knowledge about the number of products you need in your first You should be very skeptical about this because it's not good to order more at once. There is a need to check the product quality as well before going for bulk inventory. In choosing less product, manufacturers will neither pay heed to your work nor reduce the per-unit cost of your order. It depicts a need to select the amount of product in between these two situations to avoid complications.
• Visuals
Consider its clarity whenever you upload a visual in a photo or video because clarity is essential in demonstrating modification and design. Thus, make sure to upload high-quality images with a greater resolution to the manufacturer.
2. Second Step To Buy On Alibaba: Contact The Suppliers
People usually put their utmost efforts into contacting suppliers on the Alibaba marketplace via a third party. There is no doubt that 3rd party policies are also useful, but direct commitment to deal with the dealer directly makes things clearer. As communication plays a key role in the success of any business, there is a need for direct conversation with dealers.
The first step is to find a supplier. Your best bet here is to go through Alibaba or other websites that enable you to search and compare suppliers of your interested products. There are many types of suppliers on these sites, but you need to try and find a reliable one who can provide what you need at a good price. You should also try contacting them directly before placing an order, if possible.
Moreover, it is your responsibility to check the background details of manufacturing products precisely. For this purpose, emailing is the best strategy for contacting suppliers and providing them details of the email needed for professional conversations. Make sure of the presence of the following points while making direct contact with a supplier through email.
Name and category of product
Minimum amount to be ordered
Official details about the manufacturer or supplier
Designed picture or video of the product
Official address with valid contact details
Non-negotiated initial price range
Shipment charges
The total cost involved in the production
Nearest port for shipping products
Demand for samples to check product quality.
All these mentioned points are very important for outsourcing and measuring the manufacturer's authenticity via this process.
Keep your options open
After emailing your potential suppliers through the Alibaba website, don't go to the first person who responds to your email. Keep your options wide and do proper research and counseling before you make a decision.
Keep the list of almost 40-50 suppliers in mind and talk to them before going through different parameters. The authentic supplier will come around as you will explore more and more. With time, you will know who to trust and which seller is authentic in the market.
Organize sellers data
When you are organizing sellers' data, make sure to keep everything organized. I recommend you create an email address solely for that purpose. Keep everything detailed in the excel sheet so that you can use the required data whenever needed. For example, if you talk to supplier 1, mark his details with his name and save their email.
The other best way is to organize your list alphabetically or numerically so that you can retrieve the data easily whenever you want.
How To Find A Good Supplier When Buy From Alibaba To Sell On Amazon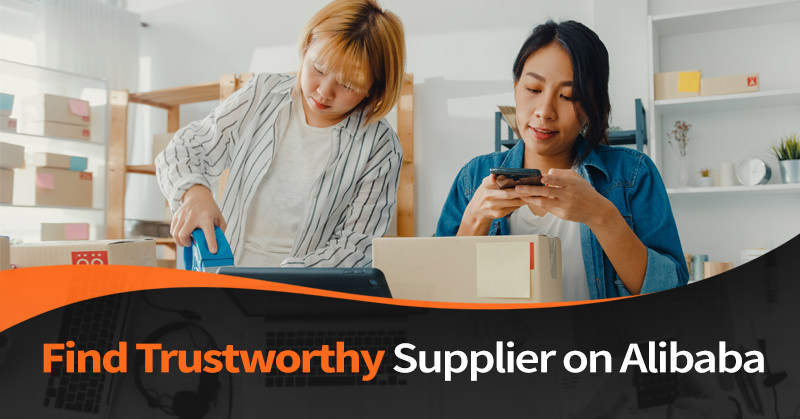 Websites like Alibaba can connect you with thousands of suppliers. Your best bet here is to go through Alibaba or other websites that enable you to search and compare suppliers of your interested products. However, there's only so much information on these sites, so if you're looking for something more specific, then your best option would be to contact them directly before placing an order. Keep your options open when it comes to choosing a supplier – this will ensure that no matter how they treat you after ordering from them once, at least you'll have another one lined up just in case!
Besides that, the USA suppliers can be very expensive, so finding China suppliers can be economical. It is crucial to know the details about your suppliers to work with to avoid getting fooled or losing any money you are supposed to invest. Also, learn about How to sell products on Amazon FBA.
Trade Insurance (most important)
Alibaba offers trade insurance for your business management purposes. So, if the trade insurance is way higher for a certain brand or manufacturer, you choose to outsource your products and are generally risk-free. If you paid a supplier and won't send your products, Alibaba will refund your money.
Verified/Inspected Supplier (important)
You would want to make sure that an inspector visits your supplier's store or office address to make sure they are real and reputable. Also, you may find these suppliers have better quality products than others.
Gold Suppliers (less important)
These are the sellers who pay Alibaba to rank higher on their website. Paying to Alibaba helps them to boost their sales. In addition, these sellers are quite decent and provide quality products on time. But these suppliers may not be verified or inspected yet.
Important things when Buy from Alibaba To Sell on Amazon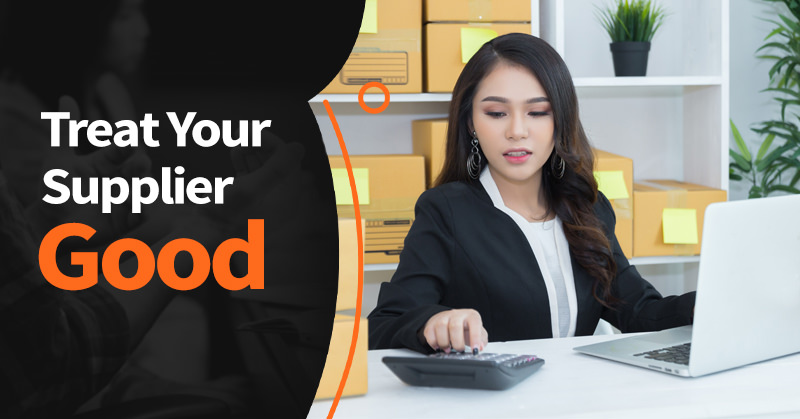 Wondering about buying from Alibaba and finding best sellers, here are the important things to keep in mind.
Look for at least 10 to 20 suppliers as some might not be responsive, so this gives you a better judgment to select one. You can email them as it is considered one of the most professional ways of contacting someone. If you are looking for great suppliers, your suppliers might also have some requirements from you. Therefore,
Don't use abusive or harsh language. Be polite even if you are not purchasing from a seller.
Make them trust you with honesty and your ideas of working with them. Also, let them understand that you have done proper research about them before deciding to work.
Use a professional tone to don't think of you as a fraud or money looting party.
Always ask for details about the work and notify them about the changes going on at your place.
Never pin down on them as if you are the superior. Maintain a cordial relationship and treat them as equals.
They would likely want to work with you soon if you are in the good books, which is a golden opportunity.
Avoid Fraud Suppliers
Here are some of the mindful tips to avoid fraud suppliers:
Before you commit and place an order for the products, make sure you do a proper background check about the person or his company.
Talk to the people who have been outsourcing and reselling for a long time. Take their help with the detection of fraud people and companies.
No supplier would give a product design for low prices. Therefore, If the person doesn't seem reasonable with the initial pricing of the product, you must avoid it immediately.
Verify their contact details thoroughly.
Visit their office to experience the details personally they have provided you.
Ask for pictures and a sample of the product before ordering to check the quality.
Make sure to know about their selling history through their site, Alibaba, or other possible means.
Ask your suppliers these questions below before ordering to find their knowledge and experience:
Certification to ship to your country
Ask for their trade license and insurance details
Verify if they know Amazon FBA and shipping procedure
Time limit for shipping an order
Price for shipping, including the production cost in detail
Payment modes
Best selling products
Refunding the sample fees once the full order is made
How To Order When Buy From Alibaba To Sell On Amazon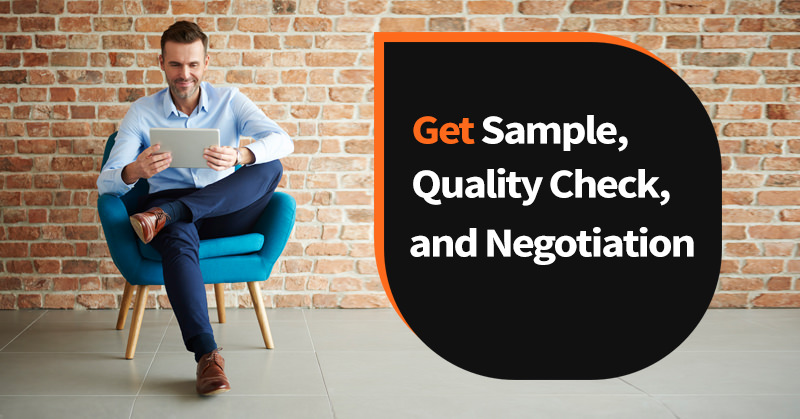 We have already mentioned a lot of times in this blog to demand samples from your supplier. Well! It may be wrong to say that the supplier will agree to give you a product sample before any product's agreement. So, firstly you have to order at least 10 to 20 pieces of the product as samples and then sell them in the market to check the worth of the product.
If the product gives you the desired results, you can conduct surveys and contests to public opinion about the product. You can save a lot of money with this strategy, and your job also gets done very well. In terms of negotiation, do not stick to the first-ever price of the product. It is better to keep offering different options until and unless the manufacturer agrees.
You have to talk to them in a way that they do not take you for granted. Also, ensure that they understand that you have done all your research about their company and the product, including the maximum costs that the product can have. You admire him, and your confidence would not let you get fooled easily. You may win over the initial pricing.
Be Calculative About the Price
It might be a long process from outsourcing to delivery and take a lot of time. One thing you must have to make sure is about the prices before anything else.
The product you will be outsourcing from Alibaba may reflect the prices of their products, but as mentioned above, you might always negotiate. Isn't it great for your customers if the product is already cheap and you may make it cheaper with negotiation? It also improves your shipping and the rest of the prices, and you can certainly gain more profit.
Ensure that you have found the product's initial price and check various sites or ask different manufacturers to know about it. If you are doing customizations, make sure that you do it the first time and not ask for the changes multiple times. If the manufacturer or supplier cannot make the changes, you can ask him to do it again properly but be sure on your side for the first time.
Now comes the packaging and shipping charges. It is recommended that you should always know the accurate rates from your courier or shipping services. Talk to several shipping companies and then choose the one that suits you and your requirements the most.
As your product reaches you, check out its quality and take notice of damage expenses. Inspect your product completely before releasing it to online shopping platforms such as Amazon.
Ensure that you already have an idea about your product's size and estimate expenses that Amazon will take for its services. Its services may include Amazon labeling, Amazon warehouse fees, Amazon commission, which you may buy through their website (15%), Amazon packing, and weight handling costs.
The selling price of your product should be lower than the investment and processing cost. It is the only way that you can make a good profit. Otherwise, this work will take you nowhere, and you may have to plan from scratch. So figuring out your profit margin before choosing your product could be very efficient in starting your business.
Payment and Reviewing
As most of the points have been discussed above, the final thing to be noticed is a mode of payment. Your supplier would give you all the necessary banking and wallet details before the order is placed. Using PayPal is mostly recommended because it is globally active, accessible, and available. And you can do transactions smoothly by PayPal. You may go for Alibaba Trade Assurance, as this feature is available to the reputed sellers, ensuring safety.
After you do with all the above proceedings, make sure to review the supplier. It is always important because most sellers want to apply for private labeling, and if their product type is relevant, they may use your views for selecting suppliers. And a big benefit is that you are in the good books of the suppliers. Therefore, soon, you may ask them directly if you want to order some products again. These suppliers have a chain, and if they cannot help, they may recommend you to other credible suppliers.
Conclusion
Well, I hope that this blog answers your query "how to buy from Alibaba and sell on Amazon." To avoid complications, you should decide if a product and supplier work well with their sourcing criteria. However, Alibaba is an excellent place to find sellers, but you have to put a lot of effort and research to find the seller that meets your needs.
Also, I recommend you start with ordering a few samples to test a product instead of buying in bulk. In this way, you can check the product quality and seller response, and shipping time. If you like the product quality, you can order in bulk after that.
You can also read my other blog about "Best Product to Sell on Amazon FBA," so you have more ideas for what products you want to sell. Do you still need more guidance? Or are you ready to start Amazon FBA's private label business? Perhaps you already have one. Do you want to scale your business? You can join Amazing Selling Machine. It will teach you step-by-step how to start Amazon FBA private label business from A to Z and answer any questions you have regarding Amazon business in general. Most importantly, it will help you build your Amazon business from the beginning until you have successfully built your business.
"Buy low and sell high. It's pretty simple. The problem is knowing what's low and what's high." – Jim Rogers.