Before you know how to get reviews on Amazon, do you know that to have amazon reviews on your listing will increase by 270% that your listing will get the click? That is exactly the difference in conversion rates for a listing that has only five reviews against one that doesn't have them at all. The Spiegel Research Center has done in-depth research on the impact of reviews on consumer behavior and has found many interesting dependencies.
Here's another interesting stat from the same study: using reviews, you can increase conversions by 190% for inexpensive products and expensive ones (attention!) – by 380%. How do you like that?

This article gives you nine easy strategies and methods of getting more reviews on amazon. Some are pure white-hat, while others are not white-hat. We will also have a few discussions on the current state of affairs in Amazon reviews and how to get the reviews fast.
Here is an insight into what pure white-hat and black-hat topics covered in our discussion. 
White-hats tactic:
Request for customer reviews
Improve on eCommerce customer service
Use product inserts to get Amazon reviews
Offer discounts and promotions regularly
Enroll Amazon Early Reviewer Program
Create a contact list for emails
Enrolling products in Amazon Vine Program
Give First Impression with great packaging
Gray or Black-hats tactic:
Mitigate negative reviews
Use social media group reviews
Purchase fake reviews
Ask Family & Friends for reviews
Using chatbots (ManyChat funnels)
Why do reviews matter on Amazon?
Amazon reviews affect your sales as well as proper listing SEO. They directly affect the following indicators:
the visibility of your product on Amazon;
the click-through rate of your listing (CTR) in the search results;
the conversion rate of your ads and your listing as a whole.
Let's start with the visibility of your product in the SERPs. Just type "toaster" on Amazon, and you will most likely see the following picture: ad units and recommendations from Amazon brands appear first, followed by models with the most reviews.

Never assume that Amazon is a simple and transparent sales system. It is a marketplace with well-defined algorithms focused on maximizing profits (primarily for yourself). Therefore, it is quite natural that products with a large number of reviews will be higher. Many reviews are more likely to buy such a product again, and the marketplace will again earn a percentage of the sale.

As for listing click-through rates, answer the question for yourself: "Which listing is a buyer more likely to go to? Where are 95 reviews or where are there 5000+ reviews?". Of course, on the second, and if in doubt, here are other facts of statistics:
95% of buyers read reviews before making a purchase;
91% of online shoppers perceive reviews as a personal recommendation;
Only 6.2% of Amazon visitors said they didn't trust marketplace reviews at all.
IMPORTANT! Reviews on Amazon play the role of social proof for shoppers and significantly impact product search visibility, listing click-through rates, and conversion rates.
How Amazon Calculates Product Ratings
Since the introduction of verified and unverified reviews, calculating a product's rating is increasingly getting complex. Today amazon uses a complex weighted-average algorithm in calculating the average rating of a product that creates a weighing difference between ratings and reviews. For example, a product that has a five-star review will probably fall between 0-5 stars on rating.
However, there is no provision of clear strategies or criteria behind the algorithm. But amazon commonly agrees to the listed variables that are more important when calculating:
Verified or unverified
What is the review age
The ratings and written reviews
The reviewer profile
Deviation from mean rating
The recent reviews from customers who have a solid purchase history are heavily weighted in rating.
13 Ways Of How To Get Amazon Product Reviews

A. Get More Reviews On Amazon Legally or White Hat Techniques
Below are eight-way to get reviews on Amazon that are not against Amazon TOS (Term Of Service). Not all methods that I explain below are suitable or available for all sellers, but you can use some of them. For example, you need to have a Brand Registry (i.e., register a TM in the country of sale of your product).
1- Request for customer reviews
Requesting for reviews is one of the best and obvious ways of getting reviews. It would be best to ask for them as most customers forget to give a rating even after satisfaction. According to Eric Rea, CEO of Podium survey company stated: "The majority of business practitioners do not practice engagement after sales with their customers. They do not even bother asking for customers to leave reviews". 
"The problem is widespread, with over 78% of customers betting that they are willing to leave a review online if the business promotes the requests. Only 13% of Semi Businesses ask their customers for reviews," he added.
Amazon will always email your customers by default, asking them for a review of the purchased product. But that does not limit you from adding another review request through Amazon'sAmazon's Request Button.
The review request button is one of the newest features within seller central order reports that gives them authority to send a follow-up email to your product shoppers. You can also order bulk request reviews through the Jungle Scouts extension that makes things easy rather than sending requests to each order.
2- Improve on eCommerce customer service
Effective customer services will give you the perfect difference between a loyal customer and a one-time customer. Having the customer's voice from the ordering process to shipping status or even a question on how good the product works is another way of improving customers' perception of your brand.
The more you improve your services, the more customers you get and leave positive reviews on Amazon.
Customers will always look forward to the best solution, but the unique thing that will make them come again is the speed. It is important to utilize the AI-generated response and robust collaboration of features to solve problems beyond expectations.
3- Use product inserts to get Amazon reviews
It is easier for any product consumer to leave a review after the first moment using the product. Product inserts work as a reminder to customers rating or reviewing your products. Therefore, customers lose morale when they get the review alert message several days or months after use.
Having a product inserted is an easy way of expressing your gratitude for them having purchased your product. You can then explain why you need customer review and give instructions to follow when writing amazon reviews. You must indicate your service contact information for easy and direct contact with the clients.
There is a relevant way in product packaging and inserts that match with Amazon algorithms. Since the statement is no longer allowed, you can ask customers to register their purchased product for an extended warranty or anything similar. That will give access to their emails to later use them for email auto-response series reminding them to leave a review.
4- Offer discounts and promotions regularly
More pricing strategies can help you come up with reasonable pricing. Whenever you decide on your best product price, ensure that it is never too high or too low for the customers. However, introducing discounts and promotions can attract more shoppers to your product line. Therefore, it is common for shoppers to go for discounts and promotions that come at reasonable pricing.
Research shows that shoppers who receive vouchers end up having higher oxytocin levels and are happier. That is what your discount and promotions should focus on. The happiness that they have will reflect when they leave a review.
Using discount and promo codes makes the review process more effective. It is the best method to collect subscribers' emails, which you can later send them a request of them reviewing your product on amazon. It is also ideal for you to offer discounts regularly throughout the year.
You get the opportunity to increase your review request from time to time and naturally generate positive reviews. The best way of introducing a product into the market is by introducing it with a coupon. Note that most new product shoppers will always go for a product that offers a discount.
Additionally, there are discounts and rebate clubs that extend the limits of white hat tactics. Rebatekey is one of the most popular services in the category. The services aim at attracting more sellers full price credit for sales than reviews. But a higher percentage of shoppers will always leave a review.
5- Enroll Amazon Early Reviewer Program
When launching a new product on Amazon, getting customer reviews can be quite a hassle. Fortunately, the existence of the Early Reviewer Programme on amazon offers ease in speeding the process. It is always available to products that have less than five reviews at $15 and above.
After signing up with the program, Amazon will request reviews from participating shoppers who bought your product. Shoppers who write the reviews are then awarded amazon rewards that come in gift cards ranging from $1.5 and $6. However, the gift cards are part of your expense where amazon charges a one-time fee of $60 just after you get your first review. 
The drawback of this form of service is that you don't control who leaves a review. It can be a positive or negative review. However, most of the first reviews from early shoppers tend to be positive since the shoppers understand how helpful the reviews mean for amazon users. Therefore, the use of the program gives the best qualified and informative reviews on your product page. It is all good news for new seller entities on amazon.
6- Create a contact list for emails
Despite the limitation of third-party automated responders and messaging systems, there are more ways to communicate with customers. For you to get past the limitations, you need to create a brand off amazon. Remember, as long as you get sales via amazon, the shoppers will remain amazon's customers. But by building your email list, you can go beyond.
Fortunately, there are various ways of creating an email list. Among them is creating it through social media or a blog that requests new entities to subscribe. You can also add product inserts into your existing products. The insert will request the subscribers to join your email listing. It is okay to launch your new products when you already have the emails that will ease sending purchase links to your website directly to amazon shoppers.
It is one of the best practices since :
You are likely to have more satisfied customers who are likely to leave positive reviews.
You get vital initial sales velocity for your products.
Additionally, your email acts as an audience to people who feel happy about your products. It also allows you to get into the grey-hat strategy to ask customers to email you and offer discounts outside the amazon platform.
7- Enrolling products in Amazon Vine Program
The vine program offers the opportunity to brand-registered products but with 30 or fewer reviews. However, you have to submit 30 units of your inventory where the Vine reviewers receive the products for free, test them and then write a review.
The reviews are amazon vetted to participate in testing and reviewing the products. The first 25% of the reviews will always occur within five days of the order, while 99% of received reviews occur within 35 days. So, the vine program acts as a game-changer to newbies in the industry looking to establish themselves from scratch. It is currently a free program for all third-party sellers. So far, there are no plans for amazon pricing for the service.
8- Give First Impression with great packaging
Of course, the packaging is one of the first things that customers will notice about your product. Everyone knows what it feels like to purchase a new item that seemed perfect until you realize it came in terrible packaging. Make sure you know how to create the best possible first impression by ensuring your packages look great!
To maximize your customer satisfaction, try to have a 4.5 or 5-star product review. You should spend a little extra time and money on the packaging, so it doesn't look cheap from the outside. Holographic labels work best since they show off your products. Also, including manuals and other product inserts to make the product feel high-quality.
B. Get More Reviews On Amazon Using The Grey & Black Hat techniques
Below are five-way grey and black hat review techniques that are more common in earning the best reviews. However, it holds more risks; therefore, in my opinion, it discourages sellers from using it. The market is composed of competitive sellers, and it is crucial to have an insight into the grey & black techniques.
9- Mitigate negative reviews
Today, Amazon faces a serious problem: internal agents accept bribes for nefarious tasks like deleting negative reviews. Sellers can also mitigate negative reviews on products proactively to ensure a top-rated and worth of a commendable product. 
Additionally, using new tools, you can easily get notifications whenever a poor review. But amazon is against such acts and lately eliminated the seller comment that appeared on reviews. It is a trend that operates with large-scale sellers and mostly Chinese vendors.
10- Use social media group reviews
Social media platforms like Facebook have a lot of group reviews. All you need is to give away products you want to be reviewed to the group members and return them after posting their reviews. It is easy to find such groups by searching "review groups" on your Facebook page, and there will be more selections for you. However, it is an offense given that the whole process happens off the amazon platform.
So, to cover the offense from amazon, you only need one of the participating customers requesting refunds through amazon.
11- Purchase fake reviews
The Chinese sellers are flooded with such fake reviews. It is performed in largescale to add more positive reviews on a product. But the strategy uses fake amazon accounts to purchase and leave a fake review for the product. However, the problem is so serious and sophisticated that amazon can not detect the reviews. The latest updates on amazon are much better and designed to detect zombie accounts and fake reviews. 
Additionally, sellers found to participate in the malpractice get their accounts suspended to eliminate impunity.
12- Ask Family & Friends for reviews
In most cases, you will find sellers guilty of soliciting a review from a close friend or family member. It is not new, as amazon strictly forbids the behavior. There are detection algorithms designed to detect connections between reviewers and sellers.
Shared shipping addresses, IP addresses, and even social media profiles can help establish a connection between sellers and buyers. The risk of getting blocked for such actions is below average, but Amazon will most likely remove reviews if you get caught.
13- Using chatbots (ManyChat funnels)
A group page is created on Facebook. A chatbot is tied to the page, which guides a person through all stages, from purchasing a product to publishing a review and receiving a reward for it (in the form of a GiftCard – an Amazon gift card or PayPal transfer). Facebook ads are set up, and the leads (Americans) begin to flow into the chatbot.
The catch is that if a person likes the product and is ready to leave a 5-star or 4-star review. They are allowed to do so, and the money is returned for the product (which is a violation of Amazon rules). And if a person says that he did not like the product at all and is going to leave a 1-star or 2-star review. They try to discourage you from this, although the money for the product is also usually returned).
What can and cannot be done to get Amazon reviews?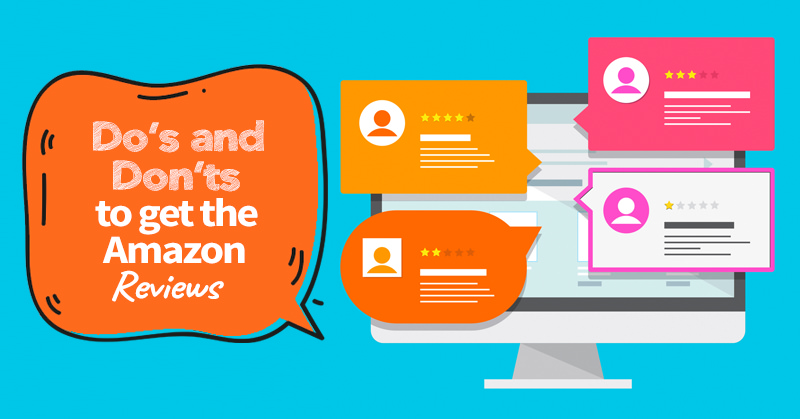 To understand how to get reviews on Amazon, you can see that reviews on Amazon are a whole "kitchen" in which you need to be well versed. Always try to keep track of the latest updates in the marketplace's policy regarding reviews, and we will now repeat the main "do's and don'ts."
Let's start with what you can do:
you can write messages to customers related to the order or its service, and you can also ask for feedback (without indicating "positive");
send the buyer a request for a review of the order via the "Request A Review" button;
provide customers with discounts (but try to keep them low, if they exceed 75%, then a confirmed purchase icon may not appear next to the review).
Here are some things you should NEVER do – or at least, be careful about. These tips can help you keep your account safe and avoid any problems:
send customers more than one request for feedback in one communication channel;
buy reviews in groups of reviewers or offer a product in exchange for a positive review;
send links to the site as part of the correspondence with the buyer or print links on the inserts in the product (meaning links not in any way related to ordering);
include in the request for manipulative revocation statements "if you like our product – leave a review," stories about "small family business," etc .;
ask a customer to change or delete a review;
contact friends or relatives with a request to leave a review.
Any of these practices can end in disaster. Amazon is very strict about manipulating reviews due to the great hype that has been in the press in recent years, which we mentioned at the beginning of this article.
Updated Messaging Policy & "Request Review" Button
An active fight for the purity of reviews was launched by Amazon in mid-2016 and continues to this day:
removed millions of reviews that fell under suspicion of authenticity (many of them were quite real and objective, but the marketplace chose to "strike ahead")
more than 1,000 lawsuits have been filed against buyers suspected of manipulating reviews
It temporarily deprived tens of thousands of buyers of the opportunity to leave reviews, and it removed their previous reviews in whole or in part
an AI system launched to detect fake reviews. It flagged several more (Fake) reviews, resulting in more (fake) reviews getting flagged.
and in the end, Amazon formulated new feedback rules that prohibited incentives for customers or any calls for positive product reviews.
Amazon Policy Change
In 2017, amazon made stiff regulations against the sellers by allowing customers to opt-out of unsolicited emails freely. Meanwhile, Amazon has risen again in clarifying its messaging policy in September 2020. It states that sellers can only ask for only one review ever.
The move significantly affected the sellers and a big blow to automating reviews. It also cautions sellers only on email wording that solicit positive reviews only. For instance, Sellers stated, "If you appreciate our products, please leave a review." Amazon prohibits such statements.
In 2019, of some other amazon policies, Amazon went ahead and suspended sellers' accounts that happened to use "if" followed by a statement. And it is in the same year; Amazon rolled out a request review button within the orders page. By pressing the button, the customer initiates a send review request. It also contains some other details like:
Sending of product rating and seller feedback requests will appear in one email.
Using "does not" denies you the authority of requesting a review separately
No customized messages
You as a seller must send review requests within 4-30 days after order delivery is done.
The good news about amazon is that software like Jungle Scout offers you an automatic request review through their plugins.
FAQ
1. How do I get reviews on Amazon?
Positive reviews are essential in the eCommerce business, but you can not neglect seller feedback. However, You must comply with strict guidelines on communicating to buyers to avoid fake reviews. The marketplace has certainly cracked down on incentivized reviews in recent years. You can and should freely pursue feedback and reviews for every order that needs to be done in compliance with Amazon's Guidelines.
2. How do I get fake reviews on Amazon?
You can get fake reviews on Amazon by asking your customers to leave feedback and review in exchange for a discount. The principle is to encourage more people to purchase from you, but be aware of what the marketplace has cracked down on incentivized reviews. Also, you must comply with strict guidelines on communicating with buyers to avoid fake reviews.
3. How do I ask Amazon customers for reviews?
There are different ways you can ask Amazon customers for reviews. You can do it is by sending them a message when they purchase an order, asking if the customer would be willing to leave feedback and review in exchange for a discount. The principle is to encourage more people to purchase from you, but be aware of what the marketplace has cracked down on incentivized reviews.
You may also ask your Amazon Customers through email or on their contact information provided with data sharing preferences allowing them to opt-in before receiving any marketing emails or calls (opt-out). If they have opted-in, you can send solicitation messages requesting feedback and review as long as it's a limited number per month.
4. How many Amazon reviews can I do a week?
You can do as many as you want but make sure that they are limited to per month. However, you have to make sure that you comply with strict guidelines on communicating to buyers to avoid fake reviews.
5. Can you review on Amazon without buying?
You do not have to purchase to review on Amazon. All you need to do is sign up for an account and write a review of the previously purchased product or are currently considering purchasing. Make sure that your reviews comply with strict guidelines on communicating to buyers to avoid fake reviews. Note, however, that it is not allowed to ask for a discount in exchange for a review as this is considered an incentivized review.
6. Why can't I review items on Amazon?
There are different reasons this may happen. The product may be too old, and Amazon has removed it from the site to prevent fraud. The item could also have been recalled by the manufacturer or other reasons not disclosed on Amazon's website. Another reason may be that the seller could have removed their products from Amazon.
7. Does Amazon automatically ask for reviews?
Amazon often prompts buyers to leave reviews after their purchase. These prompts can happen through email, your Amazon account page, or the notification you receive when the order ships. However, these are not always requests for feedback. It requires a review as they may be notifications of shipment confirmation but make sure that you comply with strict guidelines on communicating to avoid fake reviews.
8. Can you review your own product on Amazon?
Amazon does not allow you to review your product. Therefore, you would have to purchase your product from a different seller and then review it.
Conclusion
In conclusion, I would like to draw your attention to the importance of remembering the product's quality and being conscientious.
First of all, think about how, in principle, to reduce the likelihood of negative reviews. Do not absolve yourself of responsibility for the production. Try to keep track of this process and the product quality as much as possible (which Chinese manufacturers may worsen over time).
Do not neglect the packaging of the product. It is the first thing that the consumer will see. If possible, include instructions for use with the product to familiarize yourself with them. Be honest and evaluate your product objectively. It may also be useful for you to familiarize yourself with the negative reviews of competitors before starting production – this will help prevent similar problems with your product.
If you want to get more updated information about Amazon FBA, you can read my other blog on How To Start Amazon FBA Private Label Business. If you are ready to start the Amazon FBA business, you can check the Amazon FBA course to learn deeper step-by-step A to Z starts from scratch. They will help you If you have questions or you need help during your learning. Most importantly, it will help you to build your Amazon FBA online business successfully.
"We all need people who will give us feedback. That's how we improve." – Bill Gates.