The Amazon Marketplace is truly one of the most popular eCommerce marketplaces today. In fact, according to a report by Statista, Amazon has become a global e-commerce powerhouse from $0 to $280.52B in just over two decades. The hard work of its CEO and Founder Jeff Bezos has truly paid off! Amazon is a very competitive market for sellers to sell on the platform. So how to sell on amazon for beginners in 2021. This article will give you the steps to do it, specifically to Amazon FBA (Fulfilled by Amazon) and the benefits of FBA.
It is a huge platform where online retailers from all over the globe are selling. Here, sellers take advantage of Amazon's huge customer base and selling their products at a fixed price without the hassle. So, it isn't really that surprising that you are here, a fresh seller who wants to know how to sell on Amazon for beginners and make money. And you are exactly in the right place because, in this comprehensive article, I will guide you through the process of how to sell on Amazon successfully as a beginner. Stick with me to the end, and you are on your way to becoming a successful Amazon seller.
What is Amazon FBA?
Before we get started on how to sell on Amazon for beginners, let me introduce to you first the Amazon FBA. You might be wondering what Amazon FBA is?. Well, when setting up your Amazon account, you will encounter two fulfillment options: Fulfilled by Merchant (FBM) and Fulfilled by Amazon (FBA).
In FBM, sellers use their own resources in managing their merchandise (e.g., storing and packing) and shipping them to the sellers. Meanwhile, FBA is a service provided by Amazon to sellers where the Amazon team takes care of the product packaging, shipping, returns, and even customer service. Although there are fees associated with FBA, unlike FBM, it is worth its price to pay for sellers who want to spend time growing their business instead of packing and fulfilling orders day and night.
FBA is indeed a beneficial service for sellers who do not have the time and workforce to fulfill customer orders efficiently and on time for the USPS to arrive. It is also a recommended fulfillment option for products that are expensive, small, and lightweight. For sellers selling heavyweight and big items, using FBA for fulfilling orders may cost them. This is due to the fees posed by Amazon. Moreover, this includes inventory storage fees, fulfillment fees, removal order fees, long-term storage fees, unplanned services fees, and returns processing fees. Nevertheless, FBA is an excellent way when starting small and gradually growing your business.
Amazon FBA Benefits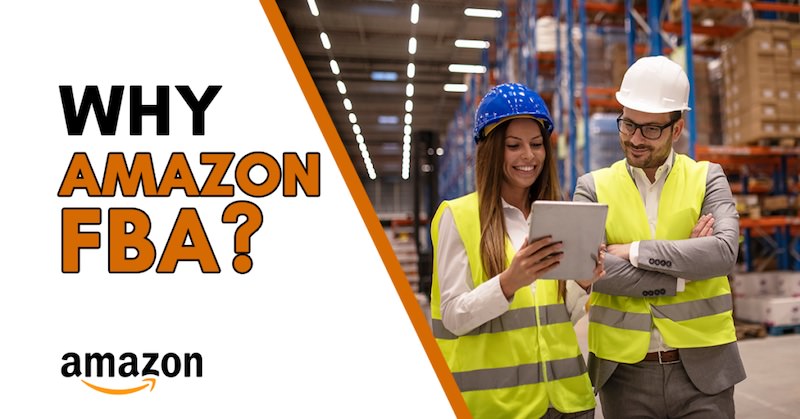 There are numerous reasons why new sellers are recommended to choose Amazon FBA as their fulfillment option. As mentioned above, it takes off the stress from sellers when it comes to fulfilling orders for their customers. However, there are other benefits of Amazon FBA you may consider:
1. Logistics and Shipping
I've probably mentioned this a few times now, but yes, Amazon FBA takes care of your products' logistics and shipping. As a regular seller, you may already know that the task of packaging and shipping is a time-consuming process and may sometimes pose challenges with your shipping partners. Hence, FBA offers you a team of expert workers who can make the logistics and shipping of your products seem effortless. Yes, it is included in the Amazon FBA fees, but it is also a service worth its price.
2. Discounted Shipping For Sellers and Free Shipping For Buyers
Amazon has partnered with major shipping companies all over the world. Included in their contract is to give discounted shipping rates to sellers. Other than that, FBA listed products are eligible for free shipping to customers. For instance, Amazon Prime members also get a two-day free shipping discount. This is an incentive that will surely make quite an appeal to your customers. I mean, as buyers, who wouldn't want discounts? What's more, is that this discount offers you a huge advantage over your regular FBM competitors.
3. Processing of Returns
As business owners, we know the importance of a returns policy. And although it's an appealing factor to our buyers, it's stressful for us sellers. The task of returns involves dealing with upset customers, inspecting the eligibility of the return, and, of course, the fees for the reverse logistics. With FBA, the Amazon team will take care of everything. They'll take care of customer engagement, eligibility inspection, and reverse logistics. Also, this is what the FBA returns processing fee I mentioned above will cover.
4. Customer Service
Starting, you may be able to handle customer engagement with just a few customers. But as you grow, so does the number of your customers, especially for sellers who have successfully built their brand by providing quality products to customers. Although customer engagement is a great way to establish customer loyalty, it is also a stressful task that will also take your time of day. For this very reason, you can count on the customer service offered by FBA. They offer 24/7 customer support via phone, chat as well as email. Also, Amazon's excellent reputation in providing top-notch customer service will surely ease both you and your customer's minds.
5. Inventory Storage Space
Amazon has a new restriction for new sellers for an inventory maximum quantity of 200 units, but there are no inventory minimums, so you can even send just one product. This is an excellent opportunity for you to try out FBA too. So, instead of renting and paying for a whole warehouse, you only have to pay a storage fee with Amazon FBA. The fee will be a lot cheaper compared to if you rent a warehouse. After you have a high inventory performance score (products that sell quickly), you will be offered unlimited storage space by the Amazon team.
6. Fast Delivery
As a global company, Amazon has hundreds of fulfillment centers worldwide. This means that wherever your customer may be in the world, they will get your products in just a couple of days. How does this work? When an order is placed, the first thing the Amazon team does is determine the fulfillment center nearest your customer. From there, they will ship out your products to your customer, thereby resulting in quick delivery.
7. Multi-Channel Fulfillment
You may also have an online store outside Amazon. That's understandable because I understand the importance of reaching as many customers as I can as a business owner myself. That means that you are not just fulfilling orders for Amazon, but with other channels, too, such as BigCommerce. Through Amazon's Multi-Channel Fulfillment (MCF) services, fulfilling orders for other eCommerce channels is also well taken care of. Using the FBA shipping app, customer orders from BigCommerce, for instance, will be automatically sent to Amazon for fulfillment. It's an inclusive service that I personally like.
How Does Amazon FBA Work
Now that we know the 'what' and the 'whys,' here's how Amazon FBA works:
1. Send your products to Amazon
Amazon has numerous fulfillment centers that are stored according to product type. That is why before sending your products to Amazon, they will inform you first which warehouse you must send them to.
2. Your products are sorted and stored
After the Amazon team receives your products, they will sort and add them to your inventory. To easily find your products, they will also add a tracking code to your merchandise before they are stored. In case of damages to your products while stored in the warehouse, rest assured that Amazon will reimburse you.
3. Amazon packs and ships your products when orders start coming in
When a customer orders your product, Amazon will take care of the entire transaction for you. They'll accept the payment while updating your inventory automatically. After that, they will locate your product, pack it and proceed with the shipment.
4. Customer Service
In case of any follow-up questions or concerns from your customers, the Amazon team will take care of them. This is to make sure that your customers are satisfied with the shipment and your product.
5. Payment every two weeks
Amazon will total up your sales every two weeks. Seller fees will then be deducted before profits are deposited into your bank account.
Have I convinced you yet of the many benefits of Amazon FBA? If you want to know more about Amazon FBA and learn a more in-depth understanding of it, you can read from many articles that I wrote. Check them here.
How To Sell On Amazon For Beginners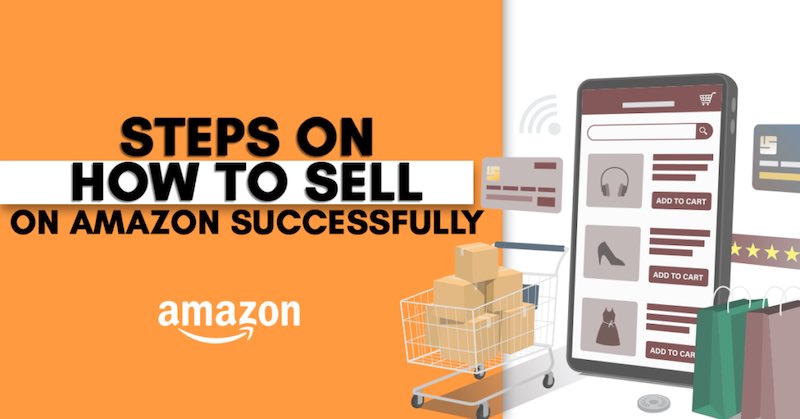 Alright, now that we have covered the Amazon FBA fundamentals, let's proceed with the steps on how to sell on Amazon FBA for beginners 2021.
1. Formulate your business plan
Like how you have a business plan with brick and mortar shops, you must also have a business plan with your online shops. This will be the first step of how to sell on amazon for beginners. Having a business plan will surely benefit your business in the long run. With it, you will have a clear goal to keep track of when conducting day-to-day transactions with your customers.
However, it's not only goals that you can determine with your business plan. It will also define your brand, products, vision, mission, and especially your budget. Selling on Amazon will take a lot of research. Therefore, if you already have a business plan in place, you'll avoid wasting your precious time and resources. Start with vision and mission statements, then proceed to formulate your business plan from there.
2. Find your unique value proposition
How do you establish a brand? By offering something unique to your customers. For this, conduct comprehensive research on unique value propositions you can offer to your customers. Start by listing down recent trends and popular products and businesses. Next, analyze them to see which ones sell the most. However, while doing this, you should also take into account your passion and interests. Remember, success comes when you know and love what you are doing.
For your long-term success, I strongly recommend that you choose a seasoned product for your brand. After that, you either find a selling point or create one yourself. It is also best to ask for feedback and recommendations from suppliers and customers when evaluating your unique value proposition.
3. Choose the best product for your brand
This third step would be one of the most important steps when you learn how to sell on amazon for beginners. Now that you have done your research about the latest product trends and popular businesses, it's time to choose the best product for your brand. In this stage, you might be thinking, "What can I sell on Amazon as a new seller?" Well, below are a few tips you can use as a new seller on Amazon:
Strike a balance between quality and price that is preferable within the $21-$200 range. Products in this price range are known to be sold in the marketplace quickly.
Look for small and lightweight items that will be easy to ship for a less expensive shipping and storage fee.
To maximize profit, choose a product that has the potential of selling 10x per day.
While doing product research on Amazon, I suggest you only look for those that have customer reviews of over 150.
Make sure that the product is not under Amazon's restricted category.
Here are three steps you can take to fully determine what you can sell on Amazon as a new seller:
PRODUCT RESEARCH
Besides Amazon, you can also conduct your product research on other major eCommerce platforms such as eBay and Alibaba. If you are looking for a product that will sell quickly, look for items within the price range of $10-$50. This is because items such as these tend to be bought by consumers on impulse.
KEYWORD RESEARCH TOOL
Using keyword research tools allows you to identify the sales and demand on a particular product. Here, it will show you accurate data on how your products are doing during keyword searches and even sales levels. You can determine whether you have a "winning product" with high demand and few suppliers through these tools.
FBA FEES
Since you will be using the FBA fulfillment option, it's best to be prepared with the fees associated with the product you will be selling. For instance, storage fees that correspond to your product's size and weight. You'll want to keep your FBA fees as low as possible. To calculate your FBA fees quickly, you may check out Amazon's FBA calculator.
4. Find The Right Supplier
Where will you be sourcing your merchandise? After choosing the best product for your brand, the next step is to identify the suppliers or manufacturers you can trust to provide you with quality products. Just a bit of a heads up, though, finding the right suppliers is a tedious process that will take much of your time. To help you in this venture, here are the three types of suppliers you may consider:
Overseas Suppliers – Sourcing overseas tends to be cheaper than locally—for instance, overseas suppliers from China through Alibaba. What makes overseas suppliers really appealing is the 25% less on the retail price for bulk purchase, thus giving you a bigger profit margin.
Local Manufacturers – The advantage of local suppliers is that it adds the "patriotic" value to your product, making a good impression on your customers.
Local Trade Shows – Attending local trade shows may introduce you to industry leaders who can provide you with what you need.
After finding the right supplier, here are other things you should do:
– TEST YOUR PRODUCT
So you found an affordable supplier, that's great. But remember, you must always strike a balance between price and quality. Therefore, after receiving the items, make sure to test them first. This is an important step to see whether your sellers are indeed true to their claims of quality.
– IDENTIFY SHIPPING COSTS
The right wholesale product does not only have a fair price and great quality, but it must also have reasonable shipping costs and delivery time. These are factors that will affect the individual pricing of your products when sold to your customers. So, take the time to identify how much the shipping will cost you. The shipping time is also crucial since it will determine when you must restock your products before running out of them.
5. Create your brand
You've chosen a product, and you found the right supplier. The next step is creating your brand based on your business goals that you've formulated in Step 1. Here's how you can establish your brand:
a. NAME
First and foremost, a brand name! Brainstorm names that will fit your product line and your business goals. Go to Google, for instance, and research brand name ideas. Also, don't forget to check those that are already being used. To note here, too, is to create a brand name with no existing domains. Namelix and Namechk are online tools you can utilize to find your brand name and domain name availability. This is so you won't have any problems establishing your website when your business takes off in the future.
b. LOGO
Brand logos are just as important as a brand name. It becomes an icon that people quickly identify as your brand upon seeing—for instance, the smiling arrow logo of Amazon. You can look for freelance graphic designers to create your brand logo on Fiverr, or you can create yourself with Brandcrowd to choose the logo you like. Look for something simple that is clear to your customers. Besides, the simpler the logo, the less expensive it is.
c. THEMES AND TAGLINES
Creating taglines is a fun brainstorming exercise. If you're stumped with ideas, you may even derive from famous taglines. Brand themes are also essential factors that people identify with your brand. These two are things that must reflect a message about your personality and business goals.
6. Create your Amazon FBA Seller Account
You are finally ready to create your Amazon Seller account. Follow the steps below to get started:
Sign up as an Amazon seller.
Choose between the Individual and Professional Account. Individual accounts do not have subscription fees but are charged $0.99 per sale. Meanwhile, professional accounts have a subscription fee of $39.99 per month.
Add FBA to your seller account.
7. Ship Products to Amazon FBA Fulfillment Centers
You can ship your products to Amazon warehouses, or you can ask your suppliers to do it for you. Remember, before shipping, the Amazon team will inform you first which warehouse you will be sending it to. There are also specific rules and guidelines when shipping your products. So, best prepare them before shipping.
8. Create your product listing
A product listing is not just about using specific keywords or adding product descriptions. You must optimize it to appeal to your customers, such as providing as much information as possible. Below are things you can do to optimize your product listing.
a. TITLE
Product titles must not only be relevant to the search query of your potential customers but must also attract their attention. Make them unique but clear, a title that provides relevant information and draws potential customers. Optimize your product title by putting one keyword within it. You may also check how your product title is doing by searching for similar products and see the listing.
b. DESCRIPTION
Your product description must always be concise and clear. Although your product has plenty of features, you must only include here features that your customers need. You may also include colors, product dimensions, sizes, weight, installation guides, and warranty information.
c. PHOTOS
Taking product photos is good and all, but to completely capture the attention of potential customers, I recommend hiring a professional to take professional photos of your products. It's the easiest way to fully convey your product's value and features with just images. You can find them on Fiverr.
9. Manage your inventory
Amazon has Inventory Management Tools that will assist you in managing your inventory and maintaining inventory levels. Here, you may view available data about your products, check out their seller fees, and view and download reports. Keeping track of your inventory levels is an essential part of making sound decisions about your products and business. There are also two things you will meet when managing your inventory:
Inventory Turnover Rate – This is the rate of how fast products are selling on Amazon. With this data, you can determine how much inventory needs to be maintained.
Inventory Forecasting – Here, you will identify how much inventory is needed. It allows you to avoid overstocking or understocking. Forecasting considers your inventory levels, sales trends, seasons, and delivery periods.
10. Follow up on your customer reviews
Last but not least in how to sell on amazon for beginners is to get reviews. Product ratings from customer reviews play a significant role in increasing your ranking on Amazon's search results page. Also, customers usually refer to reviews when looking for quality products. Here are a few key statistics that BrightLocal has found during their 2020 local consumer review survey (source: brightlocal.com):
"The industries in which consumers are most likely to have read reviews: 1) Restaurants, 2) Hotels, 3) Medical, 4) Automotive, 5) Clothing stores."
"The most important review factors: 1) Star rating, 2) Legitimacy, 3) Recency, 4) Sentiment, 5) Quantity."
"Only 48% of consumers would consider using a business with fewer than 4 stars."
"73% of consumers only pay attention to reviews written in the last month."
"When writing a review, 20% of consumers expect to receive a response within one day."
Take note of these trends to understand better how you must handle customer reviews. Other than that, you may also reach out to your customers to ask for feedback. For instance, when they tag in their posts on social media. Below are pieces of information you may ask from your customers as product reviews:
Their experience and satisfaction with using the product.
Referrals
Potential re-orders
It is important to remember that customer reviews will not always be positive. However, you can use them as opportunities to improve your products and grow your business. These inputs will help you identify what needs improvement in your business and even new ideas and innovations to offer your customers.
Feedbackwhiz can help you to fulfill your product reviews and your company feedback from the customer with ease.
CONCLUSION
As a first-time seller on Amazon, you might feel a bit intimidated. That's why you are here wondering how to sell on Amazon for beginners. You need to consider multiple things and remember that it might turn out to be confusing a few times along the way. However, I'd like to think that I have eased your worries with this blog. I hope you now have an accurate idea of how to sell on Amazon Prime, and you've also started brainstorming what you can sell on Amazon as a new seller.
If you want to learn more in-depth how to sell on Amazon FBA especially if you are beginners, check out my other blog post about "How much to start Amazon FBA." If you are ready to start your Amazon FBA business, I suggest you join the Amazon FBA Mastery. It will teach you step by step A to Z selling on Amazon and help you to answer any questions you may have. If you already have your Amazon business, this course will help you to take your business to the next level.
"What we need to do is always lean into the future, when the world changes around you and when it changes against you — what used to be a tail wind is now a head wind — you have to lean into that and figure out what to do because complaining isn't a strategy." – Jeff Bezos