You might be thinking about how to choose a brand name for your amazon products. Well! It's quite simple. Though selecting a brand name is a little bit challenging, you will easily select the name. All you need is to consider the following points while choosing a unique brand name for your amazon products.
The most essential yet confusing step in starting an amazon selling business is the decision of brand name. People often ignore its importance and pick up a random name from the brand name ideas, but that does not sound like a good plan. An appropriately selected brand name of your amazon seller account will mark your credibility in the audience along with better impressions in the marketplace.
Just think about when you are buying a product, whether you will prefer a product with a relevant, unique name or a random one? A captivating brand name will appeal to you the most. Moreover, it also increases the reliability and trust of customers in your products. So, you should be very conscious while deciding on the one.
Watch the video below:
Important Facts To Be Considered While Choosing Your Brand Name
Some significant facts demonstrate why there is a need for the brand name to make your business successful. It will help if you keep the following factors while brainstorming a brand name for your business.
The first and most crucial thing you should consider while selecting a brand name is its relevance to your products and services. People will consider your products worthy and reliable when your brand name will reflect an idea about your products.

While selecting the brand name, make sure that your amazon selling store name is the same as your brand name. Do you know why

amazon seller name vs. brand name

is the main concerning factor? Well! The answer is having the same amazon seller name that of your brand name or external website name will improve your business productivity.

All those who are interested in operating private labeling should put great emphasis on the business brand name. In private labeling, you should never forget to keep a written statement of the seller and manufacturer from which you are outsourcing products and selling under your brand name.

Besides that, there is no need to select a brand name when working as a third-party seller. Yes! Because you have limited options in private labeling. We suggest you opt for the Amazon brand registry when you don't operate as a third-party seller.
How To Decide Brand Name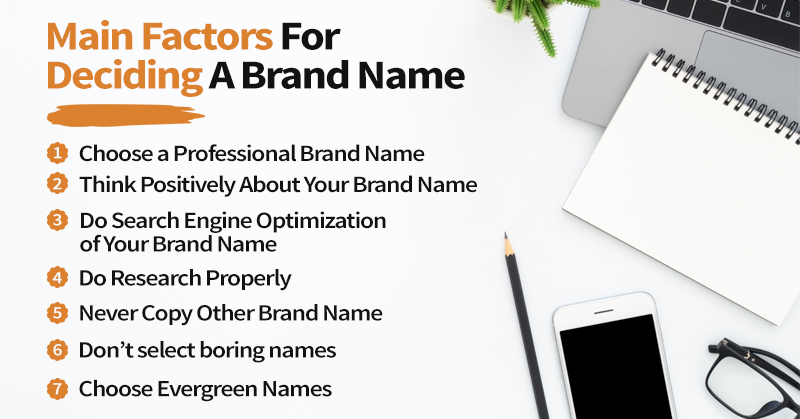 Here are some of the key factors you should look for in deciding your brand name.
1- Choose a Professional Brand Name
Never go for a name that is not a true reflection of your products. The brand name must have a professional touch so that it can appeal to targeted audiences. Your brand's truly reflected professional name will increase your products and services' value in the market.
2- Trademarkable Brand Name
Another important thing you should consider while naming is positivity. It depicts that the more positive spirits your brand reflect, the more it will grow.
3- Do Search Engine Optimization of Your Brand Name
Always choose a brand name whose keywords are relevant to the category of your products and services. If you want to choose a unique name without so many keywords, you can still implement SEO of your brand name to ensure its unique selling proposition. You might be amazed how you can do brand name optimization without keywords. Well! The other strategy is by using algorithms. If you fail to optimize your business name, your brand name will never appear in google and amazon search engines.
4- Do Research Properly
It would be best if you do your research while selecting a brand name to avoid copyright issues. There are several ideas for your store name at amazon that you can use to set your brand name. If your brainstormed name is similar to one of the sellers already available in the market, you will never be able to grow. That's why it's essential to have a unique brand name so that you can sell your products to your potential customers. 
5- Never Copy Other Brand Name
If you are thinking about choosing a name from the internet, you will face copyright issues. Yes! The person who copies the name of others' brands is legally inquired and may get punished. Those who copy brand names for amazon seller accounts never flourish in the market. It would be best to be very cautious about choosing a unique brand name because you have to face legal authorities to violate copying others' brand names in other cases.
6- Don't select boring names
Never choose a name that seems to be less creative, boring, and less confident. You know what brand name is considered the index of every business, so you should adopt a name lasting in the memories. People often mistake choosing a manufacturer name as a brand name, but you need to know a big difference between manufacturer name and brand name. Ensure that your brand name is memorable, unique, fascinating, and interesting to reflect your products.
7- Choose Evergreen Names
Along with choosing a name relevant to your product, you should consider the future perspective. For instance, if you ever desire to flourish your business in other countries and states, there must be an evergreen name. The name that can apply to a band under which you can sell multiple products. So, we suggest you consider an evergreen name on your Amazon seller central account.
Tools Helping In Improvement Of Your Brand Name
After knowing all the significant facts and factors to be considered for choosing your brand name, you might be confused. Usually, some people get a block of creative ideas, while others don't get even a single one. If you face such a situation, you might have thought about some helping tool. You will be amazed to know there are some naming tools.
A brand name generator is an amazing tool that will help you select a perfect, witty, and professional name for your brand. You can combine your brainstormed ideas with tools and get an awesome result. The highly effective strategy is to write down all the keywords in the tool and get the effective name. 
Here is the list of the top 10 tools that are effective in generating a great brand name.
Final Words
I hope that you will be able to decide your brand name yourself after reading this blog. It is challenging to choose a brand name for the Amazon business, but you can easily do your business after apply for the Amazon brand registry. Be efficient, patient, and consistent in selecting your brand name to make your business reach the horizon.
Just make sure when you search for a brand name and find one, you need to check if that name is trademarkable. Just go to the uspto.gov website, which is the official Trademark office website in the United States. After that, you also need to quickly check if the name also has the available domain name and then purchase the domain name. You can check it in Bluehost or Namecheap.
Then, you need to check if the name is available on all or most social media in the next step. You can check it from namechk.com and quickly sign up that name on those available social media platforms before someone else take it.
Furthermore, read my other blog about "How to Sell on Amazon for Beginners" to get more insight into the Amazon FBA business. If you are a beginner looking for more help to start your Amazon business, I recommend joining Amazon FBA Mastery to kick-start your online business. It will teach you step-by-step and answer any questions you may have on your learning. Most importantly, it will help you build your online Amazon FBA business fast and successfully.
"Success is not final; failure is not fatal: it is the courage to continue that counts." – Winston Churchill.