If you've been following my blog, you already have an idea about ways to sell on Amazon successfully. I listed down in one blog how beginners can sell on Amazon successfully, and you can read the article here. But in this blog, I will list the best product research tools for amazon. To establish a brand, you must first choose the best product. There are also a few key factors when looking for your products. For instance, it must strike a balance between quality and price, and it must have the potential of selling 10x per day and more.
To successfully do this task, you must conduct product research. But, with so many products out there, it is impossible to do it manually. Here is where product research tools for Amazon come in. In this blog, let's explore the best Amazon research tools that you can use in finding the best product for your Amazon store. But first, let's have a more in-depth understanding of why you need product research tools for Amazon sellers.
Why You Need Product Research Tools
You can always do product research manually. Here are a few things you must do during your research:
Scour through bestseller lists
Check hot-selling items
Analyze product criteria, listing, descriptions, bullets, images, and competition
Determine return or refund rate
Identify shipping expenses
Check product durability and more
Overall, it is a time-consuming and tedious process. You'll likely end up visiting all websites, clicking on all potential products, and identifying their prices and other criteria mentioned above. Moreover, for hours to do research, you're switching to multiple tabs and scrolling through all sorts of products. There's also no assurance that you finally have a product in mind by the end of this long process.
You should avoid wasting your time and energy with product research tools available in the market. These tools are equipped with technologies designed to estimate a product's monthly sales, revenue, number of reviews, and other useful features to enhance your product research. You can conduct more efficient and organized research that will help you quickly and easily validate your product through it.
10 Best Amazon Product Research Tools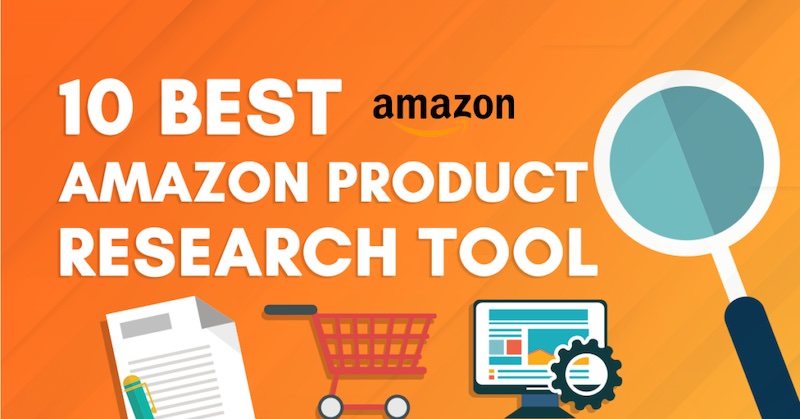 Without further ado, let's get right into it!
1. Helium 10 – Best Overall Product Research Tool
Coming in at number one is Helium 10. This tool contains features that are not always available in other product research tools for Amazon. For instance, one of the features is called Cerebro. Here, users can look at different Amazon Standard Identification Numbers (ASINs) and see how specific keywords perform.
Helium 10 also allows access to reimbursement finders and managers to help users like you recoup their money. With Helium 10's suite of tools, you can keep a closer watch over your inventory.
2. Jungle Scout – Best Favorite Product Research Tool
Although this is at number two, Jungle Scout is a favorite product research tool among sellers of FBA (Fulfillment by Amazon). This site is known to have helped many sellers in multiple ways. To start, you can get an overview of a particular category or pinpoint a specific item through its extensive database.
If you want to keep tabs on a specific item, you can count on Jungle Scout to do the job. It also has a keyword scouting feature you can use to gauge the interest in a niche offering. Besides product research, you may also utilize Jungle Scout to find good suppliers and put together marketing campaigns.
AMZ Scout is very attractive to users because it helps find a niche without too many big brands and manufacturers. That is because when the market has several big competitors, generating interest may be challenging.
With AMZ scout, Amazon sellers can identify trends that matter and spot a niche with a fair amount of traction. What makes it more unique is that it can let you know whether other sellers inspect your specific niche or different niches you are interested in.
SellerApp is an all-in-one tool offering countless features other than product trends and research. It includes keyword research and tracking, listing SEO, index checker, and PPC analyzer. Through these, users can conduct an Amazon product analysis and see the product from different angles, from sales to revenue potential. You'll also get the chance to track your competitors through its competitor data tracking and intensity analysis features.
Viral Launch is a useful tool when you are at the stage of validating your potential product ideas. Here, you can find well-performing keywords associated with a product. It's also a great tool to keep tabs on various keywords reaching up to 100.
[READ:
Is Amazon FBA Worth It In 2021?
]
There are always financial risks associated with being a business owner. In fact, as Amazon sellers, we are required to make a much more significant financial investment that many are hesitant to go through. But with Seller Labs' Scope, sellers are now allowed to get a keen insight into their revenues and profits. While conducting product research, users can use Scope to estimate how specific products will perform and other similar items. Its Profit Calculator also attracts attention as it can calculate potential profit out of a product – a deciding factor when choosing the best product for your business.
In my blog about How To Sell On Amazon Successfully, I included a tip in finding the right product for your business. And that tip was: to find products with reviews not less than 150. That is because reviews have a significant impact on a buyer's journey in your online store. For instance, when buyers look for quality products, they will look through reviews to see whether your product truly has excellent quality.
For this same task, you can count on Feedback Genius. It is a tool included in the parent software called Seller Labs. Here, you can automatically connect with your customers to encourage them to leave a review.
Pricing is another essential factor to look into when looking for the best products to sell on Amazon. Because it is the primary deciding factor for buyers, it falls upon us as sellers to set a reasonable price appealing to them and your returns. To do this, you must keep up with the pricing trends in Amazon, which Keepa is very much capable of doing.
Here, you can monitor Amazon's short and long-term pricing trends. You can even check how an item was previously priced, giving you more inputs to make the price more appealing. Keepa also has a worldwide reach, which means that you can track other countries' pricing trends. Whenever there are price drops or offered deals, rest assured that Keepa is there to alert you.
Although it has quite a peculiar name, CamelCamelCamel is just as helpful as Keepa. It also identifies pricing trends that are relevant to your target products. Additionally, it presents charts that contain pricing data for thousands of products and more being sold on Amazon.
Just like Keepa, it also sends helpful and quick alerts if there are price changes. What makes it more convenient is that it has a browser extension (e.g., Google Chrome and Mozilla Firefox) so users can view pricing charts even as they scour through product selections. Also, these two specific tools are free product research tools for amazon.
As the world's largest online marketplace, it is without a doubt that Amazon has huge amounts of data. It is something that Amazon sellers have to deal with and will often encounter data overload problems along the way. For instance, important information may get lost during your Amazon product analysis because there's just so much data to sort through.
Here is where AMZ Tracker comes in. It makes data processing easier and presents data in an easily readable format in its dashboard. From there, you can quickly move to other product data to learn more about other items' performance.
Please read my other blog about Best Amazon Keyword Tools For Sellers.
Conclusion
There are countless e-commerce product research tools available in the market today. It is because to meet the increasing demand of e-commerce sellers who wish to do well in online selling. And although I have listed down the best product research tools for amazon above, remember that successful product research will depend upon you. Doing manually is a tedious and time-consuming process, but it will become an easier task if you utilize product research tools for Amazon.
You can also read my other blog about "Best Product to Sell on Amazon FBA," so you have more ideas for what products you want to sell. Do you still need more guidance? Or are you ready to start Amazon FBA's private label business? Perhaps you already have one. Do you want to scale your business?
You can join Amazing Selling Machine. It will teach you step-by-step how to start Amazon FBA private label business from A to Z and answer any questions you have regarding Amazon business in general. Most importantly, it will help you build your Amazon business from the beginning until you have successfully built your business.
"It is essential to have good tools, but it is also essential that the tools should be used in the right way." – Wallace D. Wattles.