Starting an Amazon FBA business is one of the most popular ways to make money online. This type of business is appealing because it does not require much start-up capital, and it can be started with little money (even starting from home). This article will provide you with the tools and resources that it takes to start an Amazon FBA business or store on a tight budget.
Having a successful Amazon FBA business sounds like a dream come true. You work from home, set your hours, and make the big bucks doing it. Starting an Amazon FBA business can be tough if you don't have any money to invest in inventory or marketing at first. But there are ways around this!
Getting Started Amazon FBA Business with Little or No Money
You can start your Amazon FBA business for free. Here's how:
1. Find the Item You Want to Sell
It is the first step in starting your Amazon FBA business, and you can do it for free. You can even start by selling stuff in your home that you no longer use. For example, you might have a bunch of books that are no longer being used.
2. Acquire an Amazon Seller Account
It is free to create an Amazon seller account. Once you have your account, the next step is to upload a product feed into it to find and purchase your items on the site.
The more detailed information about your products in this file is, the easier it will be for people to buy them. If you don't want to deal with uploading, you can use a service like Feedzirra.
3. Build the Product Listing Page for Your Products on Amazon
You should build product listing pages with free templates such as Shopify and add your information about each of your items. Add these listings to your seller account by clicking the "Add a Product" tab.
4. Create Your Amazon Seller Central Account
This account is where all of your items will be listed and managed for sale on the site, so it's important to make sure that you have one set up before proceeding with anything else. You can create this through seller central in your Amazon Seller account at any time.
5. Deliver Products when You Make a Sale
Be sure to have your inventory at hand because you'll need to send it right away when someone purchases your product.
6. Take Advantage of Amazon's Free Services for FBA Sellers
Amazon offers a ton of free services for those who are selling on their site, including providing storage and shipping management as well as customer service support. Ensure that you take advantage of these services and avoid spending unnecessary expenses to succeed in your store.
How Much Does Selling on Amazon Cost?
The first step is to start an Amazon FBA store with little or a tight budget to no money. You can create an Amazon seller account for free and then list all your products on this site. There are no monthly membership fees, so you don't have to worry about spending money at the beginning to sell something that might not be a good idea.
However, when selling on Amazon, you will have to incur to main fees:
Individual per Product Fees. Which is incurred by professional sellers who are selling their products on the site.
Referral/Commission fees. Amazon often charges a commission of 15% for every sale.
Note that these fees are charged once you make a sale. So again, you can start your Amazon FBA business without spending any money.
Finding Free Things to Start An Amazon FBA Store With Tight Budget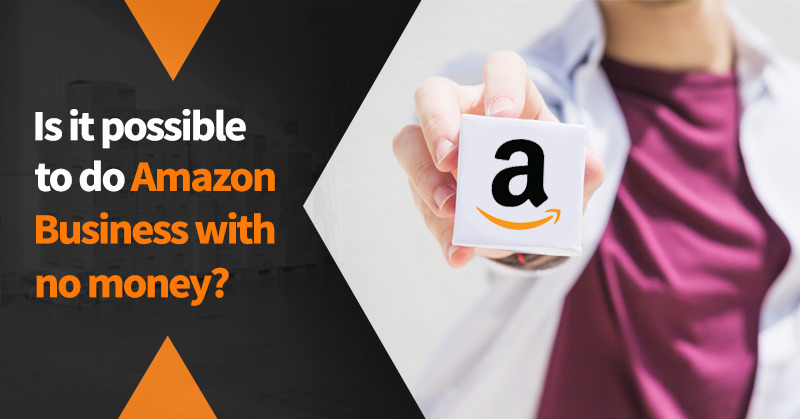 If you begin your Amazon FBA Business, you could start selling stuff at your home that you are no longer using but still in new condition. For instance, if you have many books that you have never used or gift items that you don't use, someone else might be interested in them.
Note also that you can easily create your goods. If, for example, you have a skill such as sewing or crocheting, you can make your own products and sell them on Amazon for a profit.
The best place you can get free products is from a Launching Service company such as RebateKey. Some sellers are willing to give you a free product by refunding your purchase after 30 days. In exchange for your reviewing the product.
Creating an Amazon Seller Account: How to Do It For Free
You can easily create your free Amazon seller account. To do that, go to seller central on any computer and click the "sign up now" button. Note that an individual seller account is free, but you will have to pay $39.99 per month if you want a professional seller account.
Note that professional seller accounts are charged monthly, and you will need to have a credit card account in the US. You can't use PayPal or any other type of payment method for this fee. So, make sure that you're ready to pay it before proceeding.
You'll also need your SSN (Social Security Number) if you are a sole proprietor unless you plan on creating an Amazon seller account with a business name. Then, you will need to get EIN (Employer Identification Number). If you only make an individual account, you need to put your name, email address, and password.
How to List Products on Amazon for Free
To list products on Amazon for free, follow the following steps:
Search the product you want to sell
Just the product description on the search bar or enter its UPC or ISBN (for books). You may want to click through the options that will come to find the exact item you want to see.
When you find the item on the listing, you will see a grey button that says "Sell on Amazon."
Click the button and proceed to enter your info. Once you fill everything out, click "Continue as a seller." You will now be able to list items for free on the site.
Enter your product information
The information will include its description, price, condition, shipping details, and a photo. Once you enter all of this information, click "Save & Finish." You will then receive an email notifying you that your listing has been saved successfully.
You can also upload photos for your products by clicking the "Add images" button on the right side of the screen in Seller Central (you must be signed into Amazon). The maximum file size is 20MB per image file, with at least one product shot taken from every angle possible needed to show off what it looks like.
Fulfilling Product Shipment for Amazon Business
You will need to have a shipment plan in place for when you make a sale on Amazon. You can charge the customer for shipping or provide a free Prime membership and let them pay for it (which would be cheaper in the long run). Also, the customer will have to pay for packaging supplies and any other fees that Amazon charges.
There are a few things you can do to make the shipping costs smaller on your side. For instance, you can buy your own packing materials and use those for shipping. You will also need to set up a free carrier account when you sign-up with UPS, FedEx, or USPS, and they may provide discounts if you ship regularly. You can also sell lightweight items because they will cost less to ship.
The last thing you need is the packaging supplies, also known as shipping supplies or packing materials. These items can range in price and quality. But when it comes down to it, any box that's clean enough for your products should work just fine. Newspaper, air cushions, bubble wrap, and foam protectors are all good options, too, depending on how much protection you want to provide for your goods while they're being shipped around in transit from place to place.
You'll have a few other things needed like labels, tape (clear package sealing tape), scissors, and some tools for opening boxes if there's an issue with them coming open on their own during handling by the postal service. That's about it!
Manage your shipment in Seller Central
As far as fulfilling the shipment goes, Amazon sends out an email informing sellers that orders are available for fulfillment by clicking "Ship Orders" in Seller Central (you must be logged in to seller central). It's important to note that not every order gets fulfilled. Because the customer could have canceled it before buying time expired or maybe even never existed. In these cases, it's best to ignore the emails letting you know about new orders being ready to fulfill until some more time has passed.
As for handling the orders themselves, sellers will have to print out an appropriate shipping label by clicking "Create Shipping Label" in Seller Central (you must be logged in to seller central). Here is an important step because it tells Amazon where you want your item shipped and when it's due there. You'll also need to update any information like weight or dimensions if they've been updated on that specific listing. So double-check before hitting submit.
Estimate Profit When Start Amazon FBA Store On a Tight Budget
The amount of profit you'll end up making will vary depending on how many orders you ship out each month and what your profit margin percentage ends up being after costs are deducted from sales profits (including marketing expenses). You can also get help with this by using one of the free Amazon Seller Tools available such as Profit Calculator. Which lets sellers know their potential profitability based on certain metrics they input. There are a few different things you should consider before figuring out your profit margins, though.
First of all, if you're using Fulfillment by Amazon and they handle the shipping for you. Also, your profit margin is going to be higher than it would be otherwise. Shipping can be way less complicated than you might think! There's no cost unless shipping costs have already been subtracted from the profits. In addition, some types of products tend to have lower margins available on them, which means less profit potential in exchange for more volume.
Lastly, just as an example, suppose you start selling items worth $20 each, but their cost price per item is only $4. The difference between these two numbers ($20-$4=$16) represents this seller's gross margin or how much money they make from each sale. You have to consider the cost of marketing and advertising, which in this example is $0. Also, keep in mind that Amazon FBA fees come out to about 30% of the product's price, which comes out to about $6 for each product. You can then figure out your potential profit by subtracting expenses from gross margin and multiplying that number by 100%. So your estimated profit per item is 50% or $10.
FAQs
1. How much money do you need to start an Amazon FBA business?
As discussed, you don't need much at all to start. A little, at the very least, is needed for a computer and internet access. Still, it's possible to get started without any upfront investment in inventory or anything like that.
2. How do I start an Amazon FBA store on a tight budget?
The best way is to open a free individual seller account and then list your products on Amazon. You can also try selling for others or becoming an exclusive seller. Still, these options typically require more upfront investment than just opening a free individual account and listing items individually.
Also, instead of buying products to sell, you can start selling items you already have around your house. You can, for instance, sell books, CDs, or DVDs that you no longer have any use for.
3. Can I start Amazon FBA with 500 dollars?
Yes, $500 is good money to start with. However, it's important to note that the costs of shipping will come out of your pocket. In fact, recent market research showed that 58% of sellers who began with $500 on Amazon FBA Business stayed for at least three years. 38% of those sellers made more than $5000 per month.
4. How much money does an Amazon FBA business make?
A successful Amazon FBA business can make a six-figure income per month. But if you are a beginner, most of the sellers will make less than $10k income per month. It will take time to at least the first year make more than that.
5. Does FBA really work?
Yes, FBA works, and there are plenty of success stories to prove that. One study found out that more than 60,000 sellers on Amazon with the FBA program. About 50% of them have been active for two years or less. The majority (60%) made at least $5000 per month. At the same time, 30-40% had made six figures annually from their business after just a year in operation.
In other words, if you're willing to put in the work, then it's possible to start an Amazon FBA Business or Store with little money or a tight budget–and even make plenty of profit doing so.
6. Is selling in Amazon profitable?
Yes. If you do your business right and follow some of the tips mentioned in this post, you'll see a lot of profit.
7. How much does an Amazon seller make?
Experienced Amazon sellers can make more than $8000 per month. However, if you are a beginner, you will need to be patient as you might not see that high of a profit your first year in.
8. How do I make money by selling on Amazon FBA with little money?
When you sell products for yourself, you will earn a commission when they are purchased. This is the main way that sellers typically generate income from their business on Amazon. Other ways to monetize include affiliate marketing.
Conclusion
Selling products on Amazon shouldn't be a big problem. As we have seen, you can start your Amazon FBA Business with little to no money and still be successful. The best way to start if you don't have much money is to find any items around your home that still look new and try to sell them. The next way would be to do online retail arbitrage. You don't have to buy inventories until you get the sale, then you fulfill the order from the online retailers.
But suppose you have enough budget and want to accelerate your business even faster and make this process even easier. In that case, Amazon FBA Mastery will teach you how to sell on Amazon professionally and guide you step by step to your success. It is designed to teach you everything you need to know from A to Z and answer any questions you may have later to get started and build your Amazon FBA business successfully through this program.
You can read my other blog about "Best Product to Sell on Amazon FBA," so you have more ideas for what products you want to sell.
"A business can be started with very little money." – Richard Branson.