You are here because you want to know what Legendary Marketer is and whether it is a scam. You have come to the right place. In this Legendary Marketer review, we will do a deep dive into what Legendary Marketer is all about, its pricing, pros, and cons. You will be able to decide whether you want to join the program or not. 
Legendary Marketer is the new hot ticket in high-ticket affiliate marketing, but affiliate marketers have a  split perception about the program. Many affiliate training programs are available to marketers, but legendary Marketer seems to have many high ticket courses. 
What is Legendary Marketer?
Legendary Marketer is an affiliate training program that claims to help affiliates make $1,000 from selling their products. It is a product of David Sharpe, who was once part of the MLM Empower Network Program back in the days. 
Legendary Marketer focuses on giving affiliate marketers the tools they need to promote their training programs. At a glance, their model seems pretty straightforward. However, an in-depth look shows that affiliates get a lot of pressure for upsells. Although Legendary Marketer doesn't have features that resemble an MLM, affiliates are still skeptical about it because of David's past. 
What attracts most affiliates to the program is the potential to earn high commissions when selling Legendary Marketers products. All products are training materials for affiliate marketing strategies and subscriptions to the affiliate programs. Some products like the Legendary Leadership Group cost $30,000 and can give you $12,000 when you have a Pro affiliate account or $3,000 when you have a basic affiliate account.
Overall, the training gives you the necessary tools to sell affiliate products from the legendary  Marketer. Affiliates who join the program say that many informative videos, PDFs, and audios improve your skills. 
The 15-day challenge is an induction program that tests the skill of an affiliate before acceptance. The program includes tips and tricks to drive traffic and sell low-ticket products for $1-$2 each. By the end of the challenge, you will have valuable insights into improving your affiliate marketing strategies to earn more. 
Is Legendary Marketer Legit or a Scam?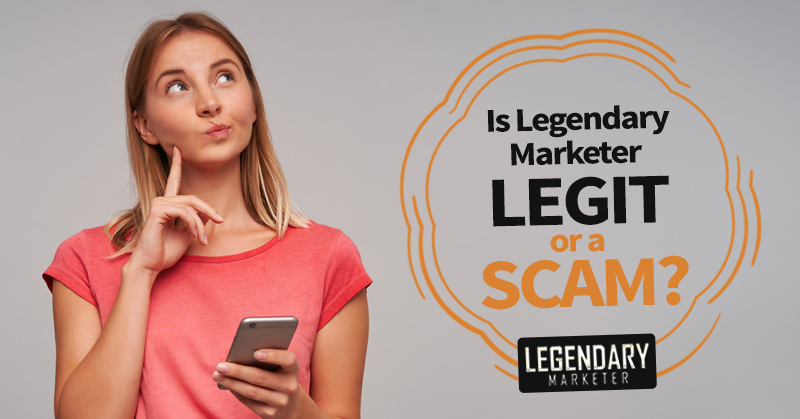 Legendary Marketer is not a scam because it has a legitimate business going. They create and sell high-ticket digital products that seem well-researched. The company has four primary income sources that are legit.
Affiliate marketing

Digital products

Events and Masterminds

Coaching and Consulting.
Affiliate marketers pay a monthly subscription fee to get access to the program's high ticket products. They also pay to get access to training events and discussions with leading affiliate marketers. Therefore, they do generate a significant amount of income from their affiliate marketers. 
Legendary Marketers sells digital products to business owners who want to grow their businesses and brands. They also offer coach and consulting through experts who help business owners to reach their goals. Most of their digital products result from sifting through endless data and finding strategies that drive sales traffic.
Overall, there is nothing that shows that Legendary Marketer is a scam in my observation and review. They operate a legitimate business with products and services that are on-demand. All income comes from legit sources and is generated through repeat sales of their products.
Is Legendary Marketer a Pyramid Scheme?
The answer to the question, "Is Legendary Marketer a pyramid scheme?" is no. There are a few things that indicate that legendary Marketer is not a pyramid scheme. 
First, their commissions are fixed, depending on the type of affiliate account you have. Basic affiliate accounts earn 10-30% per sale, while Pro affiliate programs earn 40-60% per affiliate sale. Therefore, there are no advancement levels when you make more income to another level. However, a ranking board for individuals with the best sales and affiliates earns badges depending on the total commissions on the platform. 
Second, they have legitimate products that add value to their customers. Even the low ticket products like the $2 Legendary eBook and $1 Copywriter's Playbook have a lot of valuable content that you cannot find on the internet for free. Each digital product includes trade secrets that work to boost businesses and income. 
Third, affiliates make money through sales and not by referring people to join the affiliate program. It is  Legendary Marketer is selective about the people they admit into their affiliate program. You must show a  certain level of affiliate marketing skills during the 15 challenges to get into the program. 
My review of Legendary Marketer doesn't possess the features of a pyramid scheme. Some affiliates will likely spend thousands of dollars to get training, but otherwise, they focus on selling the products. Since they have high ticket items, sales of those products generate a significant income for the company. 
Legendary Marketer 15 Day Challenge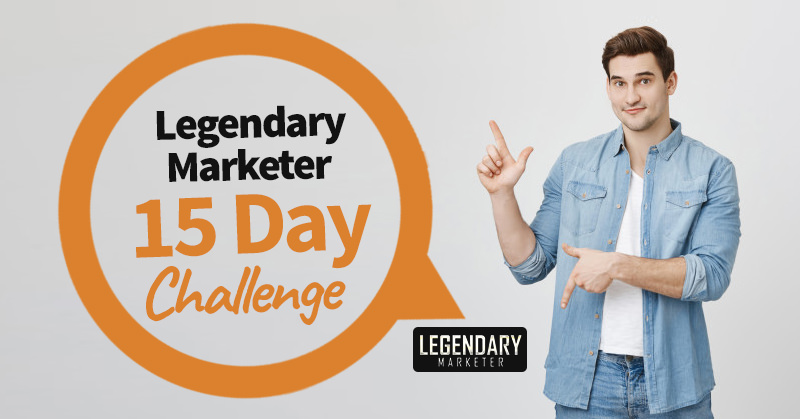 All potential affiliates who want to join the Legendary Marketer must complete the 15-day challenge before accepting their application. It is one of the front-end funnels through which you can join the company. However, completing the challenge isn't a guarantee that you will join their affiliate program. You will learn new affiliate strategies from doing the challenge, whether you get in or not. 
The Legendary Marketer 15-day challenge costs $7, and it's an excellent place to see what affiliate marketing training is all about. It includes daily tasks, quizzes, assignments, and coaching. You will have a  coach to guide you through the process and help you build your affiliate marketing business. 
The step-by-step guide takes you from scratch and explains the essentials of affiliate marketing. The lessons have been sequenced, and each day builds on the lessons of the previous day. There are many business tips packed in the 15-day challenge, and you will have resources like video lessons. By the end, you will better understand what you should do to get your business up and running.
1. Is There a Cheaper Way to Get into the Challenge? 
Yes. There are three other front-end funnels on Legendary Marketer, namely: 
The Legendary eBook at $1.99

Copywriter's Playbook at $1

12-Second Free Leads at $1
Once you buy one of the three products above, you can join the 15 days challenge for free. You can save $5-6 when you use the three front-end funnels above. You can get fantastic affiliate marketing tips and try the challenge for free to see whether Legendary Marketer is for you.
2. What Happens After the Challenge? 
You can submit your application to join their affiliate program and wait to see whether you will get approved. It is not guaranteed that you will get into the program, but it would be nice to access the high-ticket products. Once you join the affiliate program, you will need to pay for a few things to access training content to improve your skills. 
Legendary Marketer Pricing Review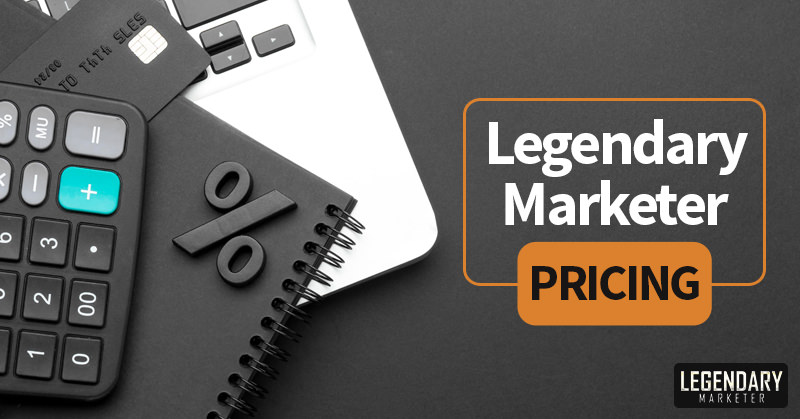 The pricing for affiliate products in Legendary Marketer varies from several dollars to thousands of dollars.  Everyone who invests in upsells products to boost their marketing skills benefits from them. Most of them contain trade secrets that you won't find on the internet for the fees Legendary Marketer offers them to an affiliate. 
Here's a breakdown of Legendary Marketer's pricing for six packages and what each package offers. The six packages are considered the essential packages for an affiliate marketer to begin making six figures.  Remember that Legendary Marketer states that it is a training platform and not a get-rich-quick scheme on its disclaimer. 
#1. Legendary Marketer 15 Day Challenge – $7
The 15-day challenge is a front-end product that affiliate marketers purchase to learn the affiliate marketing building blocks. You will learn the basics of affiliate marketing, talk to a business advisor, and get a coach to assist you during the challenge. Tasks are straightforward, and in the end, you will emerge with new skills that will boost your affiliate business.
#2. Legendary Marketer's Club – $30 per Month
The Legendary Marketers club contains training modules, videos, and interviews with 6-7 figure marketers. It's like an affiliate marketing resource library that consistently adds new resources for marketers.  You can access training videos from legendary affiliate marketers, including one from Kevin Harrington in  Shark Tank. 
Matt Heltzel makes weekly live webinars to explore a topic in affiliate marketing and gives marketers tips. The replays are posted on the Marketer's Club for anyone who couldn't join the webinar to watch.  You can use the replays to learn and implement new affiliate marketing methods. 
#3. Traffic Rolodex Bundle – $247
The bundle consists of eight modules on effective strategies to generate a lot of traffic to your affiliate links.
Topics cover how to generate traffic from Google, YouTube, Twitter, Facebook, Instagram, and Google Display Network. The focus will be on paid traffic and the best way to get the best results.
You will learn how to create effective landing pages and paid campaigns to pass compliance checks on whatever platform you use. Most people who claim that Legendary Marketer is a scam base their judgment on paid traffic instead of organic traffic. My Legendary Marketer review about paid traffic is nothing wrong cause this is good for fast and short-term results. You can choose to do organic traffic, but it will take time to get the results. More experts are talking about organic traffic on the platform currently. 
An expert in the field delivers each module. No one marketer has expert knowledge of all marketing strategies and why different experts teach modules. Overall, the traffic generating strategies are the amount paid for the training.
#4. Affiliate Business Blueprint – $2,500
The program focuses on the basics of how you can start earning affiliate commissions. You can apply what you learn to other affiliate programs and make money. However, the program focuses on Legendary Marketers and how you can earn commissions promoting their products. Whether you pay for the program or not depends on your bank.
Honestly, the program is not a good investment because better programs teach you how to generate traffic at a lower fee. You won't benefit much from the program, and you can invest that money into other income-generating activities. 
#5. Digital Products Business Blueprint – $2,500
You will learn to convert your skill into money through digital products like videos, eBooks, online courses, or audio files. All the methods are excellent for making money online, especially when you are an expert in this field. Selling your digital products allows you to take home 100% of the profits rather than a  commission. 
The training teaches you how to create and structure your digital products in the first part. In the second part,  you learn how to get your products to make sales in front of the right audience. However, there are cheaper courses that can teach you all you need to create digital products and sell them. The training isn't a worthy investment. 
#6. Events & Masterminds Business Blueprint – $2,500
Events and masterminds are a lucrative source of online income when you do them right. Offering a one-on-one approach that makes potential customers feel valued and appreciated. You will learn how to organize business events using the right people. Also, you will learn how to find the best location for an event.
Moreover, you will learn the budgeting process for an event to cover overheads and ways to find paying attendees. Finally, the training teaches you how to develop valuable content that gets attendees returning to your events. The training program is worth the price tag because events tend to generate big money.
#7. Other Products
Coaching & Consulting Business Blueprint at $2,500

Marketer Mastermind at $8,000

Entrepreneur Mastermind at $12,000

DFY Brand Builder at $10,000

DFY Brand Builder and Mastermind Bundle at $15,000

Legendary Leadership Groups at $30,000

Legendary Pro Affiliate Account at $29.95 per Month
Review Pros and Cons of Legendary Marketer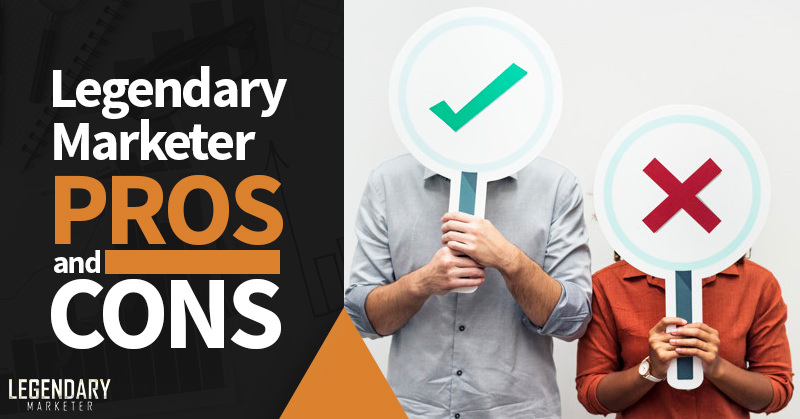 Everything has its pros and cons, but legendary Marketer has more pros than cons. However, those considering the affiliate program have a right to know both sides of the story before investing time and money.
Review The Pros of Legendary Marketer 
• High Affiliate Commission
The commissions you get from Legendary Marketers are higher than from other programs. The Pro account can enable you to earn $1,000 from a single sale, which is incredible. You will have the necessary tools to find the right audience to make a sale. The Pro account has a high income earning potential once you are through with your training. 
• Risk-Free Trial
There is a 30-day money guarantee on all products. You can try the products risk-free and ask for a refund within 30 days if you are unsatisfied. It is a fantastic feature because most of the digital training lessons on the platform are expensive. There are over five programs that cost $2,500 and above. It would be nice to be sure about whether you see value in a program before deciding whether you will stick with it or not. 
• Excellent Training
There is a consensus that training packs a lot of excellent content for affiliate marketers. Beginners and intermediate-level affiliate marketers can benefit from various training available.  One excellent source is the Marketer Club, where you can access industry experts' training materials for  $30. You will learn and listen to stories of how top-tier affiliate marketers made their first 10K, 100K, and even one million. You won't get that information for $30 anywhere else. 
• Evolving Products
The affiliate marketing space is constantly changing, and in my review of Legendary Marketer, it always keeps up by upgrading content continually. What was trending in 2020 isn't trending in 2021, and Legendary  Marketer has made necessary adjustments. All the training you receive on the platform is current and works with what is trending now. Therefore, you will never receive obsolete training that won't help you.  Everything is geared towards what is working right now in affiliate marketing. 
• Tremendous Support
Selling Legendary Marketer products means you can support an expert sales team behind you. You can generate valid leads and pass them on to the Legendary Marketer's sales earn to close the deal. Sometimes you will be able to complete a sale alone, and other times you will need help. Help is always available when you need it. Also, you will have a coach for all training you do on the platform. The coach can call or answer questions you have from training. 
• Access Communities
You can access Facebook communities and groups for Legendary Marketers affiliates. You will find answers to common questions, interact with high-income earners, and inspire affiliates to make six figures. The community will motivate you to push Legendary Marketer's products in the hopes of starting to earn good money from the affiliate program. 
Review The Cons of Legendary Marketer  
• Many Upsells
You will receive messages consistently telling you to buy a product and improve your affiliate marketing business. It can be a bit annoying when you are in the program to make commissions only. Marketers who join the program for the training don't mind upselling efforts. It would be nice to work as an affiliate without the constant request to buy a product. 
• Paid Traffic Campaigns
One thing most affiliates don't account for is that Legendary Marketer teaches marketers on paid traffic. Therefore, you will need to produce more money for your ad campaigns to make money. The costs tend to accumulate quickly between the monthly subscriptions plus ad expenses. Also, you will need sales funnel software like Clickfunnels for your marketing endeavors. You will only receive built sales funnels, but the platform has no delivery system for them. 
• Paid Affiliate Account
You need to have a Pro affiliate account to make good money on Legendary  Marketer. You will have to pay $29.95 per month to earn commissions at a rate of 40-60%. Otherwise, you will not be able to get a commission of $1,000 per sale. The average commissions for people with basic accounts are $500-$2,000, which isn't enough to cover monthly bills. 
Who is Legendary Marketer For?
Legendary Marketer targets beginners in affiliate marketing and intermediate-level marketers. Affiliate marketing experts can make money promoting the products using a Pro account and without doing training. Most of the training focuses on getting their products in front of the right audience through affiliate marketers.
Beginners need to take time to learn more about marketing strategies before spending money on paid ads. Also, they can find better affiliate marketing courses at an affordable cost than what's on the platform.  Marketers who are not careful can spend thousands of dollars on the training before making money on the platform. 
You will need your sales funnel software because the platform doesn't have one. Also, keep in mind that all traffic-generating strategies you learn on the platform will be geared towards paid campaigns. You will need to set aside funds for paid ads if you intend to implement the techniques you learn from the platform. 
Overall, beginners get all the training necessary to start an affiliate marketing business and access high ticket products to promote. You will get banners, links, videos, and anything else you need to advertise on your dashboard products.
FAQs
Q1. Is Legendary Marketer a pyramid scheme?
No. It is not because no recruiting people to sell their products under any individuals.
Q2. Is Legendary Marketer worth it?
Yes. If you are willing to invest and work on your business.
Q3. How much does Legendary Marketer cost?
It cost between $7 for a 15-day challenge to the most expensive $30k for mastermind and coaching.
Q4. How to make money with Legendary Marketer?
You can join the affiliate program.
Q5. Is Legendary Marketer a scam?
No, it is not a scam. It is a legit company to join.
Conclusion
Overall, my Legendary Marketer review is a really good program that you should join because it teaches you step by step and helps you make your first income with fast traffic or paid traffic besides the organic traffic.
Legendary Marketer has a good induction program, The 15 Day Online Business Builder Challenge, which lets you get a taste of what it is all about. Most affiliates who complete the challenge learn strategies worth more than the $7 they pay for it. After the challenge, affiliates can apply for the Legendary Marketer affiliate program. 
The acceptance rate for affiliates on the platform is low. In return, there isn't much competition when it comes to promoting Legendary Marketer's digital products. You can choose to stay with a Basic affiliate account if you don't see the Pro's value. However, you will have to upgrade at some point to earn high affiliate commissions. 
Most affiliates have an issue with how expensive the back-end affiliate training courses are for beginners.  You can check out the best affiliate marketing course and learn everything you need to start an affiliate business. You can apply the knowledge to selling Legendary Marketer's products if you are willing to spend on their in-house training. Soon enough, you will be making thousands per sale and start living that 4-hour work life you've been dreaming about.
Please read my other blog about Is Affiliate Marketing Worth It?
"You will never go broke from investing in yourself"