You may have a great business idea, but without an online presence, everything will be worthless. Therefore, you need good traffic sources to tell the world about your services or products. You need to find out the best free and paid traffic sources for your website. There are multiple platforms on the internet. So, all you need to do is learn how to use them to generate traffic to your website.
Website traffic refers to the number of visitors that are visiting your website. There are several traffic sources to drive traffic towards your website. As a result, all we want are conversions, leads, and profits. It can be in email submits, webinar registration, product sales, or Google AdSense revenue. Furthermore, to increase our conversions, we have to focus on methods to drive high-quality traffic.
If you are getting a high number of clicks to your website and the audience is not converting for the action you wanted from them, your business will not grow. On the other hand, your business will grow if you are getting only a few clicks on your website and your audience is taking action that you want them to take. That's why quality traffic source matters instead of quantity.
Watch my video below to get more details about how to run traffic to your website as a beginner:
Traffic Sources Types
There are two types of traffic sources:
1- Free traffic sources or uncontrolled traffic sources
2- Paid traffic sources or controlled traffic sources
Free traffic sources are also known as uncontrolled traffic sources. Traffic from free sources is difficult to control in numbers, age, gender, and location. On the other hand, you have to do hard work to deliver high-quality traffic using free methods.
You need to do paid traffic to your website and spend money on different campaigns to get fast traffic. At the same time, we can control the paid traffic to get what kind of traffic you need, like the numbers, age, gender, location, and interest.
Best Free Traffic Sources
You can use different online sources to attract visitors to your website. You must have quality content to attract them. Your audience will also love it if you are providing quality and meaningful content. If you are just a start-up or small business and cannot afford the paid traffic, you can rely on free traffic sources. Well, although the free traffic sources don't cost you money, you still have to do enough. Hence, you need to put a lot of content and make some quality backlinks to get traffic if you are a blogger.
Are you wondering about how to drive traffic to your website as a beginner? Well, there are many free resources. We will discuss some free traffic sources, but you need to research and master some of them to succeed.
Here are the four best free traffic sources to drive quality traffic to your website:
1. Search Engine Optimization (SEO)
SEO is one of the best website traffic generator methods to drive super targeted and high-quality visitors to your website. For getting traffic from different search engines, you have to optimize your website or blog for the keywords you want to target. Also, to get on the first page of any search engine, you have to do a lot of work in the initial 6 to 8 months. After that, you will be utterly amazed by the results.
2. Traffic Source From Social Media
Social media is another excellent platform to drive free traffic to your website. There are many social media platforms like Facebook, Instagram, Twitter, Pinterest, etc. You can offer some free-value content related to your niche to attract your targeted audience to your page.
Therefore, it's relatively easy to drive traffic from social media if you use the right strategies and keep it active. Just be consistent and make sure that the post is full of value and attractive. Moreover, target your audience using hashtags and build relationships with your audience. That will give the best website traffic booster.
3. Traffic From YouTube
YouTube is a compelling platform for getting hot traffic that converts into sales very fast. The audience from the YouTube or Google search engine converts very well because the organic visitor coming for these platforms is already looking for the product or service you are offering. You can use YouTube to make it another source of your income. If you focus on growing your YouTube channel for your business, you will also have an option to monetize your channel with Google Adsense.
4. Traffic From Quora
Quora is a questioning and answering platform where people ask questions on various topics. In this community, everyone contributes value to others. So, it is easy to drive traffic from Quora. Follow these simple steps to get started with Quora.
First, find the questions related to your business topics.
Next, provide value in the form of answers.
And answering these questions, you can mention your website here.
Last but not the least, be consistent.
Best Paid Traffic Sources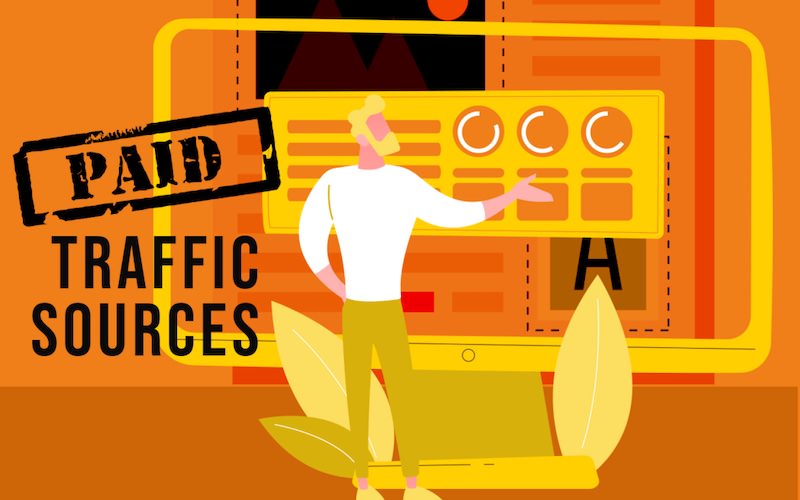 In this type of traffic, you have to spend money on ads to get traffic. Additionally, you can use social media like Facebook, Pinterest, and Instagram to get paid traffic, or you can rely on Google ads, Bing ads for PPC (Pay Per Click), or Display ads. Other types of paid sources include banner ads and PPA (Per Acquisition Advertising).
Furthermore, paid traffic can be a powerful tool for marketers. The 2020 marketer survey found that 42% of SMEs see Facebook and other social advertising as effective marketing methods. However, paid traffic cannot only come from Facebook. Technically speaking, according to your niche, any service you deliver to attract potential customers is a paid traffic source.
There are multiple paid traffic sources, and all come with different perks. Like if you want to show search ads, Google or Bing PPC ads will be best. But if you're going to use email marketing to get traffic, you can rely on the websites like Udimi. Next, let's discuss some of the best-paid traffic sources.
1. Traffic Source From Solo Ads
Solo ads can be a great way to get traffic for your business. What is a solo ad? It's an advertisement that you purchase and send out to people on email lists, websites, and social networks. The idea behind the solo ad is it will catch the recipient's attention because they don't know you or trust you yet! There is no need to spend time building up traffic before you start making money online with this method. All of this can happen in one day!
Solo ads come in different types like classifieds, article marketing, banner advertising, blog commenting, and more which gives customers plenty of options for finding what best fits their needs! Here are some great reasons why using solo ads as a traffic source is a good idea:
a) Quick Results
Solo ads can provide quick results, which is why many customers rely on them as one of their primary sources of traffic to their business. This advertisement will get you the fastest targeted customers around at the best price compared to other methods! If you want multiple streams of income fast, this might be the right option for you.
b) Not Much Competition
There's not much competition when it comes to solo ads, which makes it easier for people who don't have a big budget and still want to see great returns. You'll be able to work with your clients and build your email list that will help you stay in touch and continue marketing even after the opt-in is over.
c) Solo Ads Work
Although solo ads are not necessarily bulletproof, they are effective given the right customer! If you're given good information to send out to your customers, there's a good chance you'll start seeing leads flowing in within the first 24 hours of sending it out. Here is why this method does work and can be very effective when used correctly.
d) Get The Most Customers For Your Money
Because there's so much competition in most markets nowadays, many businesses resort to buying traffic. However, you get what you pay for with solo ads, which means more targeted customers for less money! Since there isn't as much competition in this space compared to other methods, the prices are lower than most which mean you'll get the most customers for your money.
You can use Solo ads services from the different online marketers with the proper mailing list for different niches. If you can't rely on people, you can get a deal from trusted platforms like Udimi.
2. Traffic Source From Influencers Marketing
Influencer Marketing is a great way to get traffic for your website. The best part about it is that you don't have to do any of the work! All you need to do is find someone with a large following and ask them if they'll promote your product or service in exchange for something in return, such as money, products, or services. If they agree, all you need to do is wait until their followers start coming through and generating sales for you!
It's important that before agreeing on anything with influencers, you come up with an agreement beforehand, so there are no misunderstandings later on. It's also helpful to think about what type of people will be attracted by this offer: those who know and like the influencer? Those who love her products or services? Those who love the same things that she does?
Boosting your website's conversion rate (the number of people that end up buying something) is one of the best ways to boost your income. Whether it's through testimonials, videos, or an awesome free trial offer, it only takes a few simple changes to increase your sales!
One great way to boost your conversions is by using trust elements, such as having an awesome video where you talk about how awesome your business and its offerings are. People do business with those they trust, so this is a surefire way to get them on board!
Influencer marketing is a method where a social media influencer promotes your service or a product like Shoutcart.
3. Traffic Source From Paid Search or PPC
No matter what industry you're in, online advertising is a great way to promote your business and generate traffic. One of the most popular forms of internet marketing is paid search, including ads like Google Adwords and Bing Ads. If you're interested in starting an online business for the first time or if you've been using paid search for a while but haven't seen any results yet, this article will help!
The key to success with paid search is knowing how it works and why it works to get better results from your campaign. Here are five tips that will help improve your understanding:
Pick A Keyword That's Relevant To Your Business
Make Sure You Use Specific Language
Provide A Call-To-Action In Your Ad
Make Sure Your Landing Page Relates To The Product Or Service You Promised
Split Test Different Ads For Better Results
Paid search is a marketing strategy that involves ads on search engines like Google Ads and Microsoft Ads (Bing Ads). You can use different techniques like PPC ads, native or display ads to grab the traffic according to your niche type.
4. Traffic Source From Display Ads
Display ads have been around for many years and are a great way to reach people on the internet.
Display Ads may also be called banner ads, shown as a graphic or text ad on a website. They're usually square and appear at the top or bottom of a page, but they can also take up an entire side of a web browser window. Display Ads are often used because they're less expensive than other types of advertising, such as video advertisements.
There are two common types of these ads: Native Advertising (Ads that blend into the content where you see them) and Sponsored Content (Content created by an advertiser). The most popular form is Native Advertising because it's more subtle-looking than Sponsored Content.
Display advertising is still an effective way to reach people on the internet. Still, Search Engine Marketing (SEM) has become more popular lately because Google uses SEM to show their ads on search results. While display ads are shown on other sites, you cannot be guaranteed that they will appear on your site if it doesn't have high rankings or traffic volume.
One potential downside of using display ads is that there's no guarantee your ad will appear next to content that matches what people are looking for unless the website is large and receives a lot of traffic. Sometimes, content that appears next to ads is also sponsored by someone else, which means you also need to pay for that type of ad placement.
Display ads are placed on relevant websites in the form of banners, images, or text ads. You can use Google Adword to set up these kinds of ads, or one of the biggest display ads is Adroll and Taboola.
Conclusion
Today's online marketing world offers various strategies to run and get the best free and paid website traffic sources. Whether you're a beginner or already an expert in digital marketing, generating and increasing traffic to your website should be on top of your priorities. Also, you can use any of the traffic sources above to drive quality traffic to your website.
Suppose you would like to learn more about getting traffic for your business. In that case, you can also read the Traffic Secrets book as my recommendation and read my other blog about Best Traffic Source For Affiliate Marketing. If you would like to learn more about getting unlimited traffic and Affiliate Marketing in-depth to guide you step by step, you can join One Funnel Away Challenge, where you can ask any questions to help your online business.
"Whatever the mind can conceive and believe, it can achieve."