Affiliate marketing is a great way to make money, but it can be hard to know where to start. If you're looking for an easy way to get started with affiliate marketing, this blog post will help. Do you want to know all about the benefits of affiliate marketing before you get into the business or being an affiliate marketer?
This article intends to tell you all the advantages and disadvantages of affiliate marketing so that you can enter into the industry with your eyes wide open. Moreover, we will discuss the challenges that affiliate marketers face in their daily activities. You will be able to decide whether affiliate marketing is a field you want to join, or you would instead look for another source of passive income. 
Overall, affiliate marketing is an excellent way to make a second income with little initial capital. You can start small and scale your business when you begin to reap the benefits. Above all, you do not need any special skills to start doing affiliate marketing.
What is Affiliate Marketing?
Affiliate marketing is the act of promoting a business's products for a commission when you make a sale. The products you are promoting are not from your business, and you don't handle any transactions in the process. Your only job is to send potential customers to a page showing the product and convince a client to buy it.
Marketers get a unique link called an affiliate link to direct potential clients to a product page. The link has tracking features that show how many people clicked on your link and how many made a purchase. An affiliate link is the only way to track how many sales come from your websites and get commissions. 
You get an affiliate link when you join an affiliate program as an affiliate marketer. Many affiliate programs don't require you to have a website or a significant following on social media to join. Therefore, it is easy to start affiliate marketing and make some extra income passively.
What are the Benefits to start Affiliate Marketing online business?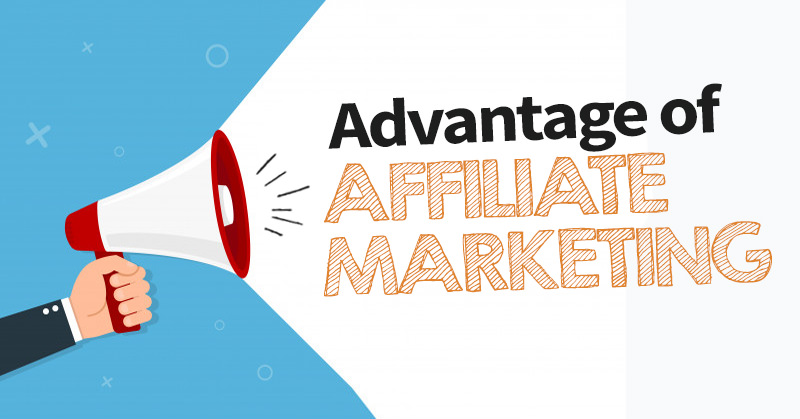 Businesses understand the benefits and importance of affiliate marketing and how it can improve their bottom line. You can make a lot of money to ensure that in affiliate marketing when you get it right. It doesn't take much equipment to start, and you can start small.
Most of the benefits below apply to all aspects of affiliate marketing for online businesses and affiliate marketers. Some advantages come with some disadvantages, but that is the cost of doing business. You can see if you are willing to do affiliate marketing and enjoy over 12 benefits.
It's a Lucrative Business Affiliate marketing is a billion-dollar industry and growing at a steady rate. You can make thousands per month when you find a target market that provides a steady stream of clients. Some marketers do affiliate marketing as a full-time gig and live a good life while working from home.
On average, an intermediate affiliate marketer can make $2,000-$5,000 per month from various websites. Expert affiliate marketers make well over $10,000 per month because they focus on high ticket items. Some earn commissions of over $1,000 per sale, which is impressive.
You may not make a lot of money initially, but you will make a steady income from the business if you keep at it. After all, people are going to be spending money to buy stuff they need. There will always be people ready to buy whatever you are promoting. You just have to find them and get your offer in front of them.
Benefit 1: Secondary Income 
Everyone can use a secondary income, even if you will direct it to your investment portfolio. In the beginning, you may make $500 or less per month from affiliate marketing as one of the benefits of being an affiliate marketer. You can use the money to pay some of your bills or invest it into the affiliate business.
Most people get into affiliate marketing to make some money and complement their primary income. Some of the highest-earning affiliate marketers started the business side hustle before transitioning to affiliate marketing as a full-time job. 
If you are lucky, you will start seeing money rolling in on the first month and increase your income. Overall, a secondary income source won't hurt, especially if you have bills that keep growing.
Benefit 2: Low Set Up Costs 
The other benefit of affiliate marketing being an affiliate marketer is that you don't need special tools to begin. You will need a laptop and steady internet to start your career in affiliate marketing. Most people have both requirements at home, and they can join affiliate marketing programs immediately.
Some people opt to take an affiliate marketing course for beginners to understand how to go about their affiliate business. Udemy has a collection of affiliate marketing courses, and some of them will set you back at less than $20. Overall, you can start doing affiliate marketing without spending a penny. 
Affiliate marketing is an attractive avenue to generate a second income compared to other businesses that you have to save up capital before you begin. Therefore, you can start a business without the expenses of rent, employees, business permits, or registering a company. 
Benefit 3: No Experience Needed
There are no minimum education or work experience requirements for joining affiliate marketing. It is okay to start without any experience and learn as you go. It is the simplest way, and you can learn as your affiliate business grows. There are affiliate products in many niches, including health, finance, beauty, and digital products. You can start by promoting products you are familiar with on your social media accounts before promoting them on a website.
Many authoritative websites can provide you with various guides on how to go about affiliate marketing as a beginner. Some guides recommend multiple tools to help you start your affiliate business. Other valuable guides are the ones with a list of all affiliate programs suitable for beginners. Affiliate programs for beginners don't pay much, but they give you many products to promote.
Benefit 4: Low Operating Expenses 
At some point, you will have to pay for ads to get traffic to your affiliate links. It can be expensive when you don't know what you are doing. However, it is affordable to learn the tips and tricks of doing paid ads on a tight budget.
The monthly costs for affiliate links will be electricity and your internet service provider. Other expenses will depend on the tools you use to do affiliate marketing. Since the most efficient marketing tools are not expensive, your overall operating costs will be few.
Once you establish your business, you can try to get organic traffic and lower your operating expenses. You can always strive to find ways to increase your income while keeping your expenditure the same. Generally, you don't have to worry about your operating expenses in the beginning because they will be low and insignificant.
Benefit 5: It's Convenient 
First, you don't have to pay for anything to start. Registration to most affiliate programs is free. Second, there is no special equipment that a beginner needs to start the affiliate journey. You can opt to check on your affiliate marketing business for two hours a day after getting off your 9-5 job. You can even check whether your ads are delivering when you are on your lunch break. Affiliate is an online business that you can conduct anywhere at any time.
Affiliate marketers don't have to worry about a physical location or losing customers when they travel. An affiliate business will run on its own once you set it up well, and all you need to do is check in to see if everything is running as it should. 
It won't take up a lot of your time, and you will be earning money in your sleep in the long run. Overall, all affiliate marketing businesses can run on autopilot when you set it up correctly and check on performance.
Benefit 6: Freedom of Choice 
There are many affiliate programs available in all niches. You can select the programs that you want to join and make money. Affiliate experts have several affiliate websites where they sell several affiliate products. The purpose of having different websites is to check performance per product. Experts stop promoting products that are not performing and focus on the lucrative ones.
It will be your choice on which affiliate products to keep and which ones to stop promoting. Also, you have the autonomy to decide the products you can add to your website or blog. Ideally, the products should be relative to your content and something your customer base is interested in buying.
Benefit 7: No Customer Service 
Another benefit is Affiliate marketing involves sending potential customers to a landing page to purchase a product. You don't need to answer customer queries or explain to customers how a product works. The clients you send to a website through your links will handle customer service and complaints. 
You can create a review to answer the frequently asked questions about a product and help potential customers know more about the product. That way, you don't have to offer customer service while putting your customers' minds at ease about a product.
Benefit 8: Promotional Materials are Available 
The next benefit is Affiliate marketing programs provide links, banners, images, and other promotional materials that marketers can use. You can depend on a company to give you all the promotional materials you will need to promote affiliate programs.
Some affiliate programs have better materials than others. You can join affiliate programs that offer a wide array of promotional materials that you can use on different platforms. Having few promotional materials will limit the methods that you can use to promote affiliate links. 
Benefit 9: There is no Income Limit
There are affiliate marketers who make 6-7 figures per month from their affiliate marketing business. You may make less than $500 per month initially, but at some point, you can make $5,000-$10,000 per month. When you reach the expert level, you will have to make six figures per month easily. 
You can make any amount of money you want when you put in the effort. The best way to improve your income is to keep on expanding your business and grow your income.
Another reason you can make as much as you want is that businesses are willing to pay high commissions to increase sales. It is an industry that keeps on growing each year. There is a lot of money in the business; you just have to figure out how to get it. 
Benefit 10: Create a Business 
Another benefit of Affiliate marketing is an excellent way to start a business when you are on a tight budget. Some websites run solely to promote affiliate links to their audience. The websites have a lot of traffic per month, and they turn a good profit. 
It is a business that you have to commit a few hours per day to grow. You don't have to change your lifestyle to start running an affiliate business. Therefore, you can even keep your affiliate marketing business to yourself if you don't want people to know you have a business.
Overall, you can take advantage of setting up the business is cheaper than traditional businesses. You can start without any investment and start investing in the affiliate business when you are ready to do it for the long term.
Benefit 11: Your Efforts are Rewarded 
Last but not least of Affiliate marketing benefit is it rewards you according to your sales. Therefore, your income is dependent on your efforts. Also, you will make higher commissions when you sell products that have a high price tag. It is possible to ensure that every penny you invest in the business brings in great returns. Therefore, if you sell 1,000 affiliate products, you will get higher commissions. If you sell 15 products, you will get a commission for those products. 
Reasons Why It's Better Than Other Types Of Businesses
Compared to other types of online business, affiliate marketing seems to be one of the best options. This type of marketing is an easy way for beginners to make money online because there are no customer requirements. You'll find that you can work from your house and have complete control over what you're doing, giving you time for other activities at home or work!
It is a relatively easy way to make money online and can be done quickly! You'll have complete control over what you do each day, allowing you to work at your own pace. You can also make lots of money depending on how much time you are willing to put in.
As with any business, it's important to think about the available products or services. There are hundreds of different options that will allow you to select something that works for you. You'll find many niches that you are passionate about, whether it's fashion, health, sports, or something else!
One of the best parts about an online business is that you can work from home. It allows you to spend more time with your family and friends while still making some money on the side. You'll find that you can easily do affiliate marketing anywhere there is internet access.
What are the Drawback of Affiliate Marketing Online Business?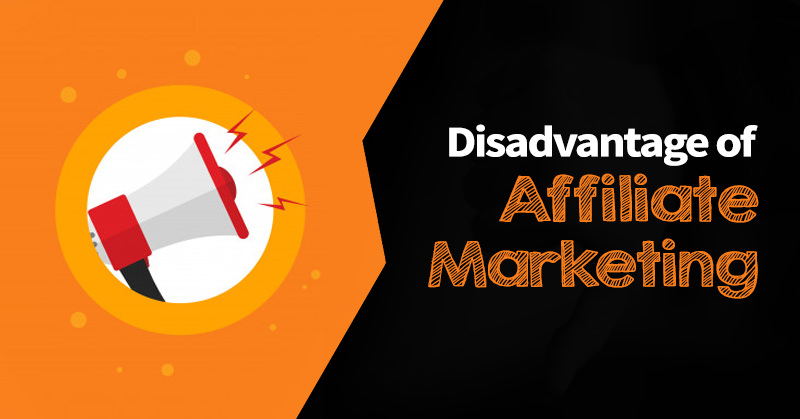 With all the benefits and advantages above, there are also some disadvantages of affiliate marketing that you should know beforehand. Many blogs do not talk about the disadvantages of affiliate marketing. Some of them can turn you off, and it is better to find out the ugly parts of affiliate marketing sooner than later. Here are some of the disadvantages of affiliate marketing.
• Affiliate Policy Changes
Merchants have the right to change the affiliate marketing policies at any time they want. Therefore, an affiliate program can change its commission rate from 40% to 20% and give you one week's notice. Amazon affiliates have been a victim of policy changes that reduce the commission percentage each time.
Policy changes can affect your monthly income significantly, especially when you get the most income from that program. Affiliate marketers have to be part of several affiliate programs to have a safety net whenever policies change for the worse.
• Competition
There is a lot of competition on affiliate programs that are available for beginners. Some programs like Fiverr and Amazon have a lot of marketers promoting their products. You have to be creative and promote your website with PPCs to get traffic to your affiliate links. Marketers have to find new ways to beat their competition and drive sales. 
Affiliate marketers have to keep up with the latest trends not to miss the opportunity to get more traffic to your affiliate links. You also may have to pay for special marketing tools to get traffic to your affiliate links. Overall, you can find it hard to get a sale in the first months because of the competition.
• Misleading Information
There is a lot of misleading information about affiliate marketing that beginners fall for all the time. Many self-proclaimed gurus state they will provide a secret that will help you quickly make a lot of money. Others teach outdated affiliate marketing strategies that will not bring in results no matter how hard you try. 
While a few experts offer amazing knowledge, most of them charge high fees for the lessons. Even then, you may not learn something that will help you grow your affiliate business. You should establish an authoritative source for information and trends on affiliate marketing. Be careful of the sites you use to get information about affiliate marketing to avoid misleading information. 
• No Customer Base
Affiliate marketing makes it hard to create a customer base because you are promoting products from other brands. It is hard to resell previous customers because you don't have access to the contact information of clients who buy through your affiliate links. Therefore, you have to depend on traffic to give you quality leads solely. It generally increases your PPC cost because you cannot make a sale without traffic. 
• There's a Learning Curve
There is a learning curve in affiliate marketing before you make a sale. It can take you up to three months before you make your sale, and the amount may be insignificant. Many new affiliates waste money on marketing campaigns and courses to learn how to make money fast.
Those who are patient and take the learning curve in stride come out more experienced in affiliate marketing. It is hard to make any decent commissions in the first six months when you start affiliate marketing. It would be best if you don't invest money in your affiliate business with the mentality that you will get it back soon when you are starting.
• Revenue Depends on Your Efforts
You need to promote your affiliate links to make money. If no one buys products using your affiliate links, you won't make any money that month. The lack of a check at the end of the month is why people are afraid to do affiliate marketing full-time. 
Not everyone can åwork without supervision. You have to be self-motivated to make money through affiliate marketing. Self-discipline will help you follow up on campaigns and make the necessary changes to get your desired performance. 
Affiliate Marketing Challenges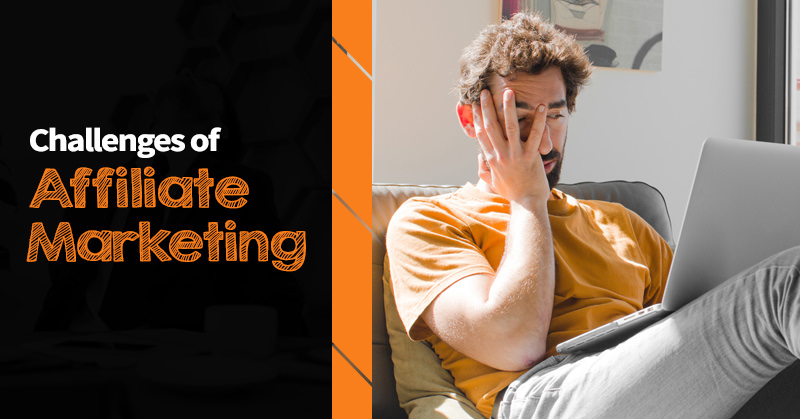 Apart from the benefits and disadvantages of affiliate marketing, there are challenges that affiliate marketers face in their business. Some of the challenges are easy to overcome, and others learn the hard way. You can join affiliate marketing groups to get an idea of how to solve common affiliate marketing challenges.
• Finding the Right Products or Niche
There are many niches in affiliate marketing, and beginners have difficulty choosing one that suits them. Beginners think that it is okay to market any niche in the hopes of making a sale. That's a bad approach because you will likely be selling products you have no idea what they do, and your audience won't be ready to buy. 
The best way to choose your niches is to give them a try. Each niche has micro-niches, and giving them a try allows you to find out which ones are lucrative. Start with niches you are familiar with before venturing to areas you know nothing about them. 
• No Support
You have to do affiliate marketing alone, and it can be hard. You have to create and manage your affiliate business alone as the merchant doesn't offer you support. Therefore, it is your job to plan your marketing strategies, set the targets, and create copies that will convince your audience to make a purchase. It takes a lot of effort to keep doing affiliate marketing without support. Here is part of the challenge, apart from the benefits and the disadvantage of doing affiliate marketing.
• Lack of Patience
Patience is not something new affiliate marketers have in plenty. Beginners tend to quit affiliate marketing right before they start seeing the results of their hard work. Others spend too much money on ads before understanding how to craft excellent campaigns. You can spend thousands of dollars on campaigns that don't bring in results because you don't want to learn how to make performing campaigns.
Have patience when learning how to do affiliate marketing and make your campaigns efficient before spending a lot on them. Read the experiences of other affiliate marketers when you feel like giving up for inspiration. 
• Finding a Suitable Course
It is essential to take an affiliate marketing course for your benefit to learn the basics before creating an affiliate business. There are courses for experts and people at intermediate-level marketers who want to improve their affiliate marketing income. 
It is a challenge to find trustworthy courses that teach business models that work. There is a risk that you will pay thousands of dollars to learn something and end up learning nothing. You should ask other affiliates to recommend affiliate marketing courses that offer value for money.
Do not be in a rush to pay for an affiliate marketing course when you haven't read the reviews from other students. The course should also have a high star rating from other students, ideally four stars and above. 
5 Tips To Help You Get Started With Affiliate Marketing
If you're looking for a way to incorporate affiliate marketing into your life, these simple tips will help you start today. Whether you're just starting and want to explore what's available or if you've been using affiliate marketing for a while, these tips will help you get the most out of your online business!
1) Choose A Product Or Service That Is Relevant To Your Website
When you're exploring methods to make money online, affiliate marketing can be an easy way to do so. The key is finding something relevant to your website. If you don't pick something that pertains to your website, it would not be easy to get people interested in buying the product or service.
2) Be Sure To Have A Dedicated Landing Page For Each Product Or Service You Promote
Another great tip is to make sure you have a dedicated landing page for each item you want to promote. Having a landing page dedicated to each product or service will make it easier for visitors to find what they're looking for on your site!
3) Make Sure Your Content Is Relevant To The Product Or Service You Want To Promote
It's also important to ensure that the content you're creating is relevant to the product or service you want to promote. If it's not, people will have a hard time clicking on the link, and it could hurt your sales.
4) Be Sure You Can Make A Profit In The Long Run
It's also helpful to know whether or not you can profit from affiliate marketing in the long run. While people can start making money quickly, it's not worth your time and effort if you can't make a profit.
5) Be Transparent With Your Visitors To Gain Their Trust
It's also helpful to be transparent with the people who visit your site. If they know that you're interested in helping them find good products and services for their needs, they'll be more willing to click on your links. Your visitors need to know that you're here for them, not just looking for a quick buck!
Potential Earnings Of Affiliate Marketing Online Business
Making money online is a great way to make money from home. With affiliate marketing, you can have complete control over your time and can make as much or as little money as you want!
The potential earnings for those who use an online business model can be very high, especially if they're willing to work at it. However, there's no guarantee that anyone will find success in this industry. You'll need the right skills and knowledge before you start making significant income with affiliate marketing.
Here are the potential earnings based on your skill level:
Beginner is $0 to $200/day.
Intermediate marketer is $201-$400/day.
Advanced marketer is $401-$500/day.
Expert marketer is $501-$1,000/day.
Super affiliate is $1,001 and higher/day.
FAQs
1. Who Can Join Affiliate Marketing?
Anyone can join affiliate marketing to make extra income as one of the benefits. You don't need any skills to start an affiliate business, and the startup costs are low. However, it doesn't mean that affiliate marketing is suitable for everyone. Some people find it hectic, while others find it easy to do. 
The only way to know whether you are enjoying affiliate marketing is to try it. Give yourself 3-6 months to try affiliate marketing. If you find that you enjoy it and are making sales, then you can increase your efforts. Some people may find affiliate marketing hard to do, and it is okay to quit if it is not your cup of tea.
2. Is Affiliate Marketing Worth It?
Affiliate marketing is a worthy avenue for generating extra income for anyone. You can do it alongside your day job without making significant changes in your daily life. How many business ventures do you know that you can start with no investment? You can start affiliate marketing with what you have before you pay for marketing tools.
You should give affiliate marketing a try before you cross it off your list of viable hustles. The risks of starting an affiliate marketing business are low. You get paid when you bring a customer who buys an affiliate product, and there are no monthly targets.
3. How Much Can You Make Per Month?
Any amount you work hard to make. There is no income limit for affiliate marketers. It is a game of numbers, and if you have significant traffic, you can make a lot of money. As a beginner, you can make up to $2,000, and most intermediate affiliate marketers make $10,000 or more. 
It all depends on your marketing strategy, how you establish your business, marketing, and the effort you invest in building your business. There will be a lot of sweat capital in the beginning when you are starting. If you do some work every day, you will end up with a successful business. 
Do not try to go for days without checking how your affiliate business to see the daily progress. Also, refrain from changing your campaign strategy before seeing the current strategy's results for 3-4 days. 
4. How Do I Use Paid Ads for Affiliate Marketing?
Use paid ads cautiously at first until you fine-tune your targeting and start seeing results. You should increase your budget for PPC ads when you find a strategy that works for you. It should be your priority to create campaigns that work before increasing your daily budget.
Most affiliate marketers use paid ads as their traffic source because it is easy to drive traffic to a website. Ensure all the paid ads have high returns and you are making money from your affiliate products. 
5. Which Are the Best Affiliate Marketing Niches?
The best affiliate marketing niches are the ones involving digital products and online lessons. Digital products can pay a commission of 40-50%, and some have a recurring commission for a lifetime. You have better odds of making more money per sale when you promote digital products. 
Some affiliate marketing programs pay less than 5% per sale, and most of the products have a price tag of less than $200. Therefore, you will need large volumes of clicks on your affiliate links to make a significant number of sales.
6. Is There an Age Limit for Affiliate Marketing?
Some affiliate programs may have a minimum age limit of 18 years old because of legalities. There is no maximum age limit when you want to join affiliate marketing. You will need to have an understanding of digital products and how to use a laptop.
It won't matter whether you are 25 or 55 as long as you know how to deliver the affiliate offer to potential customers. Students can join affiliate marketing to make an extra buck during their free time. It is also a perfect job opportunity for stay-at-home moms.
7. Should I Take an Affiliate Marketing Course?
Yes. It is advisable to take a course or two in affiliate marketing to help you understand how to increase your sales and make more money. Some courses can last for three hours, while others can last for a whole year to help you establish an affiliate business. You can find everything from a beginner's guide in affiliate marketing to boosting your income using affiliate marketing. However, you can find an authoritative affiliate site and learn about the business as you practice. 
You can read my other blog about The Best Affiliate Marketing Course. These courses are well-structured, which takes students through everything step-by-step. You can choose the course that best suits your need and look forward to implementing strategies from a successful affiliate marketer. You can take the course as you implement the strategies in your affiliate business model to see results. Overall, you will be a better affiliate marketer when you take a course and ensure you are using effective strategies.
Conclusion
There are many benefits to affiliate marketing apart from having a secondary income. It is a flexible way to make money during your free time or from the comfort of your home. Affiliate marketing has been around for a long time, and it is a billion-dollar industry. You can make thousands or millions per year. You can even choose to do affiliate marketing as your primary income source when you establish the business.
Anyone can try affiliate marketing to see if it is a side hustle you can start and succeed. People in various age stages can join affiliate programs and make money passively. Since you don't need any capital to start, what do you have to lose? 
You can read my other blog here on How to Start Affiliate Marketing to learn more about affiliate marketing. If you are ready to start your own Affiliate Marketing business, or perhaps you already have one and want to scale your business, you can join the One Funnel Away Challenge. From here, it will teach you step by step to build your online business, and it will answer any questions you have. Most importantly, it will help and guide you to build your business fast and successfully.
"Don't give up. The beginning is always the hardest. Life rewards those who work hard at it."