Affiliate marketing is a time-taking field in which you cannot succeed overnight. In fact, you need to invest a lot of effort and time to generate handsome revenue. Besides this, you can polish your skills to grow your affiliate business to start earning a massive amount. People often give up after investing when there is no visible progress, but that is not a suitable solution. If you are looking for some strategies and guidance on how to become an affiliate marketer for beginners, the first thing you should do is consistent work with patience.
By staying patient, consistent and dedicated, you can become a super affiliate marketer. Do you know what the super affiliate person is? Well! An affiliate marketer generating a five to 6 figure profit or salary per month from this process is considered as a super affiliate. You know what? Approximately 1-5% of people succeed in getting that hefty commission. No worries, if you are not a super affiliate, you can still get a huge amount. You might be thinking about how to be a successful affiliate marketer or super affiliate. It will not be done overnight or in a month.
For instance, there are thousands of youtube content creators, but everyone doesn't enjoy the traffic with millions of subscribers and views. Have you ever seen a youtube channel consisting of a few subscribers but still create and upload content regularly? If yes, such persons are the true example of that sometimes to be average is enough then to be nothing. Staying in the mediocre level for long will boost you up to the top version one day. So, you should follow the affiliate marketing strategy capable of making you a super affiliate one day.
How To Become An Affiliate Marketer For Beginners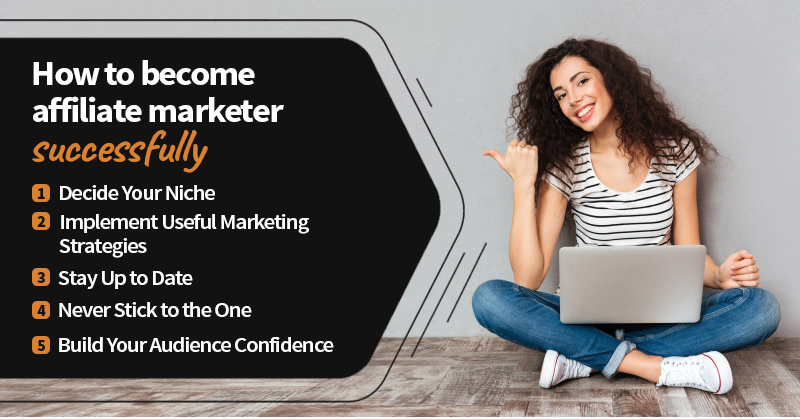 Here are five approaches to becoming an affiliate marketer for beginners to generate a huge income per month in profit. 
1- Decide Your Niche
After deciding about starting affiliate marketing, you need to put your utmost efforts into deciding your niche. Keep your endeavors efforts in this part unless you develop a unique and fancy niche for your audience. You should know what your product niche should be to meet the needs of your potential audience's demand and needs. Never try to follow others' niches because it will become hard for you to compete with several affiliate marketers.
Try to find a unique niche but the one that is suitable for you. For example, several people promote trips, tours, and vacations through affiliate marketing, but there is a low possibility of revenue generation. In other words, it's better to go up by promoting products usable at all times. Furthermore, it's very important to find a profitable niche so that affiliates can observe things keenly by focusing, checking via touch, and by the relevant information by creating content to promote your products.
2- Implement Useful Marketing Strategies
One of the things how to become an affiliate marketer successfully is to implement useful marketing strategies. When you have selected your product niche, you need to figure out which of the marketing strategies you will use. For this purpose, we suggest you create a website and upload content related to your product regularly by inserting affiliate links. As you have got all the things set, so you are ready to promote your products along with your affiliate links. In the context of this, there are many marketing strategies. 
Some affiliate marketers choose Google ads for promoting their links via PPC (Pay Per Click) advertisement. At the same time, others promote it via SEO (Search Engine Optimization) of products and affiliate links. The former one is expensive and will reach the audience unless and until you continue paying. And the latter one is the way of getting traffic and engagements organically by using highly searched keywords.
After searching keywords from Google search, maximize their use by using them in headlines and other places. Furthermore, try to write SEO-friendly blogs on your website to facilitate your page ranking up first on Google's search engine. As you know that people usually click the top results after searching, so there will be no need for paid advertising when you optimize your content. Optimization will lead you to get more visitors to websites and more profit.
3- Stay Up to Date
One of the things you need to become an affiliate marketer successfully is you need to stay up to date. The field of affiliate marketing is an ever-evolving field and changes according to new trends. Because of this, affiliate marketers having updated knowledge to meet trends will succeed in affiliate marketing. For instance, if you are working in a camera niche and your product has specifications popular 2-3 years ago in the market. Do you think your product will sell when there are a number of the latest cameras? Obviously, no.
It depicts that to generate more profit, you need to stay more updated. All your products should be the latest having popularity in the marketplace. Such recently launched products will bring a handsome amount to your account. Furthermore, internet marketing works differently by enhancing keyword research and SEO. Be ready to update yourself with trends because affiliate marketing always comes up with a new ingredient on your plate.
4- Never Stick to the One
Just like choosing multiple options from your niche, you should choose different sellers to promote their products. Instead of sticking to one seller, you will be able to promote better because there's a probability that you may be able to get more sales by promoting products of various merchants. Furthermore, there is a chance that your business will not affect if a product is found bad.
Staying connecting to multiple sellers will bring up the opportunity of getting money from various sources. You will not suffer a huge loss if one seller's product goes out of stock for some time. Hence, it is important to continue receiving payment from your business to stay in touch with more than one merchant and seller.
5- Build Your Audience Confidence
Noteworthy is that the audience is the foremost responsibility of an affiliate marketer. When your targeted potential audience is happy with your products and services, you will get more and more from your affiliate business. In affiliate marketing, you can afford anything except losing your audience because customers' credibility is key to success. So, if you want to succeed in affiliate products, you need to keep your customers happy.
Besides this, create compelling content to get more traffic. You know what unique, interesting, and informative content will attract more audience to your website. When your audience starts believing in your services and products, they will purchase from you. So, the key to success in affiliate marketing is to keep your customers happy to gain more success.
Final Words
There is no shortcut in time how to be a successful affiliate marketer. A great marketer becomes so by crossing several barriers and hurdles in the path of success. Similarly, a super affiliate person will become after focusing on goals with patience and consistency, without giving up. You can not get a shortcut for succeeding in affiliate marketing. All you need is to work hard to accomplish your future goals. In short, proper and timely keyword research about your product with trends will turn your dream of reaching the horizon of success in affiliate marketing into reality.
If you are a beginner or want to become an affiliate marketer, make sure to learn everything step by step. Read my other article about "How to Start Affiliate Marketing" and get the Dotcom Secrets book for free, which will help and guide you. If you want to learn everything about affiliate marketing from scratch, I recommend joining the One Funnel Away Challenge. It will help you learn the basics about affiliate marketing step by step and answer any questions you may have during your learning. Soon you will be able to start earning passive income with affiliate marketing by following the right strategies. So, what are you waiting for? 
If you do what you've always done, you'll get what you've always gotten. – Tony Robbins