CRM is an acronym for Customer Relationship Management. It refers to the management of customer relationships by a company, generally through some form of software. CRMs generally allow you to manage your prospects and customers. Their interactions with your business in one place, making it easier for salespeople to keep track of what's going on with each account. So, we'll discuss how CRMs work, their benefits, and some good CRM tools for small businesses.

With the rapid growth of small businesses, CRM software has emerged as the most popular business management software. With the best CRM, you can keep track of your customer relationships and get to know their needs better than ever before. Read on for a comprehensive guide to find the best CRM for small businesses.
Set of Features for a Best CRM Software
A good CRM Software must possess the following set of features :
The software must have a mobile app that is compatible with the major smartphones in order to make it easier for salespeople on the go.
CRM should come with an Inbox tool, where all communications from prospects can be kept, so they are not lost or forgotten about.
The software should be able to handle unlimited tasks, projects, and leads.
CRM should come with a Campaign Builder to create email campaigns or similar marketing tools. These tools are necessary for salespeople today.
There must be an automated lead scoring system in order to prioritize prospects according to their level of interest in the company. This will allow for better management of time spent on prospects and help set clear expectations from the get-go.
CRM should have a feature that can convert your leads into active customers. It is done through email campaigns or social media ads to create buzz around sales events or new product launches.
CRM should come with some kind of integration tools. Therefore, it is possible to use the software in conjunction with other business platforms such as Salesforce or Mailchimp.
The system needs to have a strong customer support network and active community where you can ask questions about how best to use the product on your own and get answers from people who might have had the same problem before.
CRM should come with features for email templates to provide a consistent tone of voice across all communications, making it easier for employees.
There must be reporting features available such as Excel exports or Google Analytics integration. It is important to get a better sense of the ROI for your company.
Benefits of Using a best CRM for small business
CRM systems come with a couple of benefits for small businesses to big enterprises. If executed correctly, it can offer the following advantages:
Different CRM comes with features that allow you to run Facebook Ads, Google AdWords, and LinkedIn ads in order to bring traffic from social media platforms into your site.
Better customer service.
Faster communication with your customers (with the help of automation).
More organized data to make wiser decisions about what course to take next for each account you work on.
Alerts about new leads.
Easier to keep track of prospects and customers' interactions with the company in one place, which makes it much easier for salespeople to stay on top of what's going on at all times.
Increases your productivity by automating certain tasks so you can focus more time on higher priority prospects.
Increases sales by helping you spend more time on the most important leads and customers, which will lead to a higher conversion rate.
Increased ROI with accurate reporting features can show how effective your campaigns are and whether or not they cost too much money.
Most easy and affordable option to use.
I hope you must be clear about what to look for while selecting the best CRM software and how it benefits a venture. In addition, we're going to detail the 12 best CRM software today. This list will be ranked by industry analysts & consultants and should help you find a fit that suits your build and marketing needs.
Top 12 best CRM for small business in 2021
In this blog post, we will discuss the different CRM software that is available to small business owners now in 2021. There have been many technology changes in the past decade, and entrepreneurs are adapting to new marketing methods. One type of technology that has evolved is Customer Relationship Management or CRM software. This technology allows companies to manage their customer interactions better and improve relations with customers. Therefore, they can generate more sales revenue through repeat purchases and referrals!
This CRM is an amazing comprehensive software that ensures the high performance of businesses. In general, this software is considered an all-rounder CRM due to having a prime position of earning in the market. Moreover, its CRM tools and parameters like customization, customer support, integration, and quality have caused optimum results. There is no hazard of giving a shot in the free HubSpot software even with no previous investment.
Reasons to select Hubspot Software and Benefits
It's free to use, offers many features and is available for all your communication needs.
It compatible with devices
Easy to learn and use with elegant user interface
Attractive brand profiles with customizable features
Organization capabilities are exceptional
Monitors the deals and agent performances
Comprehensive dashboard facilities
Enhancing inbound marketing strategies and practices.
Due to its free service, you can use this software on a low budget without any convenience. It's not difficult to access all the advanced management tools of the market via Hubspot. Furthermore, this software is highly compatible with many business marketplaces, including Microsoft Dynamics, Salesforce, Shopify, Zapier, etc.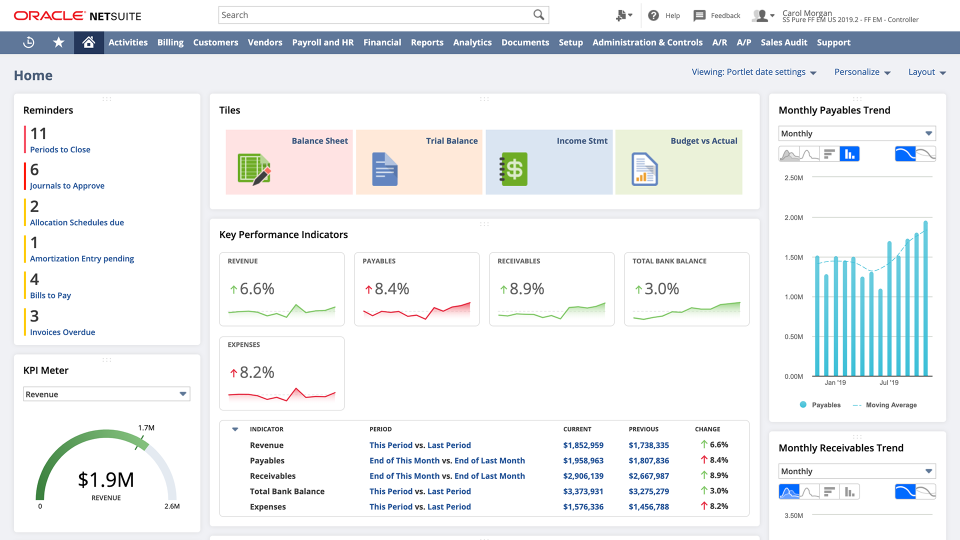 This CRM is another powerful and best CRM for small business solutions for creating retailing, manufacturing, and wholesale distribution at various industrial levels using effective CRM facility tools. In other words, Netsuite CRM is a comprehensive tool having more customer interaction reviews that make this software operable for major industries to control relationship management.
Reasons to select NetSuite CRM and Benefits
360 degree as in comprehensive customer interaction monitoring
Compatible with all sizes of business
Both Enhanced customer interactions and service portals
Automated marketing and SFA
Partnership relation maintenance
Optimization of sales performances and automation of sales force
Stimulent compensation management
Both quote and order management
Lead management
Both Fulfillment benefits and support
Mobile app support both Android and IOS
subsequently, Managing quotes, commissions, payment statuses, order processing, etc
With the aforementioned features and benefits, NetSuite CRM functions as a CRM management hub for most companies. Moreover, brands are considering this tool because of its easy-to-use and compatibility features. It also provides additional benefits of customization and personalizing experiences following individual needs. Sign up for more and visit the website to get your free trial today!
This CRM is best for small businesses as it is built on a cloud basis. This software is helpful for both big and small businesses in the world regarding their industrial resources. Its major role in such businesses is equipping the management services to maintain communication. Moreover, it helps in interaction with potential users and audiences.
Reasons to select Freshworks and Benefits
Effective reach and lead management
Immediate attendance to customers and their priorities
Both lead scoring and ranking based prioritization
Event tracking
Email marketing
Automated assigning of lead
Notification based software
Subsequently, scheduling features for emails, tasks, appointments
Customer support via chat 24/7
Sale management analytics
Freshworks is the fourth software to cater to all users' needs to effectively handle and manage sales producers. You can also use this software free of cost on a trial basis for a month. It is a beneficial addition to the lineup products of Freshdesk. Freshworks built this CRM solution to support and handle many sales processes simultaneously with greater effectiveness.
So, Try out Freshworks with their free trial for 30 days constant. For more information, visit the website. Moreover, Freshsales comes as the fourth addition to the product lineup of Freshdesk. However, this solution was developed to effectively respond to the vendor's need to handle and support its multiple sales processes.
The Salesforce Customer Relationship Management is a popular cloud-based American software manufacturing software. Customer relationship management lies in the spotlight of this software for boosting the credibility and impression of a brand. In other words, this software has a major specialty in tools complimenting analytics and application production, automated marketing facility, customer services, and development.
Reasons to select Salesforce and Benefits
Community cloud management
Marketing and analytics
Lead management
Both Customer interactions and information tracking
Automated marketing
Partner management
Sales data management
Mobile compatibility both Android and IOS
Real time data
Critical data viewing through Feed first option
Customizable features
Moreover, this software has created ease for companies in the management of their sales and customer relationships. To get a better understanding of this software, you can use its free version.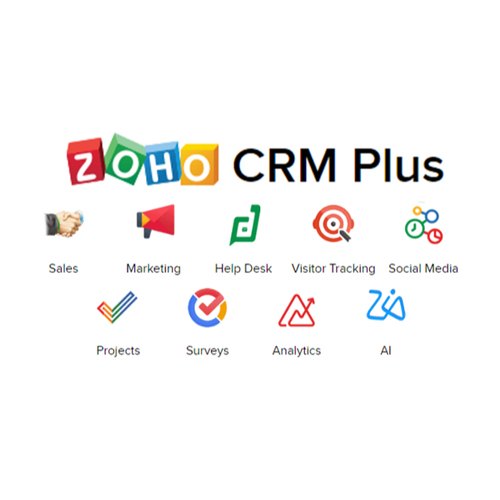 This CRM is another potential website-based software developed to facilitate businesses and brands in impressing their customers with unique CRM facilities. This multipurpose software can easily entangle different forums like Facebook and Twitter pages. Furthermore, through the various built-in categories of Zoho, you can enhance your customer interaction and communication services.
Reasons to select Zoho CRM and Benefits
Sales force automation to reduce the manual work
Lead management services
Either Tracking deals or deal management
Real time insights on customers with multi channel linking and relationship building
Workflow automation
Sales process builder
Both Managing sales processes and assigning leads
Reviewing of incoming information
Email communication management
Customer portal management
Telephonic, social media, text based interaction management
Both analyze trends and key performance indicators
Data backed decision making
subsequently, Inventory management with quotes, orders, shipping, subscriptions, etc.
Partner portals
Both Forecasting and territory management
Though there is a need to buy its subscription, you can get its basic understanding through its free trial version. If you feel this software is perfect for fulfilling your business needs, you can buy its monthly, quarterly, or annual plan. You can buy a monthly subscription to Zoho for an individual for only $12.

The Pipedrive CRM Management is the best CRM for small businesses to improve their extraordinary leads and sales with its management facilities. This software is designed by professional developers to cater to sales increments and for making better customer relationships. 
Reasons to select Pipedrive and Benefits
Lead Management
Both clear cut overview of sales and important deals
Compatible with devices
Both Android and iOS apps avaible.
Subsequently Easy linking with Google Apps, Google Contacts, Google Calender .

Sales pipeline management
Prioritizing deals
Brand promotion
Customizable features
Both service quality and Customer service with 24/7 support
Small businesses usually feel reluctant to use complex interfaces. That's why this software comes with a simple interface to solve the problems of every business person. You can enhance your user experience on many devices with which this software is compatible. So, Grab the opportunity today to utilize the free trial version of the app. Moreover, to get more information, visit the website.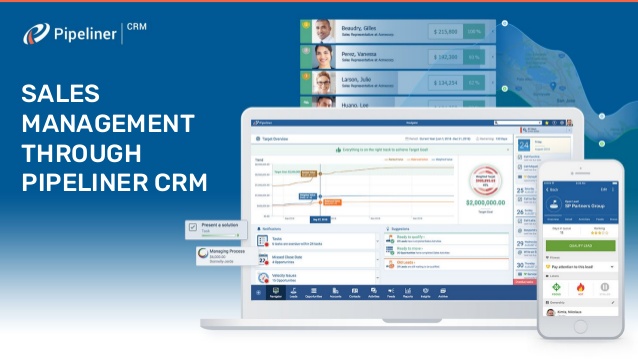 This CRM is designed to drive sales between potential customers and companies at a better level of interaction and communication. This software is limited to those highlighted tools useful in building relationships between software and user. Due to its magnificent visible user interface, you can easily drag and drop all the data analysis and customizations available.
Reasons to select Pipeliner and Benefits
Drag-and-drop administration enhancing user interface
Multiple accounts to support productivity
Account hierarchies availability
Subsequently, multiple pipelines and views to avoid confusion
Product Catalogue as organising feature
Dynamic organization chart
Buying Center
Both contact management and social media feed monitoring
Custom profiles and views ensuring security
User access permissions
Template designer for forms
Both Auto-calculated and lead management
Subsequent document management and notes management

Notification based software

Suggestions in terms of history log
Both Business Overview and Archive tool

Opportunity Tracking

Both sales Task Management and mapping
Offline CRM
Both target Overview and activity stream
Embedded help and support
Performance
Both Insights and views
Sales Velocity tracking With amazing
These beneficial features and its cost-friendly interface make this software perfect for improving business performance in the market. You can also use the free version of this software to check your business performance with Pipeliner.

This vCita CRM is a business management tool that facilitates businesses in generating server message blocks and sharing interface accessibility to enable venture management via the comprehensive customer-based interactive forum. Furthermore, this software ensures powerful sub tools to build and maintain trustworthy and reliable customer relationships.
Reasons to select vCita and Benefits
Both phone and calendar syncing available
In built scheduling services
Client interactions management and enhancement
Facebook contact sheet plugin availability
Subsequently, customizable forms, character styles and fields
Form templates for external web forums
HTML contact form developer
Calendar managing in respect to in device
Subsequently, Compatible with Facebook, Constant contact, PayPal, mobile, and external websites
Invoicing services
Predefined services and meeting options
Proactive contact form choices for your website
subsequently reminders, email confirmation, and autoresponder management
Access to multiple users
Online payment security
Self-service appointment scheduling feature for clients and customers
CRM based software
Both Email and text messages marketing
Client portal availability
Moreover, you can also use this software in a free version to check its performance. Upgrade all the business management features and customer relationships with vCita.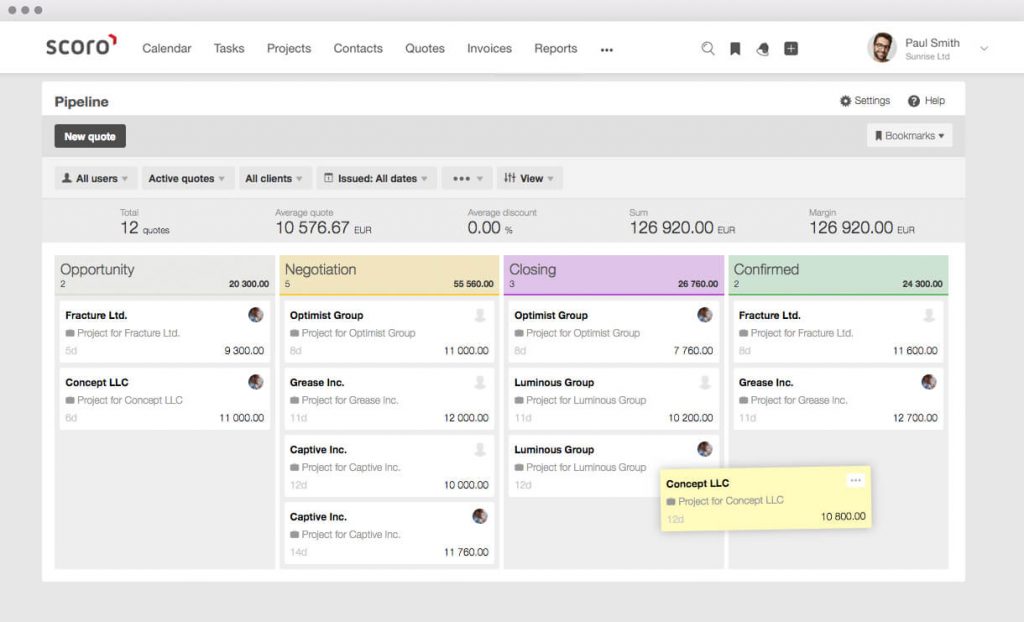 The Scoro CRM software is specifically designed to provide solutions to business management problems. Scoro is also such a form that it is well-known due to its amazing project management, relationship monitoring, and customer relations management. Many popular businesses and brands prefer to use this software due to its easy use and 24/7 service availability. Go ahead in business competition by staying focused on CRM tools.
Reasons to select Scoro and Benefits
Comprehensive Business dashboard
subsequently calendar management and linking
Tasks and project management without any hassle
Quote allocations
Both Customer management and relationship services
Invoice generation and complete expense lookover
Financial relationships and management
Both Work and time billing services
Scheduled invoicing and emailing features
Comparative reports for analysis and data
Availability of commission calculator
Both Budget management and Forecasting

Both resource planning and execution services

File management and multiple user access facilitating sharing
Company news feed
Custom fields and tags
Multi-currency feature available
Multi-language to break communication barrier
Both automated alerts and email services
Configurable updates and management
Lead management and execution
Scoro can also be used on a trial basis in the free version. This software is compatible with different platforms like Dropbox, Google, Mailchimp, and Outlook. Connecting your business with various forums through this software takes you to the highest level of competition. Make your venture management appropriate by using both iOS and Android.
Another suite for managing the business of non-profit organizations like NGOs and University management is Zengine by WizeHive. This software boosts fast and potential experiences delivery to businesses by providing donations, operations, reviews, and speed management applications. You can get this software customized with unique features to fulfill the requirements needed for different organizational missions.
Reasons to select Zengine by WizeHive and Benefits
Strong Management facilities
Scholarship processing for mission focused organizations
Awards distribution management and services
Both internship opportunities and Management
Fellowship facilitation
Accreditation management availability
Customer Relationship Management
Branded Online Application Forms templates and services
Unlimited File Uploads facilitation
Both Integrated CRM and Database for tracking and management
Emails marketing and management
Both dashboard facility and comprehensive reports
Online Review Forum
Both reviewer Assignments and Bulk Email availability
Securing Hosting via AWS
Online Submission Portal availability
Letters of Recommendation formation
Automated emails and assignments
subsequently 1000 and more integrations available
Both Audit trail reporting and workflow facility.
Single sign up access
Online and on-demand help center and support
Email, Phone, Website Support
Workplace set up services
subsequently implementing lead and managing
Project Plan execution facilities and management
Project Management
Both Data Migration services and operations
Feel free to try its trial version free of cost. By using this software, you can step ahead toward the bright future of your organization with its strong, purposeful tool suite. This software has got a new badge in the marketplace because it provides additional support to universities and educational institutes.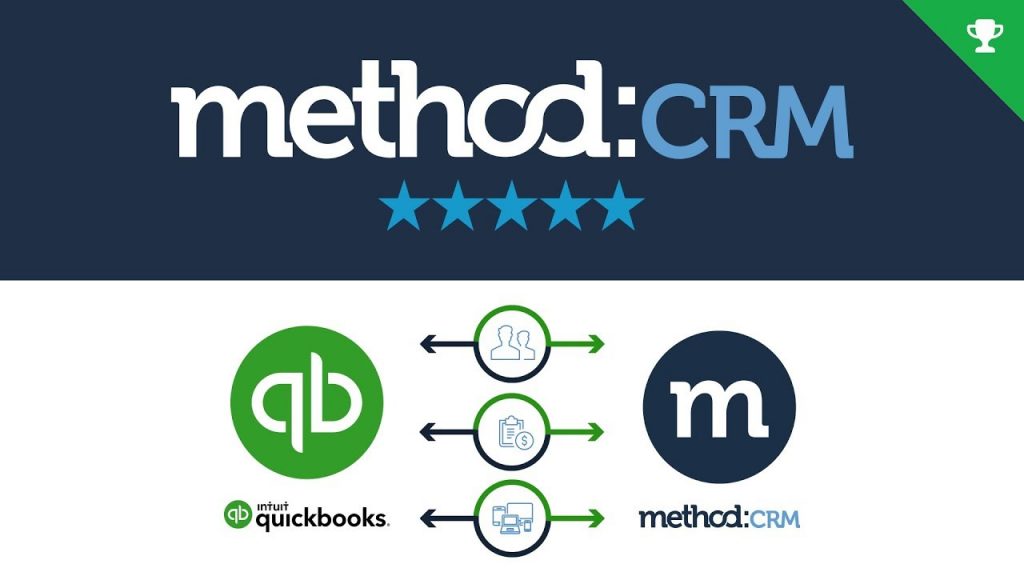 Method:CRM is one of the best solutions for small businesses looking to improve their customer experience and increase sales. It has been around since the late 1990s when Darryl Zanuck first created it for a point of sale company called MicroStrategy that specialized in providing information about how well retail stores were doing based on data they collected from them directly. Method:CRM works well for both sales and finance branches of the brands and has comprehensive reports based on that.
Reasons to select Method:CRM and Benefits
Keep real-time activity log with additional history browsing records
Unlimited contacts per record information and management
Both customer service tickets availability and management
Automated lead management
Opportunity availability
Both Share calendars and linking with devices
Allocation of roles with documents
Method Integration Engine
Real-time syncing of invoices, time track entries, and customer data
Access CRM via web browser anywhere as per requirements
QuickBooks lists syncing and transaction management
Both Invoice customization services and management
Better user interface facilitating drag and drop options
Custom field availability, table templates, and screens
Both Custom graphs and reports based on real-time data
Customer payment portal to view and pay invoices and manage them
Payment gateways include Intuit Merchant Services; PSi Gate; Authorize.Net
Accepts PayPal which is a globally acclaimed transaction facility
To use the trial version of the software and gain complete knowledge about this tool, visit the Method:CRM. Its different approach for sales as well as finance makes it the best CRM for most businesses.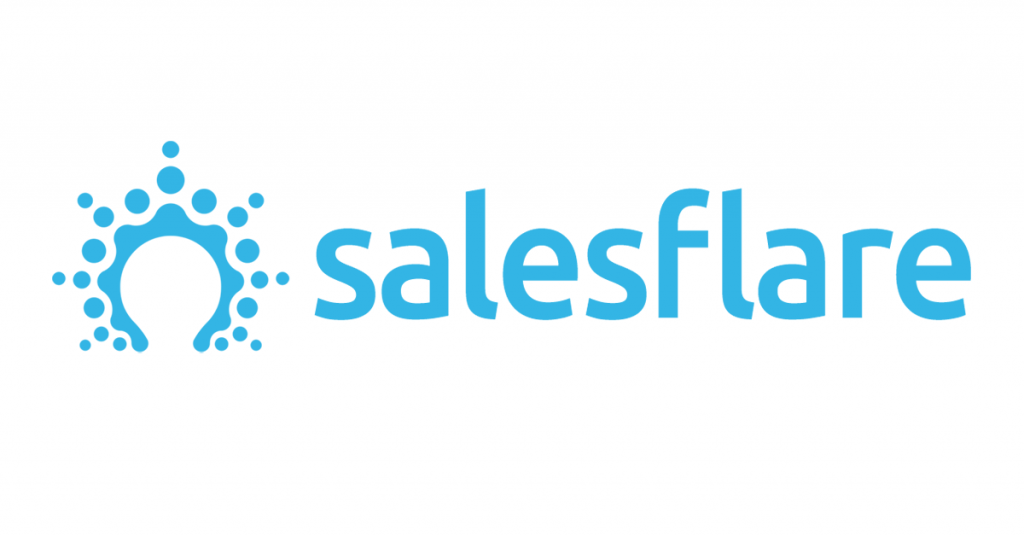 The Salesflare is the best CRM-based tool for B2B ventures. Its advanced tool suite provides strong customer relationship management services with both user interface and contact management. Moreover, with its various collaboration, sharing, and other documentation tools.
Reasons to select Salesflare and Benefits
Automated data input options
Both lead scoring and management
Email monitoring and tracking facilities
Website monitoring facilities
Both contact organization and management
Sales pipeline monitoring
Custom field options
Sales intelligence and properties
Both Prioritizing opportunities and assignment management
Communication management services
Automated to-do lists and reminder facilities
Both Interaction tracking and monitoring
Mission and Quota management
Revenue reports
Funnel analysis and management
Team insights and leaderboard facilities
You can try out this software to take your business to the whole next level. Moreover, learn more by visiting the website with Salesflare.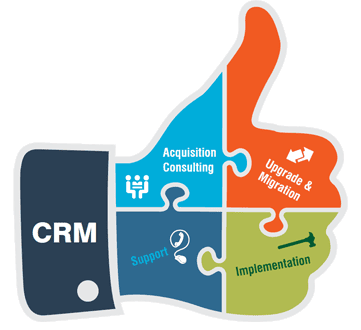 Yet to decide on a Best CRM for small business?
Now you have studied a comprehensive preview of the 12 software providing CRM solutions in the business marketplace. You can easily select the one by comparing features with your business standards and requirements. I hope this blog will help you manage customer relations by finding the best CRM for small businesses.
Experts and consultants make this software lineup, and the topmost software has enormous benefits for several businesses. Hubspot is the best suite for all businesses due to its aforementioned features and easy to use, enabling all professional brands to excel. 
Besides this, all other best CRM software is well ranked and useful for different purposes. But it's your decision whether you want to choose software for your business according to ranking or your business standards. We will suggest you not allow market value to influence your business. It would be best if you held to your business requirements and goals for scaling up yourself in the marketplace in the future while choosing the software.