There are several types of web hosting services available in the market. Namely, cloud hosting, shared hosting, VPS, dedicated hosting, SSL certificate hosting, and the list goes on. Looking at this endless list, choosing the right one for your site can be very challenging. It is especially true when you're purchasing it for the first time.
Having the right and best web hosting service is very important for the success of your website. So, if you end up picking the wrong service, your site will never be able to thrive. But don't worry, I'll not let that happen!
After sifting through the internet and using it myself, I've handpicked some of the best web hosting providers, only for you. Additionally, I have reviewed each hosting provider based on factors like speed, uptime, reliability, and customer support. Thus, this article will surely help you in selecting the right service for you. So, thank me later and check these out!
What Is The Best Web Hosting Service?
What's the definition of the best web hosting service for you? Well, I don't know about you, but for me, it is the one which is reliable, secure, fast and has great customer support! Understand that all web hosting service has the pros and cons for the different user depending what you are looking for, what your current needs, and your business scope. Maybe you are just a beginner, maybe you are in the e-commerce business, maybe you are in a small business, maybe you need to optimize your WordPress blogs, or even maybe you just looking for the best value. I breakdown all different category that suitable for your situation below:
#1. Namecheap – Best Value Web Hosting Service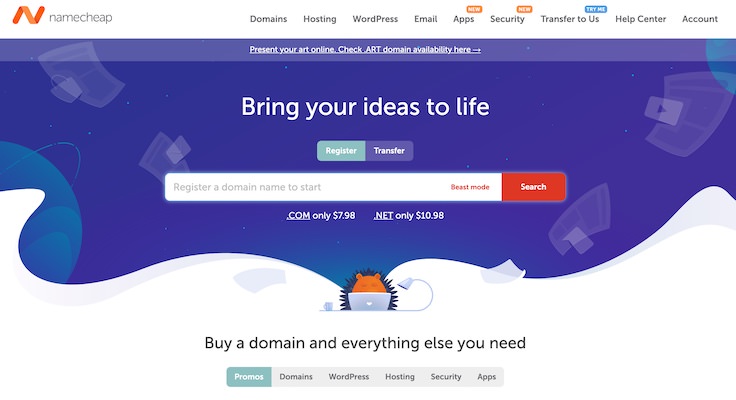 Firstly, there is Namecheap which is a well-known domain registrar offering domain names at affordable rates. But you'll be glad to know that they offer some of the most affordable hosting plans as well. Whether you're looking for a super affordable host for your newly built site or want to start your own company, Namecheap has a plan for everything. Below are the most popular hosting plans they offer :
Shared Hosting Plans
When it comes to shared hosting, Namecheap offers a wide variety of plans to choose from. They offer three plans starting from as low as $1.58/ month – which is great for beginners and low budget.
Furthermore, the most affordable plan offered by Namecheap is known as the Stellar plan. It offers unmetered bandwidth, 20GB of disk space, website builder, etc. Their most popular shared hosting plan is suitable for beginners, students, and people looking for affordable hosting options.
Next, Stellar Plus and Stellar Business plans are for medium to large businesses and websites. Another good thing is, Namecheap servers are PC-compliant. Indeed, Namecheap is a great option to host a simple website or a one-pager.
WordPress Hosting Plans
Further, their WordPress hosting plans start at $4 per month. These plans are great for less tech-savvy users as they are easy to understand and manage.
Pros
Variety of affordable plans
Managed WordPress plans
PC-compliant servers
Cons
Free SSL certificates not included
Uptime is not up to the mark
#2. Bluehost – Best Web Hosting For Beginners
If you ask any experienced website owner about the best web hosting for beginners, most of them will name Bluehost. And why not? Bluehost is the most popular and trusted web hosting service in the world. Also, it is used by a majority of website owners across the globe. The reason behind their huge popularity is the excellent shared hosting plans they offer at pocket-friendly prices.
The hosting plans of Bluehost are specially designed for the new site owners. Hence, it is quite popular among beginners. If you stuck anywhere while working on your site, they offer very reliable customer support, 24/7 via live chat or phone. In just two clicks, you'll be able to connect to the customer support professional. Further, they also offer amazing SEO and analytics tools to monitor and optimize your site's performance.
Furthermore, the SEO tool offered by Bluehost allows you to track your site ranking the desired keywords. It helps you make the right SEO strategy to improve your rankings and increase your site's visibility.
Bluehost also offers flexible hosting plans, so if your business grows in the future, you can switch to a bigger plan. Their shared hosting plan is especially for beginners, and it comes with a 1-click WordPress installation option. Further, if your site is growing, you can upgrade to the managed WordPress hosting plan to enhance your website's speed and security. If you're an experienced player and want more control over your site, you can switch to their dedicated or VPS hosting plan.
In essence, Bluehost has everything you could look for in a host. That is what makes them the best web hosting provider for beginners.
Pros
Best for beginners
1-click WordPress installation
Easy to use
Great customer support
Affordable prices
Cons
Constant upsells
Poor pricing structure
#3. Dreamhost – Most Affordable Hosting Provider
The next on our list is Dreamhost. It is named among the trusted web hosting providers. They offer highly affordable monthly shared hosting plans to their customers. Their monthly plans start from as low as $3.95, which any newcomer can easily afford. This plan allows you to host one website with unlimited traffic and also offers an SSL certificate for free – a deal to grab!
If you want to save a little extra, they offer one and three-year contracts starting at $2.49 per month, which is another great option to consider for the long term.
Apart from pocket-friendly prices, Dreamhost also offers amazing services. Dreamhost offers a custom control panel instead of the regular cPanel for managing your site. This feature is very helpful for web developers who like to have more control over their sites.
Further, if you wish to migrate from Dreamhost, you can do so very easily. For this purpose, they offer a free migration plugin that allows you to migrate in a few simple steps. You can also upgrade your hosting when your site grows, especially when it starts gaining huge volumes of traffic.
If you're the owner of a non-profit website, I strongly recommend Dreamhost. That is because they offer a special free unlimited hosting plan for all 501(c)(3) organizations.
You'll be amazed to know that WordPress recommends Dreamhost is among the top 3 web hosts. For this reason, Dreamhost offers a few managed WordPress hosting options in its base plans.
Managed Hosting Plan
DreamHost also offers a more controlled managed hosting plan known as DreamPress. It comes with a generous free trial and a whopping 97 days money-back guarantee. What's more? The pricing will not fluctuate after your contract gets over.
The 97 days free trial period offered by Dreamhost is the longest in the industry. That means, if you're not satisfied with the services, you can get your money back.
Now, coming to their customer service, it is a little old school. However, it is available 24/7 via email and phone. There is no live chat support as of now, but we can expect that soon. Further, if you want technical assistance over the phone, you'll have to pay $9.95 extra for that. But if you purchase the managed WordPress plans or DreamPress Pro/Plus, you'll get the phone support facility for FREE.
Pros
Affordable hosting plans
Suitable for beginners
Reliable customer support
97 days free trial period / money-back guarantee
Cons
You've to pay extra for phone assistance
#4. Hostinger – Cheapest Hosting Plans
If you're looking for a wallet-friendly hosting service, then look no further than Hostinger. It is perhaps the cheapest hosting service on my list.
Don't be surprised if I tell you that their base plan starts from just $0.99/month. That's cheap, dirt cheap!
While most of the Hostinger rates are promotional and increase slightly on renewal, they are still affordable than most other services. Hostinger offers a 4-year hosting plan at $0.99/m if you can pay the total amount upfront. And that's a deal to grab!
Even when the promotional offer ends, the prices are still affordable. You can get their single-site plan at just $2.15/m, the lowest rate in the hosting industry.
And if you think that being a cheap hosting service means cheap quality hosting, you're wrong. Despite the cheap rates, they offer reliable services to their users. You'll get to enjoy most of the features and benefits you'd enjoy with the premium hosts.
All the features like site speed, uptime, and customer support offered by Hostinger are very impressive. They offer a guaranteed uptime of 99.9%, plus 24/7 reliable customer support whenever you get stuck.
Pros
Cheapest hosting plans
Good customer support
Guaranteed uptime of 99.9%
Cons
Not recommended for large websites
#5. Hostgator – Best Web Host For Small Business
Hostgator is a great, if not the best web host for small businesses or sites with minimal requirements. During my research, I found that this service is great for hosting sites that are lean and don't require many functionalities. If you're the owner of such a website, HostGator is the best option for you.
HostGator provides a great array of how-to articles and tutorials for technical assistance. If you don't find the solution for your issues in these guides, you can always opt for phone or email support. Unlike other hosting providers, HostGator offers customer support in all of its plans. So, if you're searching for a host that offers great support even in its base plan, HostGator is right in front of you.
If you're willing to go with this service's learning curve, you will be able to take the benefits from their advanced options. In addition to Linux hosting, HostGator also offers Windows hosting along with a variety of advanced hosting options, including managed WordPress hosting, VPS hosting, Cloud hosting, and dedicated hosting. Further, their shared hosting plans start from as low as $2.75/m.
Experienced tech players, including PCMag, recommend HostGator. So, there is doubt about its reliability. If you want, you can try out Hostgator as they offer a great 45 days money-back guarantee. I recommend taking advantage of this trial period to test their services, customer support, and features before investing your money. Overall, it's a great web host provider for small businesses and simple websites.
Pros
Best Web Host for small businesses and newly setup sites
45 days money-back guarantee
Reliable customer support
Cons
Not recommended for growing websites
#6. A2 Hosting – Fastest Web Host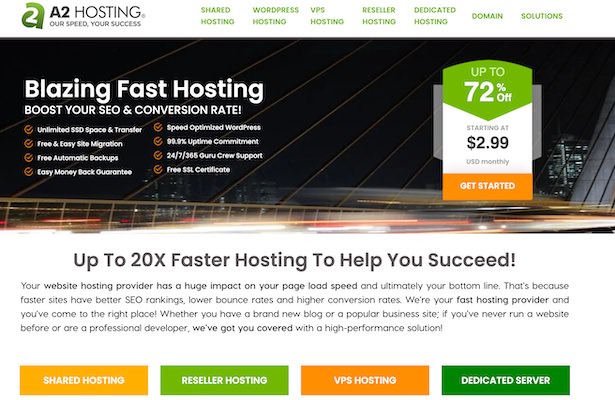 A2 Hosting is known for its super-fast speeds and affordable rates.
They offer shared, dedicated as well as VPS hosting plans at very competitive prices. What makes their services stand out is their speeds which are better than most of the other hosts. That is why most shared hosting users migrate to A2 to boost their sites' speed and performance.
The plans like Turbo Boost and Turbo Max allow you to connect to their Turbo Servers. These servers claim to improve your speed to 20 times faster than others. A2 Hosting offers a guaranteed uptime of 99.99 percent with all the plans, this hints that they'll never let you down as a host.
Further, they offer a free site migration certificate with all of their plans. So, if you want to migrate to another host, A2 Hosting is a great place to accommodate your site. Like many other hosting services on this list, A2 Hosting also offers one-click WordPress installs along with powerful integrations with platforms like WordPress, Drupal, and Magento.
You can host only one site using their base plan. So, if you've multiple sites and want to save a little extra, I recommend buying their Drive plan.
Here is another trick to save money with A2 Hosting: If you don't already know, the promotional deals offered by A2 Hosting end on renewal. Therefore, to enjoy a 63% discount for a longer period, opt for 3-yearly billing, which means choose to bill for three years at once. In this way, you'll be able to enjoy two years of free hosting!
Pros
Fastest Web Host
Guaranteed uptime of 99.9 percent
Excellent customer support
Cons
#7. GreenGeeks – Eco-friendly Hosting Service
Eco-friendly web hosting? What??!!!
Yes, you've read it right! GreenGeeks is an eco-friendly hosting provider. For over ten years, they have been using renewable energy sources for powering their hosting services.
Apart from being good to mother nature, the hosting services provided by GreenGeeks are top-notch. They offer impressive uptime, solid speed, and amazing services for the following :
WordPress Hosting
Reseller Hosting
WooCommerce Hosting
Shared Hosting
VPS Hosting
GreenGeeks is a good option if you want to do your part for our planet along with seeking top-notch hosting support.
If you're a WordPress site owner, they will help you set up your site in a swish. For this purpose, they offer 1-click WordPress installs. To keep your site up to date, they have an efficient auto-update option. They also provide you with reliable security features and daily backups to keep your data secure and protected.
Another good thing about GreenGeeks is that they keep up with the latest technologies, including SSD, PHP7, CDN, and many more. That makes sure that your website stays secure and high-performing.
Talking about customer support, GreenGeeks offers 24/7 assurances anytime you need via email chat, phone, or ticket system. They respond to the user queries very quickly and assist you throughout your hosting journey. I prefer GreenGeeks for their amazing services and step towards serving mother nature.
Pros
Use latest technologies
Advanced security and performance features
24/7 customer assistance
Eco-friendly web hosting
Unlimited bandwidth
Cons
#8. WP Engine – Best Web Hosting For WordPress
WP Engine is undoubtedly one of the best-managed WordPress hosting providers out there.
They offer excellent hosting services. However, they come at a price that isn't very cheap. A fully managed WordPress hosting plan offered by WP Engine is far more expensive than the other services. The lowest plan offered by WP Engine comes at $30/month, which is beyond the budget of most new site owners. The deal is, even this plan hosts a single site with not more than 25,000 monthly visitors.
You might be wondering why WP Engine is on my list even after being the most expensive host of all? The answer is its service quality! WP Engine is an appealing and best web hosting for WordPress website owners because it is specially optimized for WordPress sites. Because it is a managed WordPress host, its services are limited only to WordPress users. That means your site will not have to compete for resources. It will offer high performance and efficiency. There will be no downtime, and you'll not have to take care of your site's maintenance.
Further, the customer support offered by WP Engine is one of the best you can get. It is strictly focused on WordPress. Their support team is full of WordPress experts who will solve a wide variety of your issues in a snap. Price is the only deal-breaker for some users. Otherwise, it is one of the best web hosting providers you can get today. If you can afford their rates, don't think twice before joining hands with WP Engine.
Overall, if you want to take the WordPress site's speed to the next level without stressing about its maintenance, WP Engine is for you.
Pros
Best Web Hosting for WordPress sites
Offers high performance and efficiency
Great for large WordPress sites
WordPress experts in the customer support team
Cons
#9. InMotion Hosting – Best Shared Hosting Provider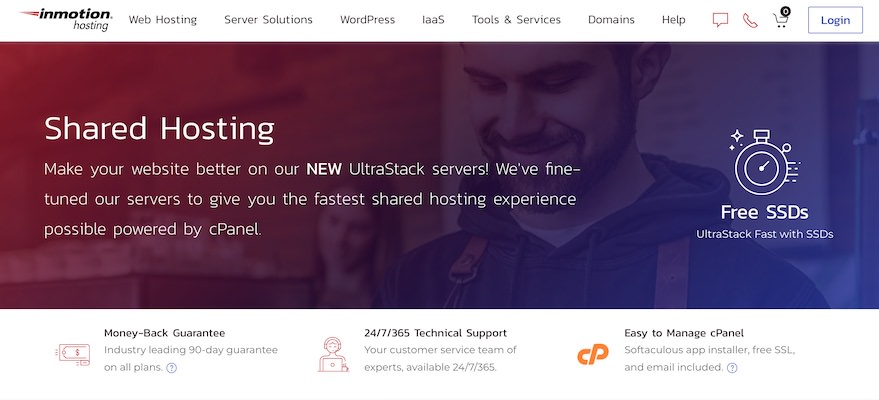 InMotion may not be that famous as the other hosting provider listed here, but it is a reliable service to consider. In the last few years, InMotion has seen impressive growth in the number of users. The reason behind this is their excellent hosting service, a wide range of plans, and helpful technical assistance.
Apart from this, they also offer a self-help option. So, in case you encounter an issue, there'll be a guide to help you out. And if you can't find the guide related to your issue, you can turn to customer support. Let me tell you, the customer service provider by InMotion is one of the best in the industry. Don't believe me? Ask its users!
Another highlight of InMotion is its 90-days trial period which is the longest in the industry. This time is more than enough to test its service before making any final commitment. The hosting plans offered by InMotion are very simple and straightforward. You can upgrade to bigger plans as your site grows and then you'll get benefits like extra websites, extra databases, extra bandwidth, and so on. What I like most about their plans is the fact that they aren't very pushy. They won't ask for upgrading your plan like others. There are no complicated tiers and annoying upsells.
Virtual Private Hosting (VPS) Plan
Another plus point of InMotion is, they offer 24/7 customer support even with the base plans. You can connect to customer service via five channels, including phone, email, chat, Q&A, and tutorials. I like that their support is very quick and easily accessible. Their contact number is flashed on the top of the page, so you can turn to them whenever you encounter any issues.
InMotion also offers some of the best VPS hosting plans. There are mainly two types of VPS hosting options you can choose from. That ensures that you will get the exact amount of flexibility and support with each plan. InMotion runs promotional pricing deals regularly. So, you can easily grab a plan for as low as $5 per month. Further, the standard pricing for shared hosting starts from around $8 to $9 per month after the end of your contract.
Apart from shared and VPS hosting, InMotion also offers other hosting services such as managed WordPress and dedicated hosting.
Pros
Offers 90-days free trial period
Expert technical assistance
Frequent promotional deals
Cons
High renewal price
Confusing pricing
#10. SiteGround – Best Customer Support
Finally, If you're a professional website owner with a hefty site that receives unlimited traffic, you'll need a hosting provider who is reliable and trusted. That is exactly what SiteGround is designed for. Although this is not one of the affordable hosting services, it offers the best performance and efficiency. SiteGround is gaining a massive fanbase and stellar reviews for these qualities. You'll be amazed to know that about 97.7% of their clients are highly satisfied with them.
SiteGround is one of the three best web hosting providers recommended by WordPress. This fact is enough to root for this hosting service. All of its shared hosting plans come with built-in support for WordPress, so you'll receive better security, automatic updates, and reliable technical support for your WordPress site.
Managed WordPress Hosting Plan
Because it offers managed WordPress hosting options, its infrastructure is highly optimized for the same. They make the best use of Google Cloud with flexible SSD storage and a speedy network. You can use their advanced WordPress features like WP Starter Plugin to build a website without additional efforts.
The segment where SiteGround truly shines is their shared hosting plans. They have some super-fast and secure servers. Not just that, SiteGround is continuously working hard to keep its functionalities up to date. And this is the reason why they are among the most sought-after hosts of all time.
The trial period offered by SiteGround is around 30-days, which is pretty enough to test the services. The only problem with this service is that its rate tends to increase at the time of renewal. But the services they offer make it worth considering. If you're certain that your site will grow bigger and you'll need to upgrade to some reliable hosting service, then SiteGround is a great option to go for. It is one of the best hosts for growing businesses.
Pros
Excellent customer reviews
Top-notch customer support
Very reliable and trusted
Suitable for large sites that receive unlimited traffic
Cons
How To Choose A Web Host
1. Check Out The Migration And Site Transfer Options
There can be instances when you select a web hosting and after using it for a few days, you realize that you've made a wrong choice. That is where the site migration options become very important. Site transfer or site migration allows you to move from one host to another if you're not satisfied with your existing service.
Migrating to another site involves transferring the entire database and files and setting it up according to a new host. In this way, site transfer offers an easy way to shift to another host. Your new host will help you in this process and they'll charge an additional cost for this. Every service has its site transfer rates. It usually ranges from $150-$400.
The good thing is, there are some hosts like HostGator and GreenGeeks that offer free site migrations – which is a great deal!
In the case of pair site transfers, they sometimes allow you to migrate multiple sites at a fixed price, and this process takes a couple of days. These plans allow you to transfer 4 to 5 sites at once.
2. Pay Attention To The Renewal Rates
The renewal rates of a majority of hosting services are higher. You'll be shocked to know that some hosts charge double and triple for the renewal. If you don't pay attention to the renewal rates, you may end up paying $10/month for a basic plan that was initially priced at $2 per month. For the same features and performance, the deal is you'll have to pay double and even triple amounts, which can be frustrating.
A2 Hosting nearly doubles the price at the time of renewal. However, they allow you to file a written cancelation request 15 days before the renewal date. But if you forget to submit the request, you'll be automatically charged double on the renewal. As I've already mentioned, the best way to save money with A2 Hosting is to opt for their 3-year plan.
Some other hosting services in our list like DreamHost also offer you the same renewal price if you buy their 3-year plan.
3. Check Out The Bandwidth, Email Accounts, And Storage
Each hosting plan comes with different storage, bandwidth, and email accounts you can use. Different services have different limitations. For example, Hostinger offers 10 GB of storage and 100 GB bandwidth with their base plan. If you're looking for unlimited bandwidth, then HostGator, GreenGeeks, and SiteGround are great options for you.
If you are interested in having a hosting service that offers a Free SSL certificate, check out Bluehost, HostGator, Dreamhost, and SiteGround. All of these hosts offer a free SSL certificate with their every plan. But this is not the case with all the hosting providers. Some of them charge extra for SSL certificates.
For the email accounts, different services have different offerings. For example, A2 Hosting, HostGator, SiteGround, and Hostinger offer one free email account with each of their plans. Further, GreenGeeks allows you to create unlimited email accounts with their plan.
4. Upgrade Options
Lastly, check out the plan upgrade options offered by the service. Your site will grow at one point or another, and you'll need to scale your hosting plan. A majority of hosting providers offer multiple types of hosting to suit the requirements of their customers. If you're a beginner or hosting a site that receives very low traffic at this moment, you should consider having the shared hosting plan. It is enough for running simple websites. However, once your website starts growing and gaining huge traffic volumes, you'll need to upgrade your plan to a better one.
What Are The Types of Web Hosting
Some web hosting service companies offer several kinds of hosting but some only specialize in specific hosting. Only a few companies that offer all different types of hosting. Depending on your needs what type of web hosting is the most suitable for you or your business. Below are the common types of web hosting offered:
Shared Hosting
Shared web hosting is mostly recommended for beginners. Here, all the websites are stored on a single server where they share the resources like bandwidth, storage, computing power, and RAM.
VPS Hosting
Virtual Private Server or VPS hosting is similar to shared hosting, where one server stores multiple sites. However, it offers more control and customization options to the users. With this hosting, you can scale your resources as per your requirements.
Cloud Hosting
Cloud hosting allows many computers to work simultaneously by using combined resources. This type of web hosting is recommended for sites that are growing and receive large amounts of traffic. With this type of hosting, you don't have to compete for the resources.
Managed WordPress Hosting
As the name suggests, this type of hosting focuses on WordPress sites.
Dedicated Hosting
Dedicated hosting is recommended for large businesses and enterprises. This type of hosting allows the site owners to use the entire server for their site.
Final Words
All in all, after sifting through hundreds of hosting providers, I have picked the ten best web hosting services for every type of site. Also, I have listed services keeping in mind different requirements, so you'll surely find a host depending upon your requirements. I hope this detailed guide helps you in selecting the right web hosting provider.
Further, if you want to earn a huge income online via affiliate marketing, you can read my other blog here that will teach you step by step how you can start an affiliate marketing online business. Don't forget to check out this amazing affiliate marketing course – Success is waiting for you!
"There is a powerful driving force inside every human being that, once unleashed, can make any vision, dream, or desire a reality."