Selling on Amazon as a beginner can be challenging but it is still highly recommended because of the high profit chances. Not even advanced Amazon sellers want to let go of Amazon as it has amazing shipping and delivery service. The best thing is that the total estimation is almost equal to the cost you spend on your own for providing these services. Let's find out what is the pros and cons of selling on Amazon FBA.
You might be wondering why is it so recommended to sell on Amazon? Well, the answer is simple as Amazon is the world's largest eCommerce platform, and its owner is the richest man. There is no better platform than Amazon, as it has more than 300 million users. 
Amazon also comes with a facility of Amazon prime. The prime members are the Amazon subscribers that avail fast one-day delivery. Also, they get the new update faster than other members. Other perks include Amazon prime video channel and music. They pay $1300 every year. You can reach that potential buyer on Amazon more easily than setting up your eCommerce store.
Let's discuss Amazon FBA in detail, along with its pros and conThishis guide is my responsibility to provide my audience with in-depth knowledge and review of Amazon FBA. Also, you can read my other blog about the Amazon FBA selling guide for beginners.
Please read my blog on How to sell on Amazon FBA for beginners: Step by step Guidance.
What is FBA (Fulfillment by Amazon)
Now we get started with having an overview of Amazon FBA. Being an e-commerce seller, Amazon offers you several services for increasing the online marketing facilities, and among these services, Fulfilment by Amazon (FBA) is also included. The service is provided for the sellers or merchants across the globe to connect them through a single digital platform that facilitates storage for their products, packaging, shipping, payments, and refunds.
Being a merchant or seller, all you have to do is ship your product to the Amazon fulfillment center, and the rest is taken care of through Amazon. Your products are stored in Amazon warehouses until they are sold out. When a customer places an order, Amazon employees physically prepare, package and ship your products. 
Let's find out what are the pros and cons of selling on Amazon.
Pros and Cons of selling on Amazon FBA
Pros and Cons of Selling On Amazon – What Are the Pros?
Amazon FBA comes with many benefits if you choose the right business model and know how to make your business in this market. Here are some of the pros of working with Amazon FBA:
1- Services and Shipping
Selling your product on Amazon will reduce a lot of responsibilities from you as a seller. When you are doing a business, you have to look after several factors. It will become difficult for a single person to sell the products. Amazon makes it easy for you, and many entrepreneurs consider Amazon one of the best business modules for a better start-up.
With FBA, you have to choose a category and a product, and that's all. Once you send your product to Amazon and list it under their supervision, packaging, shipping, delivery, and transactions are all their responsibility that too in a rise and affordable for you. 
2- Charges incorporated
Amazon incorporates the charges according to the size, density, and storage space occupied in the inventory, delivery, and the importance of your product. If it is small and tough enough, you do not need to worry about the price range as it is cost-effective. But if your product is big or delicate, then the charges applied can vary. According to the estimate, these charges are similar to what you will be getting by selling them on your own by other means.
3- Amazon's customer range
It may have a base of approximately 300 million active users. It is also a trustworthy marketplace for you so that your product will reach a wide range of audiences by Amazon that is not very possible if you are doing the same on your own initially.
4- Returns Management by Amazon
If you are a businessman, you will certainly know how tough it can be to manage the returns of products if your customers do not like it. Amazon also does that for you. It can even manage the return transactions earned by the complete credibility of the customers and sellers. Moreover, it also processes complaints, damaged products maintenance, customer inquiries, return shipping, and many other such things.
5- Best Customer services
It is difficult for you to receive every customer at the same time as a seller. But Amazon has the world's best and famous customer service forum where 24/7 customer service executives are ready to help you whenever you need. They also manage the refunds, which is the biggest tension towards the customers when returning something.
In addition, they have excellent marketing and text messaging facilities through which customers can get notified about every detail of the delivery of their product. 
6- Access to Inventory
Amazon has millions of acres to justify the cause for the storage of your products. So you do not have to worry about the space requirements for your product as Amazon has got your back. They have Amazon fulfillment centers and various inventories to give you enough space for your items to be used or conserved.
7- Delivery
They have their inventories and Amazon fulfillment centers across the world. It does not matter from where your customer is ordering something. Amazon will get the delivery at the exact time and even more quickly. They usually make the deliveries within 3 to 4 days after the order is made. And if you are a prime member, you will get the delivery the next day from the day you ordered.
8- Multi-Channel Fulfilment (MCF)
By MCF (Multi-Channel Fulfillment) of Amazon, you can sell your products on other channels or websites but still can use the shipping and delivery facilities of Amazon. If your website has a large audience, but you do not want to face the difficulty of storing, shipping, and delivery, etc., you can consider Amazon services for this. Amazon will fulfill it for you by MCF.
Pros and Cons of Selling On Amazon – What Are the Cons?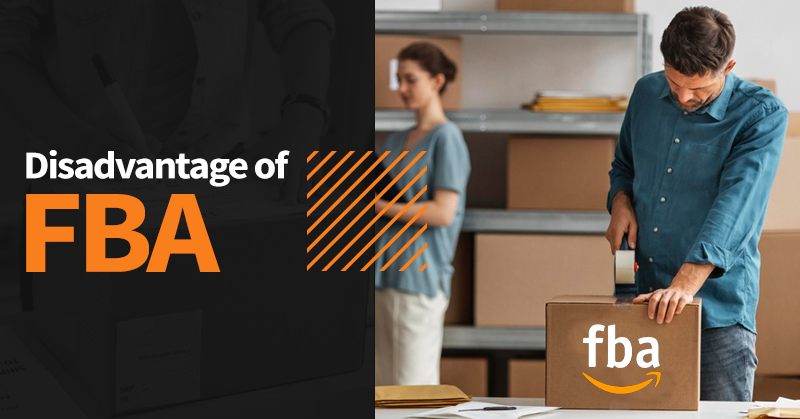 Amazon is the largest eCommerce place that certainly offers the best facilities globally to the sellers to compete and sell their products. But there are some disadvantages of Amazon FBA, and here are some of those:
1- Inventory Storage Price
As mentioned earlier, Amazon charges a service fee according to the product. Everyone doesn't have small products to sell as you might be selling machinery or electronics that are delicate and heavy. It might cost you a lot to ship your products through Amazon.
Moreover, it would be best if you sold them quickly as the inventory charges by Amazon are not budget-friendly. If you cannot sell products within six months after listing, Amazon will start nagging for the charges involved for covering a huge space. It can be a bad experience for you if you are unable to generate sales. 
2- Product Returns
It is quite easy to sell products through Amazon as it manages your return. Still, you may receive equivalent returns as many customers on Amazon, resulting in no profit. Amazon has a return policy of 30 days, and customers can judge the product at this time, and if it does not perform well or it is damaged, they will return it to get a refund. So, you should also be prepared for that.
3- Product Essentials
It would be best if you also were very careful before shipping the products to the Amazon Warehouse. Always keep in mind that Amazon doesn't allow products with incomplete details and without proper labeling. Every feature of your product must be listed so that you can store it in the Amazon database. Also, be careful about packaging and labeling as if it gets damaged, you will have to face the complete loss as a seller. 
4- High Competition Sucks
You will be able to present your product in front of the potential buyer but keep in mind that there is a lot of competition on Amazon. The sellers on Amazon US are around 2 million, and you need to compete with them as you can do better listing, work on proper images, and write amazing product descriptions.
Also, it would be best if you spent a lot on Amazon advertisement schemas to get on top of the Amazon search engine. You must be aware of SEO and proper keywords to rank your products in the first three pages. The Amazon algorithm is hard to understand completely, but you can use different strategies and tactics to get sales. 
5- Inventory management can be tough
You need to keep your list updated to check how many products are sold, left, or sold. So, if you are not selling fast, it can be a problem. Besides that, if your products are in an Amazon warehouse, they will start charging you money. So, if you are not making any profit, you have to pay the charges for a storage place.
6- Products blending
In Amazon FBA, you need to combine your products with other similar items from the different merchants. It can prevent you from detailing every product along with its labeling and packaging. But, if you get deceived, instead of having a respective seller and receiving damaged products can be delivered to your customers. In this way, you will get bad reviews that can hamper your market image and eventually lose your customers.
7- Tax Management
Amazon is available in different parts of the world, and it has warehouses in almost every city. The taxation system of every country is difficult. Amazon shifts its products from one warehouse to another more often. Your product could reach a different country or city according to the customer order.
Also, the service charges and tax will be based on the country where the product is delivered. There are multiple tools available in the market to learn about the tax system. Just do your research properly before you get started. 
Why selling on Amazon
I have explained the pros and cons of selling on Amazon above. Here are the reasons demonstrating why you should sell on Amazon:
When you sell products on Amazon as a beginner, you have to be concerned about your products rather than the other aspects of selling, including packaging, shipping, payments, etc. All these multiple tasks are the responsibility of Amazon's staff, and you get time to focus on a single thing at a time that is your product.
Amazon has about 2.5 billion potential customers per month. It means that your products are visible to the consumers on Amazon, so your sales rate can do very well in the market.
In the beginning, if you want to keep a little low-key, then you do not need to worry about the promotions. You would still get money from Amazon because they have built their trust for a very long time, and they usually do not disappoint you.
If you want to grow or scale up your business; then you can certainly do it by Amazon FBA. You have to work about your visibility on the targeted audience or customer, and Amazon, as usual, takes the rest.
Working model of Amazon FBA and your duty as a Seller
After you know the pros and cons of selling on Amazon, I will explain the working model and your duty as Amazon Seller.
Your first step is to send your products to Amazon Fulfillment Center. So they can store them in one of their warehouses. Your products safe in the Amazon warehouse until a customer purchases your product.
Then you have to start listing your products and their storage in the category. For example, Bluetooth headset is your product; then it will go under the categorization of Electronics or Gadgets. Amazon will give a full refund of the retail price of that product if your product gets damaged due to any incident.
If a person chooses your product and purchases it, Amazon will process the payment.
Then how many items the customer purchases and then it will ship to your customer. 
After that, the amazon worker will pick up your product from the Amazon warehouse center and it will deliver to the customer.  
Then customers may leave you feedback and review from the customer's experience and rating for your product. Suppose the customer finds the product damaged, not worthy of use, or low quality. In that case, the customer can return it within 30 days after delivery, and get a full refund. 
Amazon will handle all the customer service after-sales. You just need to focus on your product and what product will do well in the market. 
You will have to maintain your stock, as once your product runs low, Amazon will notify you about it. And you must keep it in stock. 
Your product requires a pretty amount of advertising and promotion to do well in the market and remains in the competition. 
Conclusion
The above listed are the pros and cons of selling on Amazon with FBA. Before selling, do your complete product research and work on the selling criteria that will help to boost your business on Amazon. You can follow these steps to start with Amazon FBA:
1- Deciding your Niche and Researching your Products
2- Make your product "Visible" with Unique Selling Propositions
3- Finding a Supplier or Manufacturer
4- Be Calculative about the Price
5- Comparing Quality
6- Conforming to your order
7- Packaging and Branding Designing
8- Product Listing on Amazon
9- Unique Product Code (UPC) or FNSKU barcodes
10- Freight account AIR or SEA
11- Email Marketing
12- Amazon advertisement and external
For understanding the depth and more queries of selling on Amazon and which business model you should choose, you can refer to the mentioned link Popular Amazon Business Model For Third Party Seller.
I hope that you understand the pros and cons of Amazon FBA for now. It is important to keep all these points mentioned above to be successful in Amazon's FBA business. If you are ready to start the Amazon FBA business, you can check the Amazon FBA course to learn deeper step-by-step A to Z starts from scratch. They will help you If you have questions or you need help during your learning. Most importantly, it will help you to build your Amazon FBA online business successfully.
"If you double the number of experiments you do per year, you're going to double your inventiveness." – Jeff Bezos