Affiliate marketing on social media is becoming a reliable source of income if you have a sizable following. Social media marketing used to be something only celebrities could do, but brands use non-celebrity influencers to market products. So, how to do affiliate marketing on Instagram? This blog will explain all the steps you need.
Instagram affiliate marketing involves an influencer posting about a product and adding an affiliate link to that product. You don't need thousands of followers on Instagram to start as an Instagram affiliate. Companies use people with even 1,000 followers on Instagram as long as the account shows a high engagement level.
This article will guide you on monetizing your Instagram account and finding affiliate programs that will allow you to promote products on social media. You will also get some excellent tips on how to keep your followers interested in making more sales. Let's dive in. 
How To Do Affiliate Marketing On Instagram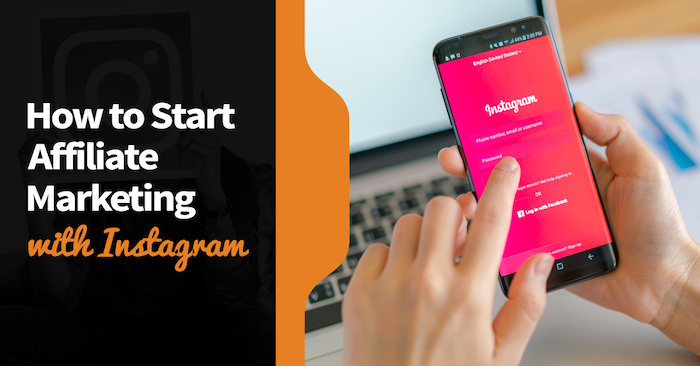 The most significant determining factor about becoming an Instagram affiliate is the number of followers you have. Amazon associates can use Instagram to promote affiliate links as long as they have 500 organic followers. Organic followers are real followers who like your account because they relate to your content.
• Grow Your Account
Start by posting regular content on your account in a specific niche that you love. Your niche can be interior design, fashion, beauty, or even motivational speaking. When you focus on a niche, you create a strong following, and people will view you as an authoritative voice. Plus, you will seem more authentic when approaching companies to promote products relating to your niche.
Another way to promote your account is to post relevant content and add relevant hashtags to make your posts visible. Instagram users who find your content useful will follow you to get more insight into your niche. You need to be patient when growing your account to get a significant number of followers. 
You can monetize your Instagram account as soon as you reach 1,000 organic followers. Do not start affiliate marketing with Instagram if you know that you have false followers. It would be best to have real people who have money to click on your affiliate links and buy something to make a commission.
• Make Your Account Visible
Most people ignore their bio, but it is the first thing users will see when clicking on your account. Creating an attractive bio is an excellent way to drive traffic to your Instagram affiliate links. Your bio should include a link to the Instagram affiliate programs that you are promoting so that anyone curious can click on the link. It would be best to change the links often when you change the affiliate offers you choose to promote. 
Ensure you have lifestyle pictures that show the relevance of the products that you are selling. Instagram users are likely to click an affiliate link when they relate to the affiliate link's pictures. Overall, ensure that your Instagram bio for affiliate marketing helps you drive traffic to your promoting links. Don't forget that you can add a link to your latest blog post to your Instagram bio.
• Select Niches to Promote
Although users associate Instagram with photos, you must promote niches that you have intimate knowledge and understanding. Instagram affiliate market will require you to write a copy that will prompt your users to click on the affiliate link. You need to write authoritative copies to make your followers see that you know what you are promoting.
You cannot afford to use generic copies that are boring and hope to get people to click on your affiliate links. Moreover, Instagram users are always looking for a lack of transparency from influencers. It would help if you gave a genuine opinion about the products you promoted and explained how they improved your life. Honest product reviews will get you more sales than a fluff-filled sales copy. 
• Be Consistent
Do you know how many times people visit a site online before making a buying decision? It takes an average of seven website or eCommerce visits before potential buyers are ready to buy whatever you are promoting. Therefore, you need to find an interesting way to post your affiliate links consistently.
You risk losing your target audience if you are inconsistent because your followers won't see your posts on their feed when they are ready to buy. Use tools that help you schedule posts during peak hours so that your followers can see your promotional posts every day. In short, do not despair when you don't see returns on the first week when you introduce a new affiliate offer to your audience. 
Metric Measurement For Affliate Marketing On Instagram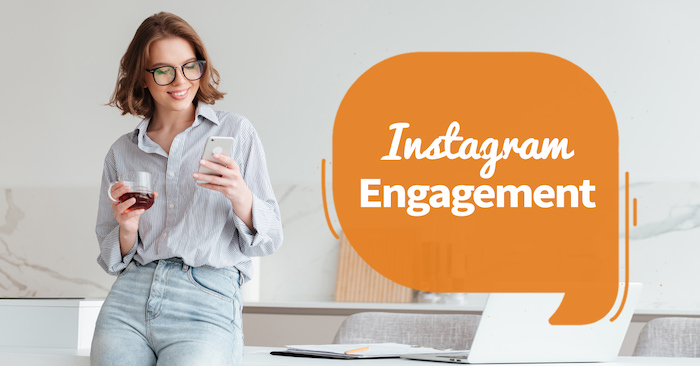 As an Instagram affiliate, engagement is more important than having a huge following. It would help if you had more people to read your posts to click your affiliate links. If you have 5,000 followers and an average engagement of about 500 per post, you have a good shot at being a successful Instagram affiliate. 
On the other hand, if you have a million followers but an engagement of 100 followers per post, you won't do well in Instagram affiliate marketing. A high engagement level is a reason why you need to have organic followers on your Instagram account. Organic followers are likely to look at what you are promoting, and some will buy out of loyalty, especially if you have posts with useful tips.
You need to consider the posts that receive the highest engagement and find out why. Also, you will find that relatable posts have high engagement. Hence, you will have to model content with affiliate links after your most popular Instagram posts.
It would be best to consider engagement because some merchants want to know your engagement level before adding you to their Instagram affiliate program. A higher engagement makes you attractive to merchants looking for Instagram influencers. A high user engagement is what IG elites affiliate use to get big brands to add to their affiliate programs. 
How to Start Affiliate Marketing with Instagram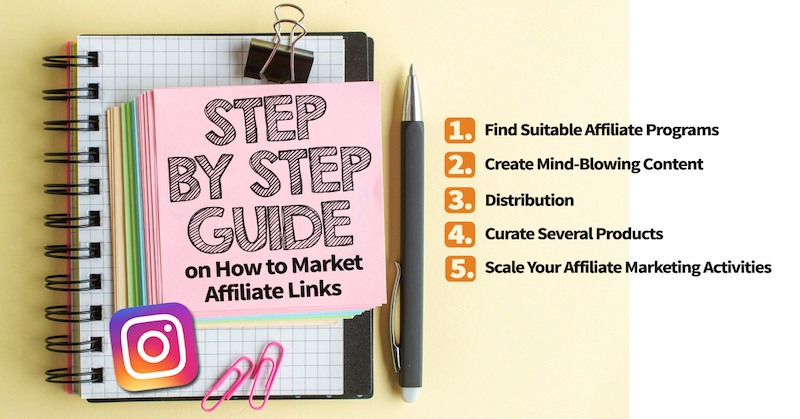 Let's explore How to Start Affiliate Marketing with Instagram successfully. It is a long process, but you can complete the process in minutes once you get its hang. Engagement on Instagram starts with the image you have, and then users read your content. It is a bit different from other social media platforms like Facebook, but keep in mind that Instagram has the highest engagement with social media platforms. 
Here's the affiliate marketing process from start to finish.
Step 1: Find Suitable Affiliate Programs
Start by finding suitable Instagram affiliate programs for your audience. Some programs like Amazon affiliate on Instagram require a minimum number of organic traffic. You also need to have high traffic on your affiliate links to make decent commissions on Amazon. 
Look for platforms like ClickBank, Commission Junction, or ShareASale with many affiliates offers on different niches. Affiliate networks show you how much you earn per sale, and you will be able to determine how much marketing you need to do to make a decent income.
Overall, register on several affiliate marketing networks and programs in the beginning. You can decide which program or network works best for you after seeing the response from your audience. Once you find something that works, you can start to scale your profits.
Step 2: Create Mind-Blowing Content
You can't paste affiliate links on the caption area on Instagram and expect traffic to the links. That's because you need to add some relevant content that is helpful to IG users. You can go the direct route and list the benefits of a particular product. Alternatively, you can offer a review of your experience when using a product or service to your followers.
Consumers prefer to get genuine peer reviews before purchasing a product or paying for a service. Be truthful and transparent to your followers about the products that you are promoting. Ideally, find an excellent product and write a copy that will move your audience to click on your affiliate links.
Another thing you need to consider is customizing your content with each post. You can post affiliate links on Instagram stories to drive more traffic to your posts. Customizing content keeps your audience interested. When you use the same copy when promoting something, your engagement will take a hit as fewer users will click on your posts.
Step 3: Distribution
Once you have photos and an excellent copy for your Instagram post, you need to publish it. You can add relevant hashtags to ensure the post appears on IG searches and explore pages. Don't forget to add a call to action to your post. Ask your followers to save the post or follow the link to shop for whatever products you are promoting.
Add your affiliate link to your bio and Instagram stories for more exposure. Instagram stories are highly converting, and many people check them out. Ensure that your post reaches the right target to drive traffic to your links.
Step 4: Curate Several Products
Curate several products to promote that are related to your niche. Not all your users will want the same product. You need to have 3-5 products that you market on Instagram to increase your odds of making a sale. Amazon affiliate programs have millions of products to choose from, and you can choose to select several products from the products.
You can also select several affiliates offers from an affiliate network to promote your Instagram affiliate marketing business. If you notice a product that isn't doing well, you can drop it and find something else your audience is interested in buying. 
Step 5: Scale Your Affiliate Marketing Activities
Once you get the hang of affiliate marketing, you need to start to look for new ways to grow your income from affiliate marketing. Grow your Instagram following, increase traffic to your affiliate links, and fine-tune your targeting activities. Finding the right audience is a crucial part of ensuring that you find users ready to purchase. 
Keep a close eye on Instagram metrics to ensure that you get enough traffic and engagement to your promotion posts. Read more about Instagram affiliate marketing and follow gurus in the industry. Alternatively, join an Instagram affiliate marketing course or an Instagram growth affiliate program to keep your sales up. 
Instagram Affiliate Marketing Course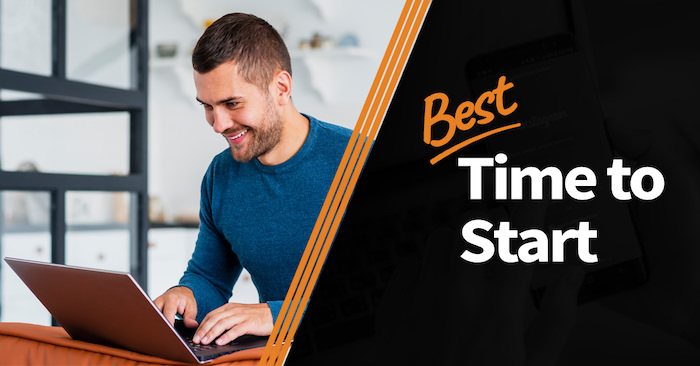 Should Instagram Affiliate Get Marketing Course? Yes. Instagram is part of Facebook, and its algorithm changes frequently to ensure users have a good experience. Therefore, joining an Instagram affiliate marketing course gives you the tools to reach your target audience easily. It would be best to do a refresher course each year to follow the latest update of the Instagram algorithm. 
Moreover, you need to join an Instagram growth affiliate program to grow your business once you note growth stagnation. The course will give you tips and strategies that you won't get on the internet for free. Most classes cost a small fee, and they are usually packed with a lot of knowledge that will benefit your affiliate business. Bottom line, do not stop learning about affiliate marketing with Instagram once you start making significant commissions.
Several courses can help you to start an Instagram affiliate marketing business or career. Think of the courses as an investment for the future of your business. It would help if you had the basics of affiliate marketing on Instagram before starting the venture, and a class is an excellent place to start. Here are some of the Instagram affiliate marketing courses that I recommend:
Conclusion
Affiliate marketing is a lucrative venture if you work smart. You don't need a website to join affiliate marketing programs, although it will be better to have one. Instagram has a high engagement rate, and you can monetize your account through affiliate marketing. Follow other people in your industry and see how they monetize their Instagram accounts through affiliate marketing. Overall, you will need to work hard and be consistent to build your Instagram affiliate marketing business. Be patient because it will take a while for the business to grow before you start seeing money flowing into your bank account. 
Finally, if you want to build a successful online business, I recommend you get these books Dotcom Secrets, Expert Secrets, and Traffic Secrets for free. Just pay for shipping. Also, I would like to invite you to join the One Funnel Away Challenge that will teach you to make money online step by step and specifically to build funnels. It is one of the most important factors whether your business will thrive or fail.
"There are no secrets to success. It is the result of preparation, hard work, and learning from failure."