As the world's largest online marketplace, Amazon is a brand that is known by all. Just looking at a smiling arrow logo, people's thoughts immediately go straight to Amazon! But if you want to become a seller on Amazon, many people question: is Amazon FBA still worth it now in 2021? Or should I sell on Amazon? This blog will explain in detail if you should sell on Amazon or not and tell you all the amazon fees involved in using Amazon FBA calculators.
In the podcast session I had with Seth Kniep (founder of Just One Dime – the premier coaching company for online entrepreneurs), we talked about how Amazon is the fastest-growing market sector in the world. For business owners, it is the fastest way to make money online. Is it the easiest? No, because as a large marketplace, you are bound to meet so many competitors. But competition is healthy in every business. As Seth said, the competition allows you to add extra value that no one else is doing and build a brand.
What's more is that with the COVID-19 pandemic, the online market rose rather quickly! Amazon almost broke because of too many orders coming in. It's an infrastructure problem that has prepared Amazon to become stronger and better in the online marketplace.
There are two ways that you can fulfill orders for your customers on Amazon, FBM (Fulfilment By Merchant) and FBA (Fulfillment by Amazon). Maybe you are here as a new Amazon Seller who wants to discover more about FBA or as a seasoned seller who has been using FBM and is thinking of venturing into FBA. I will help you determine whether Amazon FBA is worth it for your online business in 2021.
Watch my podcast video below:
What is FBA
Fulfillment by Amazon (FBA) is Amazon's most advanced fulfillment network for its sellers. Here, you can store your products in their fulfillment centers, and Amazon will pick, pack, and ship them for you. What's more, is that they also provide almost 98% of customer service for you! In my discussion with Seth in the video above, he shared how Amazon FBA helped him in his business. Before, he and his family were always busy packing their products at home to be ready for pick up by the USPS. It takes most of his time every day. But with Amazon FBA fulfilling orders for him, he finally has his time back to launch new products and grow his business.
There are so many more benefits being offered by Amazon FBA. For instance, the free shipping for your products listed for FBA! We'll go through with that later on. What's important, especially for new Amazon Sellers, is that you know what Fulfillment by Amazon is and how it can help you in your business.
Learn more and get an in-depth look to start your Amazon FBA business.
How Does Amazon FBA Work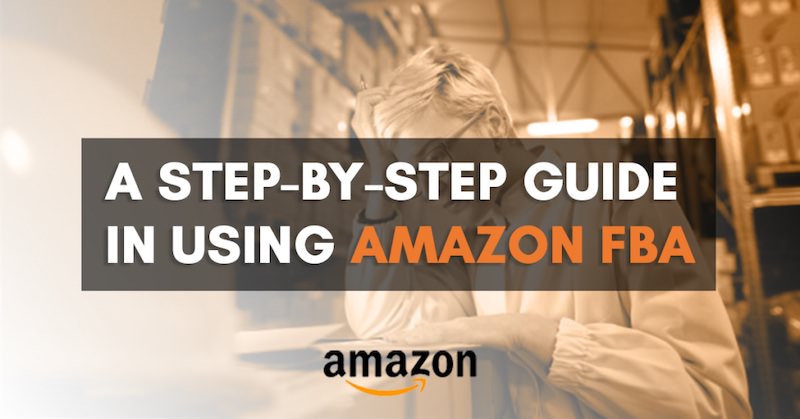 Now that we have that covered let me share how Amazon FBA works to see if it is worth it for your business.
Step 1: Send your items to an Amazon Fulfillment Center.
Amazon has numerous fulfillment centers. It has about 100 warehouses in the US alone. The Amazon team will then tell you which warehouse you will send your products to since they are sorted according to product type. And if you are not producing your products, you can ask the manufacturer to ship directly to Amazon Fulfillment Center.
Step 2: Amazon employees will sort your merchandise.
When Amazon receives your products, their employees will start the sorting process. What's great about this is that they add a tracking code to your merchandise. There isn't much issue with damages and losses. However, you don't need to worry in case that happens because Amazon will reimburse you.
Step 3: When orders start coming in, Amazon will also start packing them.
Here is the part when Amazon finally starts fulfilling orders for you. When a customer places an order on one of your items, the Amazon team will automatically locate your product and pack it while updating your inventory.
Step 4: Shipping.
Your product is packed and ready to go! The Amazon team will ship the item through whatever method your customer chooses.
Step 5: Tracking.
Your customer is not the only one that can track their product, and you can too!
Step 6: Customer service.
As previously mentioned, one of the benefits of Amazon FBA is their customer support, which takes care of all your customer inquiries and even returns.
Step 7: Receive payment for your sales.
As business owners, this last step is what we work so hard for. And with Amazon FBA, you will receive it every two weeks!
Ready to get started with Amazon FBA? Download the full guide to getting started.
Is Amazon FBA Still Worth It in 2021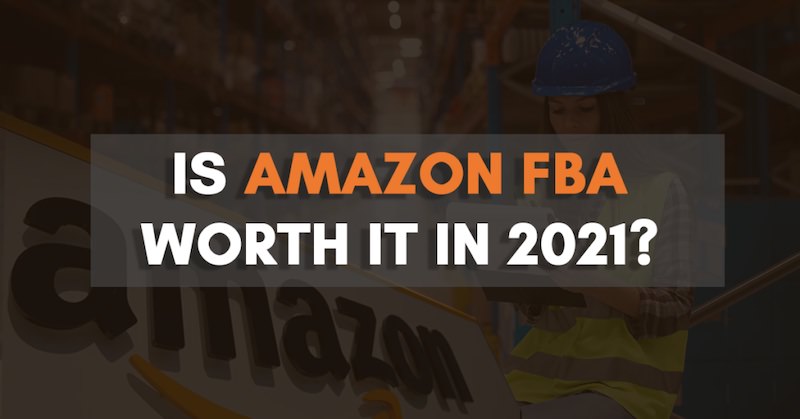 So, we know what FBA is and how it works. If you've already had the chance to get started above, then that's great. I welcome you to the truly beneficial world of Amazon FBA. However, for those still having doubts and maybe you have questions, is Amazon FBA still worth it now in 2021? It's completely understandable. And here's why:
Amazon launched FBA in September 2006, and many sellers grabbed the opportunity since it makes the shipping process easier. But since then, Amazon has continued to grow at an amazing rate. It's become popular with business owners, from small-time to big-time. This means that competition has also grown exponentially, and higher fees have been implemented. So, with that in mind, is Amazon FBA worth it? I've listed several factors below to help you identify whether it is still a good venture worth undertaking.
1. Amazon FBA Fees
This is one of the concerns for sellers everywhere if Amazon FBA is worth it since it keeps updating its rates. More often than not, these rates keep getting higher. In 2020, the monthly storage fees from January to September were about $0.75 per cubic foot and $2.40 per cubic foot from October to December. There are also additional fees, such as fulfillment fees with a minimum of $2.50 for each unit you sell. And that's only for the smallest size with a shipping weight of no more than 10 ounces and a packaging weight of 4 ounces. Meanwhile, the fee for larger items that weigh 3 pounds is around $5.42 plus $0.38 for every pound added. Amazon also classifies items as "special oversize," which adds up to your fees.
To easily calculate your overall Amazon FBA fees, they also created an Amazon FBA calculator. Here, they will provide you with fulfillment costs while offering real-time cost comparisons between FBM and FBA. Start using the Amazon FBA calculator.
You can also check the full list of Amazon FBA fees.
2. Product Range
You may already have an idea that selling smaller items in FBA will get you bigger returns than selling larger items. Here is due to the many fees you will have to think of, as we've already discussed above. It is safe to say that there are only some types of products suited for FBA. Therefore, you may have to consider your product range when using it and when considering the Amazon FBA.
3. Workload
Seth mentioned how Amazon FBA took a lot of workload from him and his family. Indeed, fulfilling orders has never been easier with FBA. But that doesn't mean that it is a completely hands-off experience because there are a few things you need to do to keep the service as seamless as possible. Here are two simple tasks you will have to do before handing out your products to fulfillment centers:
Calculate the number of items you will be sending. Remember to keep the balance between your stocks and the storage fees.
Amazon has requirements you will have to meet before sending your merchandise out, including correct packaging. Make sure to meet them to avoid incurring fees.
4. Lower Shipping Rates
I may have gotten a little overexcited when I mentioned earlier that through FBA, you would benefit from free shipping. What does this mean? Well, Amazon Prime allows customers to receive free two-day shipping on all FBA orders, making your product very appealing to your customers. This gives you an edge over your competitors because, for customers, who wouldn't want free shipping offers?
5. Customer Support
I've probably mentioned this multiple times, but yes, FBA takes care of your customer support. If your customers have concerns or inquiries about your products, then the Amazon team will take care of it, taking the stress from you. Here's another thing that the team also takes care of: returns. We understand the importance of a return policy as sellers, but this doesn't mean it is appealing. That is because of the returns processing fee every time a customer returns an item. It's another stressful task that Amazon can take care of. They'll handle the reverse logistics and client engagement to determine return qualifications.
6. Inventory Space
Do you lack inventory space in your home or warehouse? Well, with over 100 warehouses, Amazon seems to never run out of space. However, in 2021, Amazon limits new sellers to store the products to 200 quantities maximum per ASIN. But you can request more limit after Amazon see your product selling well. You can see this on your Inventory Performance Index (IPI) on your seller account dashboard.
7. Quality Control
Here's one thing you should know about when Amazon sorts your merchandise. They don't sort it per seller but through barcodes. I may have already mentioned that a barcode will be added to your products in the fulfillment centers. Therefore, you will know if the team sent out your product instead of other similar items. These are called shipping mistakes, which you cannot avoid. Amazon receives thousands of orders and ships out the same number per day as a truly well-established company. Sadly, it's a mistake that can cost you your reputation, a negative review, or even a customer complaint. But don't worry!! You can always opt for virtual tracking to avoid this mistake.
8. Sales Tax Compliances and Accounting
We are finally on the last leg of this topic! As business owners, taxes and accounting are very crucial things in our business. It is truly important to keep track of everything. Here is why we use tools such as TaxJar or SimplyVAT if you are in European Market. You can connect an FBA account with this software. It will cover all the sales tax compliances and accounting based on your fulfillment centers located in different states.
Is Amazon FBA Too Late To Start Now?
Have you heard of Amazon FBA and wondered if it was too late to start doing it at this point? If you're wondering whether or not Amazon FBA is still a viable business for people to get into, the answer is yes! As long as there are products that people want to buy, Amazon will continue selling them and making money.
As long as there's demand for items online, Amazon has no problem selling them, which can be great news for you and anyone else who gets involved with Amazon FBA! There's no doubt about it: the chances of making money with an Amazon FBA business in 2021 are higher than ever before so learn more today!
Is Amazon FBA Too Saturated Now?
Some might say that there are too many people trying to make money with an Amazon FBA business right now and that you should wait until the dust settles before you try it yourself. However, as long as items continue selling on the site, it's a good idea to get involved as soon as possible.
Building your own business can take some time; we want to help shorten that time by offering different courses and tutorials for those who want to learn how to start making money online! There's never been a better time than today, so why not check out our website and see what we have in store for all of you?
Conclusion
So, is Amazon FBA worth it in 2021? Well, if you look at the factors above, will FBA generally benefit your business? Because in the end, it all depends on your business. There are free shipping offers that give you an edge over your competitors, unlimited storage space you can store your inventory, and a customer support center that takes care of the stressful task of customer engagement.
However, there are also multiple fees to think about, possible mistakes in product shipment since they don't sort products by the seller but by product type, and difficult accounting efforts since FBA is not connected to any accounting software. It doesn't fully eliminate all your tasks but creates new ones, ensuring that your FBA listed products are stocked well, shipped well, and received by satisfied customers.
In my opinion, is Amazon FBA worth it in 2021? YES. All you need to do is determine what products you think will generate more returns using FBA and start there. If you are still hesitant, you may even try it with a few products first to see whether it works for your business. It's a trial and error decision to let you know your online business's standpoint in using Amazon FBA.
Would you like to learn more about Amazon FBA? Join Amazon FBA Mastery by Just One Dime today! It's a 5-course program where you will learn basic to advanced techniques of multi-million dollar sellers. It will help you step by step to start your Amazon FBA business and answer any questions you have. Most importantly, it will help and guide you to build your Amazon FBA business successfully.
"Remember that the best time to start is a long time ago and the second-best time to start is right now."