One of the easiest and quickest ways to generate an extra income stream is by joining an Amazon affiliate marketing program known as Amazon Associates. Some successful affiliate marketers even generate six-figure income with this amazing platform. 
Being one of the largest affiliate marketing programs offers small business owners a great opportunity to earn a massive amount every month. Amazon associates programs also help content creators and bloggers to monetize the traffic on their websites. It is one of the easiest and fastest ways to create a stream of revenue stream.
If you want to earn from Amazon affiliate marketing, you have to sign up, receive approval, and place affiliate links on your site. Whenever a person makes an Amazon purchase through one of your links, you will get the commission. Million of the products and programs are available on Amazon associates, and they use easy link-building tools that direct their traffic and audience to their preferences and recommendations.
Below are some of the common steps and ways to how you can do affiliate marketing on Amazon.
How To Become an Amazon Affiliate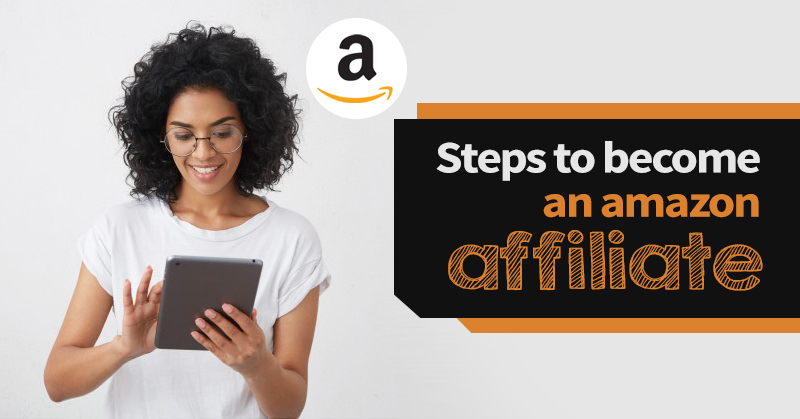 You need to sign up Amazon Associate to become an amazon affiliate by following the steps below before you can make money with Amazon Affiliate Marketing Program:
Create a website or a blog
Click sign-up by navigating to the Amazon Associates homepage.
Put your account information
Enter website address
Also, enter your preferred store ID
Explain that how you drive traffic to the site
Select your payment method
And now create Amazon Affiliate Links.
• Create a website or blog
The first thing for becoming an Affiliate on Amazon and before you do affiliate marketing on Amazon. You must have an active social platform, whether a blog, app, website, or Youtube channel. Your social platform must have content related to the products you want to promote by Amazon. And this content would be to the point that it will appear active and authentic to both users and Amazon. An important thing to remember is to describe your website's purpose or channel for the application process. To generate massive Amazon affiliate marketing earnings, you can start with a tech blog or do products review on Youtube. 
• Signing up to the Homepage of Amazon Associates
The next thing you need while becoming an Amazon Affiliate is your Amazon Associates Account. For this, you have to visit the Amazon Associates Homepage and click to sign up. From there, you can create your account or be promoted to the existing Amazon Account.
• Add your Account Information
Enter your account information, including name, address, phone number, email, etc., and basic and necessary information. 
• Put your Website Address
Mention your website address, mobile app, or Youtube channel. 
• Enter preferred store ID
Now go to the profile section and put your preferred store ID there. It is mostly the same as the name of your primary website. Your ID name must explain what your website wants to accomplish and then select your website's category from the list Amazon provides.
• Explain that how you drive traffic to the site
Tell that how you generate attention on your website and how you use it to generate your income. How you commonly build the links and what is estimated on your account every month. Also, explain what type of marketing you are using to generate the mess.
• Select your Payment Method
Enter your tax and payment information, including your credit card and tax ID information, in the bar now or later. Then proceed to the Amazon associates dashboard.
• Create Amazon Affiliate Links
After you have created your account, it will direct you to your Associate's homepage. Then you can find your performance dashboard here that includes your monthly summary, clicks, and earning overview. 
How to Create an Amazon Affiliate Link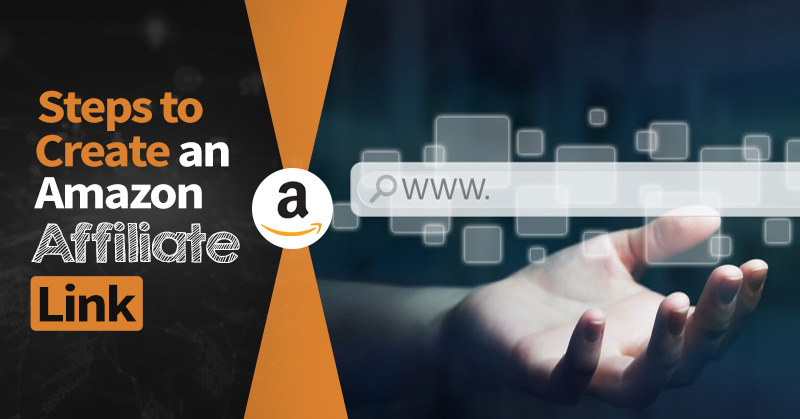 For creating an Amazon Affiliate Link of the products, you have to follow the following points.
Log in to your Amazon Affiliate Program Account
Click on product linking and choose product links
Add ASIN of the product
Click the GO button
Click the Get link button
Use the Amazon Associates site stripe to generate the links from the product page.
Now use the generated link on your site according to Amazon's Standard.
• Log in to your Amazon Affiliate Program Account
Sign up to your Amazon affiliate marketing program account; this ensures that your link is generated in a way that helps you promote your product with your account. 
• Click on product linking and choose product link
By clicking on the product linking in the top banner and then choosing product links, you will reach a page that will help and prompt you in creating your link.
• Enter the ASIN of your product
ASIN is an Amazon Standard Identification Number, which is a ten-character alpha-numeric code. This code is assigned to your product by Amazon for identification. This identification is for their product catalog. You can find this ASIN number of your product within the product information section of the Amazon product listing. But you have to grab it within another window for your ASIN number.
• Click the GO button
It will generate results by doing all the above procedures, and you are all ready to go. Make sure that the product which is intended is the one you want to promote.
• Click the Get link button
After this, you will get the link button on the right side. Click this button and copy your Amazon Affiliate Link to your Clipboard. Now you can use this link for the promotions of your product.
• Use the Amazon Associates site stripe to generate the links from the product page.
It is a simple and easy way to generate your Amazon Affiliate Link. It is done using the SiteStripe bar, which shows on product pages whenever you log in to your Amazon Panel. 
• Use the generated link on your site according to Amazon's Standard
Amazon only allows you to use links in online marketing. It strictly prohibited its usage in offline promotions, eBooks, email, and PDFs. For better marketing, quality content is very important. Also, make sure that you are attracting your audience and traffic with quality content. Share relevant links with them on Youtube Channel so that they never get distracted.
Amazon Affiliate Marketing Rules and Guidelines
Being an Amazon Affiliate Associate is the best way to make a good income from your brand or product. So that Amazon has guidelines and rules for their affiliates to follow. It is better to understand them before you get into this mess. Your ignorance or negligence will result in being banned from the Amazon program.
Below are some of the amazon affiliate marketing rules and guidelines:
Do not make false and wrong claims in your recommendations.
You must have to disclose on your site in the communication that you may be able to earn from your recommendations.
Never use Amazon Affiliate Link for offline promotions, eBooks, and email.
Avoid referring to the prices since they will frequently change.
Do not use link shorteners on Amazon Affiliate Link.
Some Further Steps to Make Money Through an Amazon Affiliate Marketing Site 
Learn Basic HTML
Pick up your NIche
Set up your Web Hosting
Select your Domain Name
Register your Domain Name
Install WordPress
Make it beautiful and attractive
Set up your categories
Log in as an Amazon Associate
Create your build a link Bookmark
Build up your first link
Blog your review
Build out your Affiliate site
Promote your Affiliate site.
Pros and Cons of Amazon Affiliate Marketing Program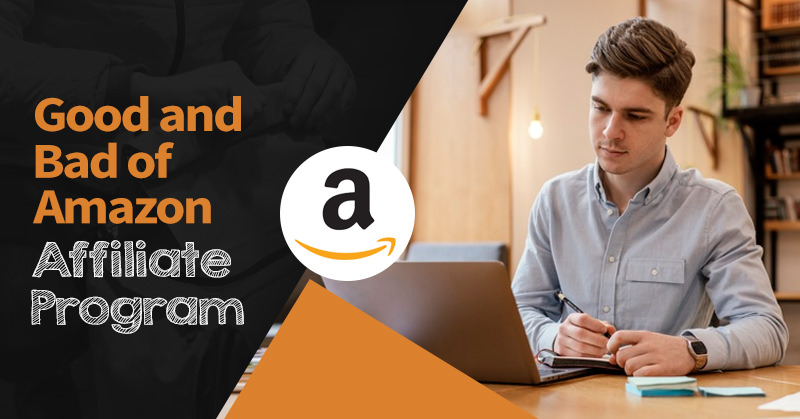 Some of the pros and cons of the Amazon Affiliate Marketing Program are below:
Pros:
Amazon is a mega-brand that is popular across the world. The Amazon affiliate program is the most wanted and renowned online business option and the eCommerce business.
Almost all goods are available
Amazon is the home of countless products, and it has everything you want to access. The huge size of amazon's market is a positive aspect of getting involved in it.
Amazon is a safe and reliable brand for both buyers and affiliates. And this is one of the greatest things people loved the most about Amazon. Also, they ensure your 100% privacy as a customer and keep all your information safe.
Cons:
As everything has a negative side, amazon associates also have some negative aspects. Some of the cons of it are given below:
The Affiliate commission of amazon starts from 4% and goes up to 10%, and that's all. However, other companies pay higher commission rates as compared to Amazon. 
Cookies last for only 24 Hours
Sometimes people who are visiting your blog would not buy instantly. For such people, Amazon will remember the cookie for 24 hours long, which is not long enough to compare with other affiliated companies.
Amazon doesn't allow PayPal to receive payments, and it can be a little annoying to get payments if Paypal is your only option. 
Conclusion
Well, I have discussed everything you need to know about how to do Amazon Affiliate Marketing. You can start with a Youtube channel by reviewing tech or any other products. Also, create a multi-niche blog and start writing reviews and guides. You need to know that the Amazon affiliate program commission rate is not fixed, and it depends on the type of product you are promoting. 
If you want to learn more about affiliate marketing, read my other blog, How to make money with Affiliate Marketing. If you are ready to start your online business with Affiliate Marketing or are already in it and still figuring it out, you can join the One Funnel Away Challenge. You can learn how to use the different types of affiliate marketing appropriately to get outstanding results. Most importantly, it will help you to build an online business that generates income through affiliate marketing.
"Whenever you want to achieve something, keep your eyes open, concentrate and make sure you know exactly what it is you want. No one can hit their target with their eyes closed."