Today, I will review the One Funnel Way Challenge 2021 (OFA Challenge). This blog will explain in detail and also will tell you what bonuses come with the challenge. It is one of the few online challenges that are knowledge-packed, and you get it for close to nothing. It is hard to find lessons that give you relevant and actionable information for $100.
Moreover, the challenge doesn't include any upsells. You can do the challenge and go on your merry way to implement everything that you learned. Isn't that great? The course aims to improve the success rate of marketers on Clickfunnels.
Anyone can join the challenge as long as they are willing to commit to the work necessary for the best results. It is a hands-on challenge that requires you to perform daily tasks. It would be best to follow through with the challenge to the end.
You can check the One Funnel Way Challenge here.
What is One Funnel Away Challenge
You are here because you want to know "what is the One Funnel Away Challenge?" The One Funnel Away Challenge 2021 is a 30-day challenge that teaches digital marketers to create effective funnels. It is a comprehensive course perfect for digital marketers, consultants, affiliate marketers, and business owners.
There are 30 challenges, and you need to spare about 30-60 minutes a day to complete the challenges. Each challenge is knowledge-packed and requires you to take action to complete it. You will learn how to create working funnels by doing small tasks daily towards building your sales funnel.
What Is a Sales Funnel?
Before we get to the technical parts of the One Funnel Away Challenge 2021 review, it is important to define a sales funnel. Sales funnel is a collection of pages that include all the steps potential customers take before purchasing.
A sales funnel has several steps, depending on the products that you are selling. The steps include awareness, interest, decision, and action (conversion). Many customers start at the top of the funnel, but few reach the bottom and become conversions.
Digital marketers must create amazing sales funnels and drive traffic to those funnels. Sales can make a difference between making several and hundreds of conversions. Building a converted sales funnel is a skill each digital marketer, online entrepreneur, and affiliate marketer needs to make a significant income.
One Funnel Away Challenge Review 2021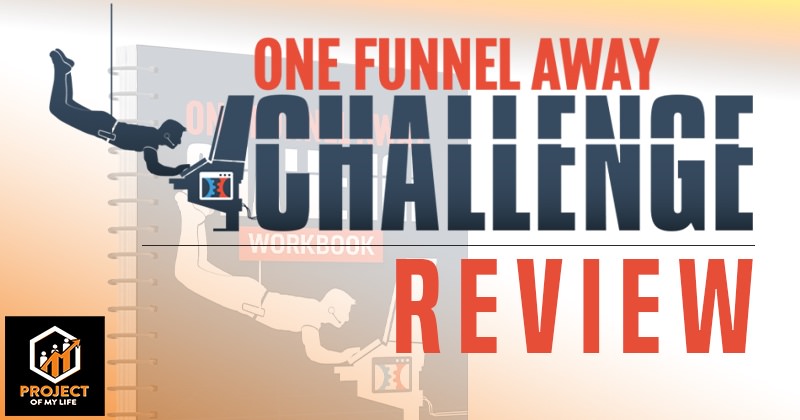 Russell Brunson is the brain behind the One Funnel Away Challenge, and he is the founder of ClickFunnels. His motivations came from watching many digital and affiliate marketers fail on ClickFunnels. He is an awesome affiliate marketer, and he has put his knowledge into the challenge to help both beginners and experts to create amazing sales funnels. Everyone can benefit from the challenge because Russell Brunson shows students how to build a funnel that works.
The motto of the challenge is "You are one funnel away from six figures." You can use your acquired funnel-building skills in your online business. Let's take an in-depth look at One Funnel Away Challenge 2021 and see how it can help you build a sustainable online business.
What is the One Funnel Away Challenge 2021 Version?
Let's review One Funnel Away Challenge. The original version was for 2020. The new challenge is for 2021, which is the 2.0 copy of it. Russel used the feedback he got from students to tweak the latest version accordingly.
Some parts that were difficult in the challenge were simplified for easy understanding. Other additional parts to the challenge meet the needs of different learners. Overall, the improvements have made the challenge better than the first version.
One Funnel Away Challenge Price Review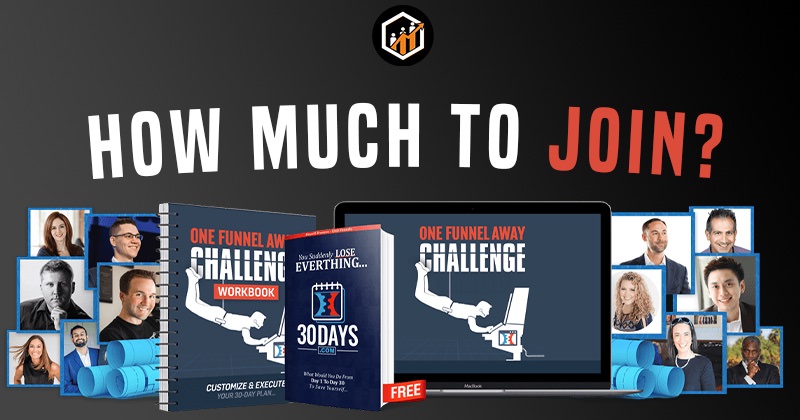 Next, let's review The One Funnel Away Challenge 2021 price. It only cost $100 to join. However, it will give you more knowledge about sales funnels than most $1,000 courses on sales funnels. You also receive bonus materials that are worth $97 or more. The price is small compared to the value marketers get from doing the challenge.
Is There a Catch?
There is a catch. All lessons focus on how to build sales funnels using ClickFunnels. There is nothing wrong with using ClickFunnels because it is the leading funnel builder. Russell Brunson wants to ensure that marketers use ClickFunnels, which is his business. You have to pay a subscription fee to use the funnel builder.
However, it doesn't mean that the knowledge you gain from the challenge is worthless. Taking the challenge will significantly increase your email list and your conversion rates. Besides, you can use the sales funnel of your choice if you don't like ClickFunnels.
You should use ClickFunnels for the challenge if you want the best results. Also, it will be easier for you to understand the 30-day lessons when you use ClickFunnles as your sales funnel builder. Overall, you will be able to create an excellent sales funnel after the 30-day challenge, and you can transfer the skills to a sales funnel of your liking.
How Do I Join the One Funnel Away Challenge 2021?
After you read the One Funnel Away Challenge reviews above, do you want to know how to join the challenge? The next class as of the time of this blog is 19th April 2021. Classes start every two weeks, and registration is open to the public until the class is full. You have to check their website to see when the next class is.
Moreover, you have to register immediately because many people are waiting to join the challenge. Registration is $100, and you will have access to all learning materials upon successful registration. Classes are small so that the couches can focus on ensuring each student gets attention during the challenge.
The aim is to help anyone build a 6-7 figure online business from scratch. Therefore, learners have to get quality attention to ensure they understand the concept shared in the challenge. Also, Brunson likes to be hands-on to educate marketers on building an amazing sales funnel.
What Will You Learn From the Challenge?
Let's review what you will learn from The One Funnel Away Challenge. It is broken into five parts that you will learn from weeks 1-5. You can learn everything you need to know to build a sales funnel. The course assumes everyone is starting without any knowledge of sales funnels.
However, it doesn't mean only beginners can learn something from the challenge. Even experts can learn a few tricks and tips on how to improve their sales funnel. People who profit are the ones who know about traffic and products but don't know how to monetize their websites.
The best part of the lessons is that they don't focus on selling a single product. Therefore, you can learn how to create a funnel suitable for your business or products. It is suitable for all businesses, products, and services.
Week 1: Belief
The first week breaks the belief that it is hard to make 6-7 figures online. You will hear many stories that will change your perception about selling online. It turns out many people struggle to make money online because of misinformation. As an affiliate marketer, it is essential to focus on the positive to make a difference in your business.
Stephen does an excellent job in preparing students for what is to come next. You will believe that you can be a successful affiliate marketer by the end of the week. You will believe that you can influence your audience to buy high-ticket items without pressuring them.
The following modules are part of week one training:
You must believe
Failure
Who, not how
10x secrets
Beliefs
Catch up day
Mission review
You will be ready to put in the hard work for the rest of the challenge after completing the first week. Also, you will be able to decide whether the challenge is adding value to you or not. Most students are eager to see the contents of the remainder of the challenge after the first week.
Week 2: Hook, Story, or Offer
The focus of the second week is on making an attractive offer to your audience. You will understand how to create an offer that will keep your audience interested. Stephen explores what makes a good offer and gives hacks on creating offers.
Russell and Stephen share personal experiences to help you learn from them. You will realize new facts about customers. The coach breaks down all the offer elements to help you understand the building blocks of fantastic offers.
There is an emphasis on building an online presence through writing until you get notices. Authority sites tend to get a lot of organic traffic per month, which converts into sales fast. A strong online presence means that internet users who land on your website are willing to buy what you are promoting.
The second week includes the following modules.
Offer hacks
Greatest showman
Offer sequencing
eCovers and offer assets
Create
Catch up day
Mission review
You will understand what an offer is, offer assets, and create a catchy offer by the end of the second week. Remember that a good offer will significantly improve the odds of converting potential customers when it is part of your sales funnel.
Week 3: Your Hooks and Stories
Storytelling is the easiest way to connect with your audience if you want to convert them into sales. The best kinds of stories are personal stories that involve a product or a service. That is the reason why marketers are encouraged to use products before promoting them. Telling a story from a first-person perspective has a huge impact on potential customers.
You will learn how to create stories that will convince customers of the value of the products or services you are promoting. Russell Brunson takes you through the steps of becoming a world-class storyteller to create a connection with customers.
Brunson tells a story he hired a Hollywood movie scriptwriter, Michael Hauge, to one of his events. He learned a lot about how to tell your story to your audience. You will tell your story in a way that captivates your audience to learn more about a product or service.
The module for the third week includes:
Publishing
Epiphany bridge
Your origin story
Hooks, hooks, & more hooks
Catch up day
Catch up day
Mission review
You will work on your writing and learn how to write a story that will drive sales. It won't matter whether you have writing skills or not. You will create a copy that will increase the rates of conversions for your sales funnel.
Week 4: The Funnel
Everything you learn from weeks 1-3 will come in handy on the fourth week when you attempt to create a sales funnel. It is why everyone signs up for the challenge, and Russell Brunson ensures that everyone understands each step. You will use the ClickFunnels shared funnel that you get when you enroll for the One Funnel Away Challenge.
Shared funnels are sales funnels that are sharable among ClickFunnel users. You can customize the funnel to fit your needs and audience. Since Brunson is an expert in sales funnels, you will learn the best way to customize your funnel for maximum results.
You will get a step-by-step guide by Russell Brunson on how to customize the sales funnel. You can customize it to suit a product you are selling or promoting at the time of the challenge. Therefore, you can make a working funnel before you complete the 30-day challenge.
The module for the fourth week includes:
Core funnel strategy
Your share funnel
Squeeze page
Sales page
OTO page
Catch up day
Mission review
Week 5: Make It Rain
The final week is about directing traffic to your sales funnel and making money. Traffic is an essential part of a funnel. Even the best sales funnels will be useless if there is no traffic heading towards them. You will learn how to drive the right traffic to your funnel that will likely purchase what you are promoting.
You will learn powerful secrets about traffic and making many sales because of tapping into the right traffic. Also, you will implement Brunson's strategy to convert customers and make money online from your sales funnel.
You will have a different mindset by the end of the week. The challenge will change how you approach your online business. In the end, you will believe that it is possible to make 6-7 figures online from the $100 challenge.
The module for the fifth week includes:
Three types of traffic
Earn your way in
Buy your way in
Funnel audibles
Mission review
Mission debrief
You will learn how to build a successful online business using sales funnels for $100. Moreover, you will have a good understanding of what you should do in each step of the sales funnels.
One Funnel Away Challenge Bonus Review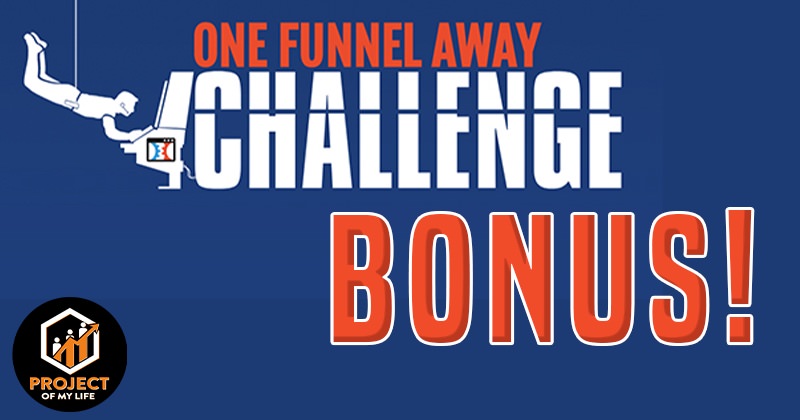 Several bonuses are part of the One Funnel Way Challenge 2021. You will get the bonuses when you enroll for the challenge with $100. Otherwise, you would have to spend $97 or more on the materials. You will learn some of the best-kept secrets about sales funnels from the bonus materials. The whole package would cost $3,126, but you will get everything for $100. Isn't that an amazing deal?
#1: The One Funnel Way Challenge Workbook – Worth $97
The workbook is a breakdown of all activities that take place under each module. You can take notes as you do the challenge on your workbook. It includes a 30-day plan that is easy to follow and execute after your coursework. Since it is part of the challenge, you will save $97 that you would have spent if you didn't sign up for the challenge.
#2: The 30-Day Hardcover Book – Worth $97
The 550-page book describes 30-day plans for industry experts on building a sales funnel from day one up until day thirty. You can adapt the ideas that are in the book and implement them in your sales funnel. Above all, the plans are viable for beginners or marketers who are not making 6-7 figures.
Content from the book comes from a question Russell Brunson asked 30 ClickFunnel experts. He asked each to provide a detailed 30-day plan if they lost everything except the internet and marketing know-how.
They had 30 days to build a sales funnel that would help them pay bills. Each one doesn't have money, a huge following, a subscription or email list, or fame in the scenario. The question evens the playfield, and the plans are actionable for anyone without a list or deep pockets. Overall, you get valuable information that isn't available for free on the internet. The book could easily cost $1,000 because it shares 30 step-by-step plans to build working sales funnels.
#3: MP3 Player | Live Recordings – Worth $297
There are 51 recordings that you can listen to and learn amazing secrets from Russell Brunson. All recordings total 40+ hours of training that you can listen to from anywhere with the MP3 player. They complement the 30-day-challenge, and there are some additional Live coaching recordings from the 2020 challenge.
#4: 14-Day ClickFunnels Free Trial
The free trial on ClickFunnels helps new users to determine whether the platform is useful to them before paying the membership fee. The One Funnel Way Challenge works well with ClickFunnels because it is tailored to building converting sales funnels on the platform.
ClickFunnels is the best funnel builder in the market and a useful tool for promoting your products or services. Also, the platform has pre-built funnels for any industry or niche you can think about. Overall, it is a convenient platform for entrepreneurs and marketers.
#5: Unlimited Access to 30-Day Interviews – Worth $197
You can listen to ClickFunnel user success stories during your One Funnel Way Challenge and see how sales funnels can transform your income earning capacity. Some of the interviews are with interview experts, while others are with normal people struggling to make money online. Overall, you will be willing to give the challenge 100% of your efforts when you see how others have benefited from it.
#6: Behind the Scenes Two Comma Club Interviews – $197
The Two Comma Club members are people who have made over one million dollars using ClickFunnels sales funnels. The members discuss their tactics and strategies and provide valuable tips on creating and converting sales funnels. Their stories will give you valuable insight that can help you replicate their success.
#7: 30 Day Video Missions From Russell Brunson – Worth $997
Daily missions describe your challenge for the day and the steps to achieve the mission's goal. It adds a personal touch to the challenge, and you get nuggets of wisdom every day from an expert.
#8: 30 Days Coaching From Stephen Larsen and Julie Stoian – Worth $997
Stephen answers any questions that you may have during the 30-days challenge. Julie helps you make your vision a reality. You will be working for renowned coaches for a small fraction of what they charge for consultation. It is a great deal all around to work with gurus for 30 days.
One Funnel Away Challenge Refund Review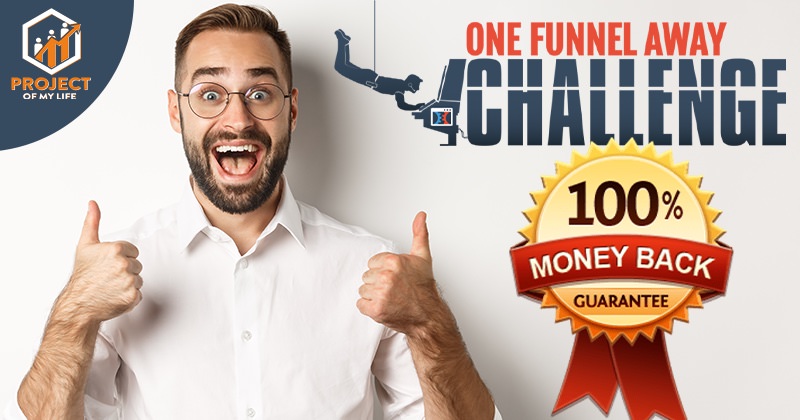 There is a money-back guarantee if you feel that the challenge isn't suitable for you. Brunson makes it clear on the website that not everyone will benefit from the challenge. Some guys feel that it is a waste of money, and they get a full refund. You should ask for a refund within 30 days of the challenge.
How Do You Promote One Funnel Away Challenge?
After you review the One Funnel Away Challenge, and if you like it, you can also promote the challenge. There is an affiliate program for it that will pay affiliates $100 for every referral. It means that the $100 that a referral person pays to join the challenge, the money goes into the pocket of an affiliate marketer.
So, Russell Brunson makes no profit from the challenge when you refer someone. He gives away valuable information on building converting sales funnels for almost nothing.
FAQs
1. Who Should Participate in the Challenge?
There are several kinds of people who can benefit from the challenge. Determine what you want from the challenge to determine whether it is suitable for you. You should join the challenge if you want the following:
The skills to grow your online business.
Increase the income of a successful online business.
Work with experts with regards to building converting sales funnels for your business.
Reach more people.
You want a funnel, but you don't know where to start
Launch a successful sales funnel.
2. Who Shouldn't Participate in the challenge?
The One Funnel Way Challenge website is clear that the challenge is not suitable for everyone. There is a money-back guarantee for anyone who isn't into the challenge after starting. Overall, the challenge isn't for anyone who isn't willing to take action. There are daily missions that require you to do several activities. You will get homework to improve on the skills that you learn. If you don't intend to apply what you learn from the challenge to your business, you shouldn't participate in the challenge.
3. Do I Need My Products to Join the Challenge?
You don't need to have the goods to join the challenge. You can choose to promote affiliate products from others during the challenge. It's designed for both entrepreneurs and marketers who work solely through affiliate programs. Therefore, you can use knowledge from the challenge to grow your affiliate marketing business.
4. How Long Until I Start Seeing Returns?
The One Funnel Way Challenge isn't a miracle money-making scheme. You will need to put in the work to grow your business before you see results. How soon you will see results will depend on how well you build a funnel. Build your funnels until they can do high volumes of conversions. You can make thousands of dollars a day with the right sales funnel. After that, you will see better results as you keep on practicing your funnel-building skills.
5. Will I Make 6-Figures Immediately?
No. The One Funnel Way Challenge isn't a get-rich-quick scheme. Some people may make six-figure incomes immediately after the challenge. Most of them will be successful marketers who want to use funnels to move from five-figure incomes. Beginners need to be patient and practice the lessons from the challenge until they see their desired results. However, you will have better odds of making a decent income immediately after the challenge with the help of fantastic sales funnels.
6. Who Are The Coaches For the Challenge?
The challenge has three coaches, namely Russell Brunson, Stephen Larsen, and Julie Stoian. Russell Brunson is the challenge teacher, and you will get many insights on how to build converting funnels. He is an expert in the field and the co-founder of ClickFunnels. He charges $25,000 for his masterclasses, so you know you will get actionable tips and strategies.
Stephen Larsen is the executioner, and he will motivate you to complete the daily missions. Larsen is the one who does the coaching for the program and offers guidance to students whenever necessary. Julie Stoian is a transformer, and she helps business people utilize digital marketing and funnels to grow a business. She will show you how to take your business from now to where you want it to go.
Overall, each coach is a two comma award-winning digital marketer and content creator. You will be dealing with experts who know what they are talking about. Above all, you will be getting relevant information to help you make money from your online business.
7. Is the One Funnel Away Challenge Worth It?
Yes, it is worth it. You will be getting relevant information worth thousands of dollars for $100. Moreover, you will be working with leading experts in digital marketing and sales funnel. Every step of the challenge aims to transform your business and help you generate more income. Therefore, you will know what you should do to get from low-income strategies to high-income strategies.
Conclusion
I have described what One Funnel Away Challenge is and reviewed many aspects of it. Such as the benefits, pricing, bonuses, and how to join. It is an event where you can learn and compete with other marketers to see who can drive the most traffic to their store, website, or blog through one funnel.
A sales funnel an essential tool for an affiliate marketer because it converts traffic into sales. However, a funnel is one aspect of affiliate marketing and not the complete package. You still need to find the best affiliate marketing course to learn other affiliate marketing tools. You will learn a skillset in affiliate marketing courses that will speed up building your business.
Join the One Funnel Way Challenge with all the bonuses with this special link here. The bonus materials will help you set up fantastic funnels after the challenge.
"Believing in yourself is the first secret to success."