Do you leverage Facebook for your affiliate marketing business? Think about it, that almost every adult you know has a Facebook account. With over 2.8 billion monthly active users, Facebook is arguably the most popular among social media giants. For online marketers, this platform can be a gold mine if used right. But you need to know the Facebook rules before you do it, especially when you do Facebook ads.
If you are into affiliate marketing or have been interested in affiliate marketing, Facebook can be your breakthrough. That's why I prepared this guide for you to learn more about Facebook affiliate marketing and the strategies you can use to run successful affiliate marketing campaigns. Before I get into the details of Facebook affiliate marketing strategies, let's first discuss one crucial step in this journey — choosing the right niche to focus on.
How to Find Your Niche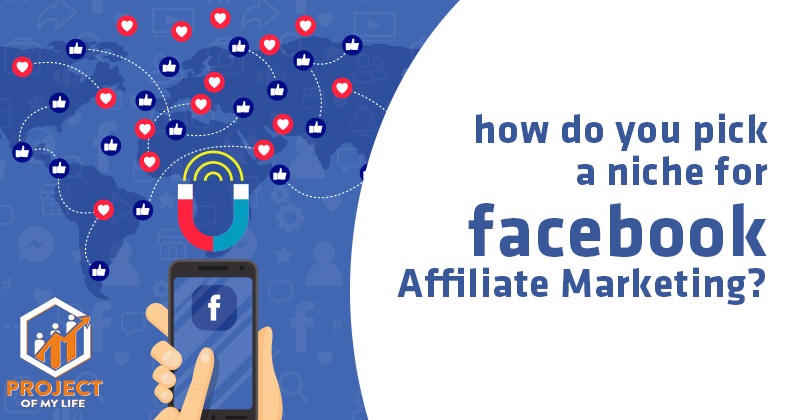 There are tons of affiliate marketing niches available, but what matters more is what suits you best and how much profit you can achieve.
Of course, a niche can be profitable but boring to you. In case you go with the wrong niche, you will have a hard time working with it. That said, pick a niche you like, and you will always be motivated to create more content for it and promote more products.
Still don't have a niche in mind or need a new one? Read these tips to know how you can choose the right niche;
• Let your passion guide you
You have heard people say, "Do what you love, and you won't have to work any day in your life." That applies to affiliate marketing too. It is important to understand that affiliate marketing is a long-term project, and thus you must work in a niche you have an interest in.
By picking a niche, you have an interest in or one you are knowledgeable about, and then you can easily create exciting content for it and promote products.
• Look for a niche you are knowledgeable in
Many people jump into the affiliate marketing train because they have seen images of people enjoying their time due to successful affiliate marketing campaigns or read stories of people making a living out of affiliate marketing.
However, here is the secret you don't know- it is true that affiliate marketing can help you make good money, especially if you do it right. But many people end up spending a lot of time doing it wrong. The secret is in how you make yourself stand out and bring out the benefits of a product.
A mistake most affiliate marketers make is hard selling. Being too salesy is more likely to scare off buyers. Instead, show them the benefits they will derive from the product you are promoting. You'd be surprised at how sales skyrocket once you touch a buyers' pain point and encourage them to try your solution.
However, you need to understand the niche and create engaging content that highlights your products' benefits.
• Commissions
Yes, I said money should not guide you into choosing a niche, but the fact is that I am doing affiliate marketing to earn good money. That's why you need to be in a niche where you can promote digital products or software that generate recurring commissions or high commissions.
TIP- In addition to the above pointers, you also need to pick a niche with plenty of products to promote. A niche with a wide scope of products to promote will be more profitable and easier to create content. And not just that- the niche has to have products that sell. You don't want to be in a niche whose products move at a slow pace.
I have discussed how to find your niche. Now, let's get to the topic – the Facebook affiliate program makes money online. And I will start with how to promote your affiliate links on Facebook.
Facebook Affiliate Marketing Strategies to Promote Your Affiliate Links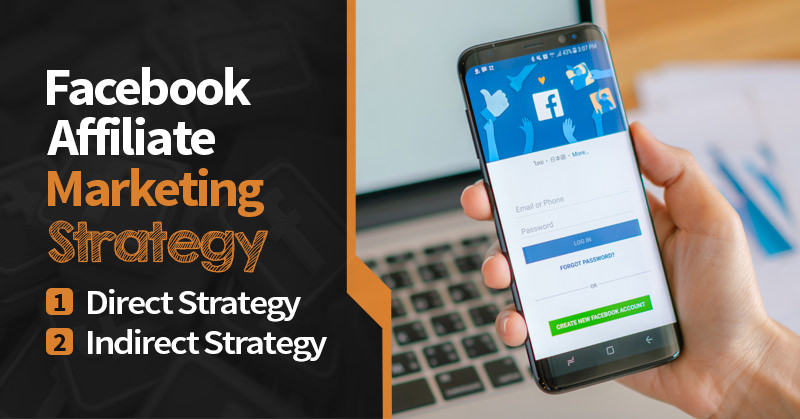 The direct affiliate marketing approach involves promoting affiliate products and services in your Facebook post. For instance, creating a Facebook post about the best vacuum cleaners on Amazon and including affiliate links of the products from Amazon.com. That means a user who clicks on the link will be taken straight to Amazon.
On the other hand, the Indirect affiliate marketing approach aims at directing traffic to a site where affiliate links are present. For instance, you can do a Facebook post "mistakes to avoid when choosing a vacuum cleaner" and include a link to your website (where there are affiliate links) telling people you have covered more on the subject. Your Facebook post will not contain affiliate links instead of your website link, but it will increase your affiliate marketing website traffic.
Well, both these approaches have their benefits and downsides. For instance, the direct approach can help you get quick commissions, especially when promoting pay-per-lead products and free trials, but you can look spammy and risk getting on the wrong side of Facebook terms and conditions. Similarly, some affiliate marketing platforms, such as Amazon, discourage these kinds of promotions.
On the other hand, the indirect approach, although lengthy, tends to work better as you first create some trust by posting informative posts before sending people to a website with affiliate links. People tend to click on the shared link and end up buying. Remember what I said about hard selling? People like it when you promote indirectly to them; hard selling pisses people off.
1. Direct Facebook Affiliate Marketing Strategy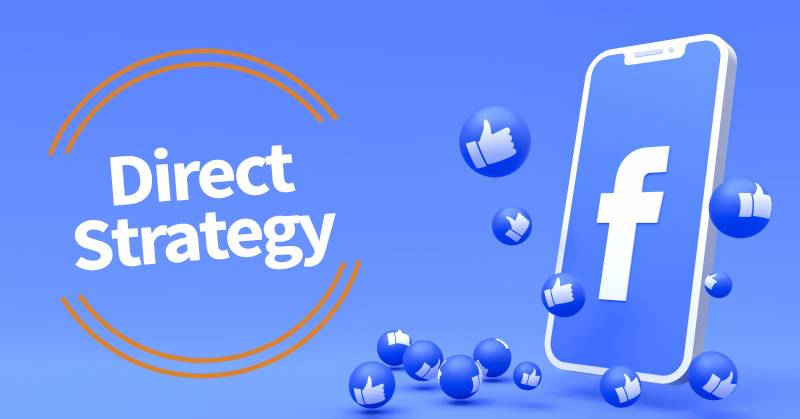 Promoting your affiliate links on your Facebook post (the direct approach) whereby traffic is directly sent to a sales page may seem the easier option. But I do not recommend it. Whether you are promoting links on your Facebook group, Facebook profile, or Facebook page, or through paid ads, this is not a good way of doing Facebook affiliate marketing. Virtually no one will read your post and click on the link you've shared and buy a $999 course.
However, if your post is interesting and sends people to a website that tells people more about the benefits or content of a course or product, people are much more likely to click through to the landing page and buy the course. That's why I recommend that you take the indirect approach.
So, now that I have convinced you to take the indirect approach, let's discuss how you can promote links to your affiliate website on Facebook.
2. Indirect Facebook Affiliate Marketing Strategy (Recommended)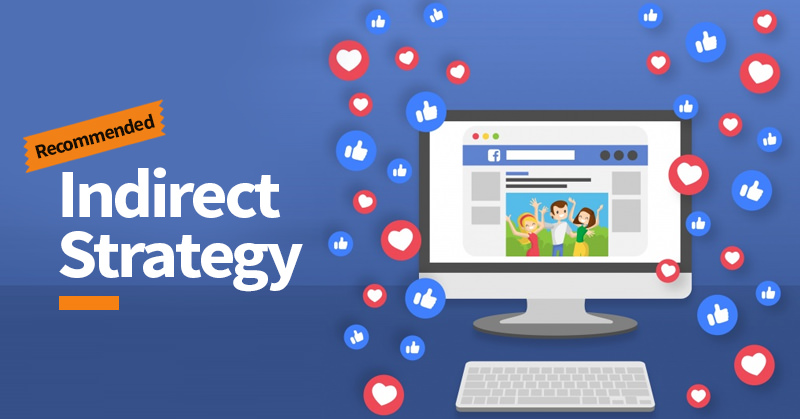 There are different ways of promoting affiliate links on Facebook, but virtually all of them have one thing in common- you need to build an audience first and gain their trust. If you don't want to spend money on paid ads, you need to build a loyal audience base and earn their trust. How do you do this- you need to publish posts that add value to people's lives before promoting anything.
For instance, you build an audience of 8-5 people who want to make their lives easier. You will be in a better place to promote products that make their lives easier, such as slow cookers, vacuum cleaners, and much more. But you have to start by giving them free advice on things that can help simplify their life. This way, you will gain their trust. Having won their hearts, you can even pull direct promotions once in a while, as people will believe your recommendations. Let's discuss some of the ways you can promote affiliate links.
a) Through a Facebook Page
You will primarily benefit from a Facebook page if you have a website. A Facebook page allows you to share the latest content on your website with your audience. You can send your Facebook audience to your content that includes affiliate links or even directly send them to a sales page if you have established some level of trust. I do not recommend creating a Facebook page to do affiliate marketing if you do not have a website.
Of course, there are few exceptions to this. For example, that some niche pages gain more followers and work better than Facebook groups. For instance, if you focus on the cat or dog niche, a Facebook page will do well as many people follow cat/dog pages simply because they want to see these pets' pictures and videos. Keep in mind that such a page may not have a good conversion rate.
TIP: If you are unsure whether or not to create a Facebook page or group, search for similar existing pages on Facebook to see a generic page with a bigger following. If there is, then you too can give it a try. So, how do you grow your page following? Here are some strategies you can use to grow your page audience:
• Add your page name to your personal profile
By adding your page name to your profile in the Work and Education section, anyone who views your profile will also see your page name. And whenever they hover a mouse over the page name, they will see a mini image of your page cover photo, and they can choose to like the page.
• Invite your friends to like the page
Facebook allows you to invite your friends to like your page. Go to your page and ensure click on Build Audience, then Invite Friends. It will present you with a search box and a list of your friends. Select people to whom you want to send an invitation link.
• Invite via email
If you have an email list, you can request your subscribers to like your page. You can also go to your page and choose to use your page as yourself. Click Build Audience, then choose to Import Contacts. It will send an invitation to your contacts.
• Use paid ads
You can also promote your page via paid ads. Paid ads offer a powerful strategy for promoting your page to people who are not your friends. Ads will put your page in the eyes of your potential audience. As long as you have used engaging, relevant content on your ads, people will definitely like your page.
And to make sure you get the best out of your page, here are some useful tips;
• Make sure to add a call-to-action button to it
How do you direct your page followers to traffic for your site? It is by adding a call-to-action button on your Facebook page. The call-to-action button on your page should entice your audience to click on your website link to learn more about the subject you cover. You can also choose to add your audience to an email list where you promote affiliate offers. The point is, add a call-to-action button that entices your audience to visit your affiliate website or sales page.
• Ensure your page has a cover photo, page picture, and custom URL
Your page's profile picture and cover photo are the first elements visitors see when they come to your page. Therefore, make them eye-catchy. You can opt to use Canva (free) or any other tool to create a good page picture and cover photo or even hire a designer. 
Another thing is to have a customized URL for your page. Remember that your page URL tells people what your page is all about. Your brand name (website name) should be in that URL so that people know where they are being redirected to.
• Post content that is personal and interesting
To build trust, you have to personify your page and brand, and the only way you can do this is to speak directly to your audience- use I, you, me, etc.
Also, keep your content interesting. You can post videos, GIFs, pictures, and text content that not only add value to your audience but also sparks engagement.
Another way of keeping your page engaging is by holding contests, asking open-minded questions, and asking people for their opinion. This way, your page will grow its audience, and you will gain people's trust.
The above tips will help you get a larger audience for your page and better conversion.
b) Through Facebook Affiliate Marketing Groups
The secret to using this strategy is to find groups that relate to your niche. For instance, if you promote a ClickBank product on dieting and weight loss, you will need to find groups that talk about weight loss and dieting. You will find tens of groups relating to dieting, and here, you can find potential buyers for your affiliate programs.
Suppose I go by my example to promote a product that shares diets for weight loss. You can write an article related to diet. For instance, you can write on the benefits of detoxing for weight loss. Then share a link to your website where you have reviewed a weight loss program that bases its way of detoxing the body.
Many Facebook groups allow one to post links to blog articles. You have a better chance of convincing them to buy the weight loss product you are recommending in your blog article.
If you have an email opt-in on your website and your Facebook audience comes to your website, you have a better chance of getting them to join your list where you promote more products. You can give a freebie (for signups) that relates to the products you are promoting. Make sure the opt-in call-to-action button appears somewhere in the middle of your article and at the end of your article.
I recommend that you have a website if you want to benefit maximally from your affiliate marketing efforts on Facebook. But if you still want to promote your offers directly, create your own Facebook and pin your post with a direct link to a sales page on your group, which brings us to point #3.
c) Through Your Own Facebook Affiliate Marketing Group
If you don't want to create an affiliate marketing website, you can create your own group. Facebook affiliate marketing groups allow one to publish posts with affiliate links. Make sure you choose the right niche, as this is the first step to creating a successful Facebook group. You don't want to create a generic group as it will not yield the results you wanted. You want to be sure that your audience will relate to the posts you publish. Understand your audience's demographics to ensure that you are promoting the right products and services to them at the right time.
You can start a Facebook with a few friends who trust you and your opinion and grow from there. Would you mind encouraging them to share your group and invite more people to join your group? To grow your audience fast and make the group valuable, don't just publish promotional posts. It will make you come off as spammy- mix up with informative posts and entertaining videos relating to your niche. 
When people visit your group and see you publish valuable content, they are more likely to trust your recommendations. The good thing with creating your own group is that you can promote affiliate offers whichever way you see fit without risking violating Facebook's terms and conditions, but make sure you read them.
d) Through Facebook Ads
Running Facebook ads is another good approach you can use to promote your affiliate links and affiliate posts. The good thing about running Facebook ads is that you don't have to build an audience on Facebook. You can run ads targeting different audiences based on interests, behaviors, demographics, etc.
If you are promoting weight loss programs, you can show your ads solely to women who have expressed an interest in weight loss products. However, despite looking easy, setting up a successful Facebook ads campaign calls for a strategy, from choosing visuals to adding to your ad copy. You need to consider all these if you want to have a positive ROI for your ads.
You can run ClickBank Facebook ads or ads for other affiliate platforms. Facebook allows you to use affiliate links in ads, but you need to confirm that your promotion is not a scam. Also, you should check with your affiliate program to know if it allows the promotion of their links via Facebook ads or affiliate marketing with Facebook ads. For instance, Amazon Associates Program forbids the promotion of Amazon affiliate links on Facebook.
If you don't have a page, group, or website to promote your links, Facebook ads give you a good option to start with a Facebook affiliate program. However, I will insist that creating a website, or at least a landing page with a conversion-focused opt-in form, is a great option. After all, why pay for traffic all the time when you can build an email list that will provide free traffic for you in the future? Think big, think about the future as you work on earning money in the present.
Facebook Affiliate Marketing Rules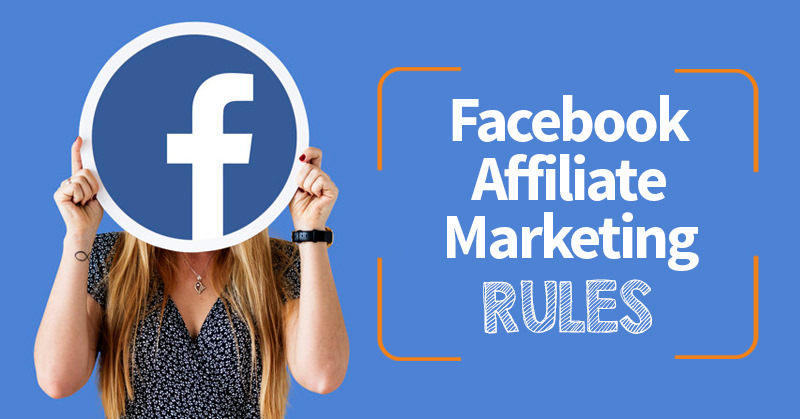 Facebook has set advertising guidelines and rules you need to comply with. Just like Google, Facebook affiliate marketing rules are to prioritizes user experience. It means that your ads will be penalized if they send people to shady landing pages with scam products. To avoid violating Facebook affiliate marketing rules and guidelines, do not make bold promises in your ads, as this will get your ads rejected. For example, if you use titles like "Buy this weight loss program and lose 30 pounds in 1 week," the chances of your ads getting rejected or your profile or page getting banned are high.
Per Federal Trade Commission law, Facebook recommends that an advertiser give full disclosure in posts with affiliate links. It should disclose to your target audience that you are earning an affiliate commission from your posts.
Some affiliate platforms like Amazon don't allow affiliates to promote with Facebook ads. You can only do Facebook posts. If you do this and get caught, you risk getting banned from the Amazon affiliate program. If you want to promote Amazon affiliate links on Facebook, the only way to do it is by creating a blog post containing your affiliate links and adding it to your Facebook ads.
Clickbank does not allow one to advertise their links on Facebook ads or even add them to post. So, how can you go around this? People used to cloak links with Bit.ly in the past, but Facebook started to mark links from this site as abusive and unsafe. The only way to promote ClickBank affiliate links on Facebook is by creating a post that links to a blog post with your ClickBank affiliate links.
Pros and Cons to Do Facebook Affiliate Marketing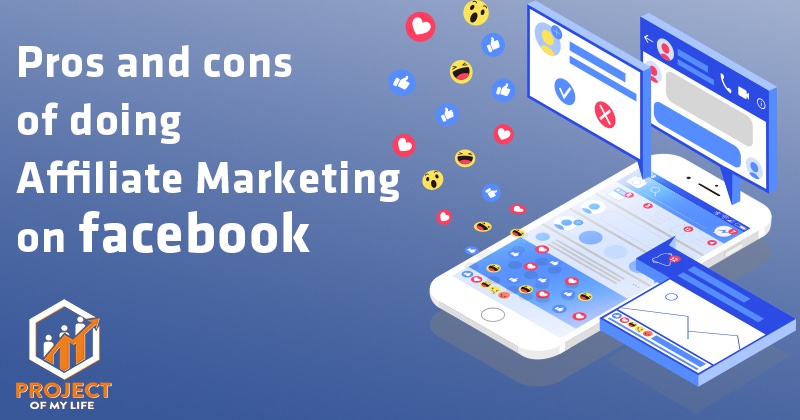 Here are the advantages and disadvantages of using Facebook for your affiliate marketing;
Pros
There are low barriers to entry as anyone can create a Facebook group or page and get an audience

You can leverage traffic from existing groups or pages to build your audience or get traffic to your affiliate marketing website

You can earn money without having to set up a website, which means low cost. However, I do recommend that you set up a website where you send traffic you generate from your pages and ads

You get access to billions of active users, and this gives you ready traffic
Cons
If you don't have a website, you have to use paid ads or create your own group

Generating profits without a website is very difficult

Terms of Service keeps getting updated, and you have to keep up or risk tanking your business
Conclusion
So is it possible to succeed in doing affiliate marketing on Facebook? Well, yes, but it depends on the Facebook affiliate marketing strategies you put in place. Throughout this Facebook affiliate marketing 2021 guide, I have insisted that you create an affiliate marketing website to send traffic from your social media marketing. This way, you will build a brand and increase your chances of converting a Facebook audience to a buyer. Many affiliates marketing Facebook page examples prove that one can make money doing Facebook affiliate marketing. You can do it too with good guidance.
If you are a beginner who wants to learn more about affiliate marketing, read my other blog How to make money with Affiliate Marketing. If you are ready to start your online business with Affiliate Marketing or if you already in the business and still figuring it out, you can join the One Funnel Away Challenge. You can learn how to use the different types of affiliate marketing appropriately to get outstanding results. Most importantly, it will help you to build an online business that generates income through affiliate marketing. 
"If you do what you always did, you will get what you always got."