Are you looking for different types of affiliate commissions that are offered in most affiliate programs? If yes, you are at the right place, as I will explain the one-time and recurring affiliate commission. Also, you will know the best affiliate programs and their paying model. So that you know how you can get passive income from your affiliate commission.
The idea of earning a passive income every month sounds dreamy. Imagine having the financial freedom to enjoy a leisurely lifestyle or traveling once or twice every year. Well, it sounds like a dream, but it doesn't have to be. You can land yourself in a spot where you can earn handsome affiliate commissions even without working. But it is not as easy as it sounds. You have to spend months setting up your Affiliate Marketing business. But, people often tend to ignore the hassle affiliate marketing can bring at the initial stages.
Well, nothing in this world is free. It takes years of hard work and commitment to be financially independent and earn decent money from Affiliate Marketing. You may need to spend months or at least 2-3 years to nourish your online business. Again, patience is the key in the Affiliate marketing business. Many people start an Affiliate marketing business, and they have a get-quick-rich scheme in mind. But that's not how it works.
What Is Affiliate Commission
The easiest way to define affiliate commission is as it sounds. It is a marketing process that enables affiliates to earn a certain commission or get paid after making sales from promoting other company products or services. In most cases, through a unique affiliate link provided by the merchant or company. Where and how can you promote the products using your affiliate links?
I can tell from my years of experience that it has hurdles and stones, but nobody can stop you from being successful if you survive through these hurdles. The model of Affiliate Marketing and digital marketing are almost the same as both works on finding and targeting the right audience to increase sales. Affiliate marketing is all about sharing and selling other brands' products to get affiliate commission in return. To start earning Affiliate Marketing passive income, you need to work efficiently and passionately. 
Most of the successful affiliate marketers are selling services/products and earning great commissions in return. The best way to promote affiliate offers are websites, youtube channels, or social media profiles. Well, you can choose any of these platforms to earn decent money. Just be smart to choose your Affiliate offers and programs before getting started.
Affiliate Commission Type:
Generally, there are two types of affiliate commission which are:
1- One Time Commission
2- Recurring Commission
One-Time Affiliate Commission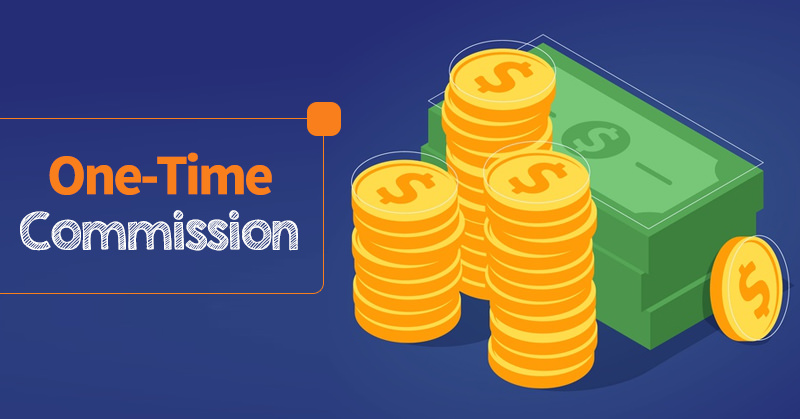 It is an affiliate commission where usually you get a one-time payment of the sales from your link. When you get more clicks on your affiliate links, you will get a one-time commission per customer. The higher the clicks on your link, the higher the commission rate is. To earn a good commission, your customers must purchase your promoted products from a digital platform. And for this, you have to promote relevant and useful products that suit the needs of consumers. 
As the affiliate marketing links and programs work along with a referral URL link, so you can get a commission from the profit made by selling your promoted products. Here are some of the common examples of Affiliate Marketing that work on the One Time Commission Model. To find more products like that, you need to do more affiliate marketing research until you find the best product: 
It is an online forum or platform that offers you over 250 digital services categories, and you have to choose from them. Fiverr also interlinks you with freelancers across the globe to give you aid in different business works. It would pay you a fixed commission of 15 dollars, and in case you are a first purchaser or first-time user of Fiverr, you will also get an additional bonus of 150 dollars. Moreover, Fiverr has 2 Affiliate Programs, the first one is with the commission junction affiliate network, and the other is self-hosted.
As an affiliate marketer, you are well aware of the power of email marketing. It helps you in building a strong and potential audience base and provides you with its loyal services. Get Response is the expert on this, and it is being created for email marketing because it makes it easy to use and handle. Get Response also insulates your email listings as subscribers, partners, and clients. Also, it is the best platform as it supports almost all affiliate marketing programs. 
By using Get response, your performance as a marketer gets increased. There are also fewer chances of getting confused. Aside from it, you can also set automated emails sent to your potential consumers directly, and you do not need to do it manually. They also have an attractive bounty program for you if you get someone to sign up for Getresponse via your reference. You may get a 100 dollars commission. The basic email packages may start from 15 dollars; pro starts from 49 dollars, max from 165 dollars, and enterprise starts from 199 dollars. It may be traceable by their app on your cellphone. 
It is a hosting platform that helps you set up your server and create a website regardless of your business type. Cloudways offers you five different platforms to choose from, which may include Google Cloud Platform, Linode, Vultr, Amazon Web Series, and Digital Ocean. You can select your cloud perimeter and start up your business. This platform facilitates its affiliates to earn up to 200 dollars per sale, and you can also get commissions from referrals. 
Pure VPN has four categories where you can select one that suits you the most. These four involve Internet freedom, Security or Privacy, Steam, and File Sharing. Nowadays, Pure VPN operates a self-managed VPN constellation of more than two thousand servers in 140+ countries, of which 85 are virtual. All the VPN servers of Pure VPN support the security protocols like L2TP/IPSec, SSTP, Open VPN, PPTP, and IKEv2 to provide their users the finest security. You can also earn 35 to 100% commission on every sale at the top of that. Pure VPN also offers you up to a ten thousand dollars bonus if you are in the top-performing affiliates. 
Bigcommerce is an e-commerce website provider that assists you in generating your online shopping website. It works in the same way for all the online stores you are using. You can also add your products and earn profit by selling them. BigCommerce provides you many benefits like growing your online visibility and presenting you with tracking tools, affiliate managers, designer and promoting materials, and many more. It also allows you to earn up to 200% commission by its bounty program if a consumer pays as an enterprise member for the first month. Moreover, big commerce has a standard plan that starts from 600 dollars/ product, plus 160 dollars, and pro starts with 600 dollars.
It is a progressive cloud-based and multi-channel commerce platform that is made for businesses of all types. Traders use this to construct, set up, and operate their stores across several sales channels such as web, social media, mobile, etc. Shopify pays you high commission fees. You would get 100% commission on the first and second payment for each referral who signs up for any paid plan. Via a basic Shopify plan, you may earn 29 dollars by yourself, and a 200% commission applies to all the plans except Shopify Plus. For Shopify Plus, you can earn 2,000 dollars from every conversion. It has a 30-days cookie validation. Your sales categorization begins when a person clicks on your affiliate link and signs up for a free trial. If that person becomes a customer after the trial period, you will certainly earn a commission. 
Recurring Affiliate Commission
Recurring Commission Models are the long-term affiliate commission. It may not work like sell, profit, promote, or commission. These commissions work based on subscriptions. You will certainly get commissions as long as your customers are subscribed to your affiliate program or website. It usually contains informative products like ebooks, web hosting programs, and online courses, etc. Let's discuss some of the Affiliate programs that give you a fine recurring commission.  
This affiliate program is an online sales funnel website built to facilitate your business and earn money. It also helps to market your products, sell, and deliver your products to esteemed consumers. By Clickfunnels, you can earn up to 40% of the commissions from the sales made by promoting their services, such as ebooks.
Clickbank is also famous for its informative products, like tutorials, ebooks, software, and many more. You have a facility to sign up both as sellers and Affiliates on the Clickbank program. As an affiliate, you can get your links and promote them for earning a commission. You can also get a chance to meet many sellers by providing your product in a category that Clickbank your earnings and commissions. But if you are a seller, you can list your products and contact Affiliates to promote these products. You can also monitor your sales stream via Clickbank. Most of Clickbank products is a subscription-based program. So that you may get a recurring commission as an affiliate as long as your consumers are being subscribed through your link. There are no maximum commissions on Clickbank that you may earn every month. 
SEMRUSH is a search engine marketing-based tool. It helps you do keyword research and search engine optimization, competitor research, and pay-per-click. Commonly, it may include affiliate commissions of up to 40% every month if the customer purchase from your affiliate link.
As we all know the importance of email marketing in digital marketing, ConvertKit is also an email marketing tool. It helps you create automated emails that you do not need to send manually to every consumer on subscription requests. ConvertKit also helps you earn potential customer's interest and seriousness in your content and certainly subscribe to your channel. Such types of customers will almost buy products from you. ConvertKit bounty program gives you a 30% commission per referral sign-up. Moreover, as long as your referred consumers stick to this tool, you will get your commission.
It is a landing page-building tool that makes your page look presentable and eye-catching. Leadpages also works on a subscription basis, such as other recurring Affiliate programs. This platform makes you up to 30% recurring commissions as long as your referred consumers keep using this tool. The best part of Leadpages is that it has more than forty thousand happy and satisfied customers. So it is worth investing your money.
Teachable is a teaching forum with 34,000+ courses available on it. It has a subscription base of 7 million active users. It also provides web hosting services like creating your courses and selling other courses as an affiliate. Teachable has made the concept of learning from home easier as it is also a valuable business website. It will pay you 30% commissions and 90 days cookies. It means you have to bring subscribers within 90 days to get the commission and their process demands. After that, as long as your consumer or audience is taking courses from teachable and remains subscribed to it, you will get the recurring commission. 
One-time vs. Recurring Affiliate Commission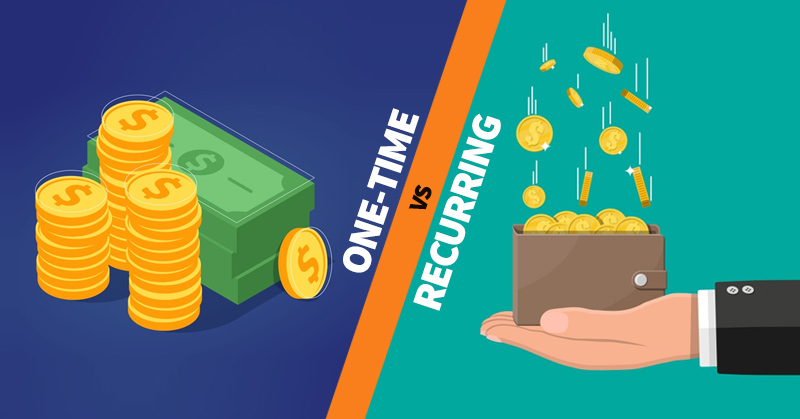 I hope you understood the passive income of affiliate marketing. But, the question is, what type of commission should you choose? The answer is simple: if you want to do affiliate marketing as a side business, you can go with a one-time commission model as it is the most suitable choice. But, it is not suitable if your core focus is online business and affiliate marketing. Also, if you are a website owner, the recurring commission model is best for you as you can frequently update content. Bloggers and digital marketers mostly use this plan to earn through every website visit. So, if you have a blog with good organic traffic, you can earn a steady income every month by using your blog.
Final Thought
So, I hope that you understand everything I have mentioned in this blog. You can make up your mind about what type of affiliate commission you want to choose to earn passive income. If you have a website with good traffic, I recommend finding recurring programs and promoting products according to your blog niche. Affiliate marketing for beginners can be tough so before starting, spend time on research and then start. You can take the One Funnel Away Challenge to learn everything from scratch to learn affiliate marketing step by step. Just be patient, work hard, and eventually succeeded by the right plan and affiliate marketing strategy. 
"It's not about ideas. It's about making ideas happen" – Scott Belsky