Why are you looking for ClickBank Alternatives? Perhaps, you think that the Clickbank product is not profitable anymore, or you can't find good products to promote. Well, you are coming to the right place. Here I will show you the 8 best ClickBank alternatives sites that you can join now in 2021.
ClickBank is one of the best affiliate programs for beginners, but unfortunately, it might not be suitable or great for everyone. If you want to learn more about making money on ClickBank successfully, you can read my other article here.
But, even if ClickBank is working for you, it is always good to diversify your options. The good news is that there are many ClickBank alternatives in the market that you can explore and increase your income.
In this guide, I will be discussing the best ClickBank alternatives- from what they offer to the best categories you can target, their pros and cons, and much more.
8 Best ClickBank alternatives sites in 2021
With the internet evolving, several websites are as popular as ClickBank that can be used as alternative options. Some of these sites include:
1. Amazon Associates – Clickbank Alternative for tangible product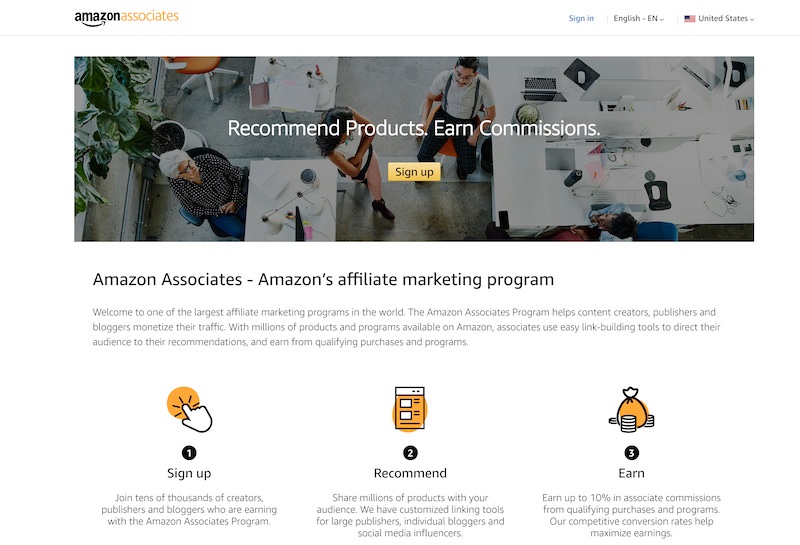 If you want to start promoting physical products, there is no better alternative than Amazon Associate regarding variety and popularity.
Amazon is a respected brand with a lot of physical and digital products that you can promote. While commissions have been slashed in the recent past, you can still make a good amount by encouraging people to purchase products from Amazon, thanks to its popularity. After all, virtually everyone trusts Amazon- it is a global eCom giant.
However, its popularity comes at a downside. To control the number of affiliates on the platform, Amazon takes sole responsibility for your relationship with them. That means that if they feel you are not complying with their rules, such as having a website that's not meeting their quality standards, you can have your affiliate account with them terminated just like that.
Therefore, even if it is one of the best ClickBank alternatives sites in 2021, I can recommend it to anyone looking to promote physical products. I advise that you take time to fully understand their terms of service to avoid your account getting banned.
I have a detailed and helpful Amazon FBA course you can check out to learn more about running successful affiliate marketing with Amazon. This course will show you how to get started with Amazon, proven techniques of promoting Amazon products, how to prevent your Amazon account from getting banned, and much more.
Top Categories you can focus on include:
Home security

Travel

Home décor

Gaming

Fitness

Cruises

Music

Yoga

Photography

Baby Products

Automotive

Pet products

Gardening

Fishing

Hunting

Hair products

Kitchen appliances

And much more
Pros
It is one of the largest and most trusted affiliate programs in the world

There is a huge variety of products you can promote

Amazon pays commissions to its affiliate marketers on time

Unlimited CPS offers you can find virtually any type of physical product on Amazon
Cons
Unpredictable account decisions. If there is one platform known to keep affiliate marketers on their toes is Amazon. You can be banned from this platform for an unstated reason. It doesn't matter whether or not you have a great reputation with them; no one is spared.

You need to learn a few things. If you are coming from ClickBank affiliates, expect some learning curve as ClickBank and Amazon are wide apart in terms of affiliates and operating mode rules.

Commissions are quite low, but the good thing is that if you are in a popular niche, you can expect more sales and thus more commissions.
2. JVZoo – Clickbank Alternative for digital product
Boasting over 800,000 active affiliates, JVZoo is one of the largest affiliate program networks. Just like ClickBank, JVZoo's major focus is on digital information products. It is more like a smaller version of ClickBank but now with different products.
This platform facilitates relationships between affiliates and vendors, and it doesn't have many restrictions on the vendors' side. Therefore, it is common to find offers with great designs to attract more affiliate partners. That comes at the downside of finding terrible products listed with attractive publicity stunts, which means you can lose your good reputation online if you are not careful.
Therefore, you should do some research to ensure that you are promoting quality products. But generally, it is a great ClickBank alternative in many other areas.
As I mentioned earlier, JVZoo is more like a smaller version of ClickBank. That means that if you are used to using ClickBank, you will have an easier time using this platform. For instance, it focuses on similar products (digital products), which means you can start with a head start.
Another perk of this network is that it is user-friendly. Most beginners will find it easier to get accepted on JVZoo than other ClickBank alternative sites discussed in this guide. Also, there are many support materials that you can use to learn more about this network and how to be a JVZoo affiliate.
Anyone who prefers to promote digital products will likely get something worthwhile to promote on this platform as there is a wide variety of digital products.
Top Categories You Can Focus On Include:
Ecommerce

Health/fitness

Business

Self-improvement

Software

Gambling

Education
Pros
JVZoo sends commissions instantly to your PayPal once a sale has been made. However, new members have to wait for the refund period to lapse before getting their commissions.

You can earn up to 50% commissions.

JVZoo has a great tracking feature that you can use to optimize your marketing efforts.

They have great customer support available 24/7

There are plenty of great niches you can choose from, and all have a wide variety of products.
Cons
Some products are low quality, which means you need to do good research not to ruin your reputation by promoting scam products.

You will need approval from every seller you want to promote their product

New affiliate have to wait for the refund period to lapse before getting paid
3. Warrior Plus – Clickbank Alternative for software
Warrior Plus grew out of the Warrior Forum, the largest internet marketing forum in the world. It offers thousands of digital products to promote for both affiliates and advertisers. They have been around since 2006 with mixed reviews from internet marketers – some love the program, others don't.
If you know the art of marketing products online and have the right audience for it, you can easily earn from WarriorPlus. The program is free to join at any time using an email address and a password. One of the main advantages of this affiliate network is the efficiency of payouts.
With that said, an affiliate who wants to guard their reputation needs to choose a product carefully to avoid coming out as deceptive to their audience. The platform has received many negative reviews for having too many fishy products that ruin its credibility. In other words, they can be misleading, so you have to be careful before buying anything from WarriorPlus.
Top categories you can focus on:
Marketing education

Industries

Services

Entertainment

Software

Online platforms

Domains and websites
There are also various sub-categories within these categories, so you can browse and find specific interests.
Pros
It's very easy to join Warrior Plus because they have minimal requirements to join.

Members get instant commission payouts rather than waiting for completing the threshold (although new members need to wait for the refund period to relapse before receiving their payments).

They offer thousands of digital products with high commissions of up to 50%

The program provides a really good tracking feature to optimize your marketing efforts

Warrior Plus offers extended support specifically for support in case your vendor does not refund your money

The program interface is user-friendly and easy to use
Cons
There are spammy deals than there are genuine products

It lacks a filter to stop fake products from being published on the site

The platform lacks dedicated support for advertising
4. Market Health – Clickbank Alternative for health and fitness
For those interested in promoting physical health products, Market Health is a great platform. You will find a wide variety of health products, including supplements that you can promote.
The fact that it is a niche-specific platform focusing on health products means that you will likely find better products in this niche than on ClickBank.
Remember that each product has a separate affiliate program with its commission model, which means some products will pay commissions per sale. In contrast, others will pay you commission based on the actions of the visitors you send to the affiliate website.
It is important to mention that it is more difficult to be accepted in the Market Health platform than ClickBank, but once accepted, you will have a whole variety of products and services to promote and offer.
You can make some good commissions on this platform, especially if your affiliate website gets a significant number of visitors.
Another perk about this ClickBank alternative is that they only have products they manufacture, which means they are genuine. That makes Market health one of the best affiliate networks for those who want to promote health-related products.
Top Categories You Can Focus On:
Pros
With over 200 products, you have a wide selection of affiliate offers to choose from

You can earn up to 50% commissions, which is quite high in this niche

You can get a higher payout by referring more than 20 sales a day

They give you access to the product's landing pages and banners
Cons
Payments are only through checks, which is quite a lengthy products

Most of their products do not have a lot of reviews, which tends to put off many potential buyers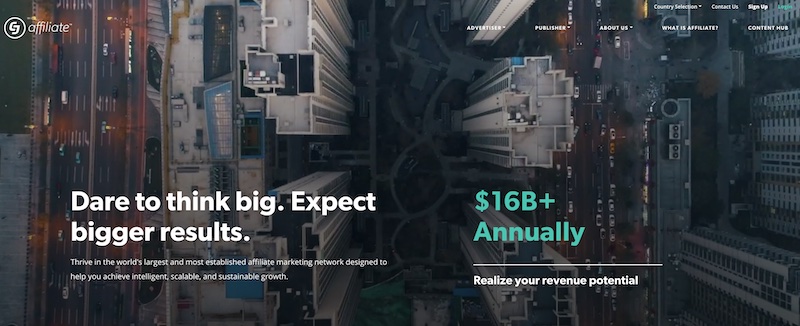 Previously known as Commission Junction, CJ affiliate is among the oldest affiliate networks in the same category as ClickBank. Despite the age, it's a fan favorite because of its wide audience and various categories for advertisers. It's a fantastic place to start for affiliates looking to get signed up to an affiliate network with easy filters. Most accounts get approved here, even those that ClickBank has rejected.
What makes CJ's affiliate different from ClickBank is that CJ focuses on digital products with CPA offers. The commission you earn is similar to that of ClickBank, although you might have to beat a lot of competition to earn on Commission Junction. As a tradeoff, it offers more exclusive brands such as Barnes & Noble, GoPro, IHG, Lowes, Overstock, Office Depot, J. Crew, etc.
Overall, CJ is one of the best alternatives to ClickBank, and especially for beginners. They offer users a solid set of tools to allow sites to be leveraged and monetized. A placement market is also available where advertisers and marketers can publicize their inventory. They may not provide the whistles and bells of others, but it's a low-risk way to find untapped markets with the assurance of adequate return on investment.
Top categories you can focus on include;
Accessories

Beauty

Automotive

Entertainment

Computer and electronics

Financial services

Health and wellness

Family

Etc.
Pros
Users love how easy CJ is easy to navigate and use

You get a lot of good products to promote from popular brands

It has an excellent reputation and one of the experienced networks out there

They provide tracking and managing software to ease affiliate searches, affiliate links generation, progress management, and manage affiliate advertisers

It's free to sign up with no minimum traffic requirements

They provide the option to earn money using Cost Per Lead which is an impressive feature
Cons
The payment method and security is quite terrible, and you might have all your payment blocked.

You can get banned from this affiliate network without prior warning
In many ways, ShareASale is a mini version of ClickBank, with the only big difference being that this platform has both digital and physical products. In contrast, ClickBank has only digital products, although they have introduced a few physical products.
ShareASale has been listed as one of the largest networks for physical products. It covers many niches, including green appliances, home and garden products, business equipment, and fashion wear. That means you will have a lot of offers to choose from.
However, a major downside to working with ShareASale is that it can be complex to use and apply for certain affiliate programs. However, consider this an advantage: fewer people will promote the programs, which means more money if you learn the ropes.
Therefore, for those who would like to focus on physical product offers, this is a ClickBank alternative I can recommend. It is also a great Amazon alternative.
Top categories you can focus on include;
Green appliances

Health

Clothing

Books/media

Marketing

Insurance

Travel

Online dating

Games/toys

Sports/fitness

Gifts
Pros
There is a wide variety of products one can promote

It has a simple application process as compared to ClickBank

Payouts are always done on time

Product makers are often readily available for customer service when needed
Cons
You have to apply and get approved for each product you would wish to promote
Formerly known as Linkshare, Rakuten offers cashback shopping to save customers money on nearly all physical purchases. Cashback means you get free money for something you need because you buy it through the Rakuten site. All you need to do is search for the retailer you want to purchase from and click it through Rakuten to continue the buying process as you normally would. 
What makes Rakuten different from ClickBank is that they promote only physical products such as jewelry, accessories, and high fashion, including some big brands. You get products from big brands like Microsoft, Lego, Nvidia, Macy's, Lyft, and JetBlue, among others.
The affiliate program has attracted thousands of advertisers selling a wide variety of products. It's not the fastest to sign-up to or the simplest to use, but it's worth the work. You have to register with each advertiser before promoting their products, demonstrating how this program values quality. The affiliate network isn't concerned about having the most advertisers; it's interested in having the best.
However, unlike ClickBank, which pays twice a month, Rakuten pays out once every month. On top of that, if there's a query over the validity of your earned commissions, it could take up to 5 months before releasing your payments. The affiliate program scooped the mThink best affiliate award for eight years between 2012 and 2019.
Top categories you can focus on:
Make money online

Books and media

Health and beauty

Travel and vacations

Blogging

Electronics

Clothing and accessories
Pros
It's free, and you get a $10 sign up bonus

You save money on almost everything you buy

The program is easy to use because all you need is to connect Rakuten to the site you'd like to shop on.

The program offers over 2500 stores where you can claim rebates, such as Amazon, Walmart, Best Buy, and Target.

The referral program offered by Rakuten is impressive, ranging from $5 – $25 for every successful referral.
Cons
The affiliate network does not offer to provide monthly payouts on your shopping excursions.

Nearly every store on Rakuten has some excluded products that do not qualify for cash rebates. For instance, Walmart does not give a rebate on cellular phone purchases, pharmacy purchases, financial center transactions, tires, etc.
PeerFly is the world's fastest-growing CPA affiliate network, with thousands of companies under their umbrella. Rather than promoting physical and digital products, PeerFly gives commissions depending on the actions from your leads. Simply sending traffic to an offer and convincing actions such as subscription and filling in the form will earn you good commissions. In other words, the platform deals with Cost-Per-Action or CPA.
The best part about this program is its custom-built system that does not experience any downtime or hosting-related problems. However, the application process can be challenging due to their strict approval system, where you need to apply and be approved. Sometimes they do not even allow applicants, but they provide a short window of applications once in a while. The verification process is a plus because once you are accepted, you are in safe hands. The best part is they hold up reward programs along with the contest to make promotions more interesting.
Additionally, PeerFly offers free training and tools for people who want to leverage their sales for continuous improvements. Keep in mind that the competition is high on this program, which means you need to promote your audience's most relevant products.
The biggest perk of using PeerFly is the weekly payment feature, where you get paid every week. Apart from earning from direct commission using the CPA offer, you can also earn from the program through referrals as an incentive publisher. The site accepts PayPal, Check, Wire, Payoneer, or ACH transfers for US residents.
Categories you can focus on include;
Health and wellness

Beauty and skincare

Sports and nutrition

Entertainment

Self-improvement

E-commerce
Pros
The program is user-friendly, so you don't need a lot of time to study their operation.

It has over 2300 affiliate offers to promote, so it's easy to pick a relevant niche to promote

Offers rewards and contests for added incentive

They have a dedicated support team for any queries you may have

Their system is custom built to ensure to prevent downtimes

They have multiple popular payment options, e.g., PayPal, Payoneer, Wire, etc.
Cons
The verification process is strict, but this makes it a better affiliate network.

There's a lot of competition for affiliates
FAQs
1. What is better than ClickBank?
Depending on the niche you are promoting. ClickBank mostly promotes digital products then your best alternative is JVZoo. But if you are promoting not digital products, there are many platforms better than ClickBank, such as Amazon Associates, Commission Junction, Warrior Plus, ShareASale, Peerfly, Rakuten, and Market Health.
2. Is ClickBank the Best Affiliate Program?
ClickBank used to be one of the best affiliate programs, but many bad products weres promoted in ClickBank for the last few years. But the best thing with ClickBank is very easy to join. Also, many products give a high commission and never pays late to affiliates.
3. Is ClickBank still profitable?
Yes, there are still many profitable products you can promote on ClickBank. But it would be best if you did some research to find profitable products. 
4. Is ClickBank good for beginners?
Yes, it is good for beginners because it's easy to join the program, easy to navigate, and user-friendly interface.
5. Does ClickBank cost money?
No, anyone can join for free as a ClickBank affiliate. It will only cost money as a fee when you make your affiliate commission. The fee is 7.5% + $1 for each affiliate commission.
Conclusion
Affiliate marketing is all about diversification. The old saying, 'don't put all your eggs in one basket,' is applicable in affiliate marketing.
If you are solely relying on ClickBank, you are leaving so much on the table. Diversify your options by targeting other affiliate marketing platforms will yield better results and ensure that you're not financially hard hit if something happens to one affiliate platform.
All the above are the best ClickBank alternatives sites now in 2021. They are proven to yield great results in commissions and always pay commissions to affiliate marketers. It would help if you took your time and mastered how to work your way up.
If you want to learn more about affiliate marketing, read my other blog, How to make money with Affiliate Marketing. If you are ready to start your online business with Affiliate Marketing or are already in it and still figuring it out, you can join the One Funnel Away Challenge. You can learn how to use the different types of affiliate marketing appropriately to get outstanding results. Most importantly, it will help you to build an online business that generates income through affiliate marketing.
"For every failure, there's an alternative course of action. You just have to find it. When you come to a roadblock, take a detour."